Sri Lanka On a Budget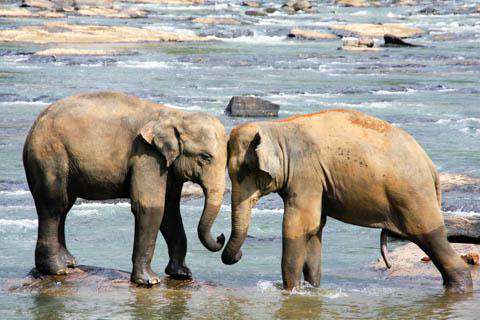 Sri Lanka is an interesting island country that is located to the south of India in the Indian Ocean. It is a tropical island with a diversity of culture and people. There are two official languages, Sinhala, which is spoken by the majority population of Sinhalese, and Tamil, spoken by the minority Tamil and Muslim groups. In most large cities you can find people who speak English but it is more challenging when you're in the smaller towns and rural areas.
The island is divided into several different provinces. The most popular areas for tourists are found in the North Central Province, the Southern Province, and the Western Province. In the Western Province you'll find the country's capital city of Sri Jayewardenepura Kotte as well as some popular beach resorts. The Southern Province is well known for the historic city of Galle, but there are also several national parks worth visiting nearby. In the North Central Province you'll find a rich culture and history which is fascinating to experience.
Traveling around Sri Lanka is a fun experience. The most common form of transportation is the tri-shaw, or three wheeler. This vehicle is comparable to a tuk tuk in most nearby countries. While they're fun to ride in, there are some safety concerns. Many visitors choose to rent cars during their time in Sri Lanka. These cars often come with a driver so you are free to enjoy the scenery and don't have to worry about the crazy traffic that is ubiquitous in most cities around Sri Lanka. If you're on a particularly tight budget then you can travel around Sri Lanka in a public bus. These buses go almost anywhere around the island. They're quite uncomfortable but they're very cheap. For about twice the price you can buy a ticket for a bus that has air conditioning and a guaranteed seat. A seat reservation is very appealing because many of the buses can become very crowded. Train travel is another popular option. It's more comfortable than buses, but it's also slower. There are observation cars available for tourists who are hoping to enjoy the scenery during the trip.
The island has two major monsoon seasons. You should take these into consideration when you're planning your trip as they can dramatically effect travel times. Roads are difficult to navigate and flooding can be a major hazard during the monsoon seasons. The first season runs from October to January and the second from May to July.
At A Glance
There are many interesting historical sights and national parks around Sri Lanka. In order to see it all, check out this itinerary for Sri Lanka. While the prices remain quite low, don't be surprised if you're charged substantially more as a foreigner. Sometimes the prices are upwards of ten times as much. This is par for the course so it's best not to get too frustrated by the experience. It's beneficial to the local population that they can afford to visit local attractions at a reasonable price for their budgets.


Tap water in Sri Lanka is not potable so you will find yourself drinking a lot of bottled water. Whenever you purchase bottled water make sure it has the Sri Lanka Standard Institute (SLS) label present. This ensures that you are buying the highest quality of water.


Thambili is a popular local drink that you can buy off the streets around Sri Lanka. It's made from fresh coconut water and is very refreshing. It's also a cheaper option than bottled water.


If you're interested in hiring a guide, consider renting a car (see car rental prices here). Or, you can hire a car with a driver instead of driving it yourself. The driver is often quite knowledgeable on the area's history and culture. The automobile is often free and you pay for the service of the driver. Make sure you meet the driver in advance so that you know his area of expertise and are familiar with how well he speaks English.


Because Sri Lanka is an island the weather can vary dramatically throughout the country. Make sure you're visiting during the best time of year for your set destinations. It is best to avoid the monsoon season as well.
Related
Sri Lanka has so much to offer. So, if you're not sure where to go or what to see, check out
this great 10-day itinerary for Sri Lanka
.
Looking for a
hostel in Delhi
or
Goa
? Heading to
Kathmandu
or want a
party in Tel Aviv
?
Top Tourist Attractions
Arugam Bay:
This is a city that has a nice strip of beach that is attractive to many tourists. It's located on Sri Lanka's east coast and the area is very traveler friendly. It's a popular place for surfing or relaxing, but it was hit hard by the tsunami in 2004.
Ella:
This is a small town that is located high in the Sri Lankan highlands. It offers an incredible view through Ella Gap. There are some great hiking opportunities nearby and it's a comfortable climate where you can relax for a few days. One of the best things to do here is to
hike up Little Adam's Peak
.
Nuwara Eliya:
This small town sits at a higher elevation right in the middle of the country. As a base for exploration, you can visit nearby tea plantations, wilderness areas, and waterfalls. It's also suggested to go rafting on the nearby river. For more information, check out this
guide to Nuwara Eliya and Yala National Park
.
Yala National Park:
This national park is a great place to go if you're hoping to do a safari in Sri Lanka. It's the most visited national park in the country and is the second largest. It is possible to see elephants, leopards, and reptiles of all kinds.
One of the easiest ways to get to Sri Lanka is with Tripadeal.
Check this out for more information and a review of Tripadeal
.
Popular Foods
Sri Lankan food is very similar to South Indian Cuisine. Many of the restaurants often advertise that they serve both Sri Lankan and South Indian cuisine. The food is often made with rice and curry and can be very spicy. There are local restaurants that serve up cheap eats for under a dollar, but there are also more touristy places where you might pay upwards of ten U.S. dollars.
Below are some common dishes. Or, check out
this comprehensive guide to Sri Lankan food
with some great photos and descriptions.
Kottu Roti:
This is a uniquely Sri Lankan dish that is made from a mixture of roti (bread), vegetables and meat. It's delicious when it comes from street vendors but do make sure that the quality is high and the ingredients are fresh.
Coconut Sambol:
This is a popular side dish that is made from ground coconut, chilies, fish and lime juice. It's often served with curry and can be quite spicy.
Lamprais:
This dish is made from rice that is cooked in a curry sauce and served with meatballs. It is often wrapped in a banana leaf before it is cooked. You can get either vegetarian or meat based versions.