I'll always love Sri Lanka. This beautiful teardrop shaped island off the south coast of India was the first place I ever went travelling and inspired me to
start a travel blog
.
The culture, food, history, people, wildlife, traditions, and natural beauty all left an indelible impression on me.
It's just one of those special places that wraps you in its embrace and makes the idea of going home vastly unappealing.
Got 3 weeks in Sri Lanka coming up? I'm incredibly jealous.
3 weeks is a lovely length of time to be there! It's a small place, meaning
you can get a lot done in a short space of time
.
And, given the amount there is to do, that's good news.
Looking to discover the essential stops for your 3 week itinerary Sri Lanka?
Keep reading to learn about the top Sri Lanka attractions I recommend you pay a visit.
Essential Stops for Your 3 Weeks in Sri Lanka
Get ready for a whistle stop tour of the places I think you should include on your
3 Week Sri Lanka Itinerary
.
Head anywhere on this list and you're sure to have an amazing experience.
Writing a travel blog while you're out there? These spots are sure to provide plenty of travel blog post ideas to write about too!
Colombo
Colombo is the capital city and Sri Lanka's main airport is here, meaning you'll almost definitely enter and exit the country from it.
Annoyingly, I didn't get the chance to explore Colombo all that much. But, what I saw of it definitely painted a vivid picture of what Sri Lankan city life looks like!
It's one hectic place to start your trip.
Expect a fair amount of organized chaos and a dose of bewilderment as you find your feet here.
All the same, Colombo's a cool cultural focal point that's worth checking out.
It's also a central transport hub to help you get around the country.
Moving around on public transport? This is where to come. Take some time to explore the city before hopping on the bus/train out of it though.
If I were you, I'd spend a couple of days in Colombo, at either the beginning or end of your trip.
Sri Lanka's colonial past is evident everywhere you go, with British and Dutch influence at every turn.
Specific points of interest include:
- The 17th century Dutch museum.
- The National Museum
- Galle Face Green (a lovely stretch of sand along the city's coastline)
- The Federation of Self-employees Market
Mirissa, Unawatuna & Galle
These three destinations are all a (relatively) short bus-ride from Colombo. Don't miss them, especially Mirissa. This area has so much to do for everyone. Check out this
guide of things to do in Mirissa
for some ideas for your next trip.
Located on the south western side of the country, they're the polar opposite of everything you experienced in the capital.
It's all about chilled out beach vibes, balanced out with some awesome history in the form of Galle Fort. Spend some time exploring each destination and recharging your batteries.
Look forward to your first taste of true Sri Lankan natural beauty- the beaches here are out of this world.
Make sure you visit the stunning white Japanese Peace Pagoda in Unawatuna too. It's a landmark that everyone should check out, and that happens to make a great stop for sunset.
The only slight downside is the level of tourism here. If you're on the hunt for authentic Sri Lanka, then you won't find it here.
Haputale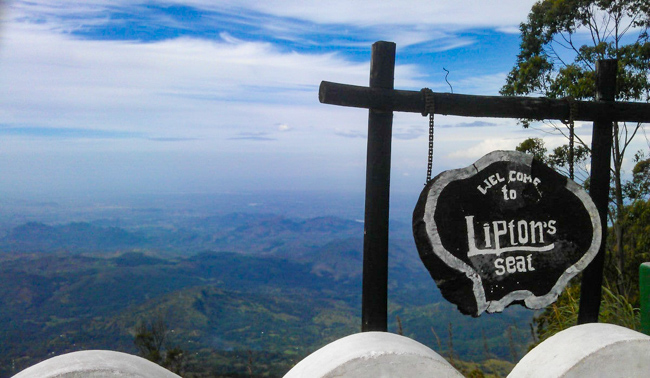 Haputale's about as far removed from the beaches of Mirissa and Unawatuna as you can get!
But don't be put off by the effort of getting to it!
You're up in hill country, with nothing but fresh air, tea fields and epic views for company. You feel further from the tourist trail here, despite the fact many travellers come to soak up the views.
One of the best is at Lipton's Seat.
High up in the hills, this is where Sir Thomas Lipton (the tea mogul) came and sat to survey his tea plantations. Words don't do this place justice- the view is out of this world.
There are a bunch of walks to be done here as well. I loved strolling lackadaisically through the tea fields, gazing out over endless expanses of the brightest green.
Ella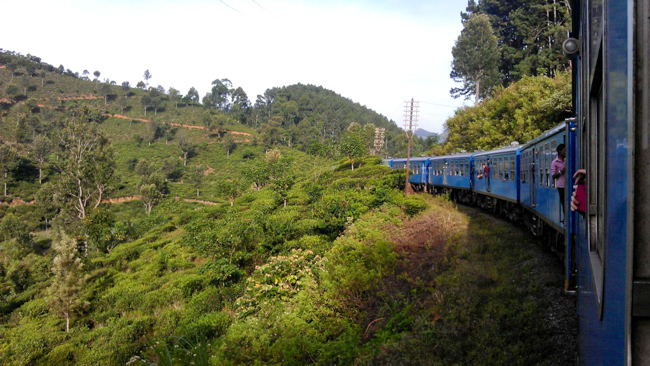 Ella was one of the unexpected highlights of my trip, and it's only an hour's drive from Haputale.
It's only a small place, located in the central south east of the country.
However, it holds an instant charm that makes leaving here very difficult. Ella's friendly, relaxed, and full of more quintessential Sri Lankan natural beauty.
This time, though, you've got the rolling hills of tea country to enjoy!
You'll look out over vast expanses of dense green tea fields, forest and grassland.
Drag yourself away from the view and you'll be able to hike your way up Little Adam's Peak, bathe in waterfalls, and check out what's surely one of Sri Lanka's most Instagrammable spots- Nine Arch Bridge.
Kandy
When you eventually feel the need to leave Ella, I'd hop on the train to
Kandy
.
This is one of the most popular things to do in Sri Lanka, and a famous train ride in its own right.
Taking around 7 hours, you travel through stunning landscapes, traversing hillsides and looking out over the tea-country the vistas that captured your attention in Ella.
The train itself is part of the experience- it's old-school, with open doorways that you can dangle your feet and lean out over. This is sure to be another highlight of your 3 weeks in Sri Lanka.
Kandy itself is a busy town in the centre of the country.
It's beautiful in its own right, with a giant lake in the middle for you to explore.
The most famous attraction in Kandy, however, is the Buddhist 'Temple of the Tooth'. It's world-renowned as the keeper of one of Buddha's teeth.
Make sure you take appropriate clothes (knees and shoulders must be covered) in order to pay it a visit. Don't, and you won't be allowed in.
Sigiriya Rock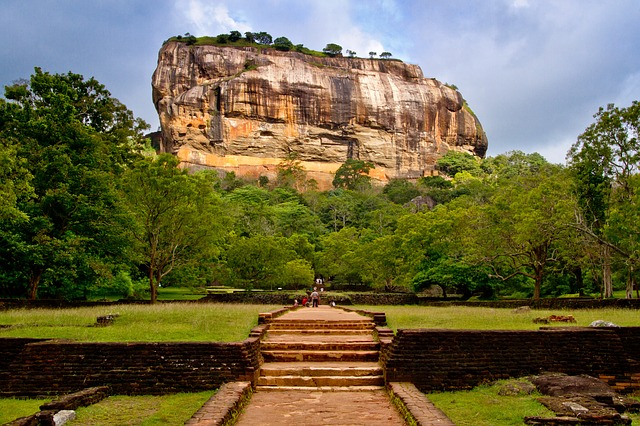 Sigiriya Rock
is unforgettable.
It's a bit like Sri Lanka's answer to Ayer's Rock in Australia, except it's got an ancient ruins you can explore at the top as well!
This mighty rock plateau looks as if someone has just picked it up and plonked it there.
It's genuinely unlike anything I've ever seen before. The fact that you can climb to the top makes a visit even more worthwhile.
This place is steeped in history, which is inescapable as you venture ever higher, passing hand-painted murals from centuries ago.
I'd recommend putting Sigiriya Rock at the top of your Sri Lanka bucket list.
Arugam Bay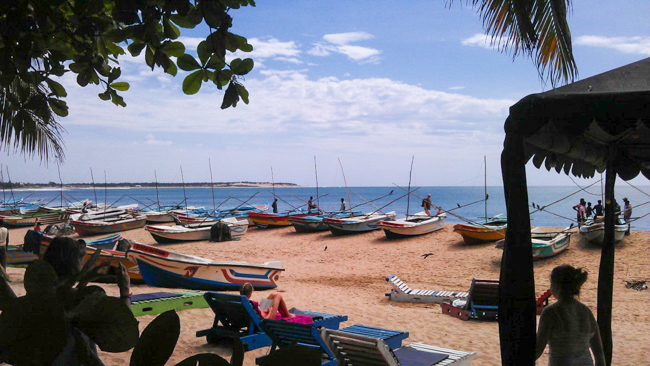 It's back to the beach!
But, this time, you're headed to the south east coast.
Aragum Bay takes a while to get to, but it's another location that's worth the effort- it's just a very cool place to spend some time.
More than anything, I just liked soaking up the atmosphere.
Unlike what I experienced in Unawatuna, there were tonnes of Sri Lankan people enjoying the beach as well, which made it seem more authentic.
Having said that, you can still expect a heavy dose of tourism!
This is surfer's paradise, with people coming from all over the world to hit the waves. It's also a good place for a night out- with bustling beach bars and clubs that go well into the early hours.
There's masses more to do in Aragum Bay that I never experienced. Think safaris, scooter trips, and hiking opportunities. Be sure to check it all out if you get the chance.
Trincomolee
You have to go to Trincomolee!
I spent a weekend there and came away with memories I will never forget.
I reckon it was the most beautiful beachside location I went to in Sri Lanka. Expect endless expanses of pristine beach and crystal clear waters. It's paradise on earth.
Even better, when I was there Trincomolee seemed untouched- it felt like we had it all to ourselves.
I saw hundreds of dolphins dancing in the waves at sunrise, swam with sharks and turtles off the reef of Pigeon Island, and ate incredible food in the beachside cafes and restaurants there.
Don't miss it!
Anuradhapura
Right, so I never actually went to Anuradhapura.
And I'm worse off for it.
Everyone I've spoken to about this location in the north of Sri Lanka said it's unlike anywhere else in the country (in the best of ways).
As one of the oldest continually inhabited cities in the world, Anuradhapura has huge historical value. It's a UNESCO World Heritage Site, and boasts a huge array of ancient ruins and sacred temples to explore.
One of the most famous is The Great Stupa, which was commissioned in 161BC and is, to this day, still used as a place of worship.
Make sure you check out the Bodhi Tree while you're there too. This ancient fig tree was grown from the one that the Buddha was sat beneath when he attained enlightenment.
As you can imagine, it holds immense significance to Buddhists here, who come every day to worship.
Adam's Peak
Last but not least is Adam's Peak (otherwise known as Sri Pada) - a 2,243m high summit in central Sri Lanka.
Sri Pada isn't the country's highest mountain (it's actually the 5th), but it's definitely the one with the greatest cultural significance.
Sri Pada translates to 'sacred footstep', thanks to a rock formation near the summit that's shaped (vaguely) like a foot.
Christians believe this is where Adam first set foot on earth when he left heaven; Buddhists believe it's the footstep of Buddha, and Hindus believe it's that of Shiva.
Regardless of religion, Sri Pada has become a popular site of pilgrimage, and thousands of locals and tourists climb to its summit each year. In fact, it gets so busy on certain holy days that queues of thousands of people gather on their way to the top!
Getting up there is no mean feat either
. Expect upwards of 5,000 steps to climb on your way up.
However, don't be put off- the views from the top (and the walk itself) are well worth the effort. Time it for sunrise for the best rewards!
Start Planning Your 3 Week Itinerary Sri Lanka
I'd go back to Sri Lanka in a heartbeat.
It's just a beautiful place to travel, with awesome sights and attractions around every corner. The culture, the way of life, the food, the people, the beaches, the history... I love everything about it.
Which is why I'm very jealous that you've got 3 weeks in Sri Lanka to look forward to!
I hope the suggestions above will prove useful for planning your 3 week itinerary Sri Lanka.
Best of luck putting your itinerary together, and have an incredible time when you get there, whatever you end up doing!