Steamboat Springs is a popular skiing and vacation spot in Yampa Valley. The area is also known for its geothermal hot springs. Guests often stay in either "The Mountain" area, which has skiing and resort facilities, or the Old Town, which has a lot of charm and character. The two areas are about 4 miles apart and connected by the paved Yampa Core Trail, which is a nice bike path.
If you're looking for a place to stay or an Airbnb in Steamboat Springs, we've got you covered. We have researched the best cabins and condos at the ski resort and in the old town for your next trip. So, if you're a couple looking for a romantic getaway and a ski trip, check out these fantastic vacation rentals.
Old Town
Old Town is filled with lots of charm and character. There are historic homes, bungalows, cottages, and a diverse range of places to stay that make for a fun vacation. The area's main street is filled with restaurants and shops and there are a lot of trails in the area that are worth exploring. If you're hoping to stay somewhere with a local vibe and a sense of community, then Old Town is the place to be. Below are several great properties that are perfect for a couple's getaway.
Downtown Historic Log Cabin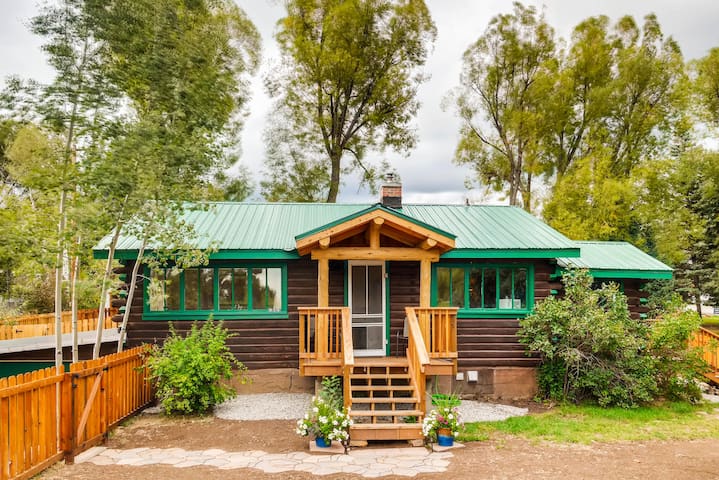 2 Bedrooms/1 Bathroom, Fenced-In Yard, Large Deck & Grill
This charming log cabin is located in a quiet residential part of downtown Steamboat Springs. It's about a 6 block walk from main street and there's a large fenced-in yard, a large deck, grill, fire pit, and more. There's also a classic wood stove and a full kitchen. For couples that want to stay somewhere with a lot of character and personality, then this is the place.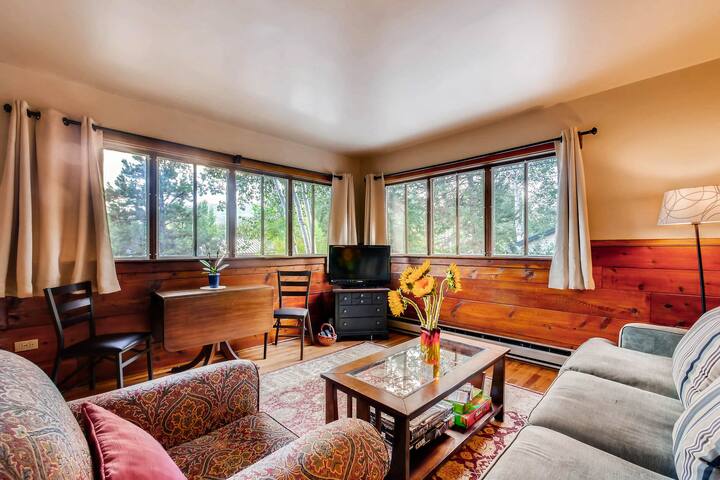 The Dream Boat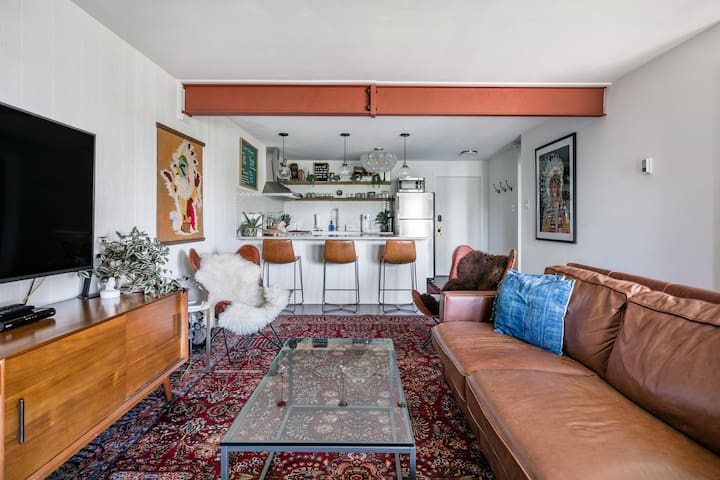 1 Bedroom/1 Bathroom, Deck & Gas Grill, King-sized Bed
This bohemian styled condo offers a great option for couples who want to stay in the heart of Steamboat Springs. There's a king-sized bed and a deck with a gas grill that guests can use. It's near many of the area's best restaurants and is also surrounded by natural beauty.
Apres on Yampa
2 Bedrooms/2 Bathrooms, Several ADA Features, King-sized Bed
This 2 bedroom condo is located in a quiet part of downtown Steamboat Springs. It's a modern condo that has several ADA accessible features including wide doorways and lower countertops (but no grab bars in the bathrooms). There's a king-sized bed in the master bedroom and a jacuzzi tub. For couples that want plenty of space and a quiet residential setting, this is a great option.
Downtown Guest House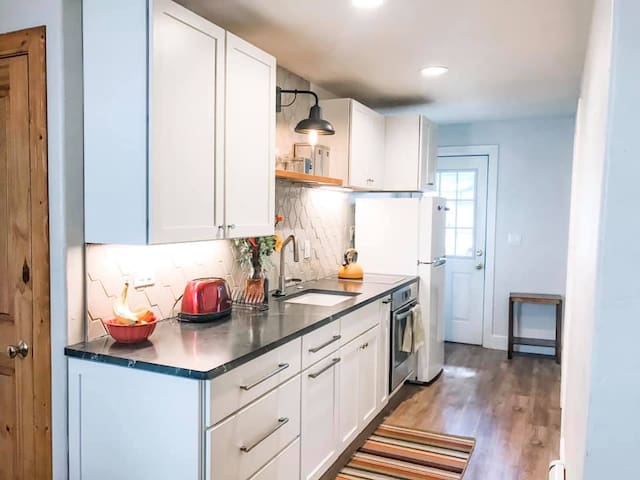 1 Bedroom/1 Bathroom, Excellent Location
This 1 bedroom guest house is about 3 blocks from the river and near great hiking and biking trails at Howelsen Hill. It's a cozy little apartment with a charming personality. The kitchen and bathrooms are both nicely designed and the property's location can't be beat.
Modern Downtown Getaway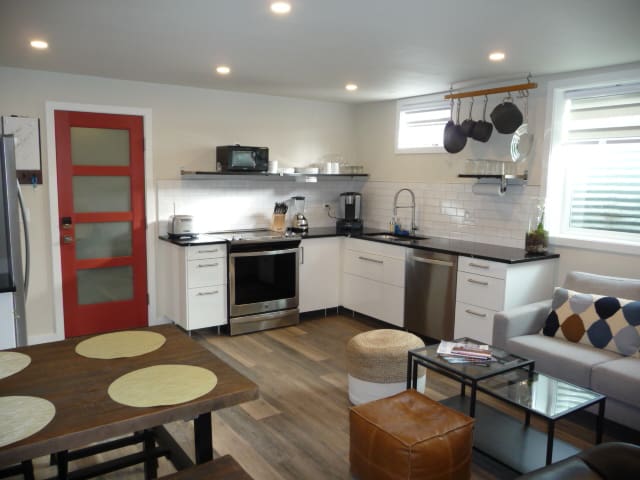 1 Bedroom/1 Bathroom, Excellent Location
Another charming condo in downtown Steamboat Springs, this property is walking distance to the downtown restaurants and bars. It's also just 2 blocks from Yampa River. Included with the property is a free parking pass for Ski Times Square.
The Mountain
Steamboat Spring's resort area is 4 miles to the south of the Old Town. The area has some great restaurants and shops, as well as a large number of condos, many of which are near Gondola Square. As you head further away from the square the area becomes less touristy and more local. Below are several great properties for couples in the area.
Sunlit Luxury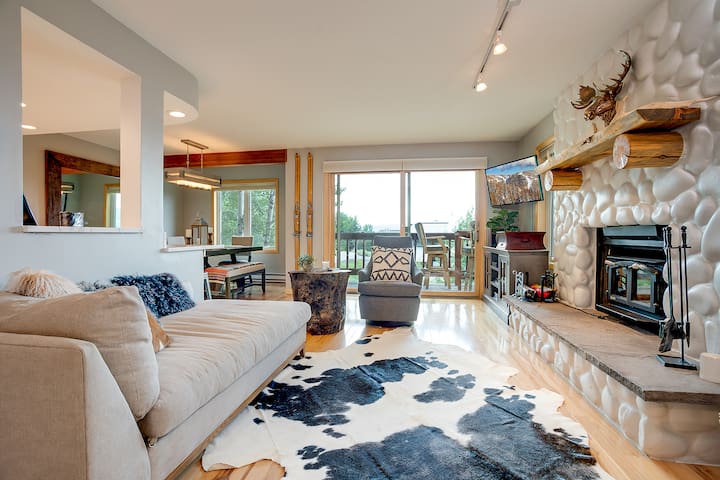 2 Bedrooms/2 Bathrooms, Wood Burning Fireplace, Natural Light
This modern 2 bedroom condo is conveniently close to Steamboat Ski Resort. You can walk to the resort or take the free bus that's available. The condo offers a lot of natural light and a peaceful location near everything but still removed from the busy base area. There's a wood burning fireplace and a deck that is a nice space to relax.
Mountain Oasis
2 Bedrooms/2 Bathrooms, Community Hot Tubs, Sauna
This large condo offers impressive views of the mountains. It's near the area's excellent skiing and hiking, and there are a few great restaurants nearby. You can reach the mountain in about a 3 minute drive or there's a shuttle available during the winter months. The complex also offers a number of amenities including a gym, hot tub, sauna, and more.
Ski In/Ski Out Slopeside Condo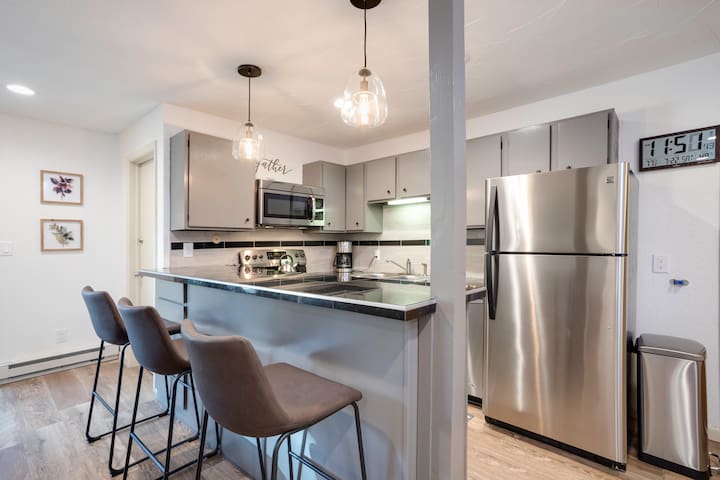 2 Bedrooms/2 Bathrooms, Ski In/Ski Out, King Sized Bed
Couples love this property's convenient ski in/ski out location. It's right by the Right-O-Way ski run and during the warmer months there is plenty of hiking and biking in the area. It's also close to Gondola Square where you'll find many great restaurants and activities. The large master bedroom with a king sized bed is ideal for couples. The kitchen is also well furnished with nice appliances.
Updated Ski In/Ski Out Condo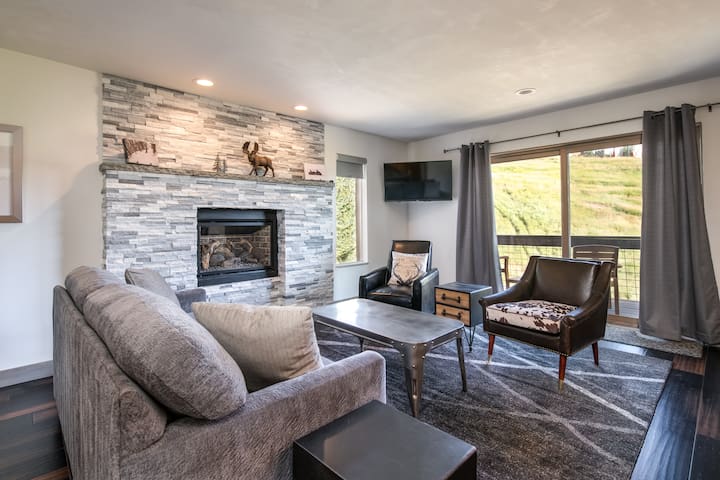 This clean and cozy 1 bedroom apartment is perfect for couples who want to be near everything. It's location can't be beat. It offers a ski in/ski out experience and it is also near restaurants and a number of other activities in the area. Nearby hiking is also great.
The Mountaininsider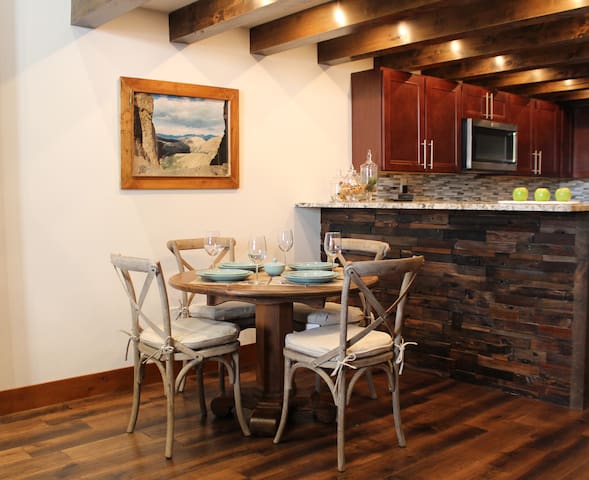 1 Bedroom/2 Bathrooms, Stone Fireplace
This condo is another good option in a convenient location. It's right by the base of the gondola and it has easy access to skiing and other sports. The decor is reminiscent of a traditional European ski chalet and guests enjoy relaxing by the stone fireplace after a full day of activities.
Trendy Ski Condo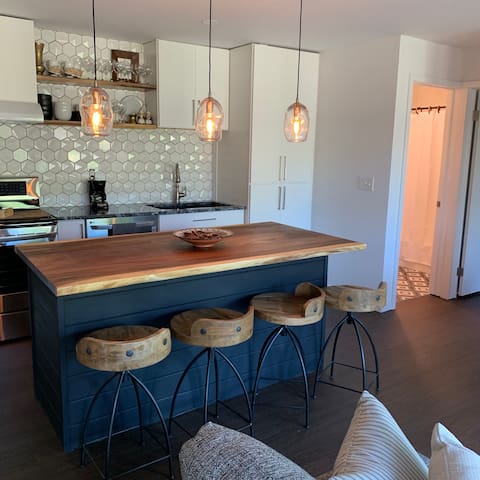 1 Bedroom/1 Bathroom, Outdoor Patio
Enjoy the views of the ski resort from this lovely one bedroom property. The base area is about a 10 to 15 minute walk away and there's a free shuttle bus to downtown where you can enjoy a number of great restaurants and bars. There's also an outdoor patio that's a nice place to relax and a well stocked kitchen where you can prepare your own meals.
Happy Travels!
If you're interested in more accommodation options in Steamboat Springs, you should also see
The Best Airbnb Cabins in Steamboat Springs for Large Groups
and
The Best Family-Friendly Airbnb Cabins and Condos in Steamboat Springs
.