Boulder On a Budget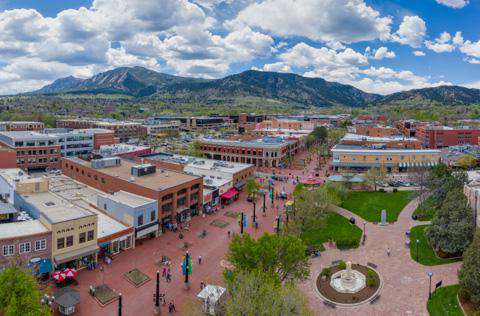 Boulder is located on the edge of the Rocky Mountains in the state of Colorado. As home to the University of Colorado at Boulder, it's a college town with a liberal vibe and progressive values. In recent years, Boulder's economy has received a boost from the tech industry, which has grown rapidly in the area.
Boulder is also a great city to visit. It's surrounded by a beautiful mountain setting and there are countless outdoor sporting activities that you can enjoy. One unique aspect of Boulder is its role as home to many serious athletes who come here to train in the area's top facilities and programs.
Boulder's climate is similar to most of Colorado. It's a dry city with plenty of sunshine. Winters can vary dramatically from mild to incredibly cold and snowfall averages 44 inches a season. Summers are warm and dry with temperatures climbing above 90 degrees Fahrenheit during the warmest months.
Sights
Much of a visit to Boulder is about the nearby natural beauty. There is also a wonderful atmosphere around town so exploring neighborhoods without a specific destination in mind is recommended. Make sure you head to the Pearl Street Mall to see the street performers. They're out when the weather is nice. There are magicians, mimes, and musicians but perhaps the most unique and famous performer is the "zip-code man" He can tell you the zip code for anywhere in the entire world. This bizarre skill draws quite a crowd.
There are also a handful of sights around the University of Colorado at Boulder. The campus covers 600 acres and there are many beautiful gardens and interesting buildings on the grounds. The Heritage Center is found in the Old Main building and goes through a history of the university. There are also museums and art galleries around campus.
Neighborhoods
As a tourist, you're likely to spend most of your time in the Downtown area and Pearl Street Mall. Downtown Boulder has many restaurants, shops, and entertainment venues. Pearl Street Mall is a four block pedestrian-only area that is located downtown. It's lined with boutique shops and quaint restaurants which are housed in historic buildings, giving the area a nice atmosphere. You'll also find many street performers putting on shows in the area.
Another popular area in town is the University area, where you'll find no shortage of bars, restaurants, and activities. These facilities typically cater to a young crowd but it can be a great place to hang out and grab a cheap drink.
Activities
Boulder is a haven for outdoor sports. There are many places to go hiking with some of the most interesting being Boulder Creek Path, Chautauqua Park, Flagstaff Mountain, South Boulder Creek Trail, Eldorado Canyon State Park, and Boulder Ale Trail. There is also whitewater rafting, tubing, biking, and skiing in the area.
For live performances you can head to Fox Theater or Macky Auditorium. If you happen to be in town at the time, Boulder Open Studios Tour is held the first two weekends in October and you can visit the studios of many different local artists.
Food and Dining
Restaurants in Boulder and usually of high quality. The best restaurants can get quite crowded so reservations are recommended. There's a diversity of options for all budgets and styles. Mexican food is common and usually affordable and excellent. Chinese, Thai, Japanese, and Vietnamese are all available, along with many other international flavors. There are also some great steak houses in the area. For lunch there are delis, cafes, and casual dining options. For budget options look for restaurants near the university.
Transportation
If you're hoping to fly into the area, your best option is to arrive at Denver International Airport and then drive or take a bus on to Boulder. There are hourly buses that run between the two cities, and as Boulder is only a twenty minute drive from Denver, this is a great option.
Once in Boulder, you can travel around using the RTD bus system, which is well integrated with Denver's mass transit system. Alternatively, biking is an excellent option and you will find many locals commuting around town on bikes. Driving is always an option but the city can be frustrating to navigate with many one way streets, heavy congestion, and difficult parking. Unless you're traveling outside of town, public transit within the city and biking are really your best options.
Related:
Looking for a
party hostel in Hawaii
or
Miami
? Traveling alone to
LA
or
New Orleans
? Want a budget hostel in
NYC
?