Located in Yampa Valley, Steamboat Springs is a popular skiing and vacation destination for families that is known for its geothermal hot springs. Families visiting the area often choose between either the Old Town or "The Mountain" area when looking for vacation rentals. The Old Town is filled with charm and character, while The Mountain is the ski resort area. Both areas have plenty of family-friendly places to stay. Old Town is about 4 miles from The Mountain and the two are connected by the paved Yampa Core Trail, which is a great biking or jogging path.
If your family is looking for a place to stay or a vacation rental in Steamboat Springs, then we have already found the most ideal places on Airbnb. You probably need more space than what a typical hotel can offer, so we have researched the best family-friendly places to stay on Airbnb for your next family trip to Steamboat Springs. All of these places have kitchens, laundry, multiple-bedrooms, and other amenities that families need when traveling. So, let's get to it: here are the best Airbnbs for families at Steamboat Springs, Colorado.
Old Town
Families love the charm and character that Old Town offers. The area has historic homes, bungalows, cottages, and a diverse range of places to stay that make for a fun vacation. The area's main street is filled with restaurants and shops and there are a lot of trails in the area that are worth exploring. If you're hoping to stay somewhere with a local vibe and a sense of community, then Old Town is the place to be. Below are several great properties that are perfect for a family vacation.
Downtown Historic Log Cabin
2 Bedrooms/1 Bathroom, Fenced-In Yard, Large Deck & Grill
This charming log cabin is located in a quiet residential part of downtown Steamboat Springs. It's about a 6 block walk from main street and there's a large fenced-in yard, a large deck, grill, fire pit, and more. There's also a classic wood stove and a full kitchen. It's a great option for small families of up to 5 people that want to stay somewhere with a lot of character and personality.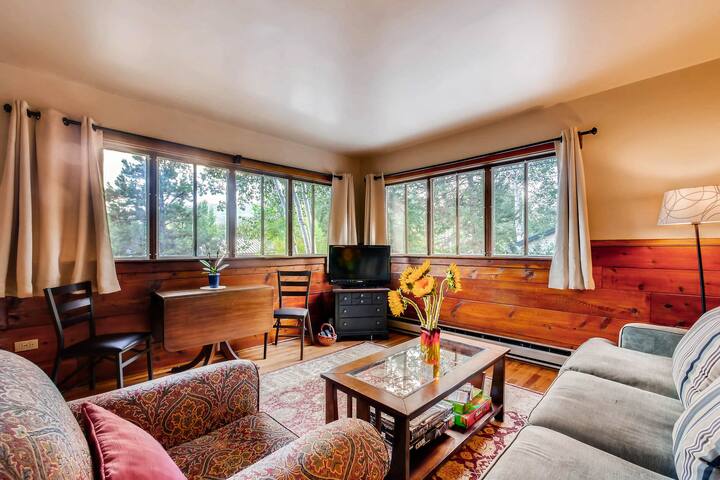 Hidden Haven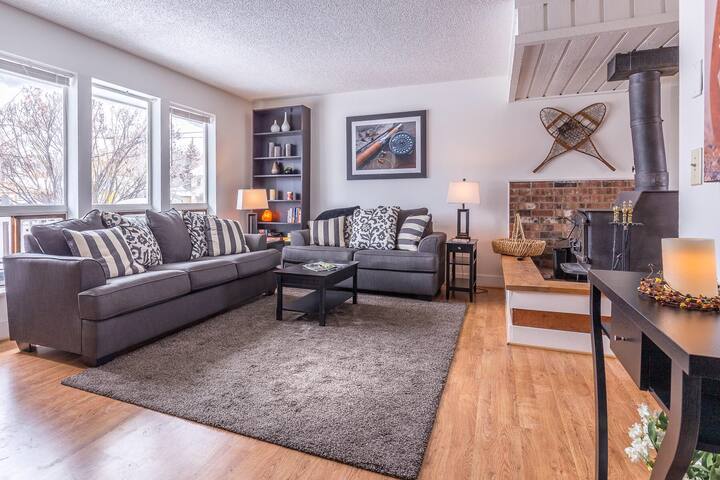 3 Bedrooms/2 Bathrooms, Wood Burning Stove, Deck & Grill
This three bedroom home is a nice option for families with up to 7 people. It's just 4 blocks from downtown and it's conveniently close to a free bus service. The living space has a classic wood burning stove and there's a nice front deck, an outside fire pit, and a grill. There's also a fully stocked kitchen.
Bohemian Rhapsody
4 Bedrooms/3 Bathrooms, Nice Outdoor Space, Gas Fireplace
This 4 bedroom home is a great option for large families or several families traveling together. It can sleep up to 10 people and it's 2,300 square feet. The eclectic style mixes industrial, modern, and rustic styles to create a lot of charm. The property has a gas fireplace, a greenhouse, and a grill.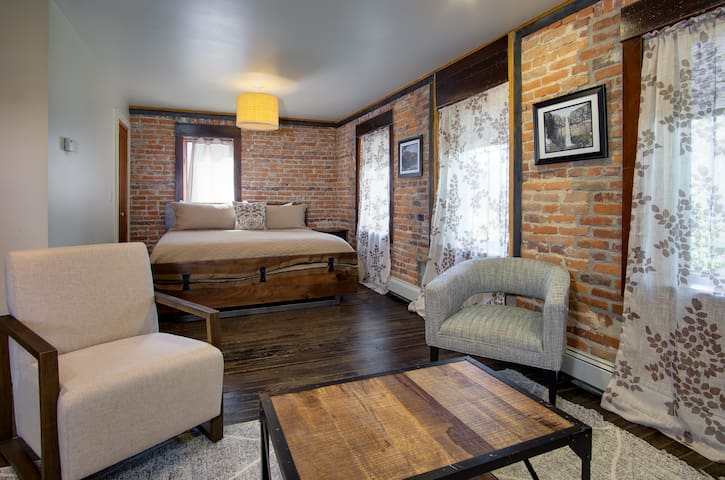 Apres on Yampa
2 Bedrooms/2 Bathrooms, Several ADA features, King-sized Bed
This 2 bedroom condo is located in a quiet part of downtown Steamboat Springs. The unit can sleep up to 6 people and it's a modern condo that has several ADA accessible features including wide doorways and lower countertops (but no grab bars in the bathrooms). There's a king-sized bed in the master bedroom and a jacuzzi tub. For families that want plenty of space and a quiet residential setting, this is a great option.
The Mountain
For families that want to be near skiing, hiking, and natural beauty, The Mountain is the place to stay. It is 4 miles to the south of the Old Town and is a popular resort destination with great restaurants and shops. There are a large number of condos in the area, many of which are near Gondola Square. As you head further away from the square the area becomes less touristy and more local.
2 Bedroom Condo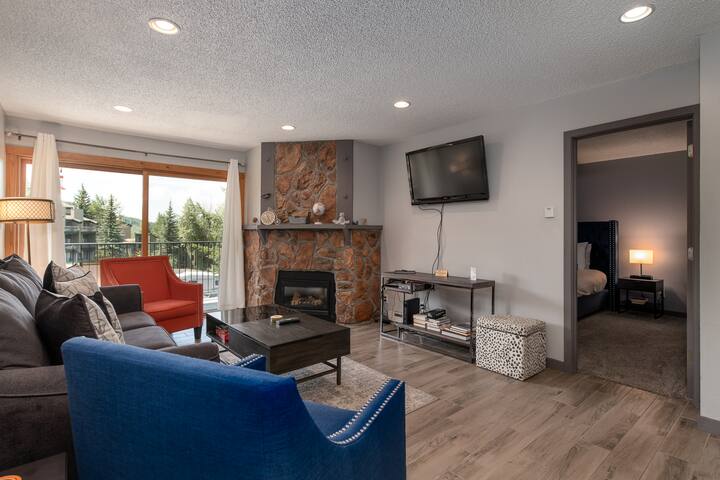 2 Bedrooms/2 Bathrooms, Balcony, Fireplace
This beautiful 2 bedroom condo can sleep up to 7 people. It's walking distance to the slopes and has an open floor plan that families enjoy. There's a nice fireplace and a balcony with impressive views. The kitchen is also well equipped so you can prepare your own meals.
Convenient 2 Bedroom Condo
2 Bedrooms/3 Bathrooms, Shuttle, Community Pool
This convenient 2 story, 2 bedroom property can sleep up to 8 people. There are 2 king-sized beds, bunk beds, and a sofa bed. The property is a 3 minute walk from the slopes and there's a private shuttle that runs every 20 minutes during the winter months. The kitchen is nice and the property feels modern. The complex has a pool and hot tubs as well.
3 Bedroom Townhouse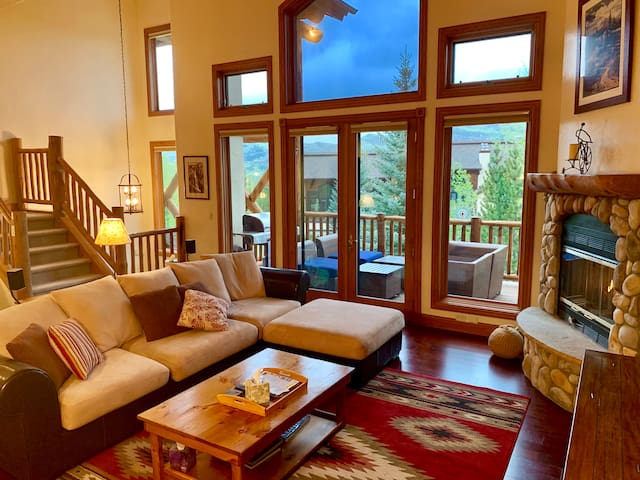 This 3 bedroom townhouse can sleep up to 8 people. There's a nice fireplace and a large balcony with comfortable seating. The complex also has a pool, hot tub, and tennis courts.
Mountain Oasis
2 Bedrooms/2 Bathrooms, Community Hot Tubs, Sauna
This 2 bedroom condo can sleep up to 8 people. It offers impressive views of the mountains and is near the area's excellent skiing and hiking. There are a few great restaurants nearby as well. You can reach the mountain in about a 3 minute drive or there's a shuttle available during the winter months. The complex also offers a number of amenities including a gym, hot tub, sauna, and more.
Luxurious Family Chalet
4 Bedrooms/4.5 Bathrooms, Private Hot Tub, Pool Table
This luxury mountain chalet has space for up to 14 people. It's perfect for family vacations or multiple families traveling together. The property has a private hot tub, pool table, wet bar, games, and more, making it a great place for kids and adults alike. The large windows also offer spectacular views of the mountains.
The property is about a 5 minute drive from the mountain. There are also a number of restaurants and a grocery store nearby. Downtown Steamboat is also about a 10 minute drive away.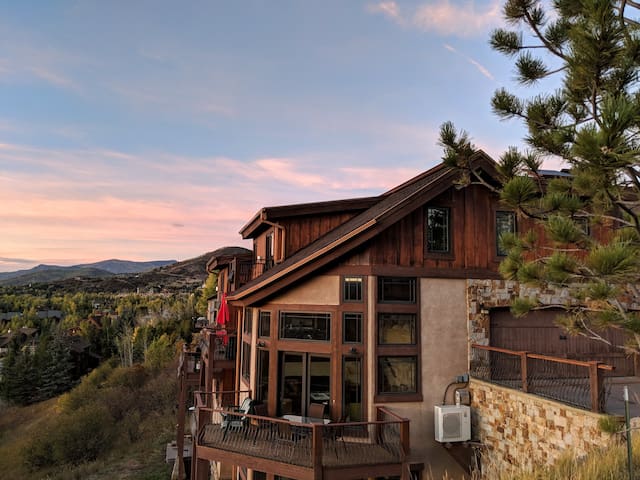 Happy Travels!
Make sure you also see
The Best Romantic Airbnb Cabins and Condos in Steamboat Springs for Couples
and
The Best Airbnb Cabins in Steamboat Springs for Large Groups
if you're interested in more places to stay in Steamboat Springs.