Lake Tahoe is a great destination for skiing, hiking, and all kinds of outdoor activities. The lake is one of the most scenic in the United States, and it offers plenty of outdoor activities year round. There are a number of towns and villages around Lake Tahoe, each with its own character and personality. Groups enjoy the diverse outdoor activities and scenic areas throughout the area.
If you want to plan a trip with a group of friends, then you probably need more than what a hotel can offer. First of all, you need more space. The following cabins and condos that we have researched have plenty of space for your group, along with full kitchens, laundry, extra bedrooms, outdoor spaces, and great locations. These properties on Airbnb are perfect for bachelor and bachelorette weekends, ski trips, a girls' weekend getaway, or groups of couples looking for an adventurous escape from the daily grind. So, let's get to the list of the best Airbnb's for groups around Lake Tahoe.
South Lake Tahoe
South Lake Tahoe is on the southern side of the lake. It offers a great combination of fun lively activities and outdoor beauty. Heavenly Mountain is a great spot for winter sports, skiing, and hiking during the warmer months. The area also has many great parks and other activities that groups can enjoy. El Dorado Beach is one of the more popular spots on the lake for relaxing and enjoying the views.
For groups that want to enjoy an adventurous outdoor setting, South Lake Tahoe is a great destination. Below are some great property options for groups of different sizes.
Grand Lake Tahoe Chalet
6 Bedrooms/3.5 Bathrooms, Private Hot Tub, Fire PitGrill/Bocce Court/Outdoor Dining Space, Games, 2 Fireplaces
This luxury house has 11 beds, making it a great option for large group gatherings. There are 6 bedrooms and 2 lofts, as well as many large gathering places like a living room with a bar. The property also has a large backyard with a hot tub, fire pit, grill, bocce court, and an outdoor eating area.
The Round House
3 Bedrooms/2 Bathrooms, Private, Hot Tub, Grill, Across from the Lake
This beautiful house is right across the street from the lake and offers impressive views of the water. It's a short drive from the casinos and is a two story home with modern decor and quality furnishings. There's a nice outdoor space with a grill and even a hot tub that groups enjoy.
Stateline
Stateline sits on the border between California and Nevada (hence the name). It's conveniently close to South Lake Tahoe and offers a quieter option for groups who want to be near everything but also want a more peaceful town with a community vibe. The area is less touristy than South Lake Tahoe, but it still offers easy access to Heavenly Mountain, parks, hiking trails, and more.
Stateline also has a number of resorts, spas, and casinos. For groups, AirBnB has a number of nice listings that can accommodate groups of varying sizes. Below are just a few options.
Ski and Beach Retreat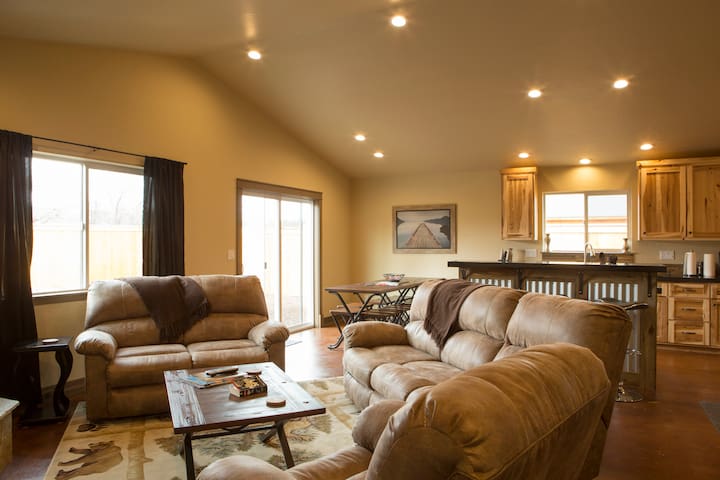 3 Bedrooms/2 Bathrooms, Fenced in Yard
This simple but comfortable house offers a relaxing retreat to Lake Tahoe. It's walking distance to the lake and not far from the area's casinos and restaurants. Groups love the fenced in yard and reliable furnishings.
Pandora's Mountain Chalet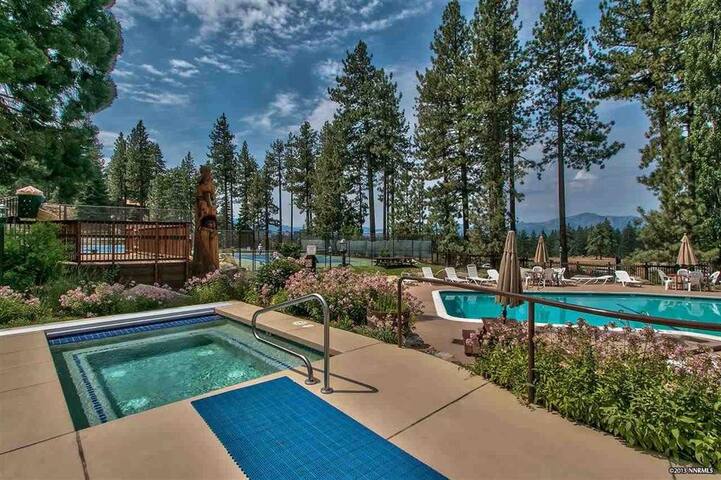 4 Bedrooms/3 Bathrooms, Pool Table, Private Hot Tub, Game Room, Community Pool
Located near the lake, Heavenly Ski Resort, and the Stateline casinos, this chalet offers a wooded retreat that is great for groups. There's a bumper pool table, a private hot tub, darts, and a separate game room. The community also has a heated pool that is open during the summer months, tennis courts, and more.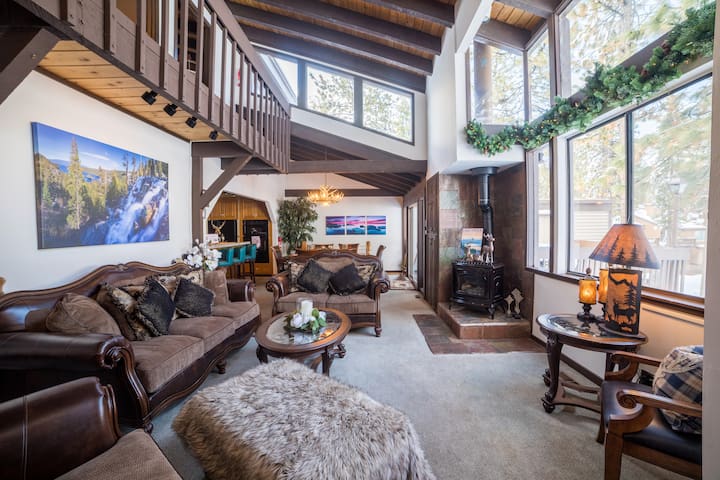 Large Group Retreat
5 Bedrooms/3 Bathrooms, Large Outdoor Space, Basketball & Tetherball, Private Beach Access
This large property is a great option for larger groups. It's just a couple blocks from the area's casino's, Heavenly Gondola, and many great restaurants. It's also 3 blocks from a private beach that you'll have access to. The area is large, with a large fenced yard. Guests have access to basketball, tether ball, a hot tub, and large decks.
Carson City
Carson City is the capital of Nevada and it makes for a well rounded destination. With lots of history, a few good museums, and easy access to beautiful natural settings, Carson City has a little bit of everything. There are also some beautiful nearby beaches by the lake.
The below property is a nice option for small groups.
Carson City Duplex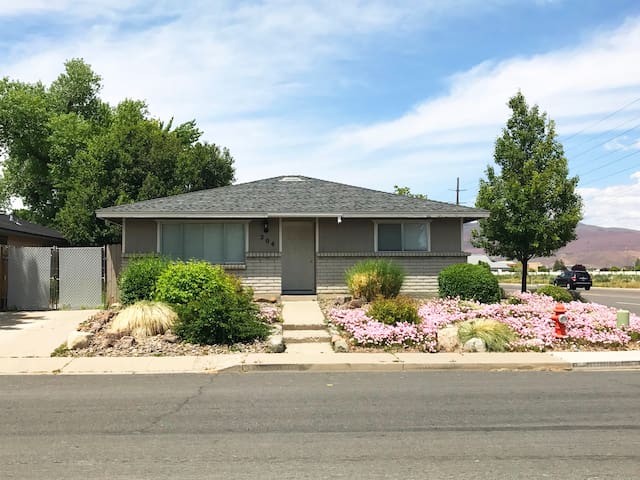 2 Bedrooms/1 Bathroom, Patio, Fenced Yard
This modest duplex unit is a nice option for a small group (up to 5 people). There's an outdoor patio, a fenced yard, and it's about a mile from downtown Carson City. The property is clean and well maintained, and makes a nice stopping point for anyone passing through or looking to experience what the area has to offer.
Incline Village
Incline Village offers a fun, adventure-filled vacation for groups who enjoy skiing, hiking, and natural beauty. The area has access to great ski slopes that are fun for all experience levels. There's also lots of hiking in nearby Humboldt-Toiyabe National Forest. The town is charming and offers a quintessential ski town vibe.
Below are some great properties for groups headed to Incline Village.
Luxury Incline Village Home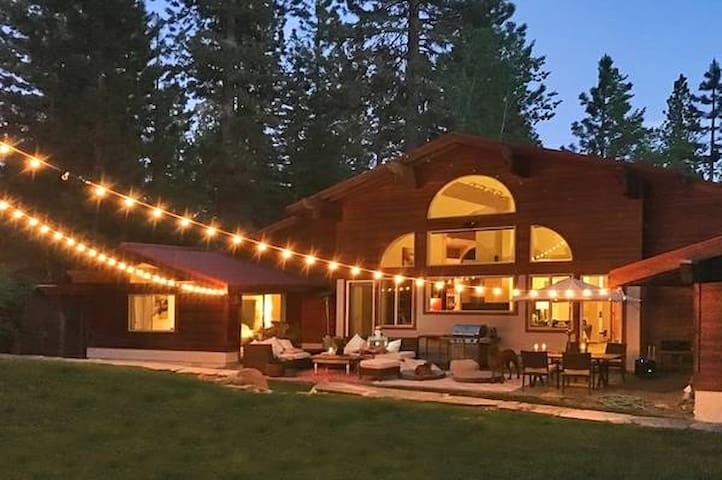 4 Bedrooms/3.5 Bathrooms, Indoor/Outdoor Living, Deck, Grill
This home is a nice option for large groups of up to 10. It offers an excellent indoor/outdoor living experience with a beautiful outdoor space with comfortable seating, dining, and a grill. The property is near the lake as well as the ski slopes. The kitchen is high end with an open floor plan that is perfect for groups.
Creekside Cabin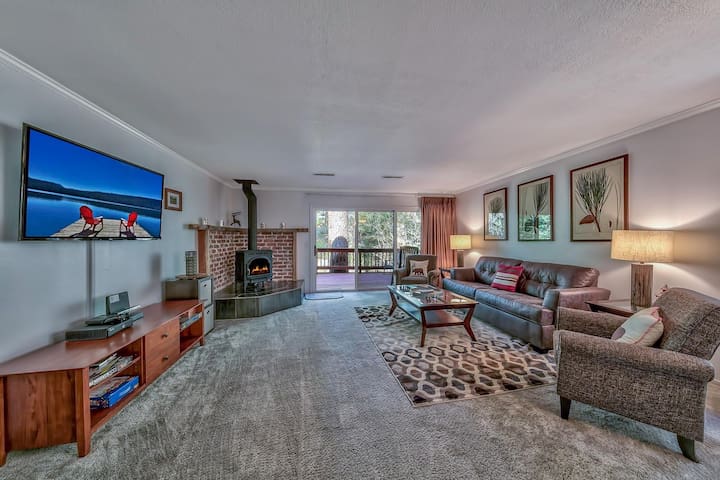 2 Bedrooms/2.5 Bathrooms, Fully stocked kitchen, Parking
This cabin is a cozy and comfortable option for groups of up to 6 people. It's located in the heart of Incline Village near the Championship golf course. It's also close to several skill resorts. The kitchen is well stocked and the furnishings are modern.
Olympic Valley (Squaw Valley)
Olympic Valley, sometimes called Squaw Valley, is a great ski destination for groups with skiers of all experience levels. The skiing is great for everyone, and the town has a fun, mountain vibe with great restaurants and bars. The area also offers a lot of natural beauty year round. The town is actually about a 15 minute drive from the lake, but there's plenty to do everywhere.
Below are some great properties for groups in the area.
Luxury Squaw Valley Cabin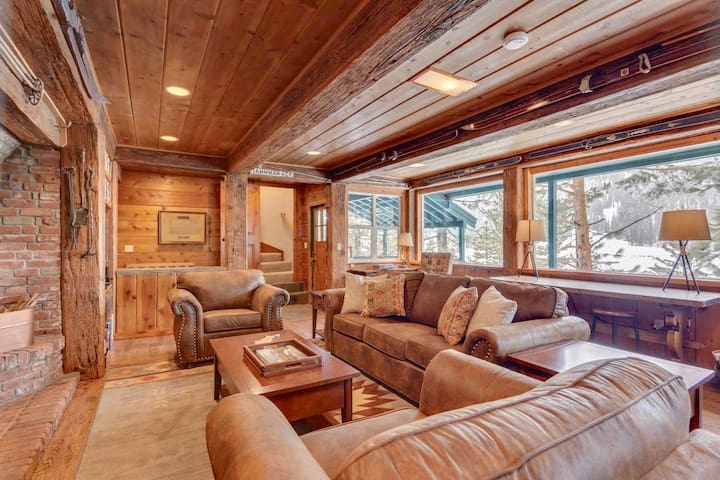 7 Bedrooms/5 Bathrooms, Rooftop Deck, Fireplace
This large home is a great option for large group gatherings. It can accommodate up to 16 guests and has stunning mountain views. It's close to the Village and has a rooftop deck, an impressive kitchen, and more. There is a free shuttle to the ski resorts, but the location is convenient and quiet.
Quiet Squaw Valley Apartment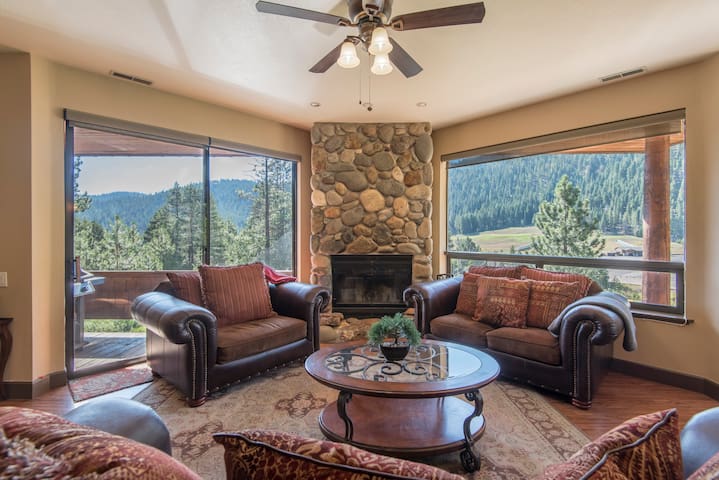 2 Bedrooms/2 Bathrooms, Kitchen, Fireplace, Washer/Dryer
Located just 10 minutes from Lake Tahoe and a 7 minute walk from the Village, this apartment offers a quiet retreat that is still convenient to everything. It's a great option for groups up to 7 people in size who enjoy golfing, skiing, hiking, biking and any other outdoor activity.
Northstar
Northstar is to the north of Olympic Valley and just a ten minute drive from Truckee Tahoe Domestic Airport. It's a popular ski destination that's fun for groups of all sizes. The town offers access to world class skiing as well as beautiful natural settings. It's about a 15 minute drive from Carnelian Bay on Lake Tahoe. It's also near Crystal Bay as well as several nice beaches.
True North Lodge
5 Bedrooms/5.5 Bathrooms, Game Room, Chef's Kitchen, Stone Fireplace
This beautiful lodge offers an excellent retreat for large groups. It sleeps up to 16 people and has impressive vaulted ceilings, a stone fireplace, and grand furnishings. The chef's kitchen has 3 ovens, a 6 burner stove, and 3 dishwashers, so it's easy to accommodate very large groups. There's also plenty of games including pool, foosball, shuffleboard, ping pong, and more.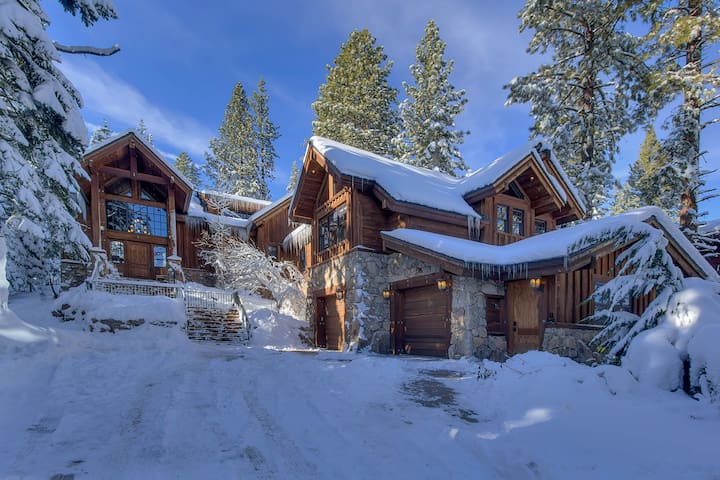 Ultimate Northstar Ski Condo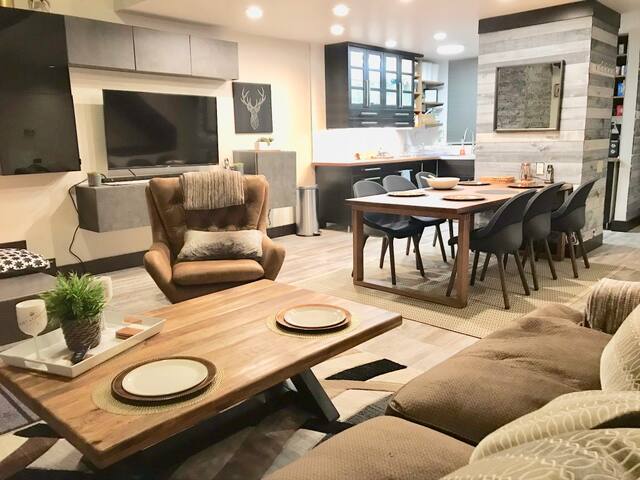 3 Bedrooms/2 Bathrooms, Shuttle, Washer/Dryers
This 3 bedroom condo is great for a small group of up to 7 people. The condo is modern, clean, and comfortable with nice furnishings and amenities. You'll also have access to a free shuttle to Northstar Gondola and Village just a few minutes away.
Northstar Group Retreat
3 Bedrooms/2.5 Bathrooms, Full Kitchen, Board Games, Complimentary Shuttle
This modern home is located in the Northstar community. It's just a short (free) shuttle ride from Northstar Village and is a great destination for large groups of up to 10 people. There is plenty of parking, a full kitchen, 3 different televisions, board games, and more available to guests.
Happy Travels!
For more ideas about places to stay in South Lake Tahoe, you might also be interested in
The Best Airbnb Places to Stay for Couples at Lake Tahoe
and
The Best Airbnbs for Families at Lake Tahoe: Cabins, Condos, & Places to Stay
.