Copper Mountain, Colorado, located about 75 miles west of Denver, is a very popular ski resort and mountain destination for couples looking for a romantic and adventurous getaway. Whether you're into skiing, snowboarding, hiking, or mountain biking, Copper Mountain offers plenty of activities for couples. And if you're looking for a place to stay as a couple, plenty of romantic and cozy places can be found on Airbnb. We've researched the best affordable vacation rentals and condos on Airbnb for couples looking for an amazing option in Copper Mountain, so read on to find your spot for your next trip.
The area is divided into three villages - East Village, Center Village, and West Village (previously known as Union Creek). The layout of the resort is very convenient and easy to get around. The beginner ski runs are to the west and they become more difficult as you move east. Intermediate runs are towards the middle and the more advanced runs are to the far east. The most challenging runs are on the backside of the mountain. Tucker Mountain is where you'll find the double black diamond runs.
East Village
Copper Mountain's East Village offers convenient access to the intermediate and advanced ski slopes in the area using the Super Bee, a high speed six passenger chairlift. There's also a tubing hill nearby. Properties in the village range in size and typically include condos and townhomes.
Below are a few properties that are great for couples in the East Village.
Copper Slopeside Condo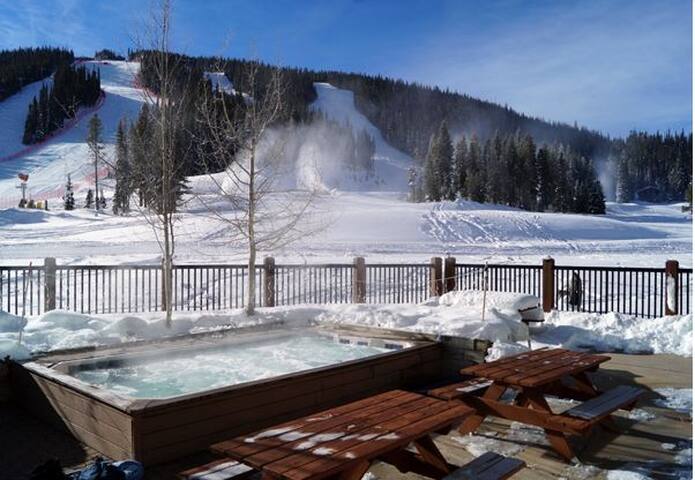 1 Bedroom/2 Bathrooms, Community Hot Tub, Underground Heated Parking
This 1 bedroom condo is a great ski in/ski out option that's located very close to the base of Super Bee lift. It's a 2nd floor unit in the Foxpine Inn. Guests love the complex's hot tub and underground heated parking. There's also an impressive kitchen in the unit.
Copper Mountain Condo
1 Bedroom/1 Bathroom, Community Hot Tub, Community Grills
Located about a 5 minute walk from Super Bee Chairlift, this condo has a nice view of Copper Creek Championship Golf Course. It's a 1 bedroom condo that is a great option for couples who want a bit more space. There's a fully stocked kitchen and the complex has a hot tub, community grills, and an outdoor patio that guests can use during the summer months.
The Ski Grotto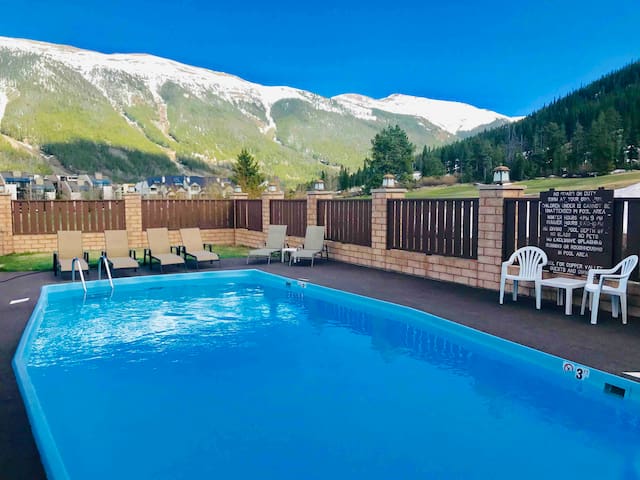 1 Bedroom/1 Bathroom, Heated Outdoor Pool, Sauna
This 1 bedroom condo is located between East Village and Center Village. It's a convenient ski in/ski out condo with modern furnishings and a large sectional sofa. Couples love the well stocked kitchen and comfortable layout. The complex has a heated year round outdoor pool and a sauna which is much appreciated.
Center Village
For couples who want to be near everything, Center Village is the place to stay. This area has a wide range of restaurants and shops and most properties in the village are within a short walk of the American Eagle and American Flyer lifts, so skiing is easy and convenient.
Below are a few nice properties.
Quiet Central Condo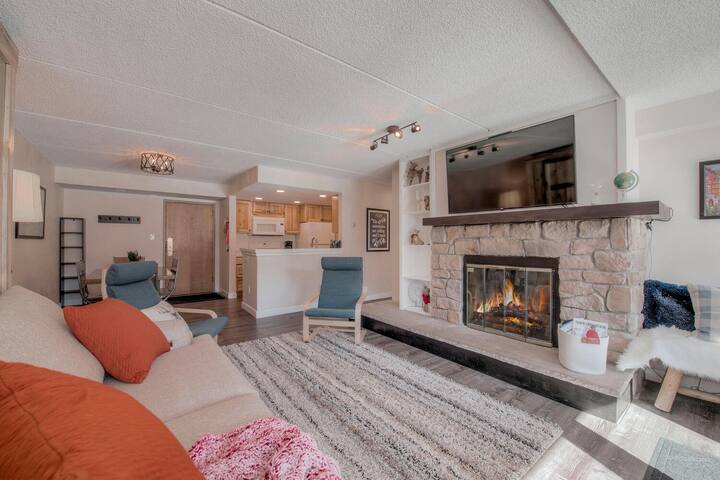 1 Bedroom/1 Bathroom, Large Deck
Couples love the quiet and convenient location of this condo. It's just a short walk from the American Eagle lift and it offers easy access to the area's excellent skiing, biking, and hiking. The unit has a lot of natural light and there's a large deck where you can relax with a hot drink. There's a nice kitchen and plenty of space to unwind after a busy day
The Copper Cabin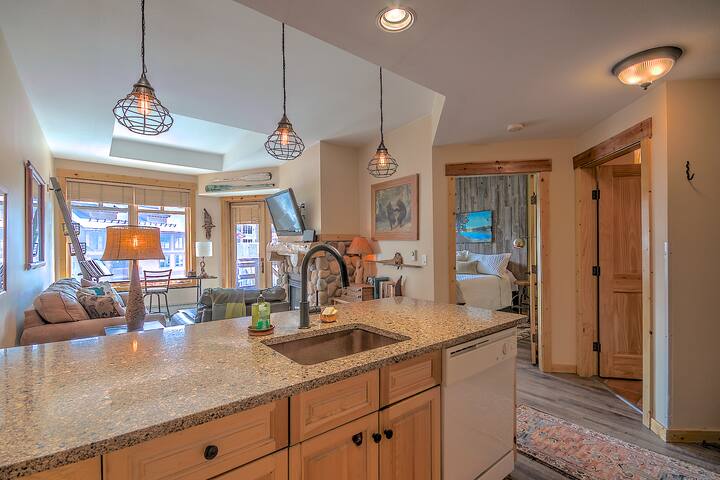 This 1 bedroom condo offers easy access to hiking and skiing. It's just a short walk from the American Flyer lift and everything that Center Village has to offer. The kitchen is comfortable with high end appliances and the property offers a lot of natural light. This is a comfortable condo where you can easily unwind after a busy day outside.
Luxury 1 Bedroom Condo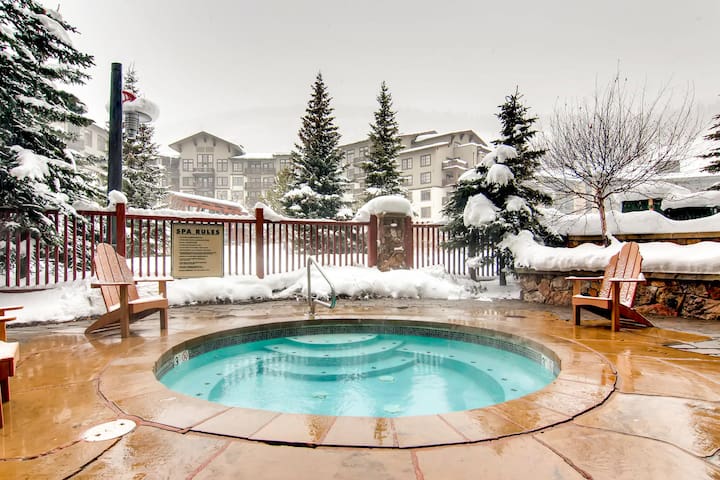 1 Bedroom/1 Bathroom, Community Hot Tub, Fitness Center, & Sauna
Couples love this 1 bedroom condo because of its spectacular views of the mountains and the serene pond. It's located in Taylor's Crossing, which has a hot tub, fitness room, sauna, and steam room. The condo is also near skiing, golfing, and dining. There's a fully stocked kitchen and a stone fireplace that guests really enjoy as well.
Center Village Condo
This studio condo is conveniently located right by Flyer Lift and near many restaurants and shops. It's the perfect size for a couple who wants convenience, affordability, and access to a full kitchen. The furniture is nice and the appliances are of good quality.
West Village
West Village is where you'll find Copper's Ski & Ride School. This keeps things lively and active during the day, but the evenings are much more calm and peaceful. This is a popular area for first time skiers because of the beginner terrain and base facilities, so you can expect to see a lot of families in the area.
Cache Building Condo
2 Bedrooms/2 Bathrooms, Community Hot Tub, Grill
Located in the Cache Building, this 2 bedroom condo is walking distance to the area's new high speed ski lift. The unit has a nice kitchen, a deck, and a gas grill. There's also a fireplace, a community hot tub, and plenty of space for a couple to spread out and make themselves at home.
Top Floor Mountain Condo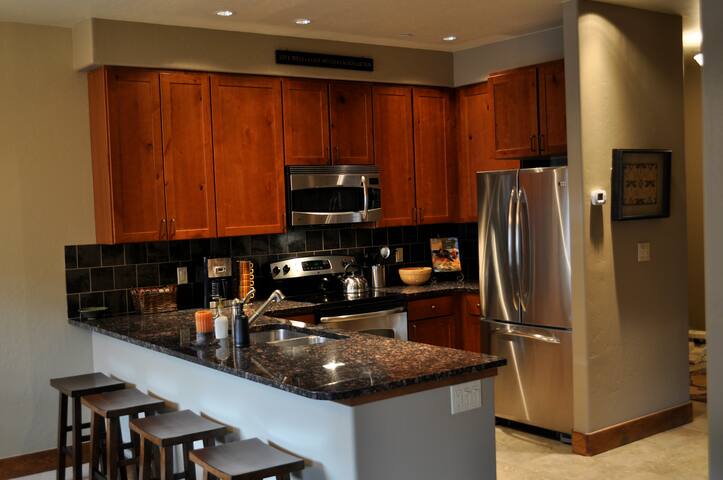 This 1 bedroom townhome offers a quiet but convenient vacation for couples who want to enjoy a beautiful mountain setting. The unit is on the 3rd floor in the corner, so it's quiet with spectacular mountain views. It's located in The Cache complex and offers a number of great amenities including a deck, grill, and fitness center.
Happy Travels!
For more information on accommodation in Copper Mountain, check out
The Best Airbnbs for Groups in Copper Mountain: Cabins and Places to Stay
and
The Best Family-Friendly Airbnbs in Copper Mountain
.