The Best Airbnb Cabins and Ski Condos in Bolton Valley, Vermont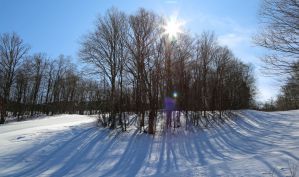 Just half an hour east from Burlington, Vermont sits the ski resort of Bolton Valley, one of New England's best and most popular ski and snowboarding spots. With over 70 trails of all different difficulties, Bolton is a great spot for beginners and experts. That's one of the reasons why it's so popular with all types of travelers, from families with kids to younger couples to groups of friends. Bolton is a great place for a full week of skiing or just a weekend getaway. Snow tubing, ski lessons, snow shoeing, an indoor skate park, and backcountry skiing are all offered at Bolton Valley.
And Bolton is also great in the summer, as you'll find hiking, mountain biking, horseback riding, kayaking, wineries, restaurants, and other adventures in the area. Autumn is also popular, as
this is Vermont
, of course, and the fall foliage is gorgeous in the mountains. Perhaps it should be on your list for a girls' weekend getaway or a bachelor weekend of fun.
Need a place to stay in Bolton Valley? We have researched the best vacation rentals, cabins, and condos on Airbnb for your next trip. Whether you're traveling as a family, a couple, or a group of friends, these places will have everything you need to stay comfortable and have a great time. So, let's get to it: here are the best places to stay in Bolton Valley, Vermont on Airbnb.
Where are the best places to stay at Bolton Valley Ski Resort?
Contents: Swanky Slopeside Chalet | Affordable Bolton 1BR Condo | 3BR Bolton Ski-in/Ski-out Townhome | Modern Loft Condo | Couples Mountain Getaway | 3BR Condo - New
This terrific
2-bedroom
mountain house is modern with a chalet-style. Large windows bring in plenty of natural light and provide nice views. Inside you'll find a well-designed open concept layout with a living room around a stone fireplace that leads into the dining and kitchen area. The full kitchen is modern with all appliances you need to cook all of your meals. The bedrooms are cozy and the 2 bathrooms are modern, updated, and clean. Located very close to the ski slopes, this is a great option for anyone.
This
affordable
and modern
1-bedroom
condo is right by the slopes. Perfect for a couple looking for a ski weekend getaway or a summer hiking trip, you'll have everything you need here including a fully-equipped kitchen, a relaxing living room with a TV, and a modern bathroom. The ski slopes are just steps away. Laundry, Wi-Fi, parking, and other niceties are included.
This
3 bedroom
townhouse with room for 9 people is spread over 3 floors so that your group can have space, relax, and have plenty of comforts. The slopes are only steps away, too. The full kitchen and comfortable living room are on the main floor. Everything is new, upgraded, sleek, and modern. The kitchen is fully-equipped with modern cabinets and beautiful countertops. The living room centers around a nice fireplace, too. Upstairs are the bedrooms which are also spacious, with plenty of natural light and nice views. Two of the bedrooms also have sets of bunk beds in addition to the larger beds (so you're not forced into bunk beds if you're an adult). The bathrooms are luxurious, modern, and clean, too. Perfect for a family, multiple couples, or a group of friends, this condo-style townhouse has everything a visitor could want or need. Laundry, Wi-Fi, a work space, parking, and other niceties are included.
This funky and modern loft-style condo is perfect for a family, as it has a second bedroom with bunk beds as well as a ping pong table. The main master is in the loft space overlooking the rest of the condo. The fully-equipped kitchen and open floorplan with a living room area is perfect for keeping an eye on everyone in the evenings after a great day on the slopes or hiking trails. Board games and other kids' toys are included, too. Speaking of location, you're right there at the Bolton Valley ski slopes so you can just hop out of bed and get going. Laundry, Wi-Fi, and other niceties are included.
Here is the perfect studio condo for a couple looking for a modern, romantic, and clean place to stay on their next trip to Bolton. With a fully-equipped kitchen, along with a nice sofa and TV area, you'll have more than just a hotel room in this condo. The bathroom is also clean and modern, as this entire place is clearly well-maintained. The bed is large and comfortable, and the small deck has nice views to take in the mountain atmosphere. The location is perfect, too, as you're right on the slopes. Oh, and it's
affordable
!
This is the perfect ski condo because you can ski out the door down to the ski lift to start your day on the slopes. With
3 bedrooms
, it has enough space for up to 6 people. The views are great, and the amenities are too. The fully-equipped kitchen and spacious living room are modern yet rustic with a nice, comfortable rustic atmosphere. There's a nice balcony, too. The third bedroom has a set of bunk beds, which kids will love, making this a nice family-friendly place to stay in Bolton Valley. Laundry, Wi-Fi, parking, ski storage, and more are included. Considering the location, it's priced affordably making this condo a great value.
Some photos are courtesy of airbnb.com.
Share This Article