Vermont On a Budget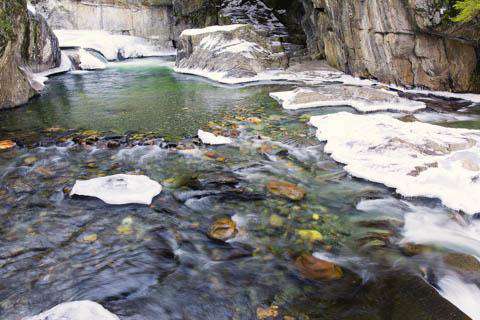 Located in the New England region of the United States, Vermont is best known for its quaint towns, maple syrup, stunning fall foliage, and the Green Mountains which offer great opportunities for hiking, skiing, and other outdoor activities.
Sights
Vermont's Green Mountains sit on the northern end of the Appalachian Mountain Range which extends further north into Canada and south all the way down to Georgia. Each year backpackers pass through Vermont on their journey along the length of the range, usually taking five to seven months to complete the trail in its entirety. The Green Mountain portion is a habitat for a diverse array of flora and fauna featuring dense deciduous and coniferous forests as well as wildlife like black bear, moose, and the pileated woodpecker. Most visitors flock to Vermont in autumn to experience the fall foliage, which bursts into full color usually in September and October. It is Vermont's busiest time of year, so reservations in advance are recommended at most locations.
Lake Champlain is another natural treasure, resting on the borders of Vermont, New York, and Canada. It is the nation's eleventh-largest freshwater body and marks the lowest point in Vermont. The lake and its surrounding area feature a number of lighthouses, parks, and roughly 80 islands. Burlington is the largest city that sits on the lake, with a charming pedestrian waterfront area lined with galleries, shops, and restaurants with live music and a great sampling of local micro-brews.
Other attractions include the golden-domed Vermont State House in Montpelier, the Old Red Mill in Jericho, and Manchester Center - a small town at the foot of Mount Equinox which features plenty of shops and restaurants amidst the mountain backdrop as well as the summer estate of Robert Todd Lincoln at Hildene.
Regions
Vermont is a mostly rural area, dotted with valleys and farms and lined with the Green Mountains running the length of the state from north to south. It is generally divided into four regions: Northeast Kingdom, Northwest Vermont, Central Vermont, and Southern Vermont. The Northeast Kingdom is densely forested and sparsely populated, making it a great escape for ecotourism with untouched scenery and a handful of small towns. Northwest Vermont is characterized by a mix of rural with cities like Burlington, Colchester, and Essex. Burlington is Vermont's largest city, though still on the small side with a quaint college town atmosphere of eclectic shops and restaurants. Central Vermont is home to Montpelier (VT's capital and the smallest state capital in the U.S.) and Plymouth (birth and burial place of Calvin Coolidge), as well as Stowe and Waitsfield (known for their ski resorts). Southern Vermont consists of a spread of cities and towns which serve as hubs for dining, shopping, skiing, and outdoor activities in the Green Mountains. Some of these locations include Bennington, Brattleboro, Rutland, and Manchester.
Activities
Being a mostly rural state with rolling farmlands and gorgeous mountain scenery, Vermont is state that draws people looking to get outside. Year-round activities range from hiking, camping, and backpacking in the spring and summer, leaf-peeping during fall foliage season, and snowshoeing, cross-country and downhill skiing in the winter. The quaint towns and small cities offer plenty in lodging, shopping, and dining and also make for great hubs between outdoor adventures. Some of the top ski resorts include Stowe, Sugarbush, Okemo Mountain, Killington Resort, Jay Peak, Suicide Six, Stratton Mountain, Bromley, and many more.
Food and Dining
Vermont is full of dining options from great hometown meals to trendy restaurants using local ingredients. Throughout the state, the farm-to-table method is very common. Some of Vermont's famous food products include maple syrup and cheddar cheeses, as well as the famous Ben & Jerry's ice cream which was founded in Vermont. Tours of the factory in Waterbury are available from 10 to 6 every day. Vermont is also home to a number of quality breweries, including Magic Hat Brewing Co., Long Trail Brewing Co., Rock Art Brewery, Alchemist Pub & Brewery, and Hill Farmstead Brewery, amongst others.
Transportation
By plane, there are a few small airports including Burlington International, Rutland State, and Manchester Airport (in New Hampshire). Burlington International offers flights to and from Atlanta, Chicago (O'Hare), New York City (LaGuardia, Kennedy), Newark, Orlando, Philadelphia, Washington DC (Dulles and National), and Detroit - mostly by regional jet. Rutland has two flights per day to Boston, while Manchester Airport serves as a hub for northern New England and is about a 3-hour drive or less to anywhere in Vermont.
There are two Amtrak trains that serve the state: the "Vermonter" (with daily service between
Washington, D.C.
,
New York City
and St. Albans) and the "Ethan Allen Express" (with daily service between New York and Rutland, Vermont) Several long distance bus services also make the trip to Vermont - Greyhound, Megabus, Bonanza, and others.
Related:
Looking for a
party hostel in Las Vegas
or
San Diego
? Traveling alone to
NYC
or
LA
? Want a budget hostel in
San Francisco
?