Killington is a very popular ski and snowboarding destination in Vermont for both beginners and experts alike. But it's not just a ski destination, as the area offers plenty of year-round activities, too for visitors of all ages and the whole family. Plenty of amazing places to stay can be found in the area, too. Ski condos, mountain cabins, and cottages can make the trip even more relaxing and fun.
Jump down to
-
Ski Condos
-
Cabins & Cottages
Skiing and Snowboarding at Killington
For starters, in winter Killington (and nearby Pico Mountain) offers 212 trails over various peaks with numerous lifts on the second highest mountain in Vermont. They call it "The Beast" for a reason!. The slopes range from the kid-friendly bunny slopes to double black diamond runs, so every level of skier is happy. And if you're in to snowboarding, don't worry, as Killington offers two terrain parks: Woodward Mountain Park plus The Stash, a more nature-oriented terrain park. For kids and families, check out the tubing area which is open into the evening with lights if you want to visit later. A new resort lodge and new lifts make the experience that much better, too.
For apres ski activities, check out the numerous restaurants and bars around the resort area, including the Wobbly Barn with live music. Visit the Ledgewood Yurt in a snowcat for an amazing dining experience, too. And don't miss the spa treatments, either!
Warmer Weather Activities at Killington
If you're planning to visit in the warmer months, you'll find plenty to do. Hiking, mountain biking, horseback riding, gondola rides, golf, tennis, swimming, and more. Don't miss The Beast Mountain Coaster for those downhill thrills! Around the area you'll also find ATV rides, zip lines, ropes courses, rock climbing, and a very interesting outdoor maze.
Places to Stay at Killington, VT
So you need a place to stay at Killington? We've researched the best Airbnb's at Killington and Pico Mountain for your next trip, any time of the year. These condos and cabins offer plenty of room for your entire family, or plenty of romance if you're traveling as a couple. With extra bedrooms, full kitchens, lots of privacy, and perfect locations right by the mountain, you can't go wrong with any of these vacation rentals on Airbnb at Killington.
Ski Condos at Killington & Pico
Located right at the base of the mountain and very close to the ski slopes and chair lifts, one of the many ski condos would make a great choice for those interested in spending their time on the mountain. We have selected the best and most affordable ski condos close to the slopes which you can see below. All of them have full kitchens and modern luxuries for your next trip.
Upscale Family-Friendly 2BR Condo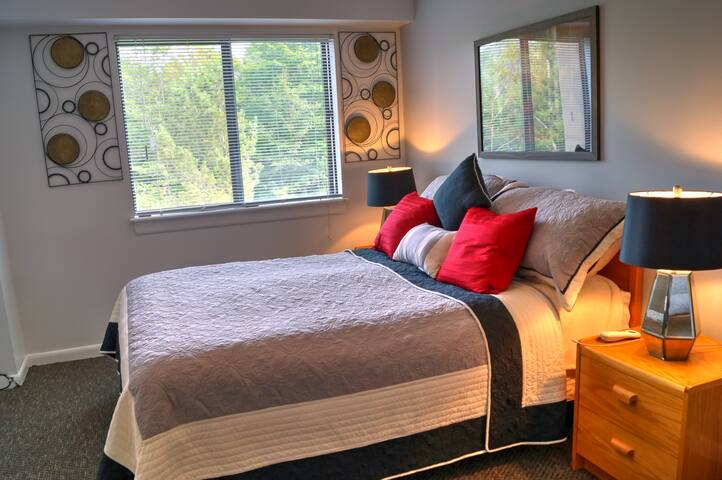 Within walking distance to the slopes, this 2-bedroom condo has plenty to offer. First, it has a fully-equipped kitchen that opens up into the nice living room space with a fireplace. Next, the bathrooms are clean and modern. A few family-friendly amenities are included such as a pack-n-play crib, high-chair, snacks, TV, and more. You really can't go wrong here!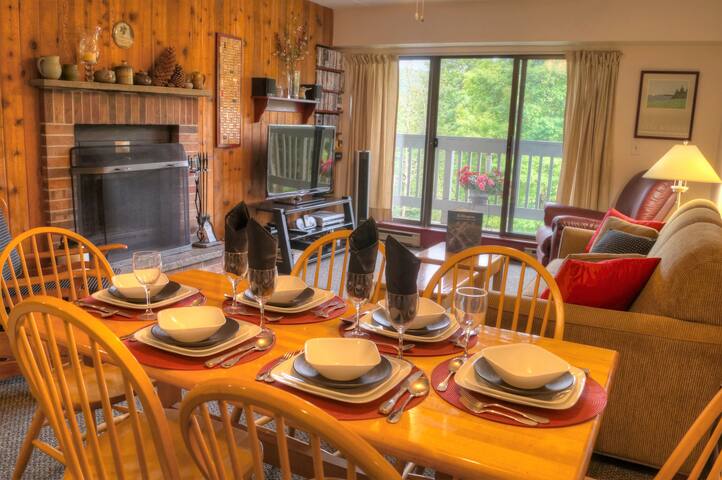 Luxury 1BR Condo
1.5 Bedrooms, 2 Bathrooms
Wow! This brand new condo has a level of luxury that is hard to find. With its amazing new kitchen next to the living room area, you'll be able to keep everyone engaged in your ski stories with the open-concept layout. The fireplace and the luxurious bathrooms are nice touches, too. While the sofa in the living room pulls out into another large bed, anyone sleeping here has their own bathroom. This is because the huge master suite has an even more luxurious bathroom as well as a king-sized bed. Laundry, wi-fi, and an outdoor pool are included.
Spruce Glen 2BR Townhome
If you need a little more space for your group or family, this
2-bedroom
townhouse is surprisingly modern and spacious. The building is relatively new, so you can enjoy modern conveniences such as a larger kitchen with everything you need to cook your own meals. The location is fantastic, as you can ski right out the door or back home again at the end of your day on the slopes. One of the bedrooms also has bunk beds which is great for the kids and gives your extra space, too. The bathrooms have nice touches and are quite luxurious. Laundry, Wi-fi, and a
sauna
are included, too!
1BR Townhouse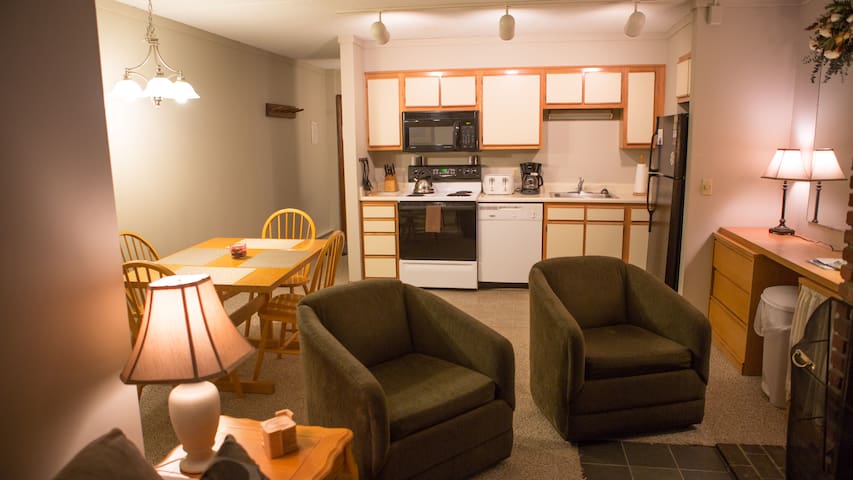 Located right at the base of the mountain in a terrific condo building, this 1-bedroom condo offers a king sized bed, a fireplace, a full kitchen, and a TV at an affordable price. In warmer months you can use the outdoor pool and tennis courts.
1BR Ski Condo
Another affordable vacation condo in the resort area at the base of Killington mountain, this 1-bedroom unit has a fully-equipped kitchen, fireplace, outdoor pool, and other great amenities.
Studio Ski Condo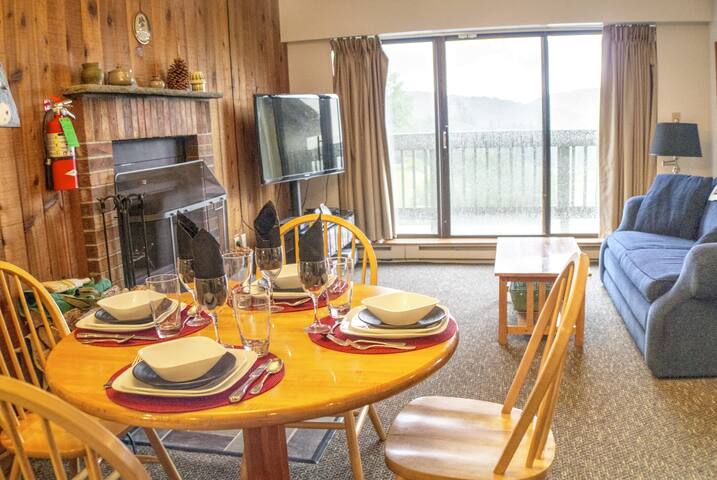 Here's a surprisingly spacious and luxurious studio apartment vacation rental in the resort area at the base of Killington. While it's all one room, the bedroom is tucked around a wall from the fully-equipped kitchen and modern bathroom. There's plenty of space to spread out, too, as there is a living room section with a TV and a fireplace. You'll have access to the community pool, too.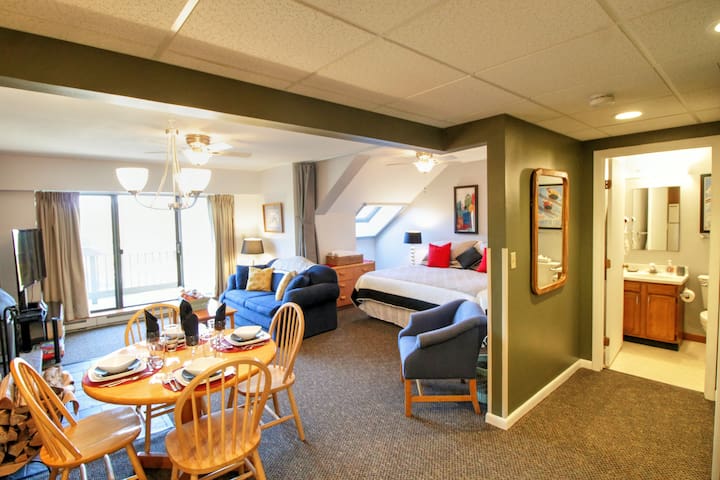 Pico 1BR Ski Condo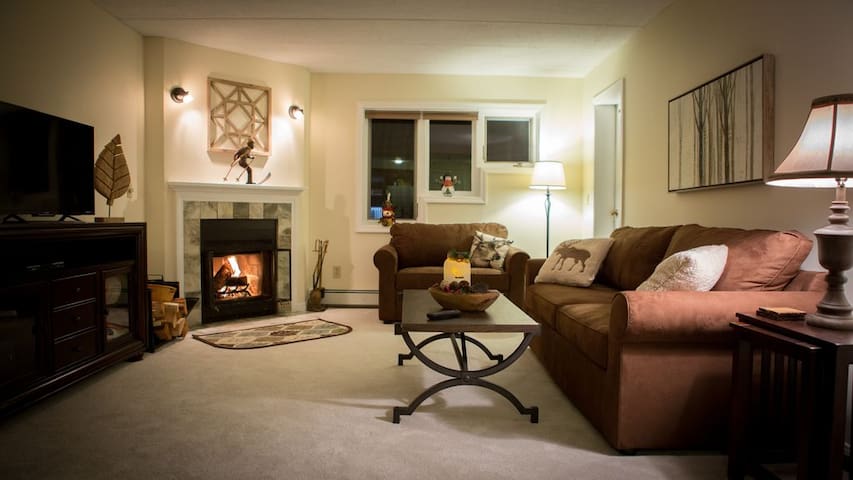 Over on the Pico Mountain side of the resort area, this 1-bedroom condo has plenty of space for up to 5 people. You'll have a fully-equipped kitchen to cook all of your own meals, too. Nearby is an indoor pool, and you're perfectly located at the base of the ski slopes near the lifts.
2BR Cozy Vermont Ski Condo
This 2-bedroom, 1-bathroom condo is more modern than many of the others in the area. Located just a few miles from the resort, you get a little more space here for a better price, but you're still close by. The open-concept kitchen and living room are very comfortable and modern, and the bathrooms are kept clean. A pool is available in the summer, and the condo has a nice balcony, too. Wi-Fi, laundry, and other niceties are included.
3BR Dog-Friendly, Pool
If you want more space and more amenities, this
3-bedroom
vacation rental townhouse has plenty of space and nice amenities. An indoor pool is provided at the complex, along with a game room for the kids, hot tub, and tennis courts. Located about halfway between Killington and Pico, everything is convenient.
The bedrooms are nicely appointed, the bathrooms are kept clean and modern, and the fully-equipped kitchen has everything you need to cook your own meals. One of the bedrooms has a set of bunks in addition to the queen sized bed, so kids or adults will be comfortable here. The master bathroom also has a jacuzzi tub. And since everything is spread across two-levels, you can have a bit more peace and quiet if the kids are watching TV and you just want to get some rest. Wi-Fi, laundry, and a
sauna
are included.
Airbnb Cabins at Killington & Pico
Renting a cabin as a vacation rental is a terrific option for larger groups and larger families. All of the cabins below have multiple bedrooms, terrific locations, full kitchens, and other fantastic amenities that will make your next trip comfortable and fun. These cabins could be a great option for a girls' weekend getaway, a guys' ski trip, a group of couples on a vacation, or just a bunch of friends. And of course, these cabins are terrific for a family trip as well!
Lovely Lodge 4BR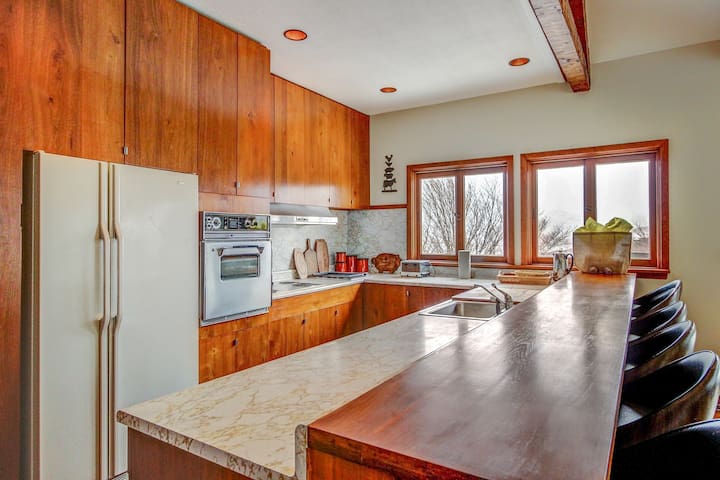 This luxurious and gorgeous mountain lodge offers 4 bedrooms, 4 bathrooms, a large deck with fantastic views, an open-concept fully-equipped kitchen, and huge picture windows that bring in plenty of natural light and provide views of everything around the house. This one should absolutely be on your short list! One of the bedrooms also has several sets of bunks which is great for the kids. In total, around 10 people could stay here comfortably. A
sauna
, laundry, wi-fi, and other niceties are included, too.
Located right by the Killington ski resort area, you're just minutes from the slopes and ski lifts. Check out the photos and the map!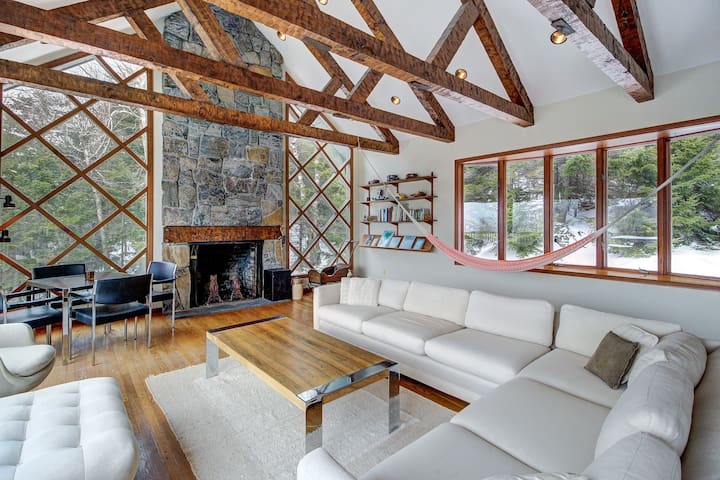 4BR Cabin
4 Bedrooms, 2.5 Bathrooms
This
4-bedroom
chalet style cabin has room for up to 6 people. With 2.5 bathrooms, everyone can have a little more space and privacy, too. Located just a few minutes from both the Killington and Pico ski resort areas, you'll be close to the slopes and all of the other activities around the mountain. In addition to a fully-equipped kitchen, this vacation rental mountain house includes a
hot tub
,
sauna
, fireplace, board games, movies and DVD's, and some fun quirks like a Star Wars themed bathroom. Wi-Fi, parking, and other niceties are included.
Killington Ski Chalet
Here's a spacious 4-bedroom house with 11 beds and 2 bathrooms. The fully-equipped kitchen has everything you need to cook all of your meals for your group. The kitchen, dining, and living room area also has an open layout so you can keep an eye on everyone and take part in the conversations about your adventures on the mountain. Several of the bedrooms have bunk beds in addition to larger beds, so adults don't have to bunk up if they don't want to, but the kids will love it. The bathrooms are clean and modern, too. Laundry, wi-fi, a large TV, a
hot tub
, a
sauna
, and some nice outdoor areas are all part of the package. This is a terrific vacation rental option for families.
Sugarhouse Lane Cabin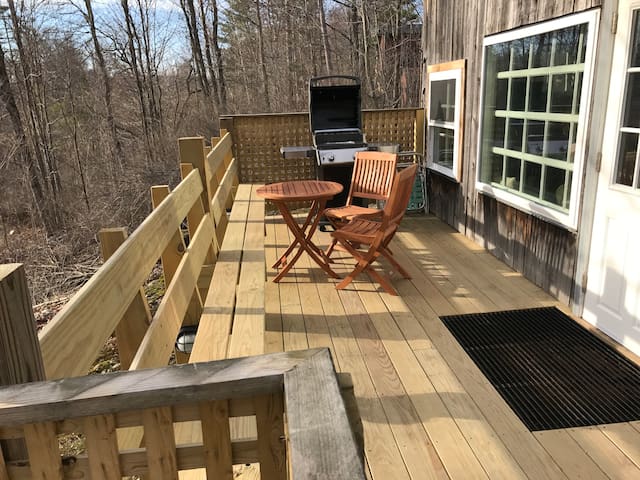 2 Bedrooms, 300-acre Property
Located about 20 minutes from the Pico Mountain and Killington ski resort areas, this cozy and quiet cabin is the perfect option for those that want to get away. It could be a great cabin for a couple looking for a romantic getaway or a smaller to medium-sized family. Sitting on a 300-acre farm property, you'll have room to explore the woods, the old farmlands, the pond, and surrounding hills.
The view from the deck looks out toward the beautiful pond (swimming in the summer!) and the surrounding forest. Inside you'll find a nice kitchen stocked with modern appliances. The living room has a gas-burning fireplace, and the bedrooms are relaxing, cozy, and warm. With a quaint, rustic atmosphere, you'll feel like you're really getting away into the mountains here. Recent renovations have given this cabin a new life with a better kitchen, modern bathroom, new floors, a new fireplace, and other amenities. It also offers wi-fi, a grill, plenty of parking, and home-made maple syrup for sale!
Dog-Friendly Cottage
This spacious 3-bedroom cabin has 2 levels with a very open and airy atmosphere. Dogs are welcome, which is nice because the property is in the forest with room to roam. A nice deck wraps around the house and has a grill. The fully-equipped kitchen opens into the cozy living room and has all you need to cook. One of the bedrooms is in the upstairs loft area, while the others are downstairs. Some bunk beds are available which is great for kids or larger groups, too. Located north of the town of Killington and Pico Mountain, this house sits in a natural area about 20 minutes from the ski resorts. It's also very affordable!
Woodland Retreat Cabin
Here's a 2-bedroom cabin with room for up to 6 people. It has a rustic vibe with modern, luxurious touches because it's fairly new. Located next to a stream, you'll be close to nature here so you can get out and explore the area. As it's about 15 miles from Killington, you can visit any time of year to take on all of the nearby activities. The second bedroom has extra beds for kids, and the comfortable living room and kitchen offers all of the modern amenities you need to cook your meals, relax, and enjoy your evenings after long days in the mountains. This getaway cabin is off the grid, so you can completely escape into nature.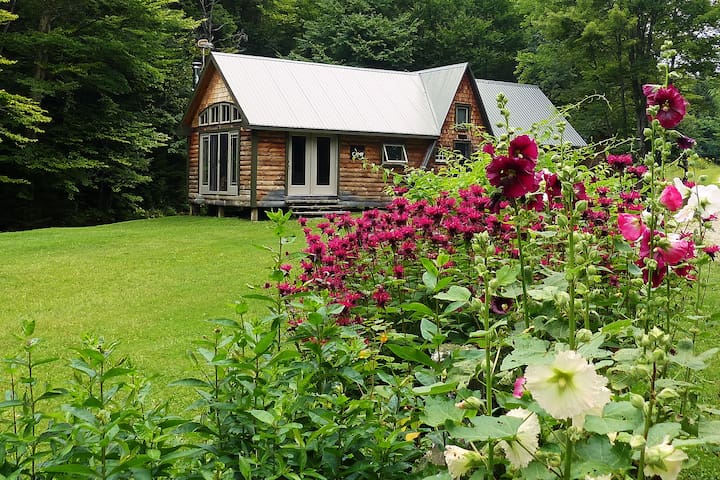 Happy Travels!