The Best Airbnb Vacation Rental Houses in Flagler Beach, Florida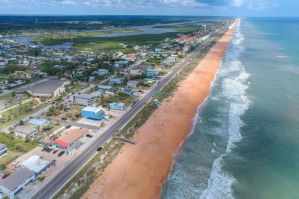 Flagler Beach, just north of the Daytona region and just south of Palm Coast, is a family-friendly and relaxed beach town on the Atlantic coast of Florida. Here you'll find plenty of fun and laid-back activities for all types of visitors who want to just kick back and relax at the beach in the warm Florida weather.
Booking a vacation rental in Flagler Beach is one of the best ways to experience this beach destination, as the town does not have many hotels, and you're going to want more space for your family or friends if you have more people. Vacation rentals give you more space, extra rooms, full kitchens, parking, laundry, and plenty of other amenities that families and larger groups usually need on a trip to the beach. We know that finding an Airbnb or a VRBO vacation rental in Flagler Beach can be a little challenging sometimes because there are so many options. The search can be overwhelming sometimes. But we've done the hard part for you and found the absolute best vacation rental beach homes in Flagler Beach for your next trip. All of these places we've described below have great prices, great locations, and terrific amenities.
Right in the center of Flagler Beach is the pier, which is a nice spot to look up and down the beach. In the blocks around the pier, visitors can stroll around the casual shops and restaurants to get some delicious seafood, tacos, burgers, and more. The shops have a variety of interesting things to see such as surf gear, beach-themed gifts, clothes, and souvenirs, too. Also, one of the best things to do in town is to go kayaking or paddle boarding on the inland waterway. As many of the vacation rental homes in the area are on the canals and intracoastal waterway, as well as there being plenty of boat ramps and public parks on the waterways, it's easy to find access to the water.
So for your next trip to Flagler Beach, one of these vacation rental beach houses will be perfect for your next family or friends trip to the beach. Let's get started!
Where are the best beach houses in Flagler Beach?
Contents: Rusty Pelican | Beautiful Beach House with Heated Pool | Flagler Beach Oceanfront Townhome | Sea of Blue - Vacation Rental Beach House | The Beach House - Affordable 2-Bedroom Vacation Rental | Canal-Front Dream with Pool & Dock | Sea Forever | Dreaming Dunes - Oceanfront Vacation Rental Beach House | Pisces Rising
Here's a gorgeous and well-designed 3-story beach house rental that has
3-bedroom
and enough room for up to 8 people. You'll have a terrific and spacious kitchen with updated appliances - it looks like it came out of a design magazine! The open concept kitchen and living room space is the perfect area to relax, enjoy the views from the large windows, and have some family and friends time together. The house is located across the street from the beach, so you're very close to the water. The bedrooms are also very well furnished, especially the master. And the bathrooms are elegant and luxurious, too. A nice patio area is outside, along with an outdoor shower. Laundry, wi-fi, and other niceties are all part of the package. Check out the photos!
This amazing 3-bedroom house sits across the street from the beach and directly on the intracoastal waterway. It has a nice pool (screened in) as well as a dock. Out back with the pool you will have nice views of the water, along with an outdoor kitchen and bar with a grill. There's also an outdoor shower for when you come back from the beach. Inside is a very comfortable and nicely furnished home with a fantastic kitchen that has everything you need to cook your meals. The living room and bedrooms are spacious and well appointed, too. Garage parking, wi-fi, laundry, and other niceties are included, too. Located about half-way between Flagler and Palm Coast, this stretch of beach is quiet, uncrowded, and relaxing. This is the perfect getaway vacation house for a family trip to the beach!
Here's a fairly affordable
2-bedroom
townhouse by the beach that is perfect for a family or smaller group of friends looking for a comfortable vacation rental. The fully-equipped kitchen has everything you need to cook all of your meals, plus it's updated and modern. The bathrooms are also modern and clean. The master bedroom has a balcony and large windows with a view over the ocean. There's also a balcony on the west side of the house looking back inland for those sunset views. The building has a nice pool, covered parking, and laundry and wi-fi are in the unit, too.
With a modern, slick, crisp, and elegant design that looks like something you'd see in a home design magazine, this gorgeous
3-bedroom
house has everything you could want in a vacation rental at the beach. First of all, the large open concept kitchen and living room space is very comfortable with nice furniture and large windows that open out onto the balcony. This balcony has unobstructed views of the ocean which is right across the street. The kitchen is modern, elegant, and of course has everything you need to cook all of your own meals. The bathrooms are equally as gorgeous, especially the master bath which is spacious with a walk-in shower. Another perk is the wet bar, coffee counter, and mini-fridge located downstairs with the bedrooms. This house is simply jaw-dropping!
If you have sticker shock from the price of some of the houses in the area, here's an
affordable
and cute 2-bedroom vacation rental beach house that sits just 2 blocks from the beach as well as just a few blocks from the pier, restaurants, and shops in Flagler Beach. With a modern kitchen, renovated bathrooms, a nice outdoor patio space with a table and grill, and modern furnishings, this is the perfect place for a family or a few friends to spend some time at the beach. Parking, wi-fi, laundry, and more are all part of the package (including baby stuff such as a pack-n-play and high chair). This house is a terrific find and a true gem!
Located just 3 blocks from the beach, this terrific
5-bedroom
vacation house sits on the canal and has a private pool with a huge outdoor living space. The interior is glamorous with an updated kitchen that is stunning so you can cook all of your meals in style. The living room is huge with a massive and cozy sectional sofa surrounding a large TV. In the corner is the pool table so your friends and family can have a great time inside or out. The bedrooms and bathrooms are equally as elegant. One of the bedrooms has bunk beds which the kids will love. And it keeps going, because another room off to the side has another TV lounge spot which makes a good game room for the kids.
The pool area is also impressive with a large covered deck with plenty of outdoor dining, an outdoor kitchen, bar, lounge chairs and outdoor sofas, and more. Did we mention the boat dock? This one you have to see to believe!
This luxury 5-bedroom vacation rental house has room for up to 16 people. So, it's perfect for a larger group of friends or a huge family (or multiple families) to share a trip to the beach together. With 2 kitchens and living room areas, plus plenty of bedrooms, there's space for everyone. The top of the house also has a loft and crows nest with 360 degree views over the surrounding area, including to the beach which is just across the road. The kids will love their special room with a fun ladder, and the adults will love the high-end finishings of the living room and bedrooms. Plenty of nice amenities are included.
Here's a luxurious oceanfront house right on the beach with 4 bedrooms and room for up to 8 people. With a gorgeous modern kitchen where you can cook all of your meals, plus updated bathrooms and well furnished bedrooms, this house is not just convenient, it's also comfortable, relaxing, and crisp. A back patio (with a grill) leads out to a deck with seating overlooking the waves. Just step down and you're on the sand. Laundry, wi-fi, garage parking, and other niceties are all included.
Just across the street from the beach is this custom-built
4-bedroom
house with two master suites, a luxurious kitchen, and an ample amount of space for a large family or group of friends. The list of amenities is long: multiple living room spaces that cater to adults and kids, elegant bathrooms with high-end fixtures, a top-level crows nest with amazing views to the ocean, fireplaces, beach toys and bikes, a BBQ grill, garage parking, multiple levels of decks and balconies, and more.
The location is also terrific, as you're just a few blocks from the Flagler Beach pier and the surrounding restaurants, shops, and activities. This is an amazing house for a family trip to the beach for sure!
Some photos are courtesy of airbnb.com.
Share This Article