Saint Augustine On a Budget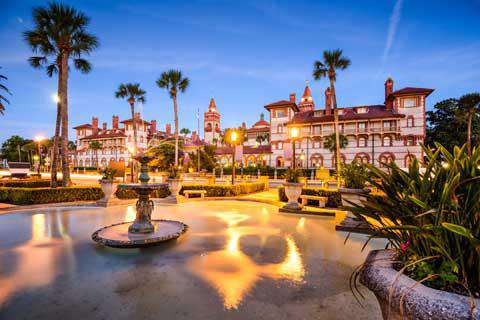 St. Augustine is the oldest European-established settlement in the United States. Spanish explorer Juan Ponce de Leon landed nearby and claimed the land now known as Florida in the name of Spain in 1513. They had originally named the land La Florida, which means "Land of Flowers". The city was founded by Spanish explorer Pedro Menendez de Aviles in 1565. Sir Francis Drake and John Davis burnt the city to the ground in 1586 and 1665 respectively, but St. Augustine soon became strong enough to fend off such attacks. Florida was purchased by the United States from Spain in 1819; it seceded during the Civil War, during which St. Augustine was occupied by Union forces.
St. Augustine has a humid subtropical climate, with mild weather during winters and hot weather during summers. It is common for daily thunderstorms to erupt during a typical summer afternoon, due to the heating of the land and water, combined with extremely high humidity. Sometimes in the winter it can freeze, but rarely. Most rains come from June to September.
St. Augustine is located on a peninsula between two rivers, the San Sebastian and the Matanzas. Tourism forms the backbone of its economy, though a few industries also make a significant contribution to the city's yearly revenue.
Sights
The oldest landmark in St. Augustine is the Castillo de San Marcos is also its second oldest masonry fort in the United States, after the Castillo San Felipe del Morro in San Juan, Puerto Rico. Viewed from the air, it is seen to have the shape of a square with an arrowhead at each corner. It was first built in 1672 at the orders of Governor Francisco de la Guerra de la Vega to fend off the English privateer Robert Searles, who had been raiding the surrounding settlement. Since 1924, the fort has been a national monument.
The Cathedral Basilica, the oldest church in the state, was first built in 1565, burnt several times and rebuilt in its present form in 1797. It was designated a National Historic Landmark in 1970. The clay roof tiles and curving bell gables are characteristic of Spanish mission architecture.
Other attractions and landmarks in the city range from historical to touristy, and include the Fountain of Youth, Fort Matanzas National Monument and Ripley's Believe It or Not.
Neighborhoods
While most of the "tourist" sights and activities are in the central part of the historic district, St. Augustine includes a number of other vital neighborhoods. Crescent Beach, to the south, is a small community that stretches along a beautiful portion of the Florida coast. There is little economic development here, but people like to take part in boogie boarding, water boarding and other sea sports. Butler Beach figured prominently in black American history - it was named for a black businessman - and also has a park where many endangered species live. Other neighborhoods include City Center, College Park, Hilden and Moultrie Junction.
Activities
A variety of recreational activities take place in St. Augustine. There is Anastasia Watersports in the state park of the same name where visitors can rent a canoes, kayaks, pedal boats and sailboats. Guided tours are also conducted of the historic areas, including nightly walking tours and Flagley College Legacy.
Food and Dining
Restaurants of all kinds line the streets of St. Augustine. Casa Maya serves organic food (not "tex-mex") from the Yucatn peninsula, while Creekside Dinery features much local seafood. Those who like Asian or South African cuisine should check out the Old City House, and fans of European dishes will love Le Pavillion. Another great dining experience, Saltwater Cowboy, is in the midst of saltwater marshes!
Transportation
Tourists can get around the city on the Augustine City Bus, the Sunshine Bus or the Old Town Trolley, all of which conduct tours of St. Augustine. So do the horse drawn coaches and trams that operate around town.
Related:
Looking for a
party hostel in Hawaii
or
Miami
? Traveling alone to
LA
or
New Orleans
? Want a budget hostel in
NYC
?