The Best Beach Condo Rentals in Flagler Beach on Airbnb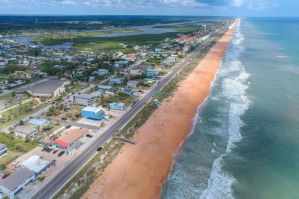 Flagler Beach is a relaxed beach vacation destination. Located in the central region of Florida's Atlantic coast, Flagler Beach is just north of the Daytona area and just south of Palm Coast. It's easy to reach this town with a day's drive from many cities in the southeastern United States, and it's not far south of Jacksonville.
If you're looking for an affordable place to stay at the beach, a very good option is to book a vacation rental beach condo for your next trip on Airbnb or VRBO. Then, you get more space than in a hotel, more privacy, a full kitchen, extra bedrooms, and a terrific location. All of the beach condo rentals that we have listed here (in addition to the
vacation rental houses in Flagler Beach
), have plenty of great amenities and are very close to the beach. Even those condos that are not directly oceanfront are only a block or so back from the beach, which makes them more affordable but still very convenient for a couple or a small family.
Some of these Airbnb condos and beach rentals are in the middle of the town of Flagler Beach on the coast, very close to the pier and within a short walk to plenty of shops and restaurants. Right in the center of Flagler Beach is the pier, which is a nice spot to look up and down the beach. In the blocks around the pier, visitors can stroll around the casual shops and restaurants to get some delicious seafood, tacos, burgers, and more. Most places around town are also close to the intracoastal waterway which is a good area for wildlife viewing, paddleboarding, kayaking, and fishing. So no matter what your priority is for a trip to Flagler Beach, we're sure that one of the places below will fit your needs perfectly.
Where are the best beach condos in Flagler Beach?
Contents: Small Luxury Flagler Beach Condo Rental | Relaxing Beach Getaway | Beachside Bungalow - Airbnb Beach Condo Rental | Bombora Oceanside Beach Condo Rental | Family and Dog-Friendly Flagler Beach Vacation Rental | TropBeach - Studio Beach Condo Rental | Barefoot Bungalow
Here's a cute 1-bedroom condo in a smaller building with a swimming pool and a perfect location right by the beach, the pier, and surrounded by restaurants and shops in the heart of Flagler Beach. This vacation rental beach condo has and updated modern kitchen with everything you need to cook your own meals, along with a relaxing bedroom and clean bathroom. Laundry, air-conditioning, wi-fi, parking, and other niceties are all part of the package.
Located in the same building as the previous condo, here's another 1-bedroom beach condo rental that also has a fully-equipped kitchen, some nice furnishings, and a modern and clean bathroom. You'll have access to the pool, and the location is right by the pier, beach, and the surrounding shops and restaurants.
Here's an affordable
2-bedroom
beach condo rental that is perfect for a family trip to Flagler Beach. With a fun and beachy decor, along with a kitchen where you can prepare all of your meals, plus clean bathrooms, this is a great spot to be. Parking, wi-fi, air-conditioning, a nice TV, and more amenities are all part of the price. This is a great find as it sits in an amazing location in town.
This 1-bedroom condo is modern, bright, spacious, and new, and sits right on the beach. With a high-end kitchen, an open concept layout with the living room and dining space, plus comfortable furnishings and a modern bathroom, anyone would be comfortable here. The small building has several units and has an outdoor lounge space, parking, and outdoor shower, and a few other nice amenities, too.
Here's a small house that feels like the perfect 2-bedroom beach rental for your next trip to the beach. It's family-friendly, dog-friendly, and has plenty of great features. The inside is perfectly designed with plenty of natural light, an open-concept kitchen, dining, and living space, and a clean modern bathroom. The kitchen has everything you need to cook all of your meals. Then sit at the table by the window to enjoy your meals in the fresh Florida sunshine. Located just 1 house back from the beach, you can be in the waves in under 2 minutes!
This colorful, modern, and high-end studio condo has plenty of great features and room for up to 3 people. While the bedroom shares its space with the living room, there's plenty of space along with some comfortable seating and a large TV. The kitchen area has a fridge, sink, stove, microwave, and dishwasher so you can cook all of your meals. And with some nice outdoor seating and lounge space, you can relax in the warm Florida weather, too. Located just across the road from the beach, you can grab one of the boards and hit the waves in under a minute.
Some photos are courtesy of airbnb.com.
Share This Article