For couples that want a beautiful beach vacation, Panama City Beach makes a fun and lively option. The area is known for its white sand beaches, fun night clubs, and beautiful blue waters. Couples that enjoy a more natural setting will appreciate a visit to
St. Andrews State Park
, and for shopping and entertainment, Pier Park is the place to go.
Vacation rentals are a great option for couples that want to enjoy everything that Panama City Beach has to offer. Below are just a few options throughout the area.
Pier Park
Pier Park is at the heart of Panama City Beach's shopping and entertainment scene. It's an outdoor shopping venue that has stores and outlets that appeal to all ages, from families to groups and couples. Couples appreciate the area's dining scene with its many restaurants. There is also live music and an IMAX theater.
The area around Pier Park is filled with high rise condos that often have a number of amenities and great views. Below are a few great options for couples headed to Panama City Beach.
Gulf Breeze
This cozy studio unit is perfect for couples who want to enjoy the beach but don't want to break the bank. It's conveniently located right by the beach and comes with beach chairs and an umbrella that guests can use. There's also a nice kitchen that's convenient for preparing mealsl.
The apartment couldn't be better located. It's walking distance to Gulf World and Pier Park. The complex also has its own cafe and a heated pool.
The Turtle's Nest
Another nice option right on the beach, this 1 bedroom unit has a private balcony looking out on the water and a full kitchen where couples can cook meals. It's a simple and affordable unit with a location that can't be beat.
Sea La Vie
Another nice studio option that's right on the beach, couple's really appreciate the balcony looking out on the water, the full kitchen, and the beach chairs and umbrella that are available. The complex has a cafe and a heated pool and there's one parking pass included with the unit.
Grand Lagoon & Lower Grand Lagoon
The Grand Lagoon region of Panama City Beach offers a combination of nature, restaurants, and lively attractions. St. Andrews State Park is a beautiful destination near the Grand Lagoon area. The area also has ZooWorld and a number of other fun attractions that a fun spirited couple can enjoy.
2 Bedroom Beach Front Condo
This 2 bedroom condo is right on the beach. It's also close to St. Andrew's State Park and everything that the area has to offer. There are plenty of restaurants around or you could cook your own meal in the luxury kitchen. There's a large deck that looks out on the pool as well.
Sand Castle Villas Condo
This studio condo is part of Sand Castle Villas residential area. It's in a part of Panama City Beach that is less crowded, and it makes a great couple's getaway. There's a community pool that guests appreciate as well. The complex is a short walk from the beach and a short drive from St. Andrews State Park.
Laguna Beach
Laguna Beach is a quieter, more tranquil part of Panama City Beach. The area is much more residential with bungalows and beach cottages throughout. The beaches are also much quieter and less crowded. There's a grocery store and a casual restaurant as well as public beach access.
Below are a few great cottages in the Laguna Beach area for couples.
Itilldo Beach Cottage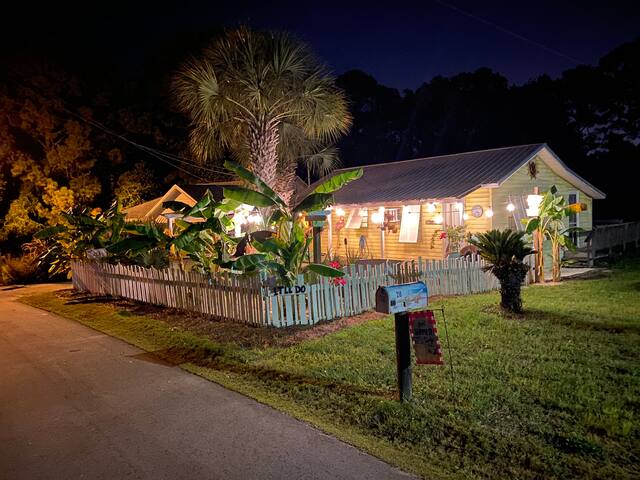 This charming beach bungalow is just a block from one of the area's most undeveloped beaches. It makes a peaceful setting for couples who want to enjoy a serene retreat that still offers easy access to everything. The cottage is filled with character and not far from a grocery store.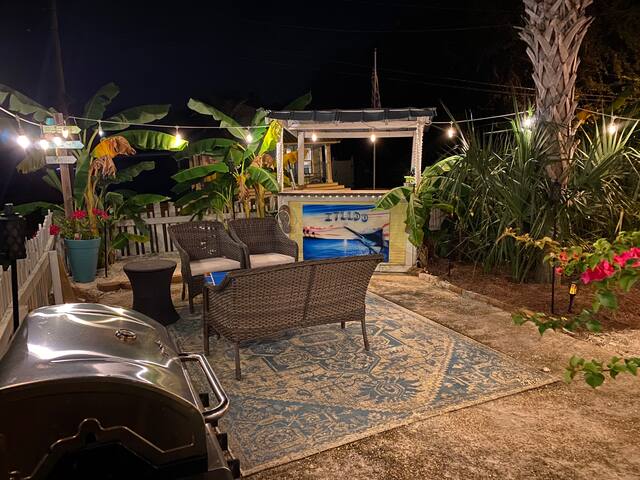 Bella Cabana Vacation House Rental
Bella Cabana is another charming home in Laguna Beach. It's right by the pristine white sand beach and is still convenient to anything you could need. The house has a king-sized bed and basic furnishings so it's a cute option for couple's who want to enjoy a quieter area.
Hidden Treasure Cottage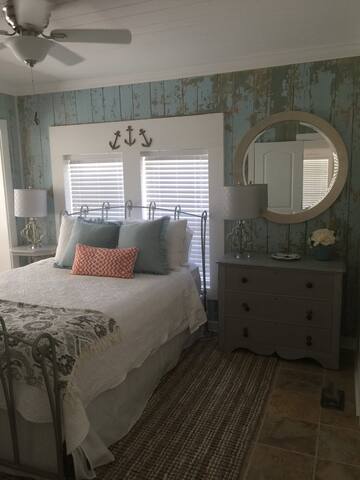 Hidden Treasure Cottage is another charming and peaceful option for couples who want to enjoy the quieter side of the area. It's right by a small lake and the Gulf Coast. The outdoor area is well landscaped and serene. For couples that want to enjoy a beautiful outdoor setting, Hidden Treasure is an excellent option.
Laguna Beach Tiny House
This adorable "tiny house" is just a block from the beach and offers a cozy space with a queen sized bed, a walk in shower, and a small fridge. It's just 144 sq ft, but it's perfect for couples who want to enjoy the area and don't need much room.
Laguna Beach Paradise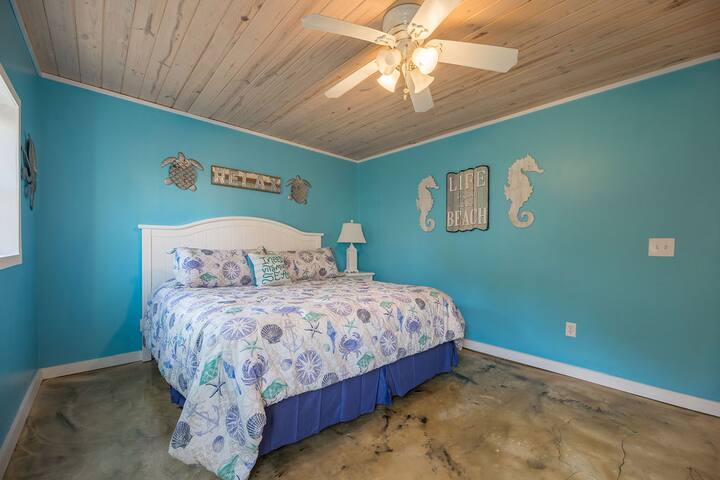 This simple but comfortable 1 bedroom duplex offers an affordable and convenient location just a block from the beach. It's the perfect place for a romantic stroll on the beach, and it's also close to the grocery store. It's about 3 miles from Pier Park in a quiet area where you can enjoy a peaceful setting that couples appreciate. This is the lower unit, which is accessible without any stairs.
Sunnyside
Sunnyside is another quiet residential area on the West End of Panama City Beach. The area has many charming beach side cottages where couples can enjoy a quiet vacation on a beautiful beach that has far less crowds than other parts of Panama City Beach.
Kiska Cottage
The Kiska Cottage is located between Sunnyside and Laguna Beach. It's a charming house that's perfect for couples who want to enjoy a peaceful retreat. There's a kitchen and a nice living area. There are also 2 bikes that guests can use as well as beach equipment. The open floor plan, nice furnishings, and peaceful residential area make this a great getaway for couples who want to be removed from the high rise scene of Panama City Beach.
The Villas of Bahamas West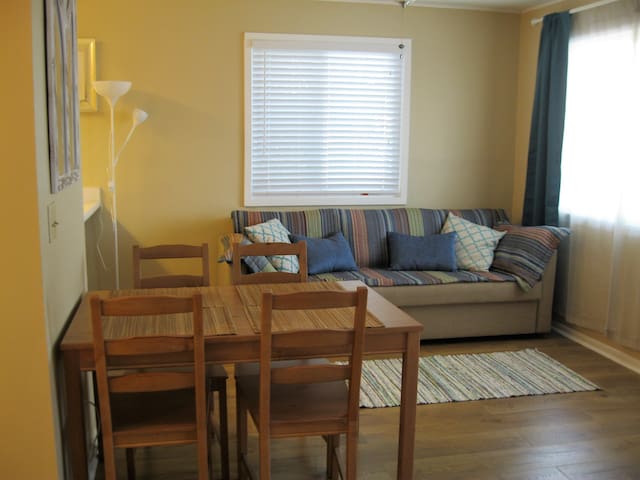 For couples on a budget, this unit is small and simple. It's a short drive from popular areas like Pier Park Mall and Rosemary Beach, but in a quiet residential area where you can relax. It's also just a short walk from a quiet beach where you can relax.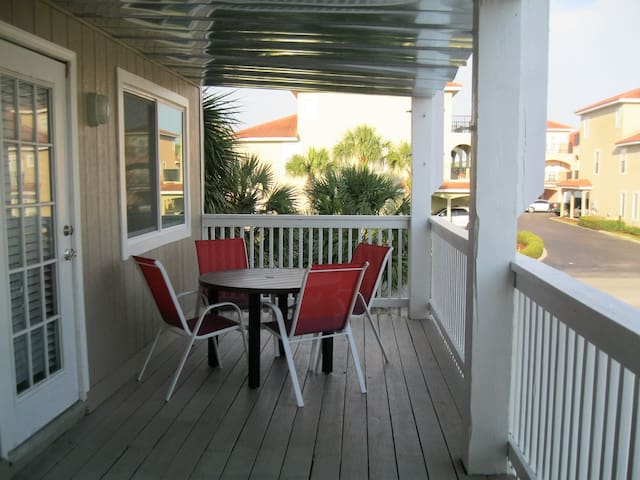 Sunnyside Beach Airstream
For couples that want an adventure, this Airstream offers an affordable and surprisingly nice option that lets you enjoy glamping in paradise. There's a queen-sized bed and a 3 burner stove, oven, and a full bathroom. The outdoor space is great and the beach is about half a mile away.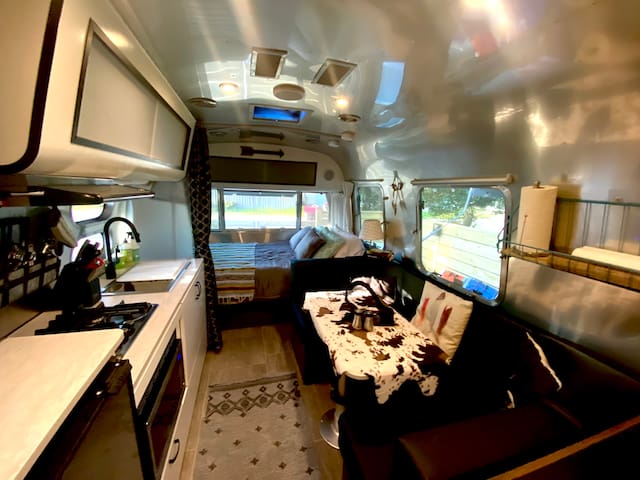 Happy Travels!