Panama City On a Budget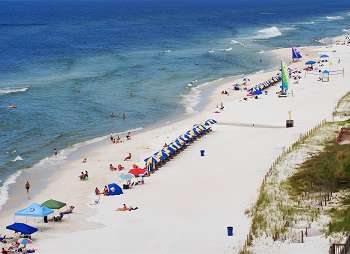 As the tropical breeze kisses your face amidst the never-ending rows of palm trees and high-rise beach condos, you find both pleasure and peace in this popular beach vacation spot. Such a city could be no place else than Panama City, Florida, located on the Florida Panhandle on the Gulf Coast. The entire region is known for it's calm beach with white sand, blue water, and spring break and summer vacation fun. Panama City offers a multitude of hotels, parks, beaches, and restaurants to make it a prime destination to both party and relax. However, as you explore the city, you will find that Panama City acquires its own diverse, vibrant character unique to other beach towns. Bring out the fishing rods and boogie boards and take advantage of one of Florida's most popular destinations! It's a great destination for families, kids, younger travelers, singles, couples, and retirees alike.
Sights
Enjoy one of the top reasons travelers from across the globe stop in this tropical city: the beach. St. Andrews State Park offers one-and-a-half miles of beaches on the Gulf of Mexico and Grand Lagoon. Originally a military reservation, these pristine beaches are now open to the general public for swimming, snorkeling, scuba diving, kayaking, canoeing, and much more. Fishing hobbyists will find that St. Andrews provides all amenities needed for a great fishing venture, including two fishing piers, a jetty, and a boat ramp. For nature-lovers, St. Andrews also offers two hiking trails where one can find a sense of serenity when immersed in the Floridian wilderness. If you love St. Andrews so heartily, the park offers camping grounds for both tent campers and RVers. If you thought that wasn't enough, St. Andrews compliments all its oceanic features with concessions for snacks, souvenirs and fishing amenities.
If you are looking to shop until you drop, take a stop at Panama City's largest mall, Pier Park. With over 124 stores, you will find your shopping possibilities to be nearly endless. Among these stores include Target, Forever 21, Dillards, JCPenneys and Marshalls. Pierk Park also contains a wide variety of restaurants including Dave and Buster's, Dick's Last Resort, Hana Japan, and Hofbrau Beer Garden. What's more, Pier Park boasts a variety of live entertainment, such as the dueling pianos at Rum Runners Tropical Grill or live music at Tootsies. If you find yourself getting tired from all that shopping, an IMAX Theater is located within Pier Park, where you can unwind with a tub of popcorn and Coca-cola.
Activities
If you find St. Andrews' trail and camping ground to not be satisfactory for your adventurous palate, interact with marine wildlife at Gulf World Marine Park. Meet and greet with the local dolphins of Panama City, all while learning about these intelligent, fun-loving creatures as well as other marine life like manatees and sea lions. With 24 parks worldwide, Gulf World seeks to educate and fascinate visitors of all ages about the astounding wonders beneath the sea. At Gulf World, you also have an opportunity to do more than just swim with the dolphins! From riding on their bellies to receiving their hugs and kisses, a remarkable, unforgettable experience is bound to occur at Gulf World. The park opens at 9:30 AM and closes at 4 PM, with exception to holidays.
Nevertheless, you might want to cool off after being under the Florida sun for so long. Relax and have fun at the Shipwreck Island Waterpark. Founded in 1983, Shipwreck Island is fulled with waterslides, pools, rivers, and parks, so you can make the most out of the tropical paradise that is Panama City. The twenty-acre park features lush landscaping, a professionally trained aquatics staff, and concessions for food and drink from cheesy pizza to delicious soft-serve. Be sure to get there early in order to fully enjoy this amazing park!
Food and Dining
If admiring the scenic ocean beauty of Panama City is not enough for you, why not taste this paradise by visiting one of its local restaurants? Hunt's Oyster Bar is located right on the shores of Panama City, offering local and fresh seafood for all its patrons. The menu offers a hefty selection of seafood delicacies, including red snapper, mahi-mahi, oysters, shrimp, snow crab, and clam strips. Keep it casual at Hunt's and prop your sandy feet up to enjoy the beach paradise that is Panama City.
Transportation
Though friendly to pedestrians, you may find that you want some wheels under you as you explore this city. Panama City offers a reasonably priced trolley system that has scheduled route through unique neighborhoods and regions. One can easily purchase a day pass at Bay Town Trolley office who is open from 8 AM to 5 PM. The trolley itself runs from 6 AM to 8 PM. Besides the trolley, Panama City also offers rental cars, taxis, and segways to ensure you explore the lengths of this bayside town.
Related:
Looking for a
party hostel in Hawaii
or
Miami
? Traveling alone to
LA
or
New Orleans
? Want a budget hostel in
NYC
?