Big Sky is located in southern Montana, and it provides a convenient base for exploring the many natural areas that are nearby. Wildlife spotting, visits to Yellowstone National Park, and hiking through spectacular landscapes are all popular activities. With its diverse activities, Big Sky is a great option for groups of friends, particularly during the ski season when Big Sky Resort offers excellent skiing options as well. It's connected to the Town Center by a free shuttle bus, too, so you can get to all of the restaurants, bars, and other activities easily. This is a great destination for a girls' weekend away, a bachelor weekend, or a group of couples on a getaway.
If you're looking for a larger place for a group of friends, you will definitely need more space than what a hotel room can offer. You probably need an entire cabin or mountain house, or even a large multi-bedroom condo. We have researched the best larger vacation rentals for groups at Big Sky for your next trip. And here they are!
Big Sky Meadow Village & Town Center
The Town Center and Meadow Village is a popular year round destination. It's located about 7 miles from Big Sky Resort and it is convenient for visiting the Gallatin River, Big Sky Golf Course, and the downtown area. For groups that want to be near restaurants, bars, parks, and entertainment options, this is the place to stay. It's also about a 10 to 15 minute drive to Big Sky Resort. There's a convenient free shuttle bus system that runs during peak seasons as well.
Cozy Tamarack Townhome
3 Bedrooms/2.5 Bathrooms, Patio & Hot Tub
This 3 bedroom condo can sleep up to 13 people including pull-out sofas and full over full bunk beds. The unit is in the Tamarack Condos area in the Town Center, so it's an easy walk to restaurants and lots of activities. Nearby you can catch the free shuttle bus to Big Sky Resort, where you can enjoy world class skiing.
The unit's kitchen is fully stocked with everything your group could need. There's also a great outdoor space with a private patio, seating, a private hot tub, and a grill.
The View
4 Bedrooms, 5 Bathrooms, Panoramic Views
The aptly named "The View" offers large windows that look out over the beautiful setting. This luxurious 4 bedroom property can sleep up to 12 people and is a great option for groups that want high end living in a natural setting. There's a modern indoor style and impressive outdoor living spaces. The property has a private hot tub and easy access to the slopes.
The open floor plan and full kitchen makes this the perfect option for groups that want to come together and enjoy a beautiful mountain retreat.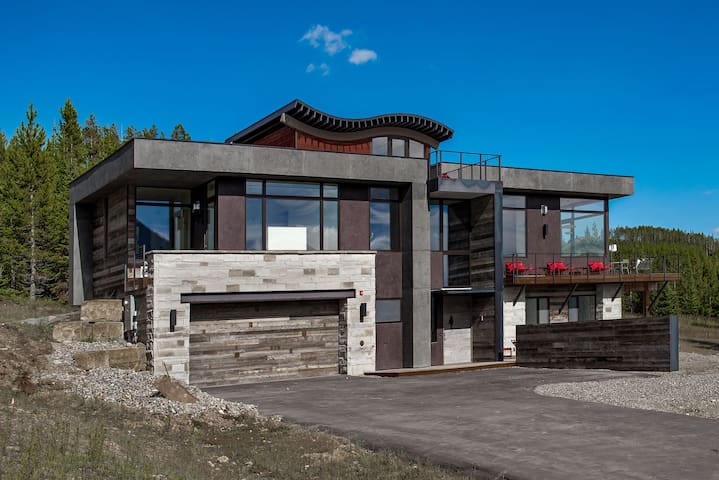 Big Sky Cozy Townhome
This townhome has 3 bedrooms and enough space to sleep up to 6 people. It's a nice option for a group of 3 couples because there is one bedroom with a king-sized bed and two other bedrooms each with queen-sized beds. There's also a great kitchen where your group can prepare meals.
The complex is walking distance to restaurants and shops and it's also close to the shuttle bus stop for Big Sky Ski Resort.
Modern Townhome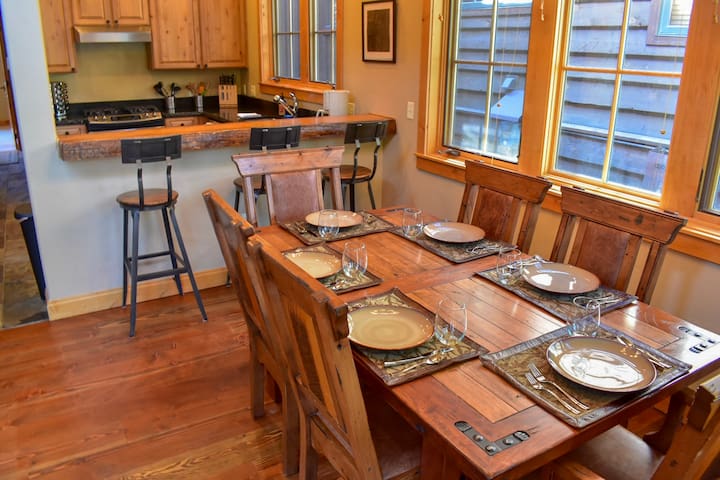 This 3 bedroom townhome can sleep groups of up to 6 people. The space is nice with a fireplace and comfortable furnishings. There are comfortable beds and a well stocked kitchen where you can cook meals for the group.
The complex is walking distance to town and it's right by a grocery store and a park that hosts popular events during the summer months.
Big Sky Cabin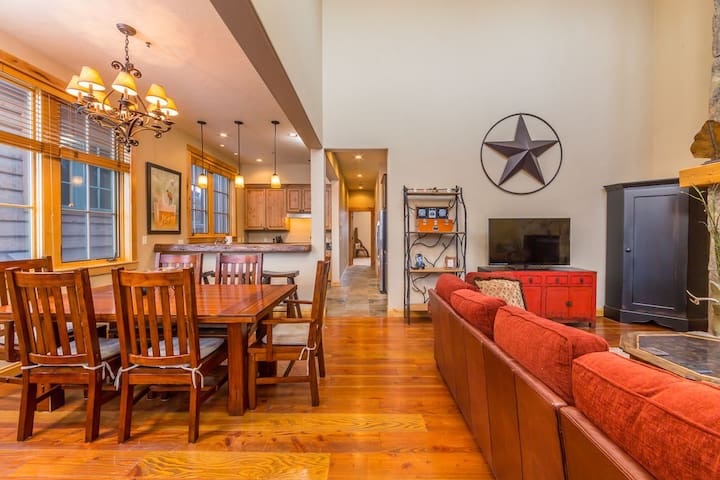 This in-town 3 bedroom condo is a great option for groups of up to 9 people (not recommended for kids under 2 years old). It's a convenient option right by everything your group could need. There are many great restaurants and shops nearby and the town has everything you could need. The surrounding area is nice and it makes the perfect retreat for your group's escape into nature.
Big Sky Mountain Village
For groups who are headed to Big Sky for skiing, The Mountain Village at Big Sky Resort offers convenient access to the resort, skiing, and nearby hiking trails. You can be the first on the slopes if you stay here. The village also has a few great restaurants and shops, but if you want to head to the town center, it's easy to catch the free shuttle that travels through the area during peak seasons.
18 Low Dog Chalet
5 Bedrooms/3 Bathrooms, Hot Tub, Sauna, & Fireplace
This 5 bedroom ski chalet has space for large groups of up to 14 people. It's a large home in a scenic setting surrounded by pine trees. It's also conveniently located at the base of Big Sky Resort with easy access to Thunderwolf chairlift. The home is very private but still convenient to everything. There are spectacular views and during the warmer months there is plenty of hiking in the area.
Your group will enjoy all of the amenities that this home has to offer. There's a deck with a hot tub, a sauna, a fireplace and even a poker table. There's also, conveniently, a refrigerator on each floor.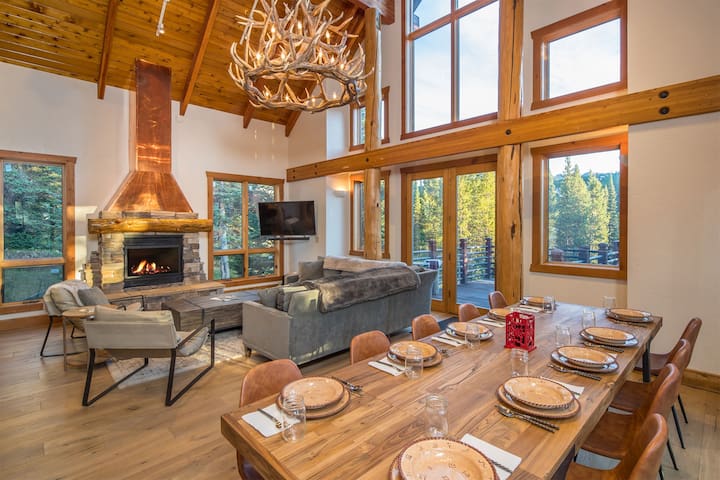 Slopeside Home
This 2 bedroom condo has space for a small group of up to 7 people. It's conveniently located at the base of Big Sky Resort (about a 5 minute walk away) and it has a nice kitchen and a relaxing living area with a wood burning fireplace. There's also an outdoor patio. This condo offers the convenience of being near everything at an affordable price that many groups appreciate.
Happy Travels!
Make sure you also see
The Best Airbnb Places to Stay for Couples in Big Sky
and
The Best Family-Friendly Cabins and Condos in Big Sky: Airbnb Places to Stay
if you're interested in more places to stay in Big Sky.