Montana On a Budget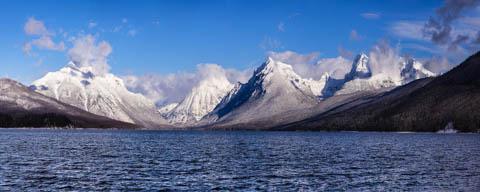 Often called Big Sky Country for its vast blue skies, Montana is a state in the northwestern United States characterized by beautiful sweeping scenery from the Rocky Mountains in the west to the flatter prairie regions of the east. Some of the top attractions include Glacier National Park, Little Bighorn Battlefield National Monument, Yellowstone, and of course the Rocky Mountains.
Sights
Glacier National Park rests on the northern border of Montana, exhibiting a magnificent landscape shaped by glacial activity which began millions of years ago. Some of the features of the area include lakes, valleys, and glacier remnants in addition to a thriving population of plant and wildlife. Hiking the trails or driving the scenic roads will likely give you a glimpse into these habitats. The area's fauna includes critters like deer, elk, moose, buffalo, big horn sheep, mountain goats, black and grizzly bears, coyotes, wolves, mountain lions, bald eagles, and other birds of prey.
Little Bighorn National Monument is another popular site for visitors interested in the history of the area. The site marks the location of Custer's Last Stand with vast grassy fields and a number of memorials. Even the famous Yellowstone National Park is not too far; mostly located over the border in the state of Wyoming, it is home to wildlife like elk and bison as well as the world's largest collection of geysers. Two of the park's entrances are locating in Montana-North Entrance (Gardiner) and the Northeast Entrance (Cooke City and Silver Gate). And then there is the Lewis and Clark National Historic Trail which follows the famous expedition route spanning over three thousand miles from Wood River, Illinois, to the mouth of the Columbia River in Oregon.
Regions
The state of Montana is generally divided into two regions-Eastern and Western Montana, split by the Continental Divide of the Rocky Mountains. Western Montana is smaller and characterized by mountainous terrain and other scenic areas like Glacier National Park, while Eastern Montana is flatter with lower isolated mountains amidst prairielands. The Montana board of tourism further divides the state into 6 additional regions. Glacier Country is in the northwest and includes Glacier National Park plus the cities of Missoula, Whitefish, Kalispell, and Cut Bank. Gold West Country is in the southwest and is home to the cities of Butte and the state capital Helena. Russel Country, named after the western artist Charles M. Russel, is in the north-central area of the state and includes the cities of Lewistown and Great Falls. Yellowstone Country, gateway to Yellowstone National Park, is in the south-central part of the state. Missouri River Country sits in the far northeast of Montana, and Custer Country is in the far southeast-home to the cities of Billings, Miles City, Glendive and the Little Bighorn Battlefield National Monument.
Activities
Montana is a state that has outdoor recreational activities for every season. From skiing, snowshoeing, snowboarding, and snowmobiling in the winter to boating, whitewater rafting, camping, horseback riding, hunting, and fishing in the summer-there is plenty to do year-round. Mountain biking is also popular, as is hiking which is great any time of year with plenty of trails mapped out in state and national park areas.
Food and Dining
Cuisine in Montana ranges from fast-food, cafes, diners, steakhouses, and international options in the cities to a limited hometown meat and potatoes selection in the more rural areas. Known for its cattle raising, the state offers beef that is fresh, most often locally raised, and cooked however you prefer. Some of the local eateries distinct to the area include places like the Staggering Ox and The Pickle Barrel, both serving tasty sandwiches with multiple locations across the state. Other Montana specialties include things like buffalo chili, cowboy beans, Indian fry-bread, and steak. During the summer months, huckleberries and flathead cherries are available at farmer's markets and several pick-your-own locations. Big Sky Country is full of options, and even has a brewing culture with a number of microbreweries in major cities like Missoula, Kalispell, Helena, and Billings.
Transportation
By plane, some major points of entry are located in the cities of Billings, Missoula, Helena, Great Falls, Bozeman, and Kalispell-all with international flights available, except for Helena which is regional.
Another popular way to travel is to take Amtrak's Empire Builder, a train which has twelve stops in Montana and also takes passengers west to Seattle and Portland, Oregon and east to Chicago. The Montana stops include Wolf Point, Glasgow, Malta, Havre, Shelby, Cut Bank, Browning (Oct-1 through May 1), East Glacier (May 1 through Oct. 1), Essex, West Glacier, Whitefish, and Libby.
Related:
Looking for a
party hostel in Las Vegas
or
San Diego
? Traveling alone to
NYC
or
LA
? Want a budget hostel in
San Francisco
?