Families need more space, but you probably already knew that. So, if you're planning your next trip to Copper Mountain, we've put together a list of the best family-friendly vacation rentals on Airbnb. All of these places have the extra space that your family needs, including extra bedrooms (many with bunk beds), nice kitchens so you can cook your meals, laundry, Wi-Fi, and terrific locations near the restaurants and shops. Your next trip to Copper Mountain will be comfortable and relaxing no matter what time of year you decide to visit with one of these great Airbnb's.
Copper Mountain, Colorado, located about 75 miles west of Denver, is divided into three villages - East Village, Center Village, and West Village (previously known as Union Creek). The layout of the resort is very convenient and easy to understand. If you plan to ski, the beginner runs are to the west and they become more difficult as you move east. Intermediate runs are towards the middle and the more advanced runs are to the far east. The most challenging runs are on the backside. Tucker Mountain is where you'll find the double black diamond runs.
West Village
Many families enjoy staying in West Village because this area has the beginner terrain. This is also where you'll find Copper's Ski & Ride School. The area is very family-friendly and stays active and fun during the day time. In the evenings it becomes a peaceful retreat where you can enjoy a quiet setting surrounded by natural beauty. Below are several great properties for families.
Ski In/Ski Out Penthouse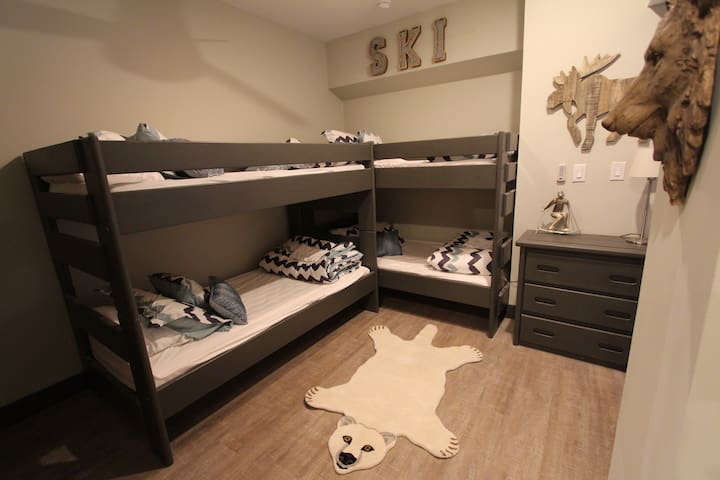 3 Bedrooms/2 Bathrooms, Corner Unit, Ski In/Ski Out, Community Hot Tub
This 3 bedroom corner unit is a great option for larger families of up to 10 people. It offers impressive views of the mountains and a ski in/ski out location near the American Flyer lift. It's part of The Lodge at Copper complex, which has a sauna and community hot tub. For larger groups of up to 14 people, or multiple families traveling together, it may be possible to also reserve the connecting 402A unit for additional space.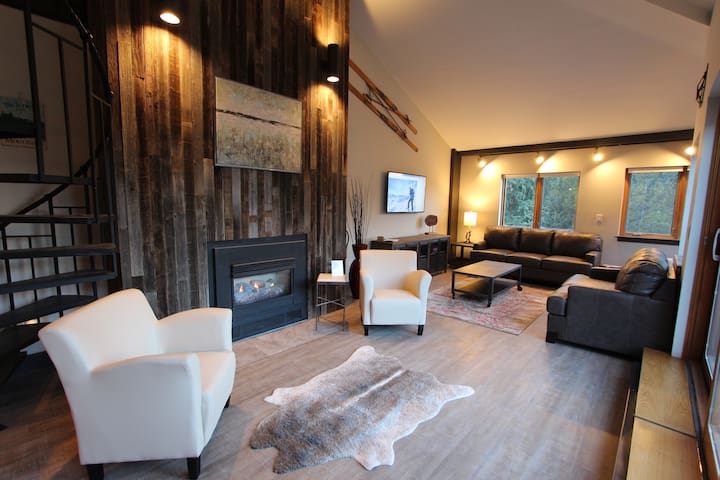 Cache Building Condo
2 Bedrooms/2 Bathrooms, Community Hot Tub, Grill
Located in the Cache Building at Union Creek, this 2 bedroom condo is walking distance to the area's new high speed ski lift. The unit has a nice kitchen, a deck, and a gas grill. There's also a fireplace, a community hot tub, and enough space for a small family to spread out and make themselves at home.
Top Floor Mountain Condo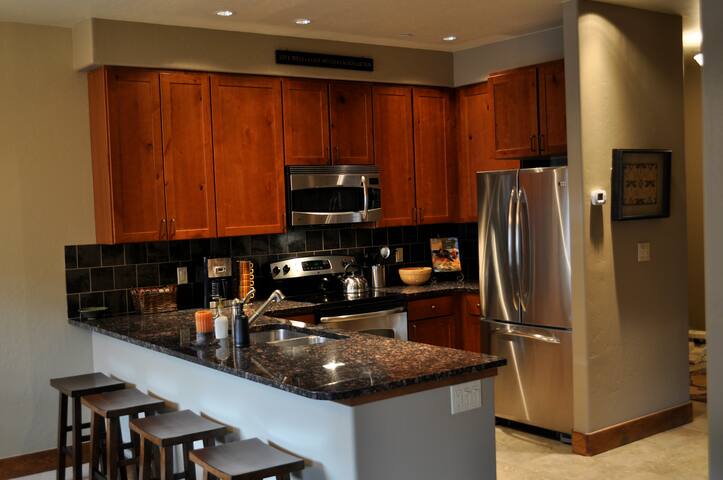 This 1 bedroom townhome offers a quiet but convenient vacation for families of up to 4 people who want to enjoy a beautiful mountain setting. The unit is on the 3rd floor in the corner, so it's quiet with spectacular mountain views. It's located in The Cache complex and offers a number of great amenities including a deck, grill, and fitness center.
Union Creek Townhome
4 Bedrooms/4 Bathrooms, Private Hot Tub, Deck & Grill
This beautiful townhome is great for families or multiple families of up to 12 people. It's convenient location is just steps from the Union Creek Chairlift. It's a large home, 2700 square feet, so it's large enough to accommodate larger groups. There are a number of great amenities available as well including a private hot tub, a deck, grill, and a heated 2 car garage.
East Village
Copper Mountain's East Village offers convenient access to the intermediate and advanced ski slopes in the area. The Super Bee is a high speed six passenger chairlift that is convenient to most properties. There are a few great restaurants in the area and there's also a tubing hill nearby. Properties in the village range in size and typically include condos and townhomes. Below are a few we recommend for families.
Convenient Townhome
This 3 bedroom townhome is conveniently located near Super Bee lift. There's enough space for up to 9 people, and the layout is nice and comfortable. There's a well stocked kitchen and fireplace, as well as a convenient location near the golf course.
Private Mountain Townhome
3 Bedrooms/2 Bathrooms, Deck, Fireplace
This 3 bedroom townhome can sleep up to 8 people. It's just a short walk from Super Bee lift and has a nice deck with an impressive view. It's also right by the Copper Creek Golf Course. The property has a nice living area with a gas fireplace and a great outdoor space.
Ski In/Ski Out Slope View Condo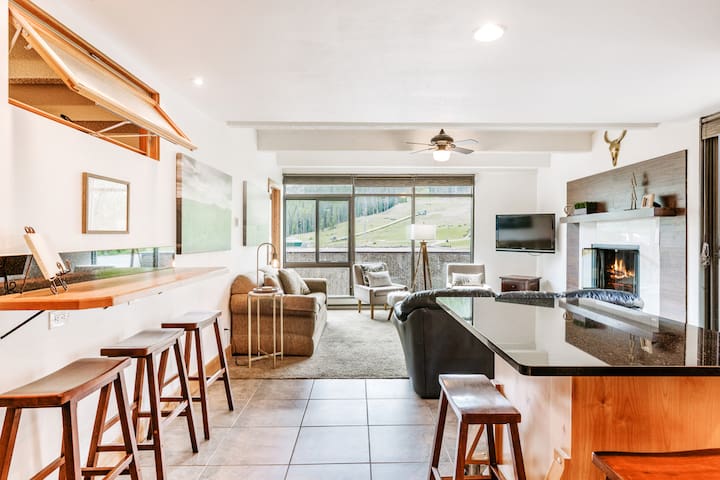 2 Bedrooms/2 Bathrooms, Ski In/Ski Out, Wood Burning Fireplace
This 2 bedroom condo is a nice option for families of up to 7 people. Its in a convenient ski in/ski out location and its close proximity to golf, hiking, and more make it ideal for families that want to experience everything that the area has to offer. There's a wood burning fireplace, and a modern but rustic design that gives it the true mountain charm that many guests appreciate.
Ski In/Ski Out Modern Apartment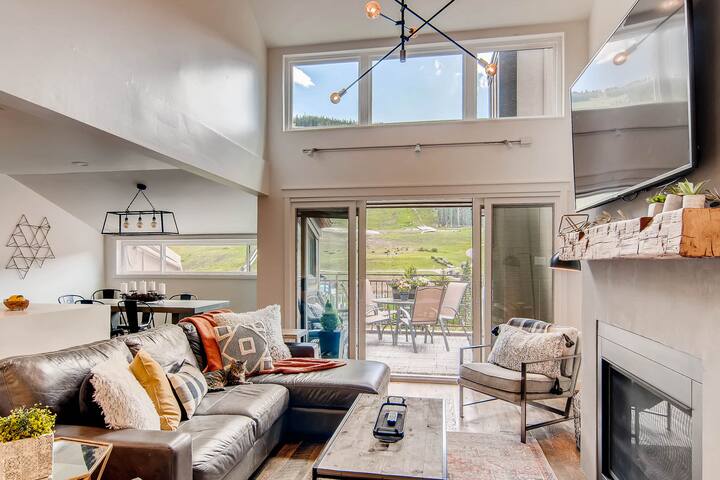 3 Bedrooms/2.5 Bathrooms,
This luxury 3 bedroom condo can fit up to 8 people. It offers a convenient ski in/ski out location near the Super Bee lift. Families with young kids really appreciate its location near a tubing hill and a kid's play area. Nearby is also a golf course, hiking, and plenty of quiet areas where you can enjoy nature. There's also community hot tubs and a nice outdoor space.
Center Village
For families who want to be near everything, Center Village is the place to stay. This area has a wide range of restaurants and shops and most properties in the village are within a short walk of the American Eagle and American Flyer lifts, so skiing is convenient.
Copper Mountain Penthouse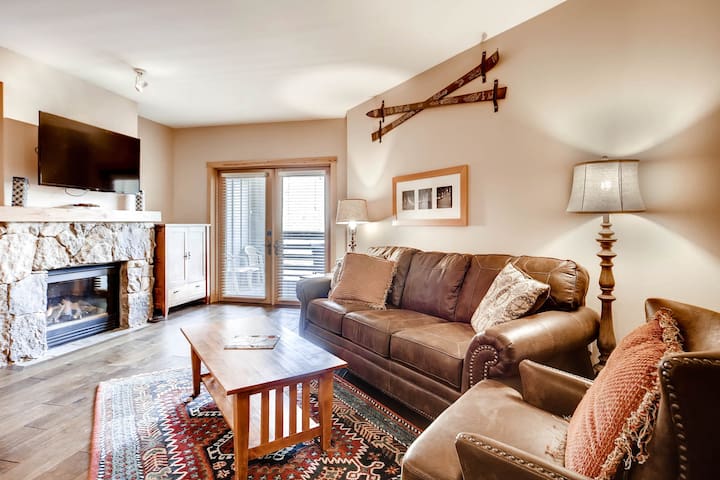 2 Bedrooms/2 Bathrooms, Beautiful Views
This convenient property is located very close to the covered bridge and the American Eagle chairlift. The unit has one bedroom plus a bunk room that's perfect for kids. It's location is at the heart of everything and guests enjoy the impressive views of the ski slopes and natural setting.
Comfortable Mountain Condo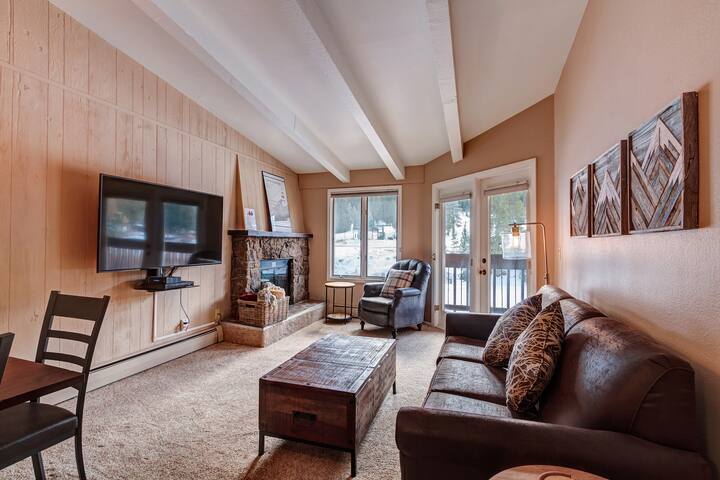 This convenient condo is near the Copper Shuttle Bus Route. Families love the complex's heated pool that's open year round. There's also a sauna. The property is about a five minute walk to the area's restaurants and shops, or there's a full kitchen where you can easily prepare your own meals.
Ski In/Ski Out Copper Mountain Condo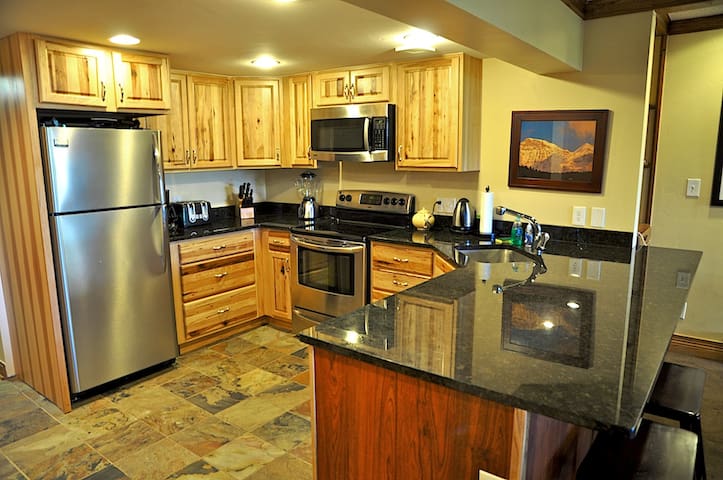 3 Bedrooms/3 Bathrooms, Fireplace
This 3 bedroom property is great for families of up to 10 people. It's near great hiking, skiing, and all of the natural beauty that the area has to offer. The condo's patio offers views of American Eagle lift. This property offers convenience, comfort, and a natural retreat that makes for a great family vacation.
Happy Travels!
For more information on accommodation in Copper Mountain, check out
The Best Cabins and Condos on Airbnb for Couples in Copper Mountain
and
The Best Airbnbs for Groups in Copper Mountain: Cabins and Places to Stay
.