Sun Valley offers a great, family-friendly ski destination with a lot of natural beauty and outdoor activities. During the summer months there are hiking trails, fields filled with wildflowers, and much more. Many visitors actually choose between the two towns of Sun Valley and Ketchum when planning their trip. Ketchum is close to Bald Mountain. It's a walkable town that's slightly more expensive than Sun Valley. Sun Valley is where you'll find the Sun Valley Resort, with its many amenities. If you stay in Sun Valley, you'll find everything you need right there. It's only a mile from Ketchum, so still conveniently close to Ketchum's Main Street.
Sun Valley
The Town of Sun Valley is home to the Sun Valley Resort, which offers visitors a number of great activities and amenities. Below are some of our favorite family-friendly AirBnB's in Sun Valley.
Cozy Sun Valley Cottage
2 Bedrooms/2 Bathrooms, Fireplace, Community Pool/Fitness Center, Deck & Grill
This condo offers easy access to the area's skiing, Nordic Center, and plenty of natural beauty. Families appreciate all of the amenities that are available, including passes to the Sun Valley Inn amenities, which is about a 15 minute walk from the condo. These amenities include a year round heated pool, a fitness center, and an outdoor olympic sized pool. The condo also has a fireplace, deck, and grill.
The area has a free shuttle bus and the condo is in a tranquil setting surrounded by pine trees.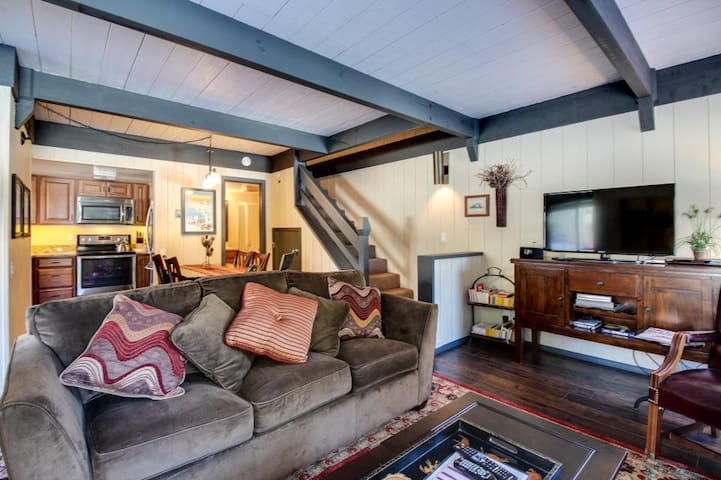 Hewee's Condo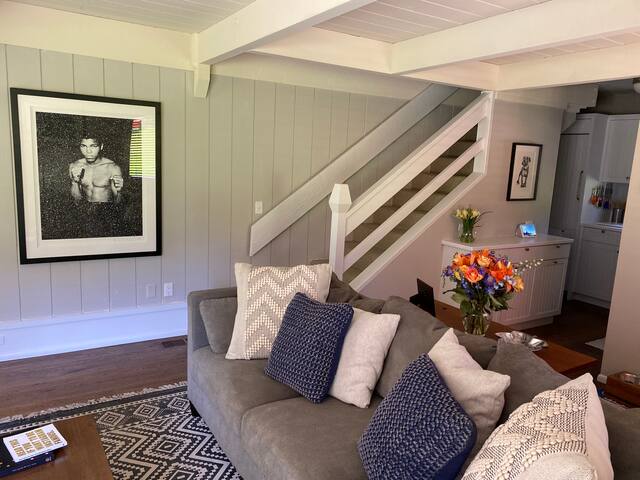 2 Bedrooms/1.5 Bathrooms, State of the Art Appliances, XBox
This ski in/ski out condo is a great option for families who want to be near everything. It's convenient location is walking distance to the area's shops and restaurants, and guests can enjoy all of the amenities available at Sun Valley. Families also appreciate the Xbox, board games, and puzzles that this condo has for when the weather isn't great or everybody just wants some down time.
This condo is very clean with state of the art appliances and comfortable furnishings. Whether you're looking for a place to relax and unwind, or want to be in the center of the action, this condo has it all.
Snowcreek Townhome
2 Bedrooms/2 Bathrooms, Fireplace, Community Pool & Fitness Center, Deck
This 2 bedroom townhome is a great option for families up to 6 people in size. There are two bedrooms as well as a loft. It's conveniently located at the base of Dollar Mountain and the property includes a pass to the Sun Valley Resort Amenities including the pools, hot tubs, fitness center, and more. The property has a nice living area, a kitchen, and a deck. There's also a fireplace.
Ketchum
Ketchum is another convenient place to stay, with its active Main Street and proximity to Bald Mountain. Below are several of our favorite properties for families in Ketchum.
Bitterroot Villa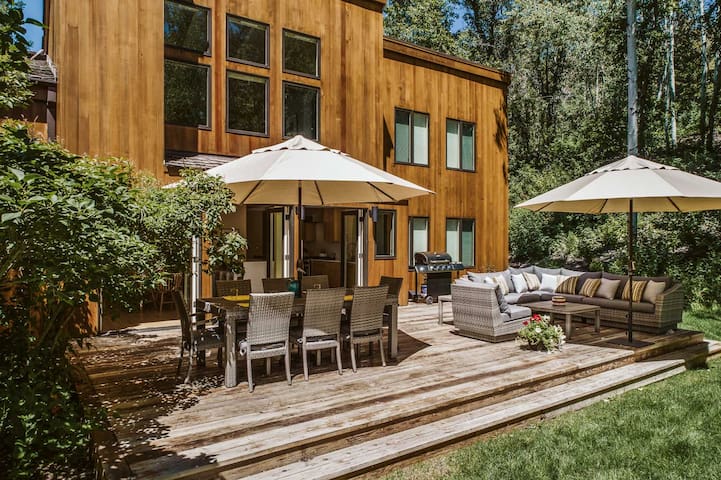 4 Bedrooms/5 Bathrooms, Community Pool & Hot Tub, Grill, Fireplace
This impressive home can sleep up to 8 people and is a short walk from downtown Ketchum and the Sun Valley Resort. It's in a quiet setting that's perfect for families that want a tranquil location, but stilll want to be near everything.
The villa is decorated with a modern style with luxury furnishings and a wood burning fireplace. There's a fully equipped kitchen and a grill. Guests can also use the complex's swimming pool, hot tub, and sauna.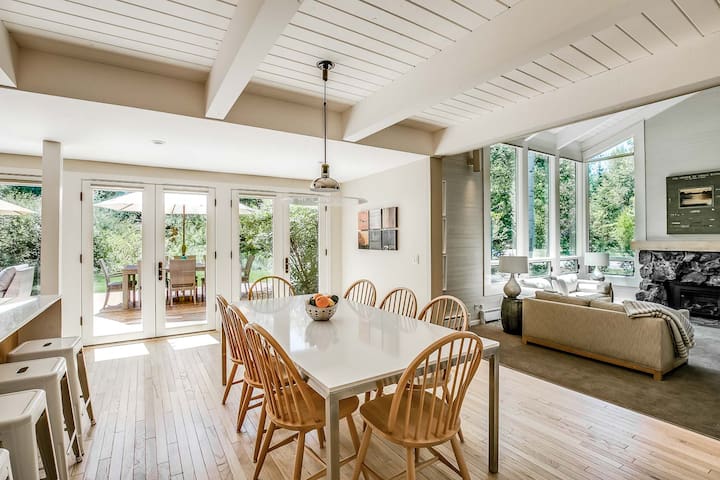 Luxurious Sun Valley Town House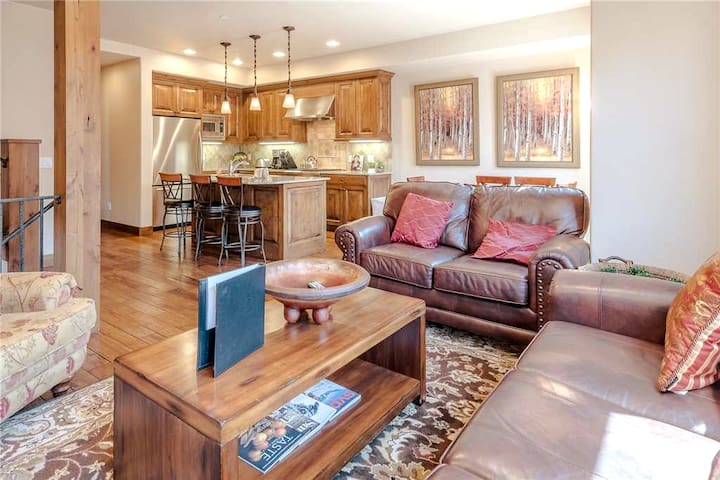 3 Bedrooms/3 Bathrooms, Stone Fireplace, Hot Tub
This luxury townhouse is located right on Main Street in Ketchum, near many great restaurants. The home has 3 bedrooms and can sleep up to 6 people. There's a fireplace and hot tub that guests appreciate as well as a nice kitchen and comfortable furnishings.
Updated Townhome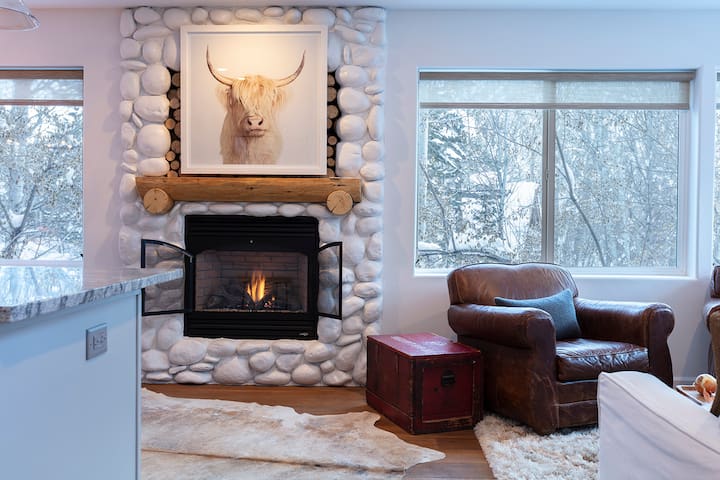 3 Bedrooms/3 Bathrooms, Fireplace, Updated Kitchen
This 3 story townhome is located in West Ketchum near the Big Wood River, Wood River Trail, and River Run Lodge. It's also close to downtown Ketchum but in a peaceful setting where you can enjoy a quiet and relaxing vacation. The unit has a modern but mountain vibe with a comfortable setting that is perfect for families of up to 6 people.
Modern Mountain Condo
2 Bedrooms/2 Bathrooms, Fireplace, Community Year Round Pool & Hot Tub
This 2 bedroom condo can sleep up to 5 people. It's located in downtown Ketchum near everything that the area has to offer. You can enjoy the amenities of Sun Valley Resort or lounge by the condo's warm fireplace. There's a nice kitchen and comfortable furnishings as well.
Happy Travels!