Sun Valley is a world class ski destination, and groups of friends enjoy the area's natural beauty and diverse outdoor activities. During the summer months there are hiking trails, fields filled with wildflowers, and much more. There are a number of great properties for groups headed to the area. Many visitors actually choose between the two towns of Sun Valley and Ketchum when planning their trip. Ketchum is just a mile from Sun Valley, and it's close to Bald Mountain. It's a walkable town with a nice Main Street. It's also slightly more expensive than Sun Valley. Sun Valley is where you'll find the Sun Valley Resort, with its many amenities. If you stay in Sun Valley, your group of friends find everything you need right there.
All of these vacation rental properties would be great for a girls' weekend getaway, a small school trip, a group of friends, a bachelor or bachelorette weekend. For groups like this, you definately need more space than a typical hotel room, and that's where airbnb's can be terrific. You get a kitchen, laundry, Wi-Fi, and extra bedrooms for everyone.
Sun Valley
There some great properties for groups in Sun Valley with plenty of amazing amenities and lots of space. Laundry, Wi-Fi, extra bedrooms, large kitchens, and nice balconies are not hard to find. Some of our favorite Airbnb properties are listed below.
Rustic Mountain Cabin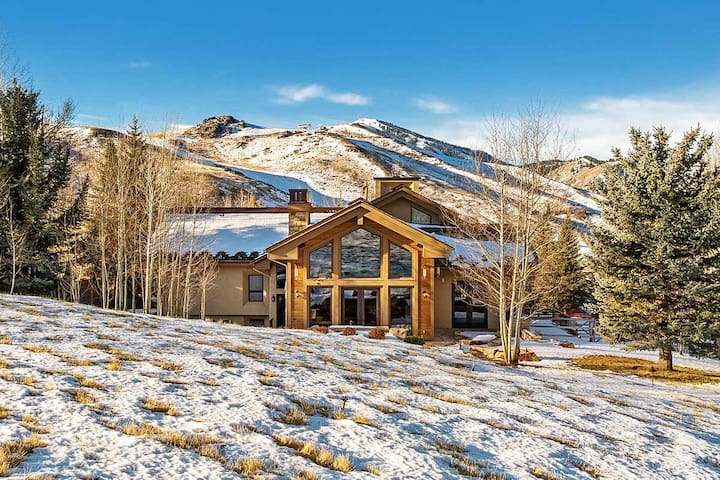 4 Bedrooms/5.5 Bathrooms, Fire Pit, Pool Table & Foosball
This luxurious cabin home offers larger groups (up to 10 people) a great place to stay near Elkhorn Golf Club. The space is beautiful and there's an impressive outdoor space with a fire pit, heated lamps, and a sound system. Inside there are games including foosball and pool. For larger groups that want space and luxury, this is the place to stay.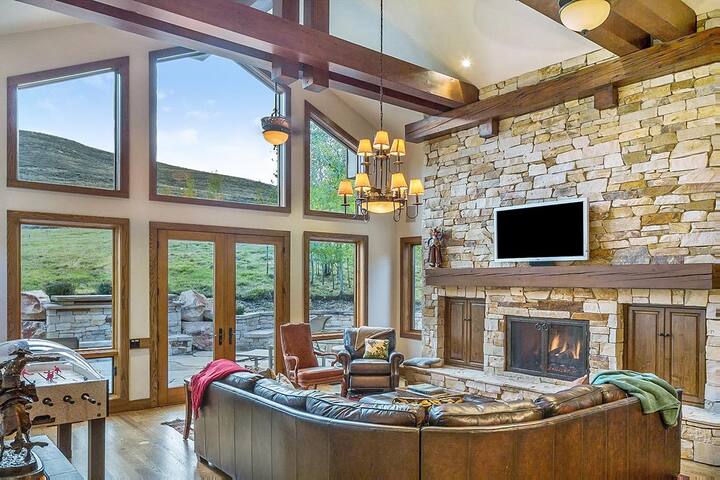 Dollar Mountain Condo
3 Bedrooms/3 Bathrooms, Community Pool & Hot Tub, Convenient Location for Skiing
This large three bedroom condo is great for groups of up to 8 people. It's located at the base of Dollar Mountain and is convenient for winter skiing. The property offers access to the community pool and hot tub which is just a minute's walk away. The kitchen is also very impressive and full stocked with everything your group could need.
Snowcreek Townhome
2 Bedrooms/2 Bathrooms, Fireplace, Community Pool & Fitness Center, Deck
This 2 bedroom townhome is a great option for groups up to 6 people in size. There are two bedrooms as well as a loft and enough space to spread out. The townhome is conveniently located at the base of Dollar Mountain and the property includes a pass to the Sun Valley Resort Amenities including the pools, hot tubs, fitness center, and more. The property has a nice living area, a kitchen, and a deck. There's also a fireplace.
Sun Valley Condo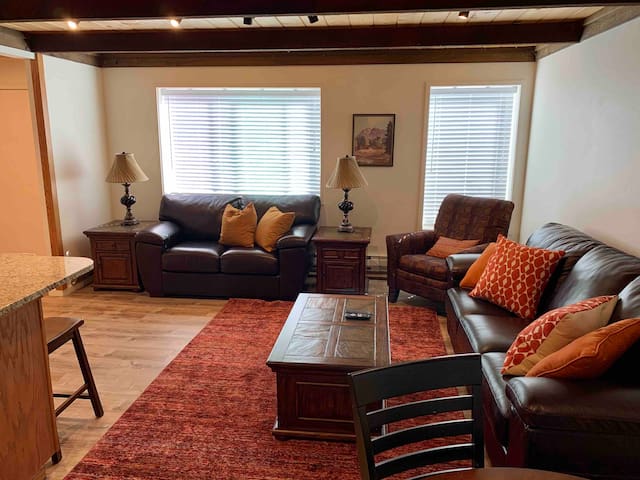 2 Bedrooms/2 Bathrooms, Community Pool & Fitness Center, Deck & Grill
This 2 bedroom condo can hold up to 6 people. It's walking distance to Dollar Mountain Ski Resort and is less than a 5 minute drive from Baldy Ski Resort. Included in the property are passes to the Sun Valley Inn pool and other amenities. The property has an impressive outdoor space including a deck and grill. Groups love this property because of its location and convenient access to everything.
Ketchum
Ketchum has a charming downtown and a convenient location near everything. There are a number of great properties for groups, a few of which we've mentioned below.
Bitterroot Villa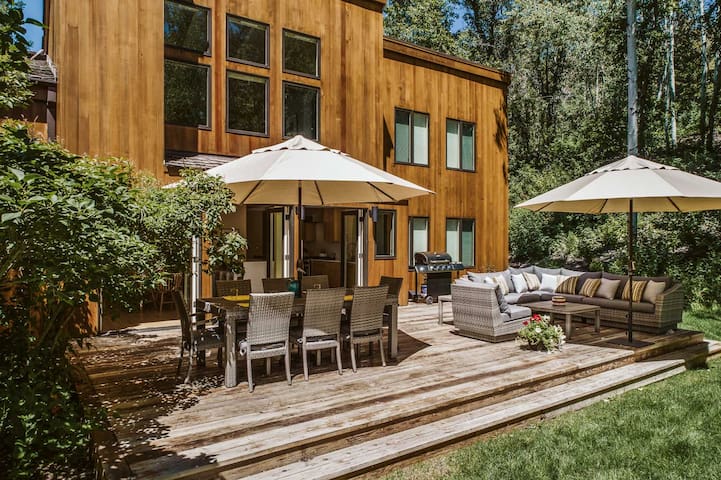 4 Bedrooms/5 Bathrooms, Community Pool & Hot Tub, Grill, Fireplace
This impressive home can sleep up to 8 people and is a short walk from downtown Ketchum and the Sun Valley Resort. It's in a quiet setting that's perfect for groups that want a tranquil vacation, but still want to be near everything.
The villa is decorated with a modern style with luxury furnishings and a wood burning fireplace. There's a fully equipped kitchen and a grill. Guests can also use the complex's swimming pool, hot tub, and sauna.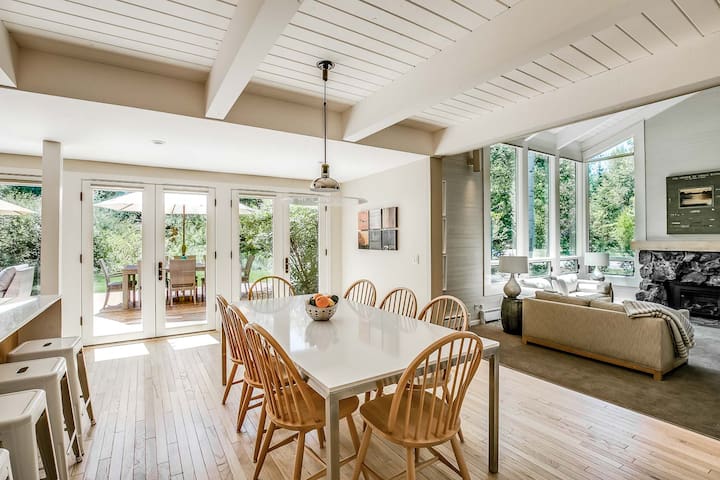 Luxurious Sun Valley Town House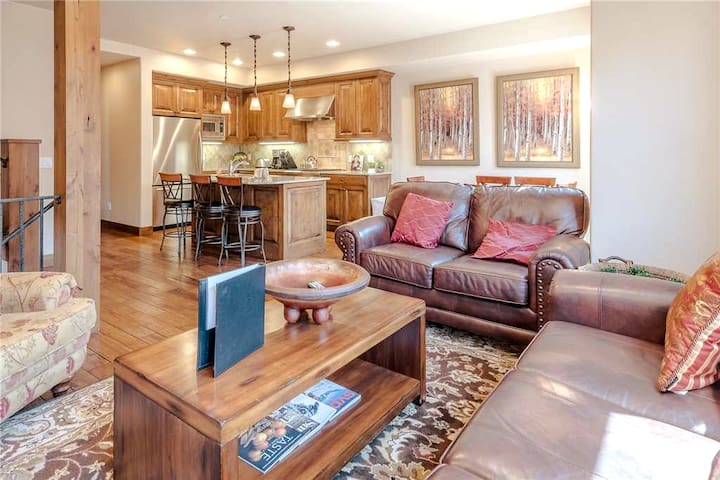 3 Bedrooms/3 Bathrooms, Stone Fireplace, Hot Tub
This luxury townhouse is located right on Main Street in Ketchum, near many great restaurants. It's perfect for groups that want to be in the middle of all the action. The home has 3 bedrooms and can sleep up to 6 people. There's a fireplace and hot tub that guests appreciate as well as a nice kitchen and comfortable furnishings.
Luxury Ketchum Condo
3 Bedrooms/2 Bathrooms, Gas Fireplace, Washer & Dryer
This nice condo is walking distance to restaurants, the gondola, shopping, and nightlife. There are 3 bedrooms and the unit sleeps up to 8 guests, making it a fun option for small groups. There's a gas fireplace, washer and dryer, and parking available as well.
Happy Travels!
For more information on accommodation in Sun Valley, check out
The Best Cabins and Places to Stay on Airbnb for Families in Sun Valley, Idaho
and
The Best Airbnb Condos and Cabins for a Couple in Sun Valley, Idaho
.