Sun Valley On a Budget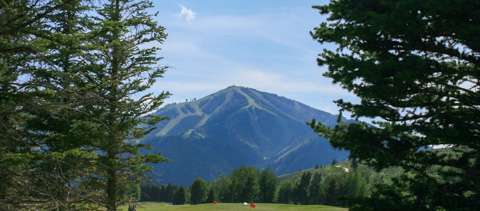 Sun Valley is a beautiful resort city in the Wood River Valley area of Idaho, most famous for becoming a snowy wonderland every winter. The area was actually named the 2nd best ski resort by
Ski Magazine
and was a favorite place of escape for Ernest Hemingway. Whether you visit in winter or summer, you're always met with beautiful scenery that's perfect for exploring. The best time of year for winter activities is December-March, while June-August is best for hiking and exploring the area.
Sights
Summertime in Sun Valley offers some of the most beautiful sights in the state, especially when wandering one of the many trails. If you prefer leisurely walks through the wilderness, walk along Trail Creek where you're met with gorgeous wildflowers and a chance at spotting wildlife. For something more adventurous, head to the Sawtooth Mountain trails where you're surrounded by large mountains and beautiful lakes. Explore the Craters of the Moon, an area built by volcanoes that became a protected area in 1924 due to its incredible landscape. In this high desert environment, you'll find volcanic rifts, cinder cones, and lava tube caves which you can explore on a hike or a guided tour. For literary fans, you can go to the Ernest Hemingway Memorial in town which serves as a homage to the novelist who loved to spend months in Sun Valley, fishing and writing.
Neighborhoods
Situated in the beautiful Wood River Valley, Sun Valley is one of the more famous towns of the area. Sun Valley is also the key resort town in the region, meaning it has the most accommodation and restaurant options. Aside from Sun Valley, there are four other towns in the Valley: Bellevue, Hailey, Ketchum, and Fairfield. Bellevue is often considered the gateway to Sun Valley and features a quaint old town and picturesque natural scenery. Hailey is where you'll find the majority of year round residents of the region and is also home to the Sun Valley Airport. Ketchum is a town that is quickly becoming the next Sun Valley; it offers great accommodation options and sits at the base of Bald Mountain, which is perfect for outdoor activities. Fairfield is located in the center of the Camas Prairie and calls itself the best small ski town yet to be discovered.
Activities
Sun Valley is known for being the ideal winter escape thanks to all of the winter sports and activities you can do there. One of the most popular winter activities is skiing and visitors have over 3,400 feet of terrain to ski through. The ski trails range from family friendly slopes to intense backcountry trails, all of which are perfectly maintained and see great snow conditions. During winter, you can also snowboard, ice skate, and even go for a sleigh ride in the snow. Summer in Sun Valley bring a lot of sunshine, making it the perfect place for all sorts of outdoor activities, including hiking, mountain biking, fishing, and horseback riding. One of the best places for hiking is the Sawtooth Mountains, which are perfect for rock climbing and hiking along the paths that wind through the mountains to the beautiful lakes. If you prefer something a little more relaxed, head to the Silver Creek Preserve to fish for some trophy trout or to just relax on the shore.
Food and Dining
Sun Valley offers a wide range of restaurants and bistros that range from relaxed lodges to mountaintop fine dining. No matter what the cuisine, restaurants focus on using mostly organic and local products for all of their dishes. Speaking of cuisine, there are plenty of choices in the area, including Mexican, Italian, and American. Sun Valley is the perfect place for a beer connoisseur as they have 4 breweries in the area, including the Sawtooth Brewery and the Sun Valley Brewing Company.
Transportation
There are two airports you can fly into, Friedman Memorial Airport and
Boise Airport
, both of which have a shuttle services which take you right into the resort. You can also easily drive in to the resort as the highways and roads leading into the area are well maintained. Getting around Sun Valley can be done entirely on foot or by using the free Mountain Rides Transportation Authority bus service.
Related:
Looking for a
party hostel in Las Vegas
or
San Diego
? Traveling alone to
NYC
or
LA
? Want a budget hostel in
San Francisco
?