The Best Romantic Airbnb Vacation Rentals for Couples in Cedar Key, Florida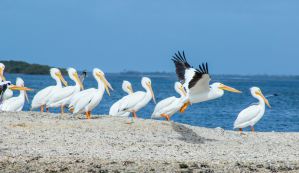 Cedar Key is an island in the Gulf of Mexico off of Florida's northwest coast. The island has a quiet community and plenty of natural beauty. There's a rich history to the area that can still be enjoyed through the community's Old Florida charm or visits to Cedar Key Historical Museum.
Today the small town has an eclectic atmosphere that's rich in culture and has a large artist population. There are also a number of festivals held annually on the island. For nature lovers, there are excellent wildlife and fishing opportunities. Kayaking is also popular in the area. People get around the island by car, bike, or golf cart.
There's a small town charm and a number of vacation cottages and rentals that make for a fun and romantic couples getaway. Below are a few properties that are fun for couples.
What are the best places to stay for couples on Cedar Key?
Contents: The Sunrise Cabana - Cedar Key Vacation Rental | Firefly Resort Cottages | Wabi Sabi Cottage | Budget 1-Bedroom Cedar Key Condo | The Beach Shack - Cedar Key Vacation Rental | Sunflower Cottage | Coastal Chic Cedar Key Vacation Condo
This cozy 2 bedroom townhouse is conveniently located near the park and the beach. It has a comfortable style with 2 large porches and a full kitchen that guests can enjoy. The house also comes with a golf cart that you can use to explore the island.
This townhouse is in a great location for couples who want to enjoy kayaking, fishing, and everything else that the area has to offer. It's also a good value at a reasonable cost.
These eclectic cottages really reflect the laid back atmosphere of the island. This is one of 7 different 1950's cottages that make up the Firefly Resort Cottages. Guests love the garden setting with its tropical plants and the nearby mangrove shores. For couples who want to relax in a tranquil but fun setting, this is the place.
This cottage is at the back of the property and has an open floor plan and a full kitchen. There's a 2 tiered deck outside that looks out on the bay and mangroves. This makes a great place to relax with a good book in the shade.
This rustic cottage has a down-to-earth vibe and a rustic style. It's a 1919 house that maintains its historic charm. There's a circular staircase that goes up to the loft style bedroom which has a queen bed. There's a basic but reliable kitchen where you can prepare meals. There's also a fenced-in yard and plenty of parking for boats.
The cottage is also conveniently close to shops and restaurants and anything else you might need.
This condo is all about value. It's an affordable and comfortable option for couples that want to save some money but still be near everything. It's located right in the heart of downtown Cedar Key. There's 1 bedroom with a king-sized bed. There's also a kitchen where guests can prepare meals and a balcony that looks out on the marsh. Guests can also enjoy the community splash pool and hot tub.
The Beach Shack is a 1 bedroom property that's conveniently located just a 5 minute walk from Cedar Key's downtown and just 10 minutes from Dock St, where you'll find a number of good local restaurants and shops.
The property is relatively new construction and it has an open floor plan and a large front porch. There's also a deck with a grill and a fire table.
This home is perfect for couples who want modern, new, and reliable. They don't allow kids, so it has a very well maintained and sophisticated style.
This charming 2 bedroom cottage is located right in the heart of Cedar Key on a corner lot. It's close to everything, and there's a golf cart available to guests that they can use to explore the area. The market is just 2 blocks away and the city park and beach are about 6 blocks away.
The house has modest but comfortable furnishings. There's a back deck that's a nice place to enjoy a meal as well as a front deck where you can hang out.
This downtown apartment is perfect for couples who want to be able to walk to restaurants, shopping, museums, and more. The apartment has 2 bedrooms, a full kitchen, and comfortable furnishings. There's also a porch off of the dining area where you can enjoy a meal in a pleasant outdoor setting. Do note that there's no private parking, just street parking.
Some photos are courtesy of airbnb.com.
Share This Article