Destin is located on the panhandle of Florida and is a relaxing destination for groups who want to enjoy fine dining, beautiful beaches, high end shopping, and golf. The area is known for its beautiful white sand beaches. Nature lovers will also appreciate a visit to
Henderson Beach State Park
.
A large number of vacation rentals are available throughout Destin. They are great places to stay for groups because most have kitchens and enough space for everyone to feel comfortable. Below are some of the best Airbnb vacation rentals for groups headed to the Destin beaches.
Jump to:
-
Crystal Beach
-
Destin Harbor
-
Sandestin
-
Miramar Beach
Crystal Beach
Crystal Beach offers groups a quaint neighborhood that has many beautiful white sand beaches, golf courses, and shopping centers. The area is near Henderson Beach Park and has many nice restaurants as well.
2 Bedroom Loft Condo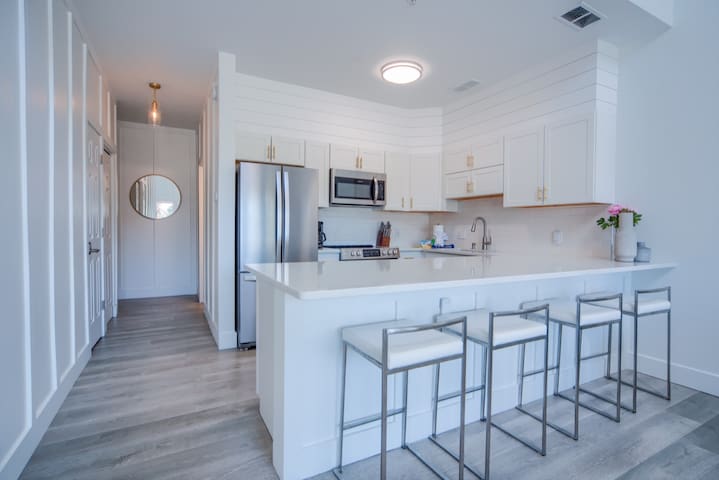 This modern condo can accommodate groups of up to 8 people, but is more ideal for groups of 4 or 5 people. There's a king-sized bed in one bedroom, full over full bunk beds in the loft, and a sleeper sofa in the living room.
The condo includes beach supplies such as beach chairs, umbrellas, and more. The beach is just a short walk away and restaurants are nearby as well.
Private Beach Home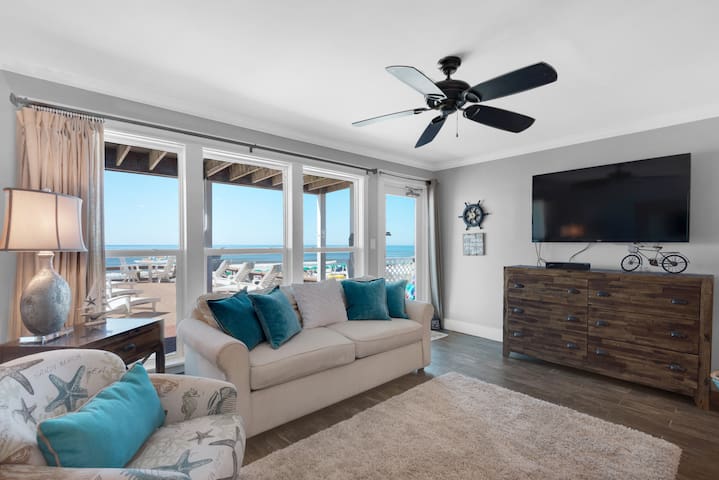 This beautiful 4 bedroom beach home can accommodate up to 11 people. It's a large home with 2,600 sq ft and is a great option for larger groups. There are 2 kitchens, a large dining area, and 3 bathrooms. There's also beach supplies, paddle boards, and a kayak that guests can use.
Seablue of Destin
This beautiful 4 bedroom home can sleep up to 12 people, so it's a great option for groups. It has plenty of open space and is just a short walk from the beach. Groups love the backyard, which has a private heated pool and a hot tub. There are also dining areas and grill space.
Destin Harbor
Destin Harbor is at the heart of Destin, and is a great area for groups that want to be near all of the action. The area is filled with restaurants, bars, and all kinds of entertainment. There are also some great vacation rentals available for groups.
Sea-Renity
This 2 bedroom condo can sleep up to six people with a king-sized bed in one bedroom, a queen-sized bed in the other and a sofa bed in the living room. The unit has excellent views and a charming coastal decor. It's a 3 story unit.
The complex is a quiet space that is nice for families or groups who want to enjoy a quiet vacation at the beach.
Beachfront Condo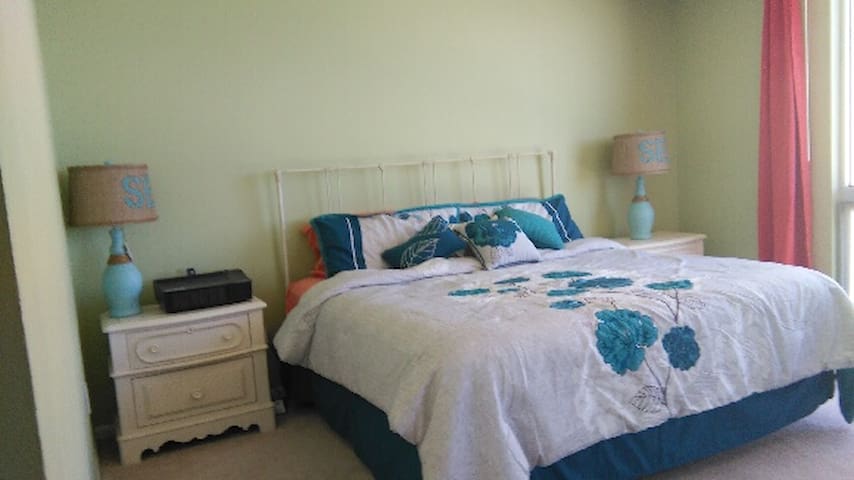 This 2 bedroom condo can sleep up to 8 people including a king-sized bed in one bedroom, a queen and double in the other, and 2 pull-out sofa beds. The unit offers impressive views of the beach as well as access to a pool. There's also a balcony. This is a nice option for groups that want affordability in a convenient location.
Laguna Point Condo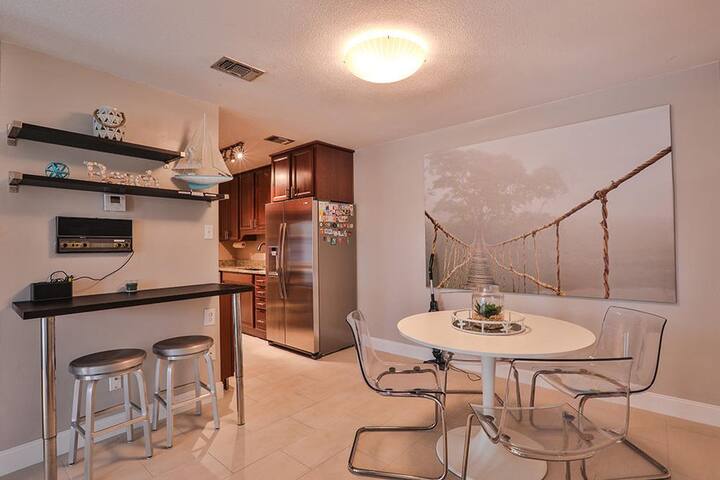 This 2 bedroom condo can sleep about 6 people. It's walking distance to the beach and offers a simple but comfortable space. There's a kitchen where you can prepare meals and several nice touches including games that people of all ages can enjoy.
Sandestin
Sandestin is one of the largest resorts in the state of Florida. It's divided into different communities and the area has plenty of golf courses, tennis, and other amenities for guests. There are also a growing number of restaurants and bars connected to the resort.
Below are several vacation rentals that groups will enjoy in Sandestin.
Luxury 2 Bedroom Beach Condo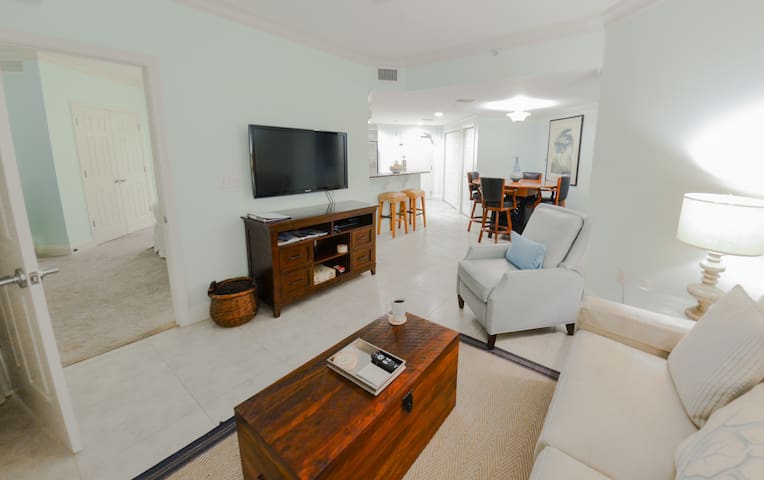 This luxury 2 bedroom condo is in a convenient location in the Sandestin Golf and Beach Resort. It's beachfront with a full kitchen and easy accessibility to a number of shops, restaurants and fun activities that everyone can enjoy.
The unit is located on the 3rd floor of the building and it can sleep up to 6 people. There are king-sized beds in each of the bedrooms and a sofa pull-out bed in the living area.
Bayside Bliss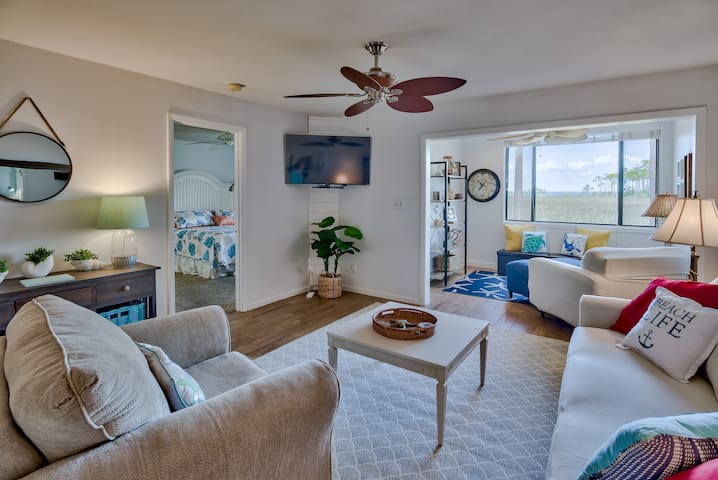 This beautiful 2 bedroom townhome is located right on the edge of Horseshoe Bayou Wetlands looking out on the Choctawatchee Bay. It's located in the Heron Walk Townhomes which is part of the Sandestin Golf Beach Resort.
The townhome has 2 bedrooms, one with a king bed and one a queen. There's also a queen sized air mattress and a pack n play is available.
Miramar Beach
Miramar Beach is technically part of South Walton, but it's loosely lumped into Destin these days. The area has great restaurants and the Silver Sand Factory Outlets. There are also plenty of vacation rentals available.
Zula Breeze Beach House
This 4 bedroom beach house is set up for larger groups of up to 16 people. There's a well equipped kitchen, a large table in the dining area, and easy access to the beach in less than a 10 minute walk. The home also has a large hot tub that can be heated or kept as a pool where you can cool off.
For groups that want to enjoy a fun-filled vacation with friends or family, this house is a great vacation rental.
Alerio B103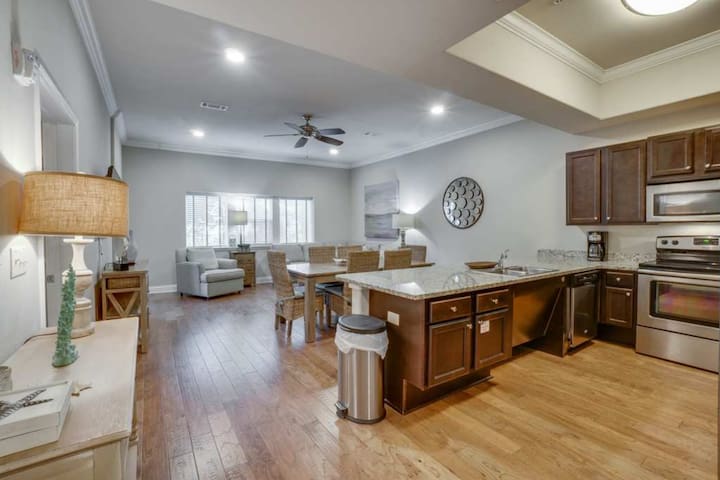 This 2 bedroom condo is a great option for a group of about 6 people. It's part of the Alerio Condominiums and is on a quiet street near the beach. The complex has a heated pool and a hot tub that kids enjoy.
The unit has a kitchen where groups can enjoy preparing their own meals. It's also on the first floor and just a short walk from the beach, offering easy access for everyone.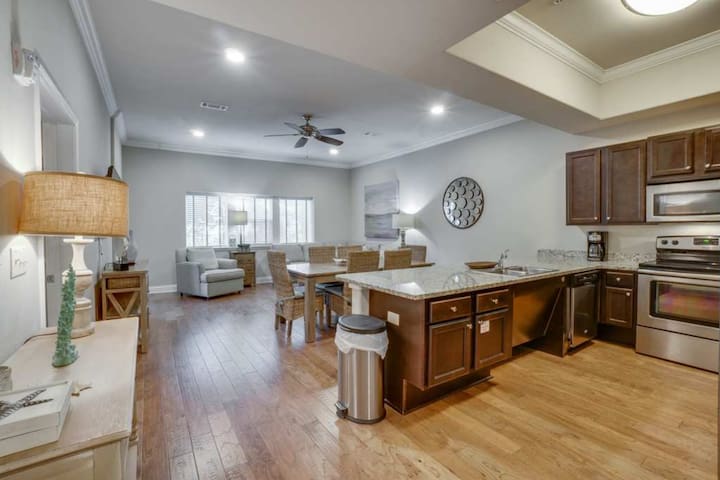 Sandollar Vacation Rental
This 3 story vacation rental has 3 bedrooms and space for 11 people, so it's a great option for larger groups. It's located on Scenic Gulf Drive and is near the beach and everything else that the area has to offer.
Guests love the views from the deck, the 2 living rooms, and the full kitchen where they can prepare meals.
Happy Travels!