Jensen Beach's Best Airbnb Vacation Rentals for Couples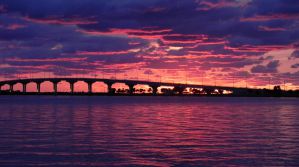 Jensen beach on Hutchinson Island is a quiet and tranquil town in the heart of Florida's Treasure Coast. This stretch of the Atlantic coast between Cape Canaveral and the Miami metro area is home to gorgeous beaches with clear water along with plenty of activities such as snorkeling, scuba diving, fishing, golf, tennis, water sports, and more. Visitors can view wildlife by witnessing turtles nesting, spotting dolphins and whales, and uncovering the manatees in shallow waters. Kayaking, stand-up paddling, and other outdoor activities are some of the best things to do. Also, if you visit during the annual pineapple festival, you're sure to get something sweet. A variety of delicious restaurants and shops can also be found in town on the mainland and on the island, too.
If you're a couple planning a trip to Jensen Beach and Hutchinson Island, we have researched the best Airbnb vacation rentals for your next trip. All of these places have full kitchens, extra space, and amazing beach locations right near the water. So if you're looking for a relaxing and romantic trip, we've got you covered.
What are the best places to stay for couples in Jensen Beach, Florida?
Contents: Turtle Reef Club 2BR | Oceanfront Living Luxury Condo | 9th Floor 2BR Condo | Direct Oceanfront 1BR | Hutchinson Island Beachfront Vacation Rental | Island Beach House
This relaxing and luxurious condo sits right on the beach. You can cook all of your meals in the full kitchen if you don't want to head out to the nearby restaurants, or bring back take-out. The balconies and the windows have great views of the ocean and the surrounding landscape, and the condo has plenty of natural light. The large bed in the master bedroom is cozy, and the bathroom is also clean and modern. The complex has a swimming pool, tennis courts, direct beach access, laundry, and a small fitness center. It's well designed and perfect for a couple making a trip to the beach.
Wow! This beautiful and remodeled oceanfront condo has a high-end and relaxing energy. The luxury kitchen will let you cook all of your meals in style, the huge balcony has amazing views, and the bedrooms ooze of cozy comforts of home. The building has a swimming pool and direct beachfront access. Nearby shops and restaurants are not far away, either. The building also has a game room with billiards, an exercise room, and more. You can't go wrong here, so check it out.
Located on a high floor in this building of condos, you'll have terrific views over the beach and ocean from the balcony of this beautiful and affordable condo. The building has a nice pool and direct access to the beach. Inside you'll find a fully-equipped kitchen, plenty of space, and clean and modern bathrooms. The king sized bed in the master is very comfortable, too. You can cook all of your own meals or head out to the nearby restaurants and shops. The area along the beach is fairly quiet and tranquil, so this can be a good getaway for a couple looking for some quiet and romantic beach time. Laundry, Wi-Fi, TV's, and other amenities are included, too.
Here's a great
1-bedroom
condo with plenty of nice amenities that sits right on the beach. Featuring 2 balconies so you can enjoy the views of the beach and the ocean, this is a great place to unwind and soak in the Florida weather. The fully-equipped kitchen will let you cook all of your meals. It's also walking distance to a few restaurants and bars, and a short distance from even more restaurants and shops if you want to head out. The area is relaxing and quiet. The building has a pool, outdoor lounge areas, and a BBQ grill picnic area, too. Wi-Fi, laundry, TV's, free parking, and other amenities are included as expected.
Here's a 2-bedroom, 2-bathroom condo at an affordable price, right on the water. The building has a pool, tennis courts, BBQ grills, and more amenities, too. Inside is a fully-equipped kitchen and clean, modern furnishings, as well as a balcony that opens up to the ground floor lawn so you can just step out and over the steps to the beach. You can't get any closer to the waves in Jensen Beach.
Here's a quaint and cozy 1-bedroom beach house with a terrific location right by the beach. It's also within walking distance to restaurants and shops. It's a casual and affordable place with a full and modern kitchen, laundry, wi-fi, TV, and more. You can definitely be comfortable here as it has everything you need for a fun trip to the beach. The community has a swimming pool that you can use, too.
Some photos are courtesy of airbnb.com.
Share This Article