The 6 Best Family-Friendly Airbnb Vacation Rentals on North Captiva Island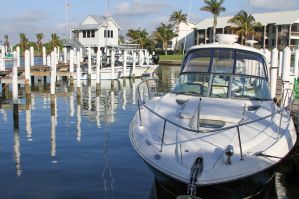 North Captiva Island, sometimes called Upper Captiva, is not to be confused with Captiva. North Captiva Island is a secluded island in southwest Florida, just south of Cayo Costa Island. It offers one of the few unspoiled tropical paradises in the area. The island can only be reached by boat or by small plane and it is truly a magical place where you can escape the world and enjoy a tranquil oasis away from everything.
Large parts of the island are undeveloped. The roads are really just sandy paths and most people get around by golf cart, which kids in particular enjoy.
The island has many beautiful vacation rentals that make for a fun and relaxing family vacation. Below are some great options.
Where should families stay on North Captiva Island?
Contents: Second Star Vacation House | The Blue Tortuga Beach House | Beach Daze | Lost Shaker of Salt | Secluded Beach Cottage | 2 Bedroom Beach House
Second Star is a beautiful 3 bedroom home with stunning large windows and a beautifully decorated interior. The house is just the right size for up to 6 people. It's also just 800 feet from beautiful beaches and it looks out on an inland lake.
Inside there is an open floor plan, high end furnishings, and even a small library that's complete with children's books.
Outside there's a large open lawn with a hammock and many places to relax. There's a community pool available as well as 2 tennis courts. Also nearby is a private beach access that leads to a quiet beach.
Blue Tortuga is a beautiful vacation beach home that's perfect for families of up to 8 people. There are 3 bedrooms and about 1,600 sq ft. The open floor plan and high ceilings give the property a bright and open feel. There's also a screened front porch where you can relax. The house is just a 5 minute walk from the beach, or you could take a golf cart and be there in just moments.
This 2 bedroom beachfront condo is located right on the beach. There's a large living area, 2 master suites, and a jacuzzi. The screened in porch looks out on the water and there's a balcony off one of the bedrooms. Guests can also enjoy access to the community pools, hot tub, bikes, kayaks, and tennis courts. This private villa makes a setting for a family vacation.
If you're looking for a relaxed beach retreat, then this 3 bedroom house is a great option. It has a casual and fun atmosphere that's perfect for families. There's a small private pool and a split floor plan which has plenty of space for families to hang out. The kitchen is well stocked and there are a number of games that are great for people of all ages.
Guests can enjoy all of the amenities that come with the NCIC club including tennis and basketball.
This 3 bedroom beach house is perfect for families of up to 6 guests. There's a king-sized bed in the master bedroom, a queen in one guest bedroom, and two single beds the third. There's also a crib available if you're traveling with young kids.
The house is a short walk from the beach and offers access to a number of the island's amenities. For families that want a tranquil setting by the beach, this is a great option.
This 2 bedroom property is a nice option for families of up to 7 people. It's also a pet friendly option for those traveling with a dog. The home is surrounded by tropical landscaping and there's beach access nearby. The house is at the middle of the island and near restaurants and the private club. There's also dock space available if you're arriving by boat.
Some photos are courtesy of airbnb.com.
Share This Article