Vacation Rentals in Key West, Islamorada, and Key Largo for Spring Break, Friends Reunions, Girls' Getaways, and Fishing Trips
The Florida Keys are a popular vacation spot for groups of friends, spring breakers, and anyone looking to have a fun getaway. The Keys have a large number of vacation rental properties which are perfect for groups. There are a variety of options to choose from including homes, villas, condos, and more. Many properties have great amenities like pools, kayaks, paddle boards, docks, and nice kitchens. Choosing the Key to stay on can be as challenging as choosing a property! But don't worry, we've got you covered. From south to north, here are some of the best places to stay in the Keys.
Jump to:
Key West
|
Lower Keys
|
Marathon Key
|
Islamorada
|
Key-Largo
Key West, Florida Airbnbs for Groups
Whether you're in town for spring break or simply a fun getaway with your friends, Key West offers a vibrant setting with great restaurants, lively bars, festive boat trips and more. Key West is the most popular and infamous destination in the Florida Keys. It's also the place to stay if you're looking for a party, but there's so much more to the town. It offers visitors a unique historical setting with plenty of outdoor activities and fine dining at its best.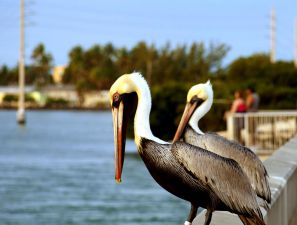 Key West Airport makes the town very accessible, but it's generally more expensive than Miami International Airport. It will save you the time of driving the 3.5 hours from Miami. Granted, it's a pretty spectacular drive, and you'll likely want to get a rental car anyway (
check car rental prices here
).
There is no limit to the number of activities you can enjoy in Key West. Kayaking, snorkeling, diving, and fishing trips are all great. If your group is interested in fishing, this area is better than northern Key Largo, where much of the water is protected from fishing. Also make sure you experience the
quintessential sunset cruise
. The drinks and festivities set against a beautiful ocean backdrop can't be beat.
For land lovers, there are a number of famous sights around Key West. Popular sights include
The Oldest House
, which dates back to the 1820's, Higgs Beach African Graves, which has a tragic but poignant story, and the Harry S. Truman Little White House. Also make sure you visit the Southernmost Point as well as the Ernest Hemingway Home and Museum.
A truly unique Key West experience is a visit to Mallory Square at sunset. The fun starts as the sun begins to drop, but the parties can last late into the night. During sunset, street performers and musicians gather to make this the place to be every night as the sun dips below the horizon.
Key West is the most pedestrian friendly town in the Florida Keys. Even so, you'll want a car to explore everything that the islands have to offer (
check car rental prices here
).
Key West is the place to stay for the best nightlife and the most action in the Florida Keys, but it's also the most expensive area. There are less houses available for rent and more single rooms or small apartments. You also won't find all of the amenities you get at rental properties further north. Even so, there are a number of nice options to choose from and for many groups, it's worth the price to be near everything.
The Island Suite - Historic Key West Airbnb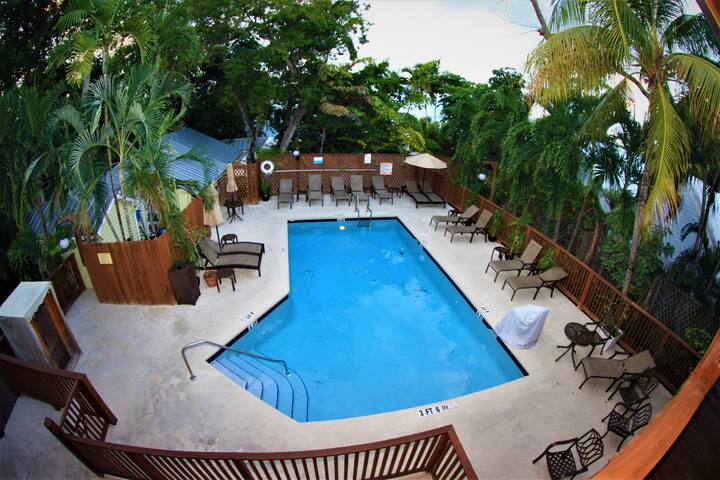 This gorgeous suite with a pool is conveniently located just three blocks from Duval Street.
The Green House & Garden - A Key West Airbnb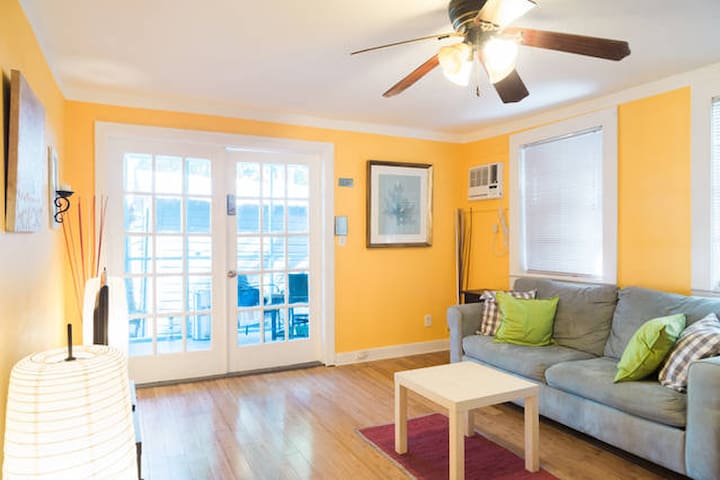 This apartment is perfectly located if you're headed out to Key West's best bars.
The Lower Keys - Airbnb Beach Houses
If your group is looking for a more natural setting, then the Lower Keys can be the perfect option. The Lower Keys start at the infamous Seven Mile Bridge and include popular places such as Big Pine Key, Little Duck Key, Summerland Key, Big Torch and Little Torch Keys, Cudjoe Key, Sugarloaf Key, Big Coppitt Key, and Stock Island. The area also includes two national wildlife refuges, a national marine sanctuary, and a state park. These islands are the most common area for the famous key deer so if you're lucky, you might have a sighting. The area has RV parks and camping, as well as lodging and vacation rentals. There are also a number of snorkeling and dive spots as well as beaches where you can enjoy the beautiful blue Florida Keys water.
Stock Island offers a nice, unique spot for groups visiting the Florida Keys. It's an artist's haven and there are plenty of art studios, festivals, and a waterfront area with lots of bars and restaurants. The area is also known for its commercial fishing industry, so there are vibrant marinas and delicious fresh seafood.
There are a range of rental properties available in this area. If you're traveling with a small group that doesn't need much space, then there are RV's for rent for around $150 to $200 a night. Small homes and bungalows are available for about $350 and luxury homes, often with pools, will cost about $800 a night.
Pink Beach Paradise - Beachfront Airbnb with Private Pool
5 Bedrooms, Waterfront, Pool
This is the perfect property for a large group. It sits on the waterfront with a dock, gorgeous pool, hot tub, large screened-in porch, nice gardens, a well-done kitchen, and is nicely furnished. The list of amenities goes on and on here - this is a true gem.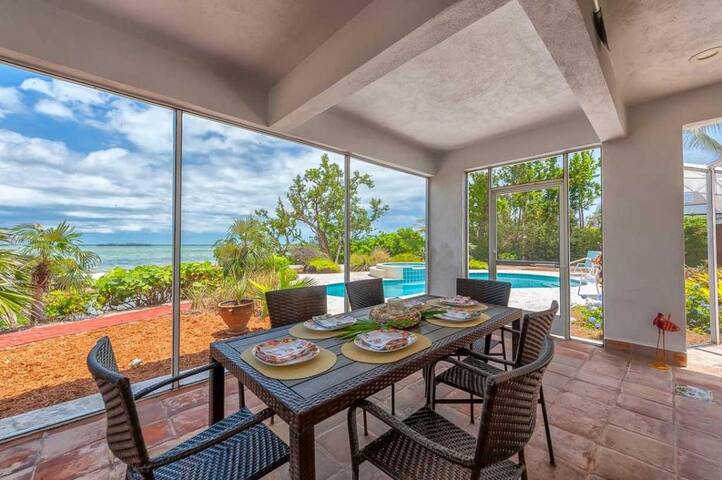 Sunrise Beach Escape - Cudjoe Key Airbnb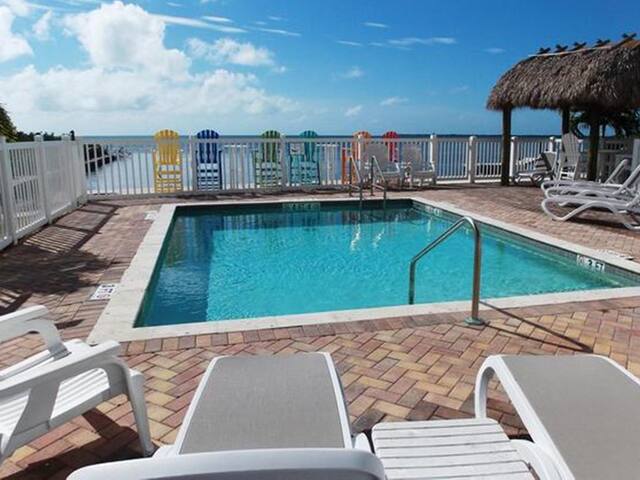 2 Bedroom, Pool, Waterfront
This clean and well maintained house is close to restaurants. With a pool, waterfront dock, kayaks, and great views, this is the perfect getaway place.
5-Bedroom House - Dog-friendly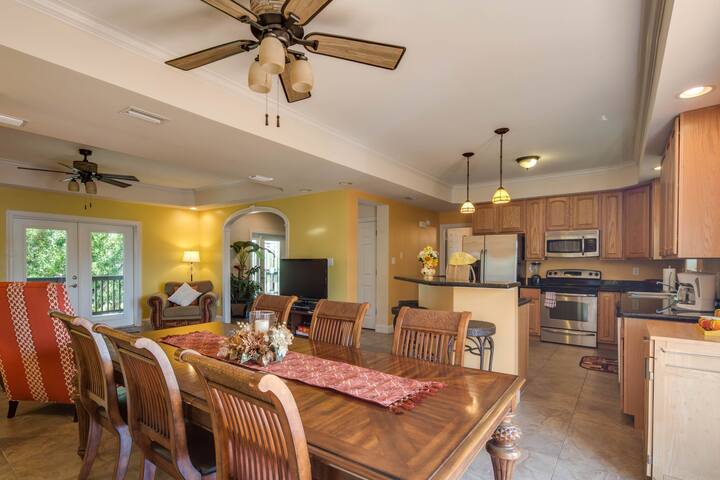 Here's a great option for groups who want a private and quiet place to stay. The 5 bedrooms ensure enough room for everyone.
Marathon Key Airbnbs for Groups
Marathon makes a great base for exploring the entire Florida Keys. Located right in the middle of the Keys, it's just over an hour from both Key West and Key Largo.
If your group is looking for a quiet beach where you can relax, head to either
Bahia Honda State Park
or Sombrero Beach. They both have nature trails and Bahia Honda also has camping. Reservations are recommended well in advance as space fills up quickly.
There are also a number of famous attractions nearby.
The Dolphin Research Center
is an excellent place to visit if you love marine life. It's a nonprofit organization, not a marine theme park, so you can feel good about the price of admission benefiting the animals. It's also a great place to swim with dolphins. The Turtle Hospital is another popular place to visit for animal lovers, as is Crane Point Nature Museum.
Prices for vacation rentals in Marathon Key range from about $150 for a small bungalow or apartment rental to $900 for luxury villas with private pools.
Renovated Waterfront Home - Boat Dock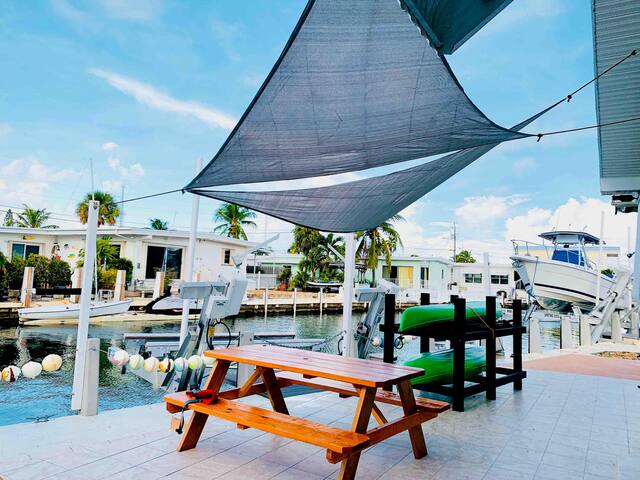 Here's one of several clean and convenient places to stay if you're planning to do any fishing. The private dock in the back of this newly renovated house is only the beginning, as it has 3 bedrooms and plenty of space.
4-Bedroom Marathon Key Pool House
4 Bedroom, 3 Bathroom, Pool, Dock
This property has a great pool, a dock in the back, and a nice outdoor area. The inside is fantastic, too!
Waterfront Pool House - Dock with Boat Rental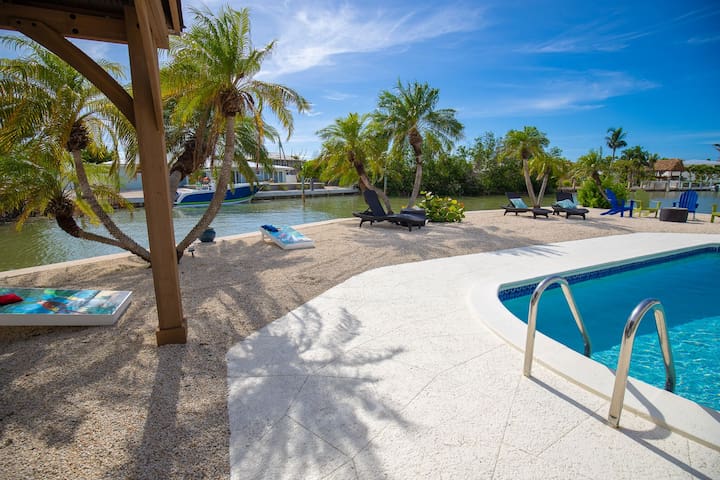 This property has great amenities, a pool, dock, kayaks, bikes, and more. The inside is spacious and has plenty of room for everyone. Their boat is also available for rent, which adds to the fun if you stay at this amazing vacation rental.
Islamorada, Florida Airbnbs for Groups
Islamorada also makes a nice base for exploring the Florida Keys in its entirety. It's part of the middle keys and is about 1.5 to 2 hours from Key West and just half an hour to 45 minutes from Key Largo. Islamorada is a village made up of five keys including Tea Table Key, Lower Matecumbe Key, Upper Matecumbe Key, Windley Key and Plantation Key.
This village offers a number of peaceful places to relax. It has a little less commercialization than some of the other keys and because of that, you'll likely have to drive to Marathon to find restaurants to accommodate your group.
There are a number of great activities for groups around Islamorada. Head to the ICE Amphitheater at Founders Park if you want to enjoy some live music. They host a number of concerts and live performances. You could also head to Theater of the Sea for a classic Florida Keys experience. They have dolphin and sea lion shows that are fun for all ages. There are also a number of state parks in the area including Indian Key Historic State Park, Long Key State Park, and Indian Key Historic State Park. Islamorada is also the home of the only production brewery in the Florida Keys. The Florida Keys Brewing Company is a small micro brewery with an eclectic style that feels like a quintessential part of the Florida Keys.
Like elsewhere in the Florida Keys, you'll find plenty of vacation rentals in Islamorada. Prices are a bit more expensive than Key Largo and you can expect to pay anywhere from $250 a night for a simple bungalow to upwards of $1000 a night for a luxurious beachfront villa.
Oceanfront Beach House - La Jolla Resort with Private Beach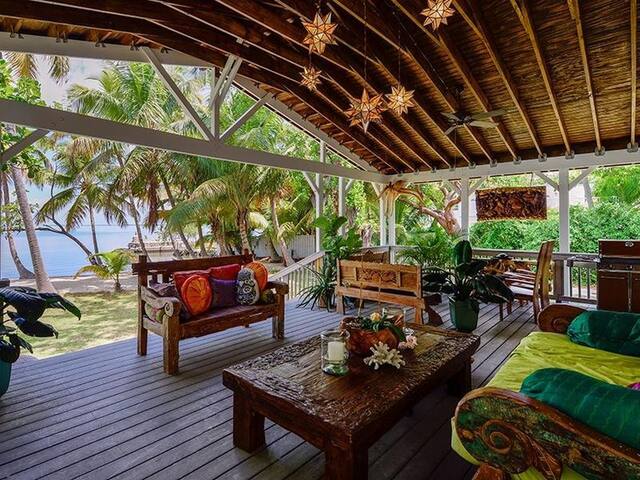 If you're looking for a relaxing place with a nice outdoor space, then this is the place to stay. This spacious house has plenty of room for everyone with 3 bedrooms, a huge kitchen and living room, and an amazing porch overlooking a private beach area. A dock is off to the side, too!
Oceanfront Beach Cottage with Private Beach & Kayaks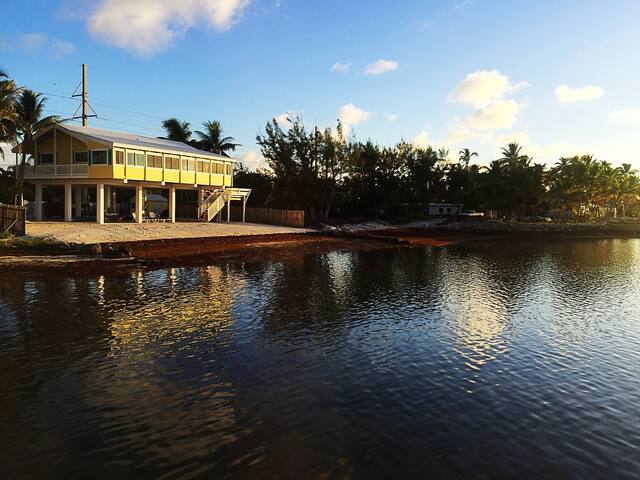 Here's a relaxing place for a small group of friends. The great views of the waterfront can be seen in almost every room. Use the kayaks to just roll out of bed and into the water. The inside of the house has a great kitchen, nice bedrooms, and a bright and happy vibe.
Flakeys Vacation Rental - Center of Islamorada
The backyard beer garden and live music really make this a festive place to stay. As this spot is close to many bars and restaurants, this is the place to be if you're going to be out in the evenings with your group.
Key Largo, Florida Airbnb Vacation Rentals for Groups
Key Largo is the northernmost island of the Florida Keys and it's just a one-hour drive from Miami. If your group is interested in diving and snorkeling, then Key Largo is a great place to stay. It offers some of the best snorkeling and diving in the Florida Keys with much of the surrounding waters protected by marine parks. The most popular dive spots are found in John Pennekamp Coral Reef State Park, the Mosquito Bank or Sea Gardens, Molasses Reef, and the Grecian Rocks.
There's a friendly community vibe to Key Largo and there are plenty of water activities available. Your group will also enjoy the variety of local hangouts, shops, and dive shops. As the northernmost key, the water is blue, but not yet the striking blue that the Florida Keys are most known for. You'll find as you head further south the water takes on a more tropical quality.
You really need a car to get around as the town is not pedestrian friendly, but in general a car is essential for exploring the Florida Keys, wherever you stay.
There are a number of vacation rentals available in Key Largo. Prices are slightly more affordable than you'll find elsewhere in the Florida Keys. You can expect to pay anything from $150 a night for something small and simple to $300 a night for a house or bungalow.
Deckhouse - Oceanfront Airbnb Beach House
Definitely use the kayaks to explore the area
from this waterfront cottage
. The 2 bedroom house has room for up to 6 people, along with plenty of room for everyone to hang out.
Relaxing Town Home - Kawama Yacht Club & Marina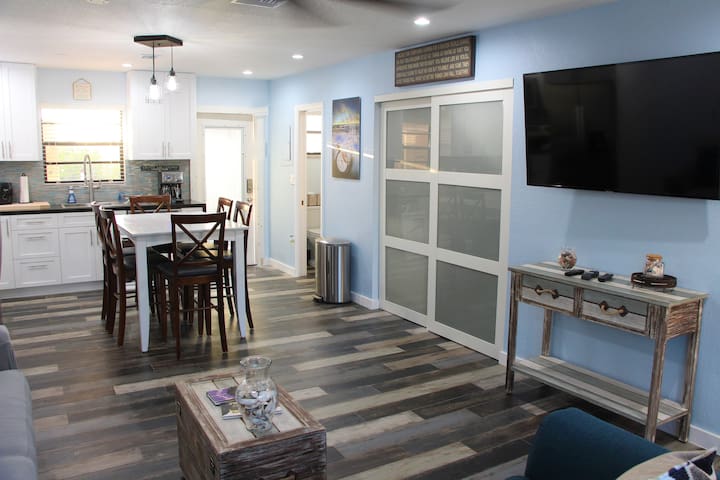 This is the perfect townhome for a small group. With modern comforts such as an updated kitchen and nice bathrooms, anyone would be comfortable here.
Luxury Oceanfront Key Largo Beach Condo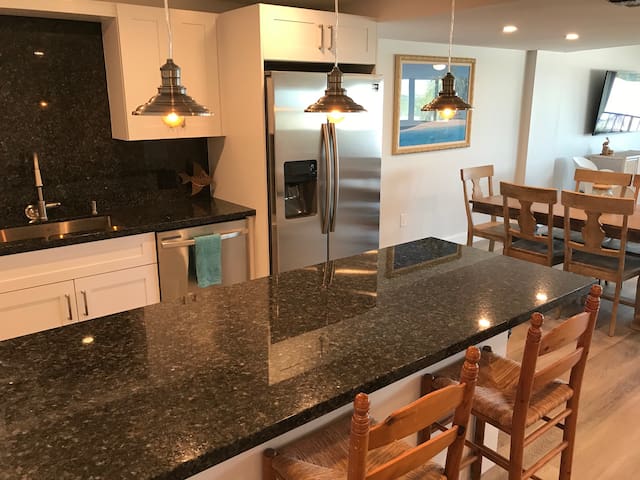 2 Bedrooms, Harbor Views, Pool
This is a nice apartment for a small group. The brand new condo for rent here has 2 bedrooms, an elegant kitchen with everything you need, fantastic views over the marina, gorgeous bathrooms, and access to the resort complex swimming pools, beach, tennis courts, and swimming lagoon.
Happy Travels!