Key West On a Budget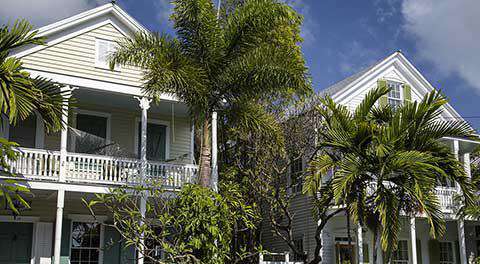 Key West is both a city and an island as well as the southern most Florida Key. It is also the southern most city in the continental United States. The island is only about four miles long and one mile wide. The total land mass covers just 4.2 square miles. The most famous street in town is Duval Street, which runs just 1.1 miles from the Gulf of Mexico to the Atlantic Ocean. There are 14 blocks. The size of the island doubled during the 1950s when many of the salt ponds along the eastern side of the island were filled in.
The island's semi-tropical climate makes it a great travel destination year around. It can be quite hot during the summer months and hurricanes can come unexpectedly during the fall months and wreak havoc on your vacation plans. It's also not unheard of for the weather to be unexpectedly cool during the winter months, although normally it is quite pleasant and comfortable. On occasion temperatures may dip into the 40s, but this is uncommon. Key West is the only city in the continental US that has never had a frost. There is a dry and a wet season to the island. From November through April there is plenty of sunshine and less than 25 percent of the annual rainfall. May through October is the wet season when rain occurs most days, usually in the early morning. Still, Key West is the driest city in Florida.
Sights
Key West is a fascinating place to visit as it is both beautiful and fun. One of the most visited sites on the island is the Southernmost Point, which is a marker that claims a spot as the southern most point in the continental United States. If you're looking for a good view of the island head to either the observation tower at
the Shipwreck Museum
or Key West Lighthouse. Also worth visiting is the Key West AIDS Memorial and Key West City Cemetery. There are any number of state and local parks around the island that are fun to explore. You'll find the best beaches at some of Florida's state parks. Wildlife Rescue of the Florida Keys is a good place to explore. McCoy Indigenous Park is the location where more than 2,000 rehabilitated animals have been released into the wild since 1993. You may find up to 100 animals at the center at any given time. It's free to visit, but donations are accepted.
Neighborhoods
Key West is divided into Old Town and New Town. Old Town is between White Street and Bertha-First-Palm. This is where you'll find the more historic architecture and compact streets. Within Old Town you'll find the areas of Solares Hill, Duval Street, and Bahama Village.
New Town is everything that isn't included in Old Town. This area has modern shopping centers, grocery stores, strip malls and suburban style development. Smather's Beach, Charterboat Row and East Martello Museum are the areas of most interest to tourists.
Stock Island is also technically a part of the City of Key West. It's an island that is connected to Key West Island by the Cow Key Channel Bridge. On the island you'll find several restaurants, a marina, a public Golf Course, and a botanical garden.
Activities
Snorkeling and scuba diving are both fun in the Florida Keys. While some of the coral has been brutalized by the tourist crowds, you can still see some colorful fish and stingrays among other things. If you're not up for either snorkeling or diving, then you can take a glass bottom boat and see many of the fish. There is also no shortage of water sports you can participate in around Key West. You have options ranging from jet skiing, to fishing, or windsurfing.
Another popular activity in the Florida Keys is to take a sunset cruise which can be quite beautiful. Also make sure you head to Mallory Square at sunset when everybody is out and about and there are street performers entertaining the crowds.
A
visit to Dry Tortugas
is also a must-do activity. I can take a full day (or you can spend the night). You'll need to take a ferry to this very scenic island that has an old fort and some amazing snorkeling opportunities.
Food and Dining
There are a good number of restaurants around Key West that cater to all budget types. Seafood is plentiful and delicious. There are also Cuban restaurants that offer excellent food at affordable prices. Cafes, raw bars, and fine dining restaurants are all centrally located in the Duval Street area.
Key West also offers plenty of bars where you can grab a drink. Some of the most popular include Bourbon Street Pub, Captain Tony's Saloon, Fat Tuesdays, Hog's Breath Saloon, and the Lazy Gecko Bar, among others.
Transportation
There is an airport on the island, Key West International Airport, which is the easiest way to reach the island. You will likely want to rent a car once you arrive however, as the island is not very walkable and public transportation is almost nonexistent. Parking can be expensive though. You can find free parking in front of the USS Mohawk Museum or at the intersection of Southard Street and Fort Street. It's also possible to rent motor scooters, bicycles or golf carts. Golf carts require standard parking, but scooters and bikes can often be parked on the sidewalk near your destination.
If you want to explore any islands north of Key West then a car is essential. The driving times can be surprisingly long and traffic can be slow moving. Speed limits are often slow making trips longer than you might expect.
There is a bus system for destinations in the immediate vicinity on Key West. The lines are color coded and you can purchase unlimited travel tickets for time periods between 7 days and a month.
Related
Looking for a
party hostel in Hawaii
or
Miami
? Traveling alone to
LA
or
New Orleans
? Want a budget hostel in
NYC
?