The Florida Keys span a long distance, but each of the islands are all beautiful. If you're planning a trip sometime soon, a vacation rental might be the best option for your family or group. Because many of the towns in the Keys are made up mostly of houses, it's often easier to find a great house with plenty of space than a hotel without all of the amenities that your group needs. After all, if you're traveling with a family or staying for awhile, why not have a kitchen and some extra bedrooms? A rental house can give you just what you need for the perfect getaway.
From south to north, here are some of the best vacation rental options in the Florida Keys.
Key West
Key West is the most popular and infamous destination in the Florida Keys. Make no mistake, this is a party destination, but that doesn't mean there aren't plenty of family friendly activities to enjoy in town.
Key West is very accessible if you're willing to spend the money to fly into Key West Airport. It's generally more expensive than Miami International Airport, but it will save you the time of driving the 3.5 hours from Miami (granted, it's a pretty spectacular drive). You'll probably want to rent a car for your time in the Keys anyway, so why not? (
Check car rental prices here
.)
Key West has no limit to family friendly activities and sights. It's the Florida Keys, so you really should spend as much time as possible on the water. There is kayaking, snorkeling, diving, and fishing trips. The whole family will enjoy a famous sunset cruise aboard the Jolly II Rover and don't skip a trip to the impressive
Dry Tortugas National Park
.
For land lovers, there are a number of famous sights around Key West including
The Oldest House
, which dates back to the 1820's, Higgs Beach African Graves, which has a tragic but poignant story, and the Harry S. Truman Little White House. Also make sure you visit the Key West Garden Club, the Southernmost Point, and perhaps most famous – the Ernest Hemingway Home and Museum.
A truly unique Key West experience is a visit to Mallory Square at sunset. Your kids will love the street performers and lively atmosphere that makes this experience memorable.
Key West is the most pedestrian friendly town in the Florida Keys. Even so, you'll want a car to explore everything that the islands have to offer (
check car rental prices here
).
Many of the vacation rentals in Key West are single rooms or small apartments. There are a few nice houses available for rent, but they usually don't have the amenities or space that you would find elsewhere in the Florida Keys. But for many, staying in Key West is worth the price.
Beach Club Ocean Front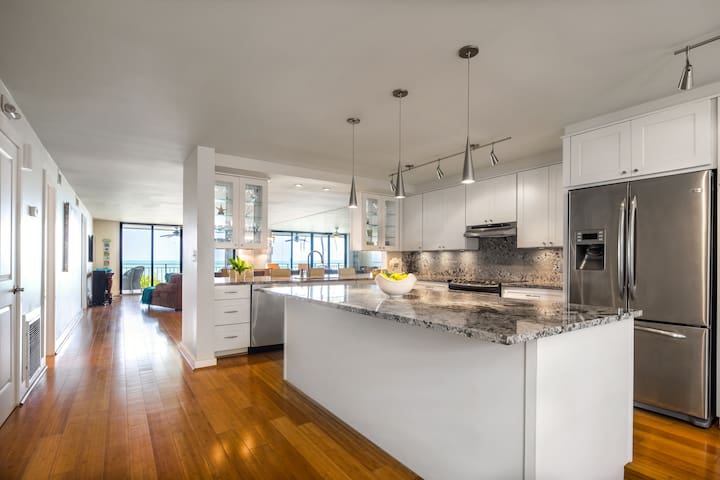 You'll feel pampered at this condo with its impressive view of the ocean.
Paraside Pool House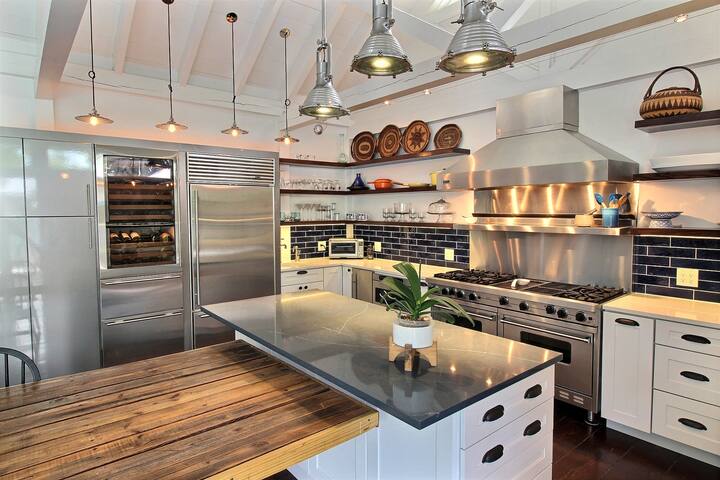 This is a unique find in Key West. It's renovated and comfortable for the whole family with a gorgeous pool, luxury kitchen, and plenty of natural light.
Check out the photos!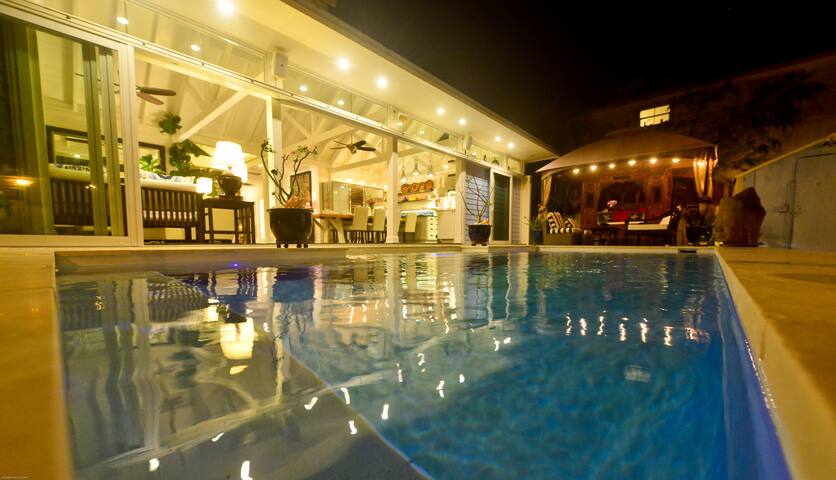 The Lower Keys
The Lower Keys start at the infamous Seven Mile Bridge and include popular places such as Big Pine Key, Little Duck Key, Summerland Key, Big Torch and Little Torch Keys, Cudjoe Key, Sugarloaf Key, Big Coppitt Key, and Stock Island.
This area is prime deer territory so keep your eyes peeled for wildlife spotting. The area also includes two national wildlife refuges, a national marine sanctuary, and a state park. This is the place to stay if you're looking for
natural experiences
, wildlife areas, and a peaceful place to enjoy the natural side of the Florida Keys. There are RV parks and camping in the area, as well as lodging and vacation rentals. The area has a number of
snorkeling and dive spots
as well as beaches where you can enjoy the beautiful blue Florida Keys water.
For a slightly different side of the Florida Keys, head to Stock Island, which is an artist's haven. There are art studios, festivals, and a waterfront filled with bars and restaurants. This is also at the heart of the commercial shrimping industry in the Florida Keys, so you'll enjoy fresh seafood and vibrant marinas.
There are a range of rental properties available in this area. You can find RV's for rent for around $150 to $200 a night. Small homes and bungalows are available for about $350 and luxury homes, often with pools, will cost about $800 a night.
Sunrise Beach Escape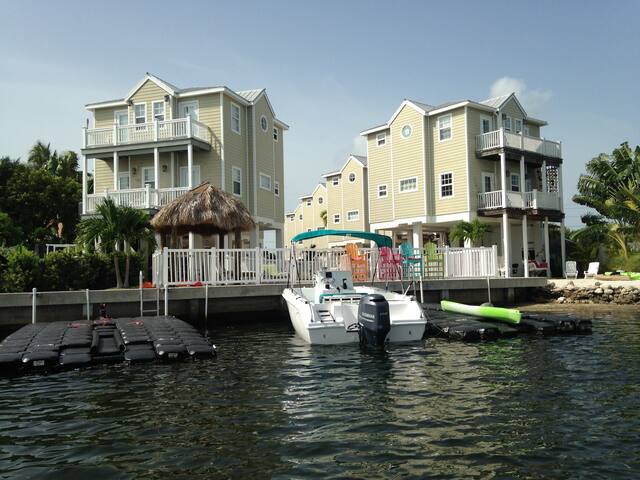 This is a cozy condo in a great location and includes a pool. It overlooks the water and has central A/C. The modern kitchen and spacious living room are very comfortable. Plenty of outdoor lounge space is also part of the appeal here, too!
Powell Family Resort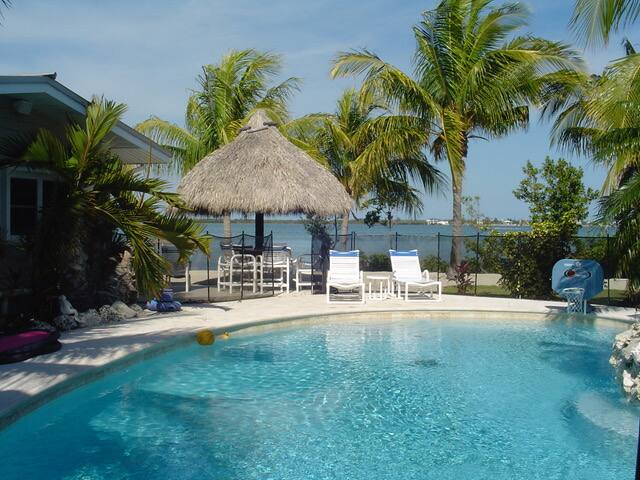 6 Bedrooms, 3 Baths, Pool
Here's a perfect family retreat with hammocks, kayaks, paddle boarding and an impressive pool. The 6 bedrooms can sleep up to 10 people. The living room and kitchen are also spacious and relaxing for the whole group.
Marathon Key
Marathon is also a great base for exploring all of the Florida Keys. It's just over an hour from Key West and just over an hour from Key Largo.
The
Dolphin Research Center
is an excellent place to visit if you love marine life. It's a nonprofit organization, not a marine theme park, so you can feel good about your admission price benefiting the animals. It's also a great place to swim with dolphins.
The Turtle Hospital
is another popular place to visit for animal lovers, as is Crane Point Nature Museum.
Head to Sombrero Beach for some snorkeling and beach relaxation. There's both shallow and deep water as well as a playground for young kids.
Bahia Honda State Park
is also a nearby beautiful beach with nature trails and shallow water where the kids can play. There's also camping, but make reservations well in advance if you're hoping to stay here.
Prices for vacation rentals in Marathon range from about $150 for a small bungalow or apartment rental to $900 for luxury villas with private pools.
4BR, Pool, & Dock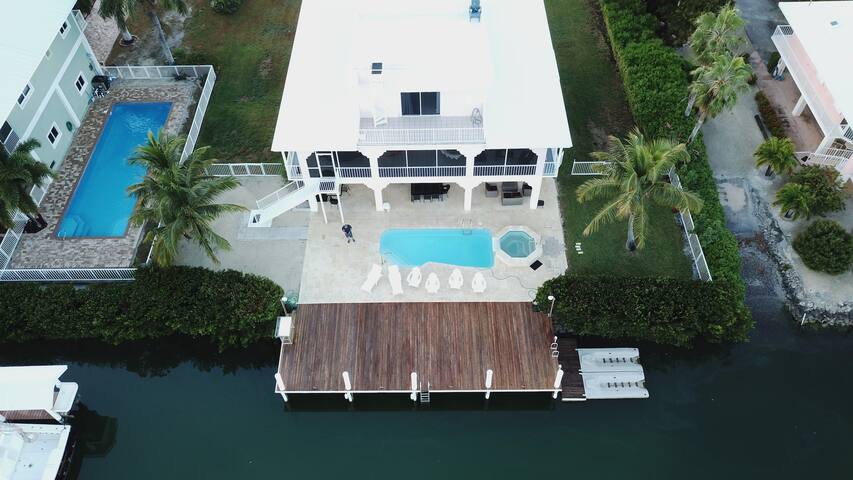 4 Bedrooms, Pool, waterfront
This waterfront house offers plenty of space along with a screened patio, a pool, a dock, and even has toys for the kids.
4BR Villa - Pool/Dock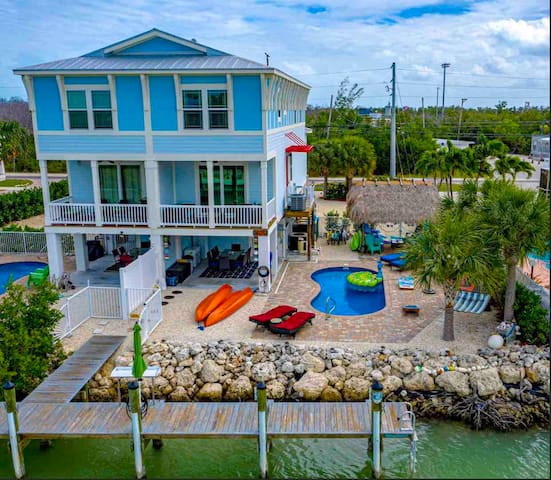 4 Bedrooms, Pool, Waterfront
This rental has a large pool
, kayaks and a dock, paddle boards, cornhole, and a number of great outdoor games and activities.
Modern 2BR Waterfront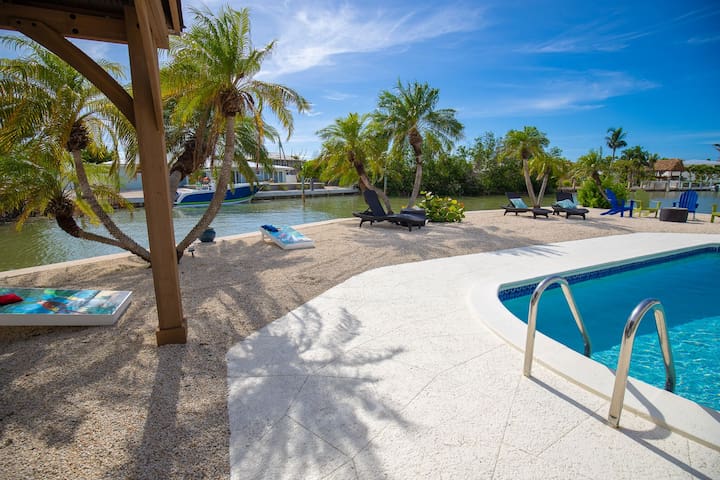 This modern home is another great option with kayaks, bikes, paddleboards, and even a boat you can rent. With 300 feet of waterfront, you can take in the views and enjoy the outdoors. Or hang out inside in the luxurious and comfortable living room space with a modern kitchen. The bedrooms are nicely appointed, too.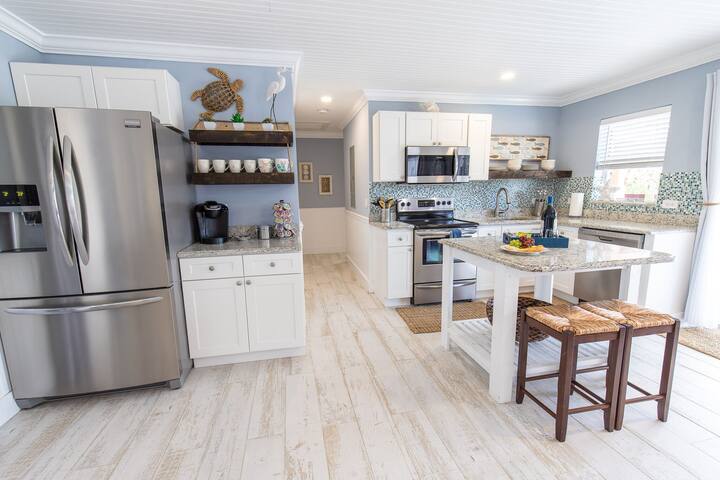 Islamorada
Islamorada makes a nice base for exploring the Florida Keys in their entirety. It's part of the middle keys and is about 1.5 to 2 hours from Key West and just half an hour to 45 minutes from Key Largo. Islamorada is a village made up of five keys that include Tea Table Key, Lower Matecumbe Key, Upper Matecumbe Key, Windley Key and Plantation Key.
This village offers a number of peaceful places to relax. It has a little less commercialization than some of the other keys and because of that, you'll likely have to drive to Marathon to find a larger variety of restaurants.
There are a number of things you can enjoy on Islamorada with your kids. Anne's Beach is a quiet place to relax. The kids (and adults) will enjoy the shallow water which is perfect for playing.
Theater of the Sea
is a classic marine park of the Florida Keys. They have fun dolphin and sea lion shows that offer a simplicity and humor that adults and kids alike will enjoy. If you pay a little extra your kids can get in the water with dolphins or stingrays. This is a quintessential Florida Keys experience. Also make sure you head to Founders Park to enjoy some sailing, swimming, paddle boarding, and more.
Like elsewhere in the Florida Keys, you'll find plenty of vacation rentals in Islamorada. Prices are a bit more expensive than Key Largo and you can expect to pay anywhere from $250 a night for a simple bungalow to upwards of $1000 a night for a luxurious beachfront villa.
Leila's Beach House
3 Bedroom, 2 Bath, Waterfront, Pool
This house has an amazing view and an excellent pool. The kitchen is very modern, and the bedrooms are quite spacious for this type of vacation rental.
Check out the photos of this place!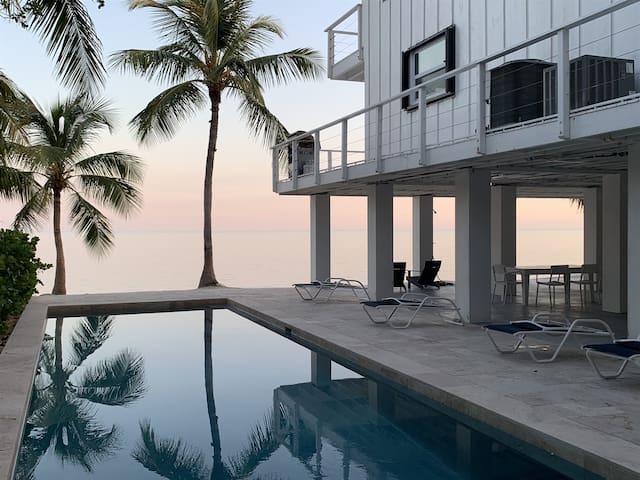 3BR Oceanfront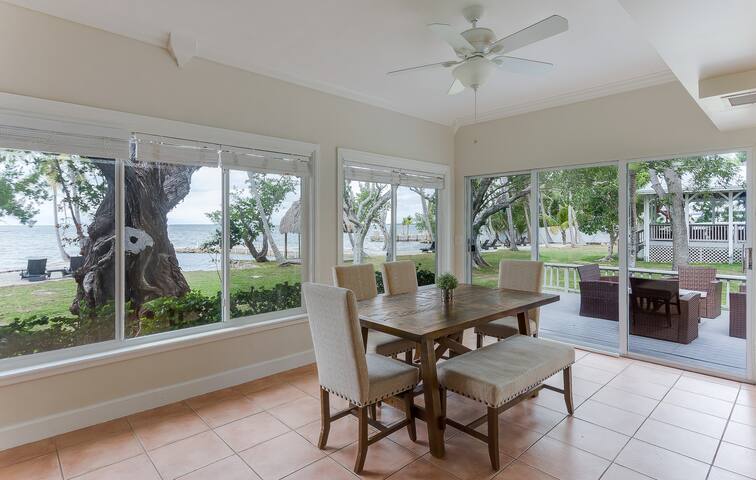 3 Bedroom, 2 Bath, Waterfront, Pool
This house is spacious and comfortable for the whole family.
Beach Cottage 2BR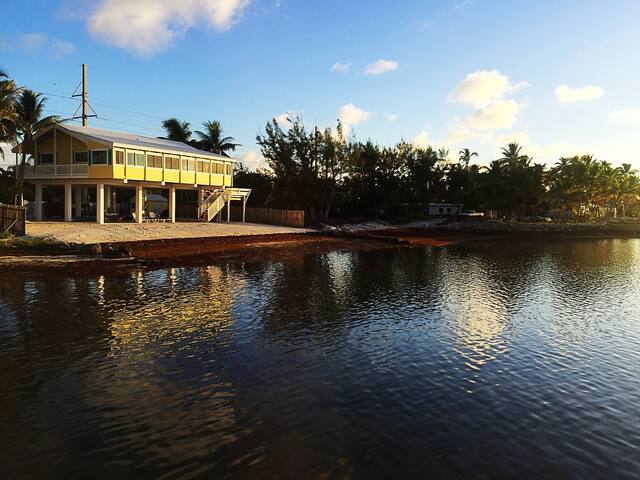 This cottage offers a relaxing and peaceful retreat on the water with a long list of nice amenities.
Key Largo
Key Largo is the northernmost island of the Florida Keys and it's just a one-hour drive from Miami. It offers some of the best snorkeling and diving in the Florida Keys with much of the surrounding waters protected by marine parks. The most popular dive spots are found in John Pennekamp Coral Reef State Park, the Mosquito Bank or Sea Gardens, Molasses Reef, and the Grecian Rocks.
Key Largo is a very family friendly destination with a number of water activities available that the entire family can enjoy. There are several places where kids can swim and interact with dolphins. There are also kid friendly snorkeling spots, kayaking trips, and the famous Florida Keys Wild Bird Rehabilitation Center.
Key Largo has a more local vibe than much of the Florida Keys and you'll find a number of local hangouts, shops, and dive shops. As the northernmost key, the water is blue, but not yet the striking blue that the Florida Keys are most known for. You'll find as you head further south the water takes on a more tropical quality.
You really need a car to get around as the town is not pedestrian friendly, but in general a car is essential for exploring the Florida Keys, wherever you stay.
There are a number of vacation rentals available in Key Largo. Prices are slightly more affordable than you'll find elsewhere in the Florida Keys. You can expect to pay anything from $150 a night for something small and simple to $300 a night for a house or bungalow.
Cottage on the Waterfront
2 Bedroom, 2 Bath, Waterfront
This house
is nice option with a beach, kayaks, and paddle boards available.
Relaxing Town Home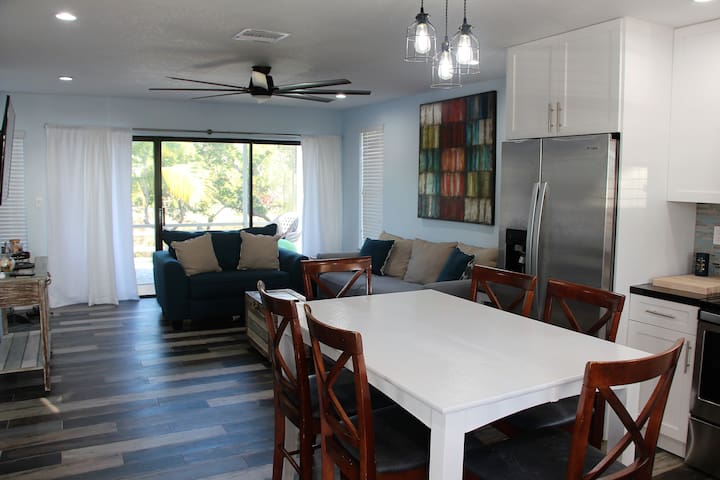 This is a very clean and cheerful townhouse to stay in. The kids will love the bunk beds, and the whole family will love the easy access to everything nearby.
Casa Largo
2 Bedroom, 2 Bath, Waterfront
This townhouse offers a lot of outdoor space that's perfect for the whole family, and is also quite affordable. Check out the bunk beds for the kids. It has access to the condo complex's swimming pool, tennis courts, and playground, along with a nice lagoon view.
Happy Travels!