We recently took a road trip up the east coast, and one of our stops was Williamsburg, Virginia. This popular destination offers plenty of activities for the whole family, and is perhaps most famous for the historic Colonial Williamsburg area which lets visitors relive America's earliest days. Also nearby is Busch Gardens, the college of William & Mary, historic Jamestown, and a variety of other smaller attractions.
We had always heard that the Great Wolf Lodge was a fun and exciting activity for kids and adults, so we decided to spend a few nights at the hotel and resort to experience it for ourselves. It's a hybrid combination of a water park and a hotel, and also provides dining options and other activities. So, it's entirely possible to stay at a Great Wolf Lodge and never leave. Your children will absolutely agree!
The Water Park
Let's get right to the point: the water park is the main attraction and the reason that you're considering a visit. That's why we come, after all. The good news is that the water park is included with your stay at the hotel. Even though there are plenty of other activities in Williamsburg, your kids probably won't care about any of them once they see this: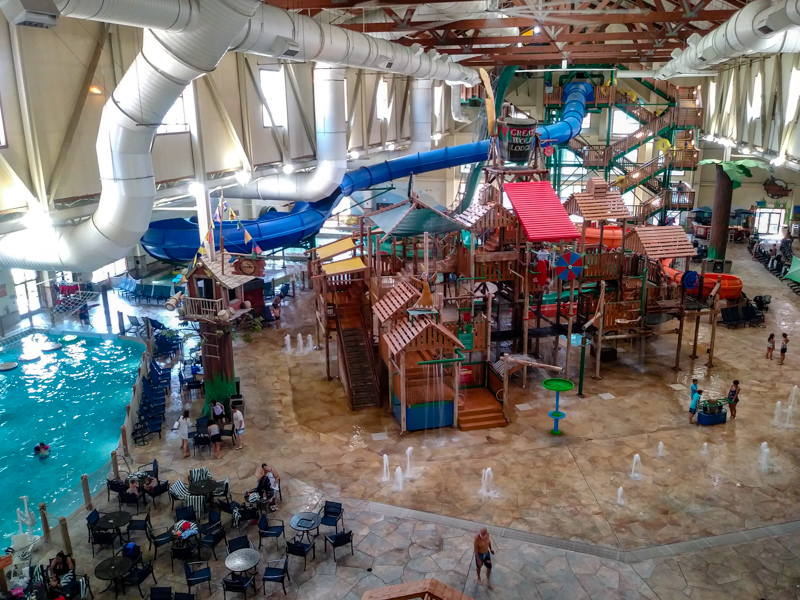 Admittedly, as an adult,
the water park is awesome
. It brought out the inner-child in me (and my wife, too). Despite being indoors, they pack it all in. Every age can enjoy at least a few of the attractions, if not all.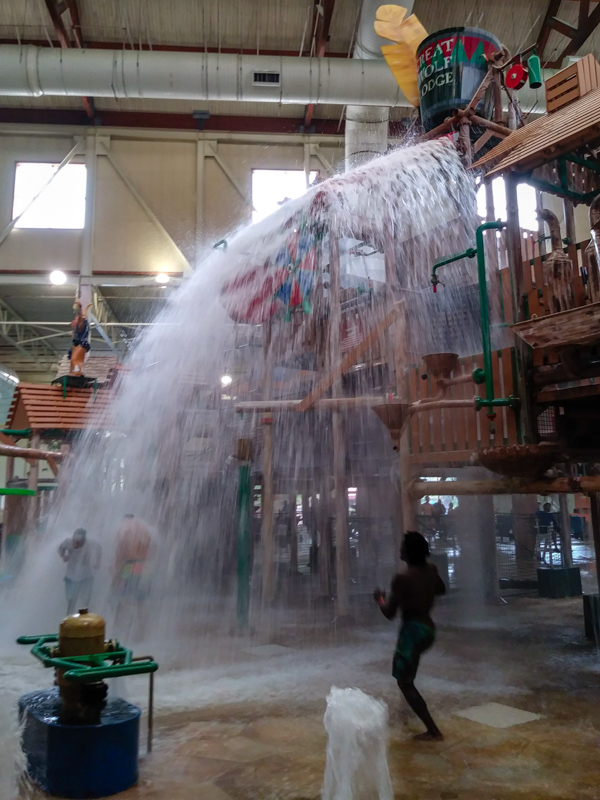 For starters, right in the middle is a large playground structure which they call Fort MacKenzie. It's basically like a castle with water spraying everywhere. With climbing obstacles and buckets and hoses for water fights, this area is lots of fun for younger kids. A huge bucket on top of the structure slowly fills up with water and then dumps its load onto everyone nearby every five minutes. And a few kid-friendly waterslides start from the top of the fort, too. These are the perfect size for kids aged 3 to 10, and even adults. They don't have a pool at the end, so you don't need to be a strong swimmer to take advantage of the fun here.
Another toddler-friendly pool is off to the side with some spray features and shorter slides that are perfect for the little ones. The water is only about 2 feet deep at the most, and is surrounded by chairs for parents to keep an eye on everything. Plenty of lifeguards are around, too (more on that in a bit).
The wave pool is another fun spot. Every few minutes the "wolf howl" sounds the call for the waves to start. It's like being at the beach, but indoors. The waves are not too high, which makes this a great spot for the whole family to enjoy because the younger kids can participate, too. And when you need a break, a large hot tub area is next to it. One is the right temperature for kids, and the other, even hotter hot tub, is only for adults.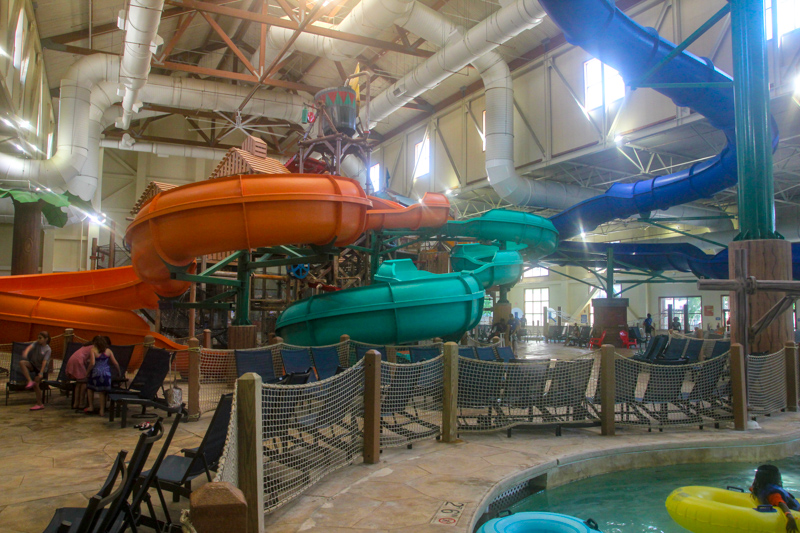 Another pool off to the side has basketball goals and the always popular lily-pads. Here you can test your American Ninja Warrior skills as you hang from the ropes and balance yourself on the slippery pads to cross the pool. The life guards are very helpful here as they let parents assist the younger kids.
Perhaps the "crown jewel" of the water park is the section in the back that contains a large 5-story tower with multiple tube slides coming down from it, along with the attached lazy river. The slides are amazing, well designed, and plenty of fun. They take full advantage of the indoor-outdoor space by beginning and ending indoors, but looping around the outside of the building.
For starters there are two tube slides that can be ridden as a single or double rider. Double rides are perfect for the younger kids who might need to ride with a parent because of their shorter height or fear of going alone. Our five-year-old was scared at first, but after a few rides, she quickly became the "expert" on the slides. Another great slide is the larger raft slide, which zooms down a very wide tube on a round raft that can hold up to five people. Your entire family can ride together! And perhaps the most adrenaline filled of the slides is the large vortex-like Howlin' Tornado that takes 4 people at a time into a back-and-forth chamber that makes you feel like a bug stuck in a wine bottle (but in a good way). A few of these slides end up in a pool that connects to the lazy river, which is a nice way to relax. At least, you can relax until you pass under the continuously dumping buckets that wake you up if you fall asleep.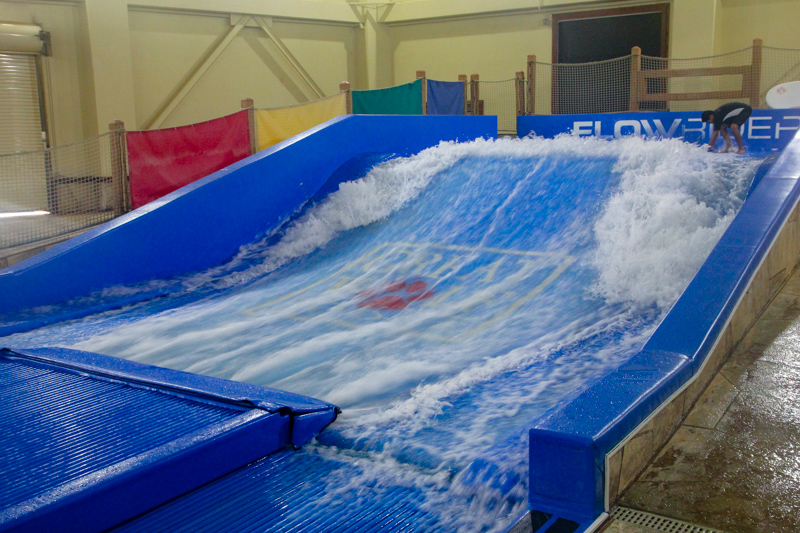 Another section in the back has one of those "Flow Rider" wave surfing simulators - and it is awesome! It lets you experience what it's like to ride a large and fast wave without the inconvenience of paddling out into the ocean or having the wave actually break on you.
Finally, an outdoor area is open in the warmer months. This is essentially a huge outdoor pool with a couple of water features. It's a nice spot to relax, but honestly it doesn't compare to all of the amazing stuff that's inside. However, as hotel pools go, it's still really awesome. And if you need a break and just want to have a moment of normal swimming, it's there for you.
And now I want to take a moment to talk about water safety. I was actually blown away with the number of staff and lifeguards on duty at the water park. Not only are they plentiful, they are actively watching and searching each and every spot in the pools and slides to ensure everyone's safety. It was clear to me that the Great Wolf Lodge takes water safety very seriously. The pools are monitored, and the slides have someone at the top and bottom of each ride. And I also want to mention that the life guards are also friendly, helpful, and great with the younger kids!
The Rooms
While the rooms come in a variety of options (
and prices
), we stayed in one of the less expensive rooms which was a "Family Fireplace Suite". Personally, I feel like the word "Suite" here is a bit misleading, as it's really just a large room with a partial divider between the bed and sofa areas. This divider was not large enough to block sound or give a lot of privacy. However, the room itself was quite large and very comfortable. We had two queen beds plus a sofa, a small table with chairs, and a fireplace. The bathroom was nice, and fairly standard for a hotel. There was a small kitchen counter with a sink, a microwave, and a mini-fridge, too. And the room had two TV's. A balcony or patio is also included (ours had a patio since we were on the first floor).
As this is one of the less expensive rooms in the hotel, I was pleased with the overall size of the room and the comforts. It was easily twice as large as the typical rooms at other popular hotel chains. So while the term "Suite" doesn't quite fit, the room was very large indeed.
Other options for the standard rooms include having only one king size bed, one queen sized bed, and not having a fireplace (which we didn't end up using anyway). It would really just depend on the size of your family and what's available at the time as they all seem to be priced the same. The sofa pulls out into a bed if you need the extra space for kids to sleep, too.
The more expensive rooms have some amazing features. You may have already heard about the themed rooms which have some very fun sleeping options for kids. The KidKamp, KidKabin, and Wolf Den Suites all have little bunk-bed rooms for the children that are designed to look like tents or cabins. Yes, they are more expensive than normal rooms. However, other than the fun themes you actually get more beds. These rooms are great for larger families with more kids that might need extra beds. Just send them into their little bunk rooms and they'll have plenty of fun.
Finally, the hotel offers several options that are multi-room suites for larger families or groups. These rooms have multiple beds, such as three or four queens or kings, plus multiple bathrooms. While they are the most expensive, they offer the most room and the most sleeping capacity. Keep in mind that none of the rooms at the hotel has a kitchen, but they do have mini-fridges, microwaves, and sinks like we described earlier.
Find prices for your specific dates here
.
Activities at Great Wolf Lodge Williamsburg
In addition to the water park, the hotel has other fun activities for kids and adults. The on-site
spa
might be of interest to you if you want to pamper yourself. And there's also a kid section of the spa where the little ones can get manicures and pedicures. It's cute, but I don't see any kids pulling themselves away from the other stuff long enough to enjoy it.
The
arcade
has plenty of games and operates on a card system with credits. In a typical arcade fashion, some games spit out tickets which can be redeemed for prizes.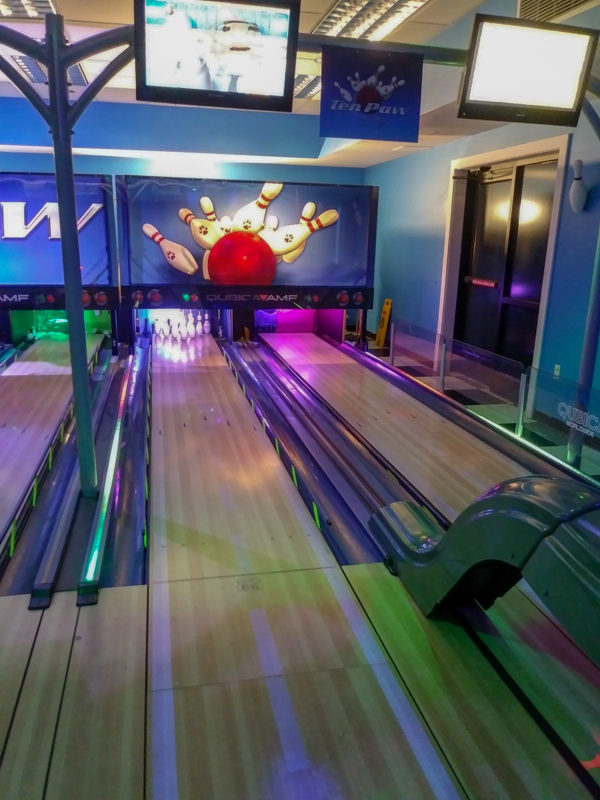 The small bowling alley is the perfect size for younger kids. The lanes are short, the balls are small and light, and the music is fun. A small 3D movie theater is across the hall next to some other immersive games which cost extra. A Build-A-Bear Workshop is also located in the lobby, and offers special Great Wolf Lodge themed animals.
An outdoor
ropes course
is also open during the warmer months. It goes up to 3 stories high and provides a great afternoon of fun for kids (and adults) that are a little older to experience a nice physical challenge. A
rock climbing wall
and outdoor
putt-putt
are also located next to the ropes course.
One of the more fun attractions for kids is the hotel-wide interactive video game known as
"MagiQuest"
. After purchasing a customizable magic wand (with built-in electronics), kids wander the entire hotel stopping at interactive video-game stations that guide them on an elaborate scavenger hunt type of quest - the ultimate goal being to get them out of the room so you can have some "mommy and daddy" time. A "mini" version of the game is available for younger kids, too.
Of all the activities, my personal favorites were the
scheduled events
that happen at various times during the day. My daughter absolutely loved waking up and going to the morning session of
kids yoga
in the lobby. It was delightful watching a bunch of preschool aged kids on their yoga mats performing the downward dog and the tree and the warrior poses. Also, in the evenings they host
pajama dance parties
and
story time
. The lodge has characters that come for photos during some of these events, too. Even though my daughter had never heard of the characters, she still had fun seeing them wander around the hotel for random sighting and hugs.
Food and Dining Options
Remember how we mentioned that you never have to leave? The hotel has plenty of food options. For breakfast and dinner, the
buffet
on the main floor is open. The food is pretty good, very plentiful, and kid-friendly. For breakfast, a large spread of fruit, pancakes, waffles, sausage, bacon, eggs, omelets, cereal, and plenty of other typical fare is provided. For dinner, a large salad bar along with hot options with various meats and vegetables is available. You can get carved turkey or roast beef, Asian options, pasta, and more. And the dessert section is fantastic, too. Oh, and there's a bar. You're gonna need that. And beer is served at a few of the other spots around the hotel, too.
The small
pizza place
on the ground floor was very popular. After a day of swimming and slides, kicking back with a large pizza, soda, and beer is a great way to unwind. Eat at the tables or take it back to your room. The attached ice cream and dessert parlor is another favorite with the kids, too.
In the water park area is a
fast-food style counter serving burgers
, hot dogs, sandwiches, fries, and other typical food items. A
Dunkin' Donuts
is also in the lobby.
If you want to get out of the restaurant to eat, a few options are nearby, but otherwise you're looking at a bit of a longer drive to get anywhere interesting. Right next to the hotel (a 3-minute walk) is a restaurant with a hunting lodge theme that serves typical American food such as steaks and burgers. We tried it and it was pretty good. Also nearby is a shopping center with a few fast food options such as Taco Bell, Sonic, Chick-fil-A, and an IHOP. A chinese restaurant is also not far. And if you need it, the Walmart is there, too. Otherwise, you can always drive into the heart of Williamsburg in about 15 minutes.
Great Wolf Lodge: How much does it cost?
This wouldn't be a website about travel costs if we didn't cover this topic, so here it is. Let's be honest, the Great Wolf Lodge is not cheap. Depending on the time of year and the time of the week, the prices can be very high. You might have noticed that already. (
Find prices for your dates here
.)
The stated price for a "Standard" room is $350, but it's
quite easy to get that price down to under $200
, or even as low as $125 if you hunt for a bargain (see the tips below). Obviously, the themed rooms and larger suites will be more expensive.
How to save money at Great Wolf Lodge
Don't pay full price! There are plenty of ways to save. Here are some tips on how to save money at the Great Wolf Lodge:
Look for sales, deals, and specials.
They happen all the time and across a variety of different booking sites such as
hotels.com
. Often they have special deals for those that book during certain times, stay more than one night, or book far in advance.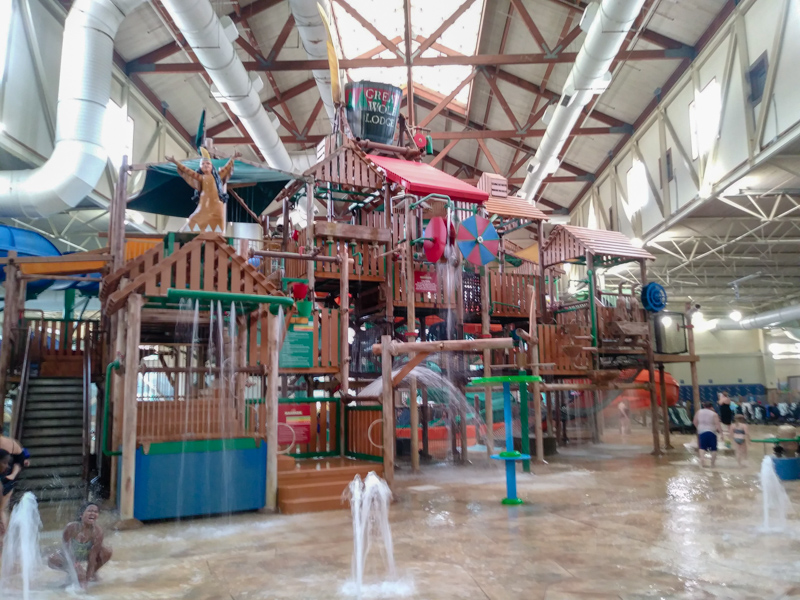 Be flexible
with your dates. The weekends are more expensive, so try to stay between Sunday night and Thursday night. Also, various seasons and holiday weekends are more expensive, so try a number of different dates to find the cheaper prices.
Sign up
on their website for special pricing and discount coupon codes.
Don't pay extra
for "late check out". The waterpark is included in the price of your stay, and you can use it for the entire day on your check out day. So, just leave your room at the standard check out time, put all of your stuff in your car, and then go back inside to play. Lockers, showers, and changing areas are available, so just bring a small bag and grab a burger for lunch. The late check out option really just lets you leave your stuff in your room instead of in your car, but it costs about $60.
Pay attention to their special package deals
. These deals will include various add-ons such as meal plans and other activities such as the
MagiQuest
game. Some of these deals are a good value, but others are not. Also, during the time leading up to our stay, we received various emails that each had different prices for these packages. In one email the food package was significantly cheaper than a previous email. Also, food packages were quoted per person, but at the hotel the prices are separated for children and adults.
Making this even harder was the confusion of figuring out the price of the packages compared to the prices if we were to pay separately when we arrived. It's possible to find many prices for food and activities on their website if you do some digging, but to make it easier for you, we've listed them below.
Food prices at Great Wolf Lodge Williamsburg were as follows:
- The breakfast buffet was $15 for adults and $10 for kids (age 4-13), age 3 and under is free. Note that this is a "character breakfast" where you can meet the furry friends.
- The dinner buffet was $20 for adults and $7 for kids (4-13), age 3 and under is free. (It's interesting to note that for adults the buffet is more expensive than breakfast, but it's less expensive for kids.)
- The pizzas were about $15 for a large cheese pizza, and toppings are extra.
- The ice cream and desserts varied in price, but expect to pay higher than if you were elsewhere.
- The burger and hot dog place in the water park area has burgers for around $8 and hot dogs for $5. Fries and drinks are extra, and fries are around $3.
Activity Prices At Great Wolf Lodge Williamsburg were as follows:
- The ropes course is $13, and discounts are available for multiple climbs.
- MagiQuest wands cost around $40 (you get to keep it), and the game costs $15.
- Bowling is $7 per game.
- The arcade varies by game, and credit discounts are available if you put more money on your card.
- The XD Theater is $7, and Olivers Time Challenge is $2.
- Spa prices vary by the type of service, and a 30 minute massage starts at $55. Kids spa services in the "Scoops Kid Spa" start at $50 or a manicure and $40 for a facial.
Other Tips and Advice
Get
water shoes for the kids
. In some places the floors can be a little slippery. And we all know that despite the "no running" rule, kids do it anyway. Water shoes will keep them from slipping and make sure that they have a more enjoyable stay. We bought these shoes and they worked out great (and they were cute, too).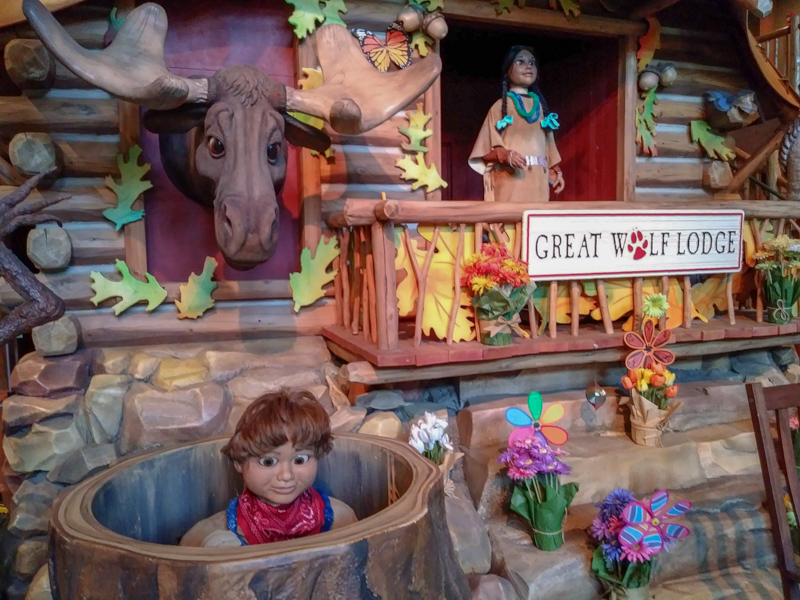 The only other form of advice that I can offer is to prioritize your time in Williamsburg. If you stay at the Great Wolf Lodge, your kids won't want to leave. Ever. So if you have plans to see all of the sights and attractions, then you might want to do what we did and split our time between two different hotels. We spent a few days at Great Wolf and just stayed at the water park the entire time. But before that, we spent a few days at another hotel which was cheaper and closer to the center of Williamsburg so that we could see Colonial Williamsburg and some of the other attractions. This way, we didn't feel like we were spending money on something expensive (the water park) without using it as much as we could. We also didn't tempt our daughter with the water park until after she had done the historical stuff, which seemed to work out pretty well.
Have fun on the slides!
Resources:
-
Hotels.com prices for Great Wolf Lodge Williamsburg
-
Great Wolf Lodge Williamsburg website
-
Travel Costs for Williamsburg, Virginia
-
Activities, tickets, and tours in Williamsburg
-
Colonial Williamsburg website
For more ideas about places to stay in Williamsburg, you might also be interested in
Greensprings Vacation Resort
.