Williamsburg On a Budget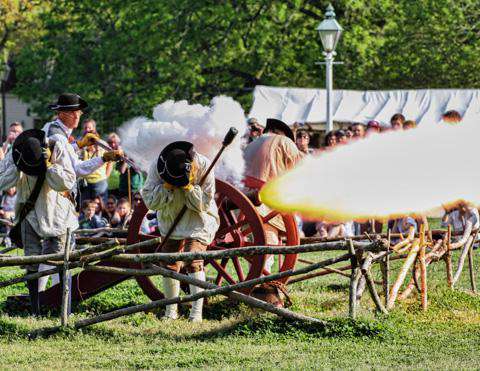 In southeast Virginia, Williamsburg is a historic city that was the capital of Virginia during the 1700's. It's now a popular tourist destination in the state because it has managed to recreate its past in a theme park like setting. Perhaps the most famous attraction in the city is "Colonial Williamsburg," an outdoor museum that recreates an 18th century town with working tradesmen and functioning jobs. You can purchase a one day pass to the area for $36 and multiple day passes at a slight discount. Exhibits in the area include observing a court proceeding, seeing the Governor's Palace, and witnessing the impact of the American Revolution on the area.
Williamsburg has a climate that is similar to the rest of the region. Winters are cool or cold and summers are hot and humid. Average snowfall is about five inches a year and thunderstorms in the summer months are not uncommon.
Sights
Most people travel to Williamsburg specifically to visit Colonial Williamsburg. This is the largest outdoor living history museum in the United States and it offers a unique look at an 18th century American town.
While Colonial Williamsburg is probably the most famous part of the city, there are many other places worth visiting while you're in the area. The College of William & Mary has many examples of colonial architecture intertwined with students relaxing on the quad or tossing a frisbee in nice weather. You can also visit the James River Plantations which are a collection of historic sights which bring to life the rich history of the area through guided tours.
Slightly less educational and perhaps more adrenaline filled options in the area include Busch Gardens Amusement Park and Water Country USA. It's easy to fill a day or two enjoying the wild rides at either of these parks. Water Country USA is regularly ranked one of the top water parks in the country.
Neighborhoods
Most visitors spend the majority of their time in Colonial Williamsburg and the historic district. The College of William and Mary is quite beautiful and worth exploring as well. It's located at the end of Duke of Gloucester Street. Most of the city's chain restaurants are spread out along Richmond Road, while Merchants Square is where you'll find local eateries.
Williamsburg has a variety of local hotels, guesthouses, and bed an breakfasts. Many have a quaint atmosphere and utilize the historic character of the area. There are also several chain hotels in the area, many near Busch Gardens.
Activities
In addition to visiting Colonial Williamsburg or the amusement parks in the area, Williamsburg has many activities for visitors wanting off-the-beaten-track experiences. Williamsburg Wintery has wine tastings as well as a quaint restaurant with impressive dishes. It's worth a visit once you've had your fill of history or park rides.
If you want to enjoy a simple hike, check out Greensprings Interpretive Trail. It's a 3.5 mile nature trail that passes through beaver ponds, wetlands, and forests. Next to the trail is Mainland Farm, which is the oldest continuously cultivated farm in the country.
Food and Dining
Restaurants are in abundance in Williamsburg and most are concentrated in either the Merchants Square area or along Richmond Road. Richmond Road is where you'll find most of the chain restaurants while in Merchants Square you'll find more local options, many of which make use of the historical aspect of the area. Do take note that most restaurants in shops around town close at 8:00PM. If you're looking for a great place to grab breakfast consider heading to the Gazebo, on Bypass Road. It's one of the best breakfast options in town.
Transportation
Most people arrive in Williamsburg by car. As with most mid-sized U.S. towns, a car is important if you hope to see most of the sights in the area. There are several public buses that travel around town. They stop at the transportation center, which is also the local Amtrak station. The Yellow line goes to Busch Gardens and Water Country USA.
If you drive to Colonial Williamsburg, free parking is limited. There are plenty of paid parking lots in the area and shopping centers with free parking get crowded during the peak seasons.
Williamsburg's main airport is Newport News/Williamsburg International Airport but Richmond International Airport and Norfolk International Airport are both significantly larger and cheaper and less than an hour's drive away.
Related:
Looking for a
party hostel in Hawaii
or
Miami
? Traveling alone to
LA
or
New Orleans
? Want a budget hostel in
NYC
?