During our recent east coast road trip, we spent some time in
Williamsburg, Virginia
. As you probably have heard, this entire area is loaded with activities and attractions. From historical Colonial Williamsburg to Busch Gardens to Water Country USA, not to mention a large number of smaller attractions, this area offers something for everyone. It's a great place to take the kids, and it's also a great place for a romantic getaway weekend for a couple.
If you're looking for a place to stay that's not too far from the center of everything, then check out the
Greensprings Vacation Resort
(which is part of the Diamond Resorts family). We spent several nights here and were pleasantly surprised with all of the amenities and comforts, as well as the price and location. So here's our take on this resort-style hotel, with all of the details.
The Location
It took us less than 10 minutes to drive into the heart of Williamsburg. Here you'll find Colonial Williamsburg along with William & Mary's gorgeous campus, plus a number of shops, restaurants, and activities such as go-carts, golf, and Ripley's Believe It Or Not. (
See more activities here
.)
But despite this close location, the resort is located in a quiet area with plenty of open space and natural areas. It's located on Monticello Avenue to the west of the center of town, and the drive into the heart of Williamsburg is quick and painless.
Furthermore, the resort is very close to the Jamestown Settlement, another terrific historical attraction in the area. Here you can explore how some of the first settlers to America started a new colony, learn how the native Americans lived, learn about the historical buildings, and check out the old sailing ships that brought Europeans to the new world.
Busch Gardens and Water Country USA are also within a convenient driving distance.
The Rooms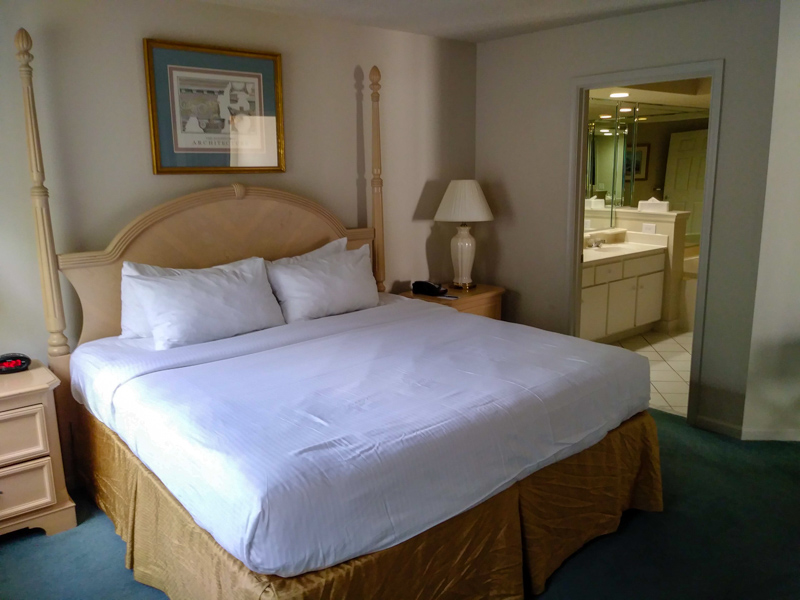 The entire resort consists of condo units that come complete with kitchens, living rooms, and balconies. Most of these condos are two bedroom units, which is the type that we stayed in. They offer plenty of room for the whole family. Two bedrooms, plus a living room area means that everyone has their own space.
The fully stocked kitchen was very nice to have during our trip, too. It meant that we could have a comfortable breakfast with groceries that we purchased at the nearby store, along with a home cooked meal for dinner. For a larger family, this is a must-have not only for convenience, but also to save money on restaurant expenses. The kitchen has everything you have at home, including a fridge, oven and stove, microwave, dishwasher, toaster, coffee machine, and plenty of pots & pans and dishes.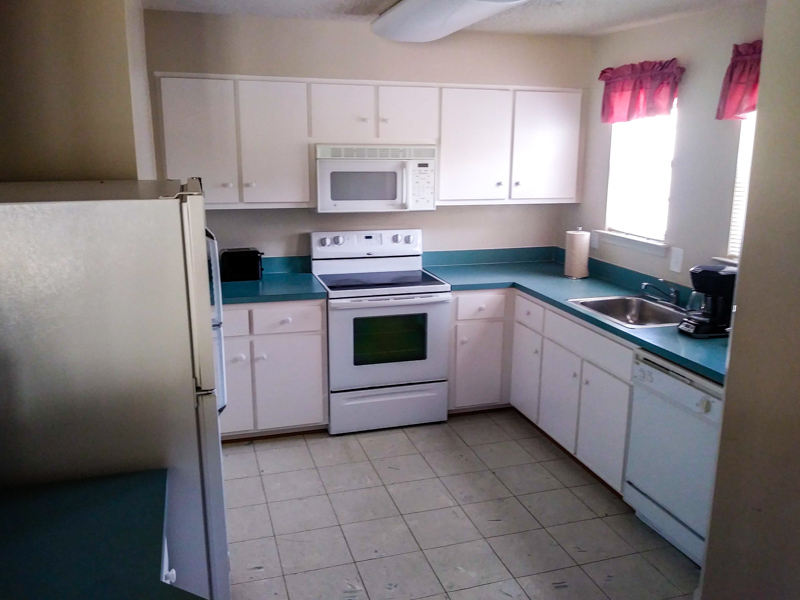 The bedrooms themselves were very comfortable, and the condo has two (yes, two!) bathrooms. So as parents we had our own king sized bed with a huge bathroom. The bathroom had a whirlpool tub, a standing shower, and dual sinks. The other bathroom was also a great size for our kid and included a full tub for bath time. (For those that need another spot to sleep, the sofa in the living room also has a pull-out bed).
Each room had its own TV with cable channels, as did the nice living room area. A full sized dining room table was a nice feature to share meals, and another table was located out on the rear balcony. We ended up eating most of our meals on this balcony because we visited in the early fall when the weather was perfect. The view was of a forested natural area. (Some of the units have views of the nearby golf course.)
The unit also had a washer and dryer. You don't get that at most hotels!
The Cost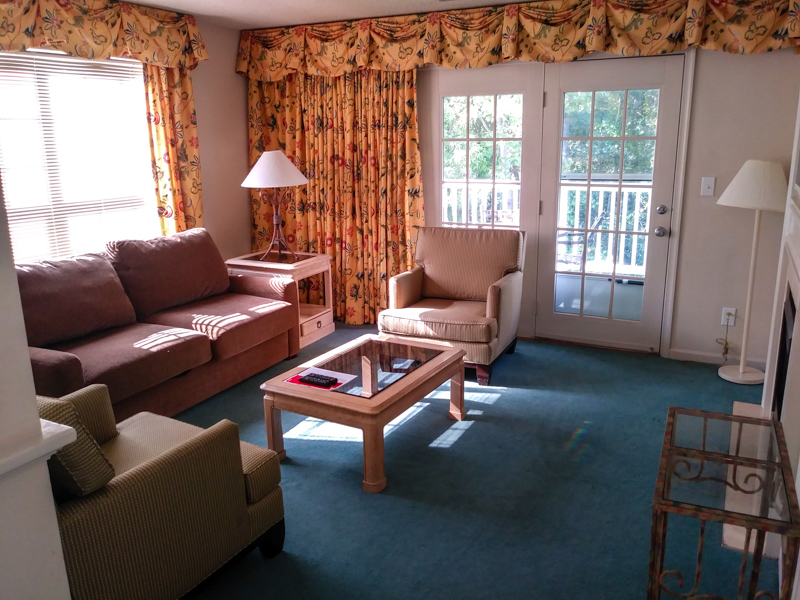 For a two bedroom/two bathroom unit with a kitchen and living room, we expected to pay a hefty price. However, the cost was actually much lower than we thought it would be, and it was on par with nearby hotels in the area. So, for basically the same price as a hotel, we had a full condo in a terrific location along with all of the amenities mentioned later (we'll get to that in a minute).
We visited in the low season (in the fall), when rates are very low. During other times of the year, such as the spring and summer, the rates are higher. However, they are still competitive with nearby hotels, many of which also raise their rates during the busier tourist seasons.
In the fall, on a weekend, you can find a room for around $150 per night, or less than $100 per night on a weekday. In the summer, weekend rates can get as high as $250 per night. Keep in mind that weekday rates are much cheaper, and if you can find the time to go during the lower-priced middle of the week, this is a great value, especially in the summer months. This price might seem high for many, but it's a typical price for hotels in the Williamsburg area in the summer. So, the value offered at Greensprings is fantastic.
Find the price for your specific dates here
.
The Amenities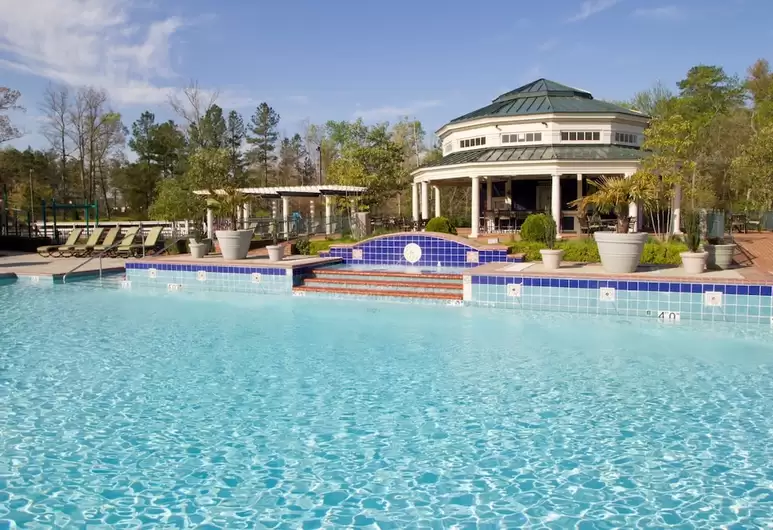 This resort has so many great amenities, so I'm not even sure where to start! Kids will love it here, as the Greensprings Resort is definitely family friendly.
The outdoor pool is huge, and has a "zero entry" shallow end for the little ones, and a nice fountain feature at the other end. The poolside bar lets you unwind a bit, too. The indoor pool is also large and features a sizable hot tub in the rear. Other features around the pool area included a putt-putt course, tennis courts, and a playground. (In fact, several playgrounds are located throughout the resort property.) For kids, they have an activity schedule to keep everyone occupied. Shuffleboard, a basketball court, a ping pong table, and a volleyball court are also located around the clubhouse pool area.
A fully-equipped exercise gym is also available (with machines and free weights) just in case you like to stay in shape during your vacations. They also have a sauna.
Now is probably a good time to mention that the resort is surrounded by a golf course set in the forest, which makes for some nice scenery even if you're not an avid golfer. This is actually one of the courses of the Williamsburg National Golf Club. It's not affiliated with the resort, but the clubhouse is right around the corner, making this a great location for those that play. Enquire about discounts and packages at the concierge.
The Staff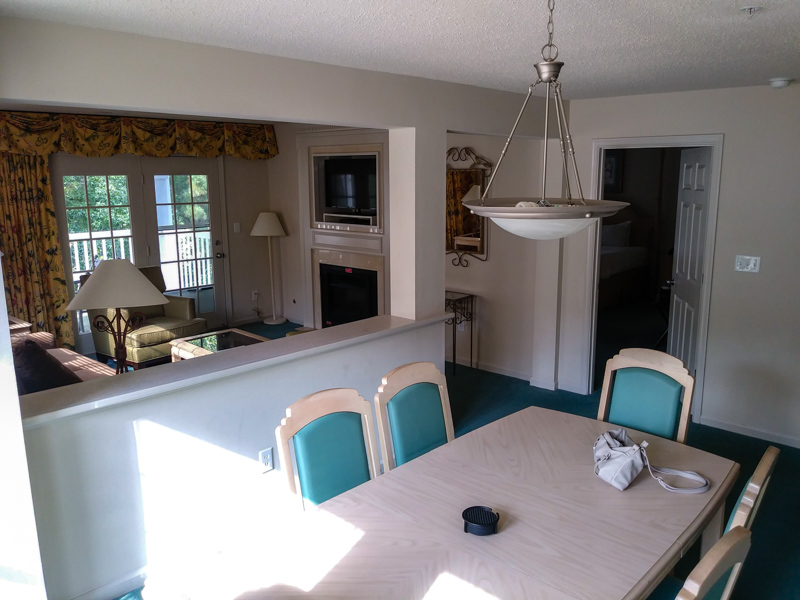 To sum it up, the staff was very friendly and helpful. They always seemed to be asking, "Can I help you with anything else?" And they really meant it, too. From check in to check out, and all the times asking for towels for the pool or putt-putt equipment, they were happy to help and made sure everyone was having fun.
The woman at the concierge desk was very helpful and let us know where the best grocery store was located, along with a nearby Target so we could get a new pair of goggles to replace the ones we left at home. Not to mention they know where all of the good restaurants and shopping areas are located, and can give plenty of information about getting to the attractions such as Colonial Williamsburg, which was our first stop.
In Summary
We thoroughly enjoyed our stay here. It was comfortable and spacious, plus convenient and friendly. And everything that we received for the price led to it being a phenomenal value!
Also, they didn't know we were coming, and we paid our own way to stay here, so this review was not sponsored in any way at all. So, were there any negative aspects to the resort? Well, our condo unit was on the 3rd floor and there was not an elevator (but first floor units are available). Also, I would not consider the kitchen to be "luxurious" as it did not have marble countertops and stainless steel appliances. But honestly for this price we didn't care because it had everything we needed - an oven, stove, fridge, and dishwasher, along with a full set of pots, pans, plates, and glasses. Ultimately, we had a great time and were very comfortable, as any family or couple would be at a place like this.
So,
check it out
! And if you end up staying here, let us know about your experience, too.
Make sure you also see
Great Wolf Lodge Williamsburg
if you're interested in more places to stay in Williamsburg.