The Best Places to Stay with Kids in the OBX
The Outer Banks offer families a relaxing beach destination with plenty of natural beauty, quaint villages, and delicious seafood. Water sports are also popular in the area such as surfing, kiteboarding, and fishing.
The beaches stay less crowded than other east coast beach destinations, even during the peak summer months. This is mainly due to the lack of hotels in the area. While there are a some hotels, most of the places to stay are rental houses. So if you're looking to spend some time here, the best way to enjoy it is to get a house!
We've divided this guide up by region.
The most affordable areas are in the Central area of the OBX
around Nags Head and Kitty Hawk, so skip down to the middle if you're looking for something more budget-friendly.
Northern Outer Banks
The Northern Outer Banks have an upscale vibe with many resort style accommodation options. Many places offer a luxurious space and a number of spa-like amenities. The towns are charming and quaint with family friendly vibes. Biking and walking trails are common and the landscaping through the area is natural and beautiful.
There are a number of private rentals available that offer groups and families a lot of space and comfort. Many homes are oceanfront with direct access to private beaches that are peaceful and relaxing.
Corolla
Corolla is a small village with
a number of upscale accommodation options on AirBnB
. It's the perfect place to base yourself if you want to see the famous Outer Banks horses. Although the horses are technically wild, they are a popular attraction and are accustomed to sightseers. Corolla also has beautiful beaches and nice forest trails that let you experience the island's natural beauty. If water sports are your thing, paddleboarding, surfing, and kayaking are all popular in the area. It's also fun to visit the Currituck National Wildlife Refuge.
Duck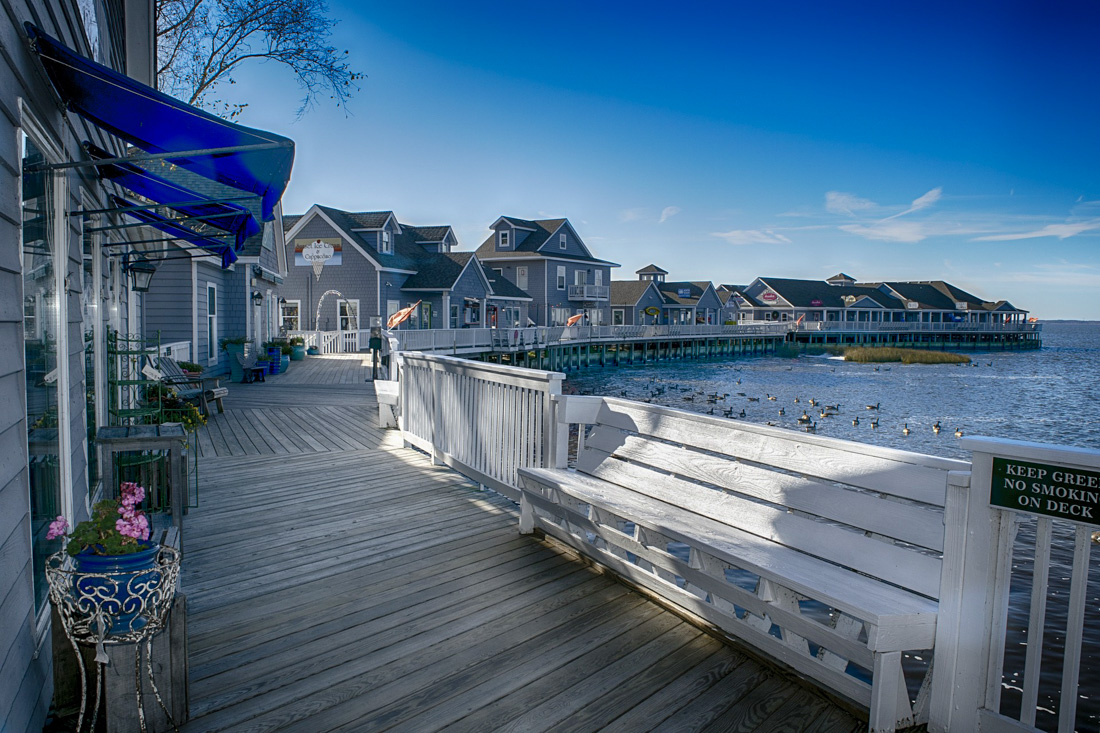 Duck is a popular resort town for families who want a relaxing vacation in a quaint setting. It's located in the northern part of the Outer Banks and it provides a comfortable setting that makes it a popular place for visitors who return year after year.
Duck has an upscale vibe and can be a bit more expensive than some other parts of the Outer Banks (
Duck travel costs
), but for many, it is definitely worth the money. The town is quaint and has a lot of character. There are also many great restaurants and family friendly activities including kayaking, paddle boarding, surfing lessons and more. The beaches are ranked among the best in the country and they're the perfect place for long walks, shell collecting, or a variety of water sports. If you visit during the fall or early spring, you'll enjoy the empty beaches and relaxing pace.
Duck Trail runs the entire length of the town parallel to Highway 12. It's lined with many excellent restaurants, nice views, and lots of outdoor seating. On the Currituck Sound there's a nice boardwalk which also has great views and many nice restaurants.
Duck is no longer an undiscovered paradise, but it is still a perfect family friendly destination. The vacation homes here are comfortable and quite luxurious, as
you can see here on AirBnB
. The setting is peaceful, relaxing, and calm. Kids of all ages will love this vacation destination and don't skip a visit to the famed Duck Donuts!
Southern Shores
Southern Shores is a lovely community that's located between Duck and Kitty Hawk. While it's also a popular vacation destination, Southern Shores has more permanent residents than most communities in the area. However,
plenty of AirBnB's can be found here
, too. The town has developed in a way that appreciated the natural vegetation of the island. There are a number of private cottages you can rent that offer oceanfront property and access to private beaches. Golf is another popular activity in the area. There are also two shopping centers, some markets, and a number of great local restaurants.
Central Outer Banks
The Central Outer Banks are a more populated and busy part of the island chain. There are plenty of restaurants and a wide variety of accommodation options. This area is a bit more affordable than the northern region, and it's filled with family friendly activities such as putt putt, go carts, as well as kid friendly restaurants and shopping. The central Outer Banks offer the most bang for your buck, so if you're looking to stretch your dollars, this is the place to stay.
Rental homes are divided into three different areas - those by the Albemarle Sound, those by the ocean along Beach Road, and those between Highway 12 and Highway 158. As expected, oceanside homes tend to be more expensive.
Kitty Hawk
Kitty Hawk is a popular destination for visitors to the Outer Banks. Like other nearby towns, much of its history is grounded in Orville and Wilbur Wrights' famed first flight, which took place nearby. Today the community consists of both year round residents and vacation homes. There are
a number of residential properties that you can rent on AirBnB
, as well as hotels and condos. The most expensive properties are oceanfront, while more affordable options are found a bit further from the beach. The area works hard to preserve the natural beauty of the Outer Banks. Kitty Hawk Woods is also nearby. It's a 461 acre maritime forest reserve and is home to many unique plants and animals found in the area.
Kill Devil Hills
Kill Devil Hills is the largest town in Dare Country with a year round population of 6,800. It is probably most famous for its role in American aviation. Orville and Wilbur Wright took their first famous flight here. This location's windy environment and soft sand dunes made it the perfect spot for their 120 foot flight, which lasted just 12 seconds. They eventually took four flights in total, which are now memorialized at the
Wright Brothers National Memorial
. At the top of Big Kill Devil Hill is the monument. The hill was originally a large sand dune, much like those found elsewhere in the Outer Banks, particularly in Jockey's Ridge State Park, but today it is protected from the winds by grass that has been planted.
Kill Devil Hills has plenty of hotels, restaurants, and fun activities that a family can enjoy. There's a comedy club, an arcade, a speedway, and a movie theater. There's also plenty of public beach access areas, public bathrooms and changing areas, as well lifeguard stations.
As Kill Devil Hills is one of the most popular destinations in the Outer Banks, there are a number of places to stay. There are
plenty of oceanfront and soundside properties for rent
, as well as major hotel chains, independently owned inns, and
condos that you can rent
. Many of the homes are colorfully decorated with plenty of charm. If you stay away from the ocean, there are many public beach access points that you can use.
Nags Head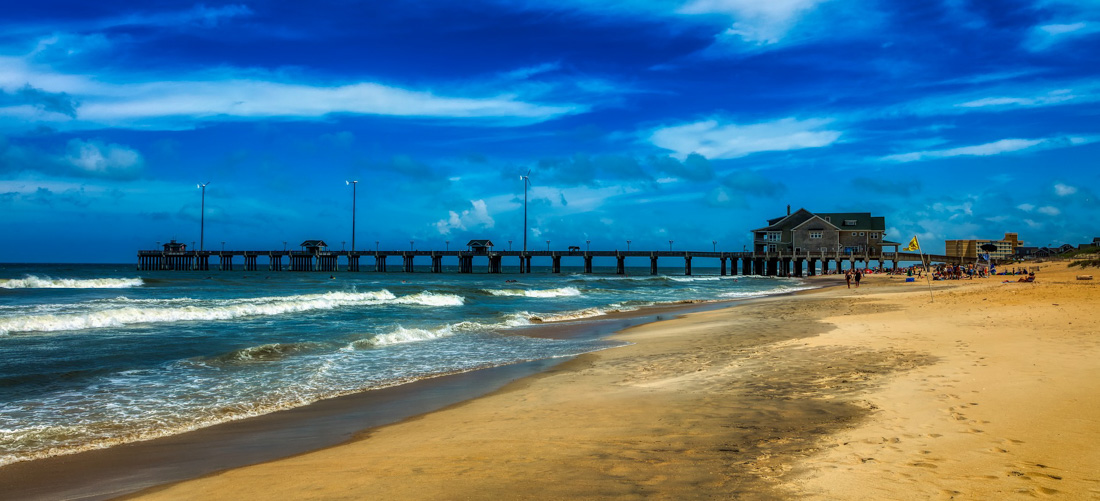 Nags Head has
a variety of traditional homes for rent to choose from on AirBnB
. For homes with the most historical character you'll want to find something in the Historic District, which is along Highway 12 by Jockey's Ridge State Park. These homes are classic in style, with cedar wood that remains unpainted.
Jockey's Ridge State Park
is a fun and impressive sight. Kids love running up and down the large sand dunes, which are part of the largest sand dune system in the eastern United States. The park is fun to explore on your own, or you can take one of the popular hang gliding lessons. The height is perfect for beginners who may be a bit intimidated to try the sport. Whatever your interest, Jockey's Ridge is a not to be missed sight.
Nags Head has a strong art community which you can explore along Gallery Row in the north part of town. There are also two public fishing piers and plenty of public beach access with nearby parking. Nags Head is the largest town in the Outer Banks, covering 6.5 square miles and stretching 11 miles along the ocean.
Although Nags Head has a more commercial vibe than towns like Duck, it still has plenty of family run businesses and local restaurants. The diversity of activities, restaurants, and affordable housing make it perfect for a family vacation.
Southern Outer Banks
Heading south from Kill Devil Hills, you'll pass Pea Island National Wildlife Refuge before making your way to a number of towns in the southern part of the Outer Banks. Although this area is more busy than the towns at the far northern end of the islands, it is still quieter than the central Outer Banks. The area is known for its grand homes, wide porches, and beautiful setting.
Rodanthe
The tiny village of Rodanthe is the northernmost community on Hatteras Island. The small town can claim itself as the founding home of the U.S. Coast Guard, which began as the Chicamacomico Lifesaving Station.
Rodanthe has a notable history dating back to the Civil War and today you'll find a number of historical landmarks sprinkled around town. There are also a number of beautiful beaches which are easy to access
from beachfront AirBnB's in the area
, many of which are great for families. Larger or smaller homes can be rented here, and some are right on the beach while others are on the western side with water views.
Waves
Waves is a small but popular vacation destination for visitors who enjoy watersports like windsurfing and kiteboarding. For nature lovers and bird watchers, the nearby Pea Island National Wildlife Refuge is a must see experience. There are also plenty of fishing opportunities and beautiful beaches. There are a
number of nice oceanfront rental properties available
including houses and condos.
Salvo
Salvo's small community offers visitors a relaxing pace and a quiet setting where visitors can enjoy local seafood, beautiful sandy beaches, and long days spent fishing. For adrenaline junkies, there's kiteboarding and windsurfing, but most visitors choose to spend their time relaxing and soaking up the slow pace of life in this coastal community. Renting a vacation property on the beach will allow your family to spend plenty of time by the water and then return to their home with ease and convenience. We've picked out
some of the best houses on AirBnB here
.
Avon
If you're staying in Avon with your family, you'll want to find a home here (
AirBnB's here
) with a quintessential wide porch that's the perfect place to catch the breeze while you sip wine and soak up the oceanfront view. The island is famous for its fishing, and kids will enjoy the summer kids fishing competitions on the Avon Pier.
The community maintains much of its small town charm despite becoming a coveted vacation destination. The area is known for its natural beauty, pristine beaches, and beautiful homes, many of which are available to rent.
In addition to fishing, there are plenty of water sports available to visitors. Paddleboarding, surfing, and kitesurfing are all fun ways to experience the island. Kids will love heading just south of town to an area popular with kiteboarders and windsurfers. It's not uncommon to see them showing off their impressive skills with various stunts and jumps.
Buxton
Just by Cape Hatteras, Buxton is a charming village that is most famous as the location of the famed
Cape Hatteras Lighthouse
. The lighthouse is run by the National Park Service, and it's open for climbing during the spring, summer, and fall months. The grounds are open during the winter as well. The lighthouse stands 208 feet high and is well worth the visit.
Families appreciate the
wide variety of accommodation options available
in the town. Here you can find everything from fancy inns to private vacation rentals (
AirBnB's here
), and affordable motels. There's also camping available right near the beach.
Fishing enthusiasts head to Buxton to check out the popular surf fishing spot at Cape Point. The area has a large sandbar that lets you get close to a wide variety of fish. If you're looking for more natural beauty, you'll appreciate Buxton Woods, which is a maritime forest that is popular with white tail deer. If your kids love horses, it's also possible to arrange horseback riding on the beach while you're in town.
Frisco
Located between Buxton and Hatteras, Frisco is near many maritime forests and has a lengthy history. It's a tiny village with a
variety of rental cottages
that are perfect for families. A highlight for many is a visit to the Frisco Native American Museum, where you'll see many artifacts from Native Americans who once lived in the area. There's also surfing and charter fishing that is popular in the area. If you're looking for a more off the beaten path experience, check out the camping options provided by the National Park Service.
Hatteras Village
The southernmost town on Hatteras Island, Hatteras Village is a historical community with a charming character and a variety of activities for visitors. One of the most popular things to do is charter fishing trips. The whole family will also enjoy a visit to the Graveyard of the Atlantic Museum. The restaurants around town are delicious, local, and relaxing.
You can also catch a ferry at the Ocracoke Ferry Docks to Ocracoke Island. It's a free ride, but there's limited space and the line gets long during the summer months, so plan to arrive early. The ride is about 40 minutes and the visit makes for a fun day trip.
Hatteras Village has plenty of
luxurious rental homes on AirBnB
that have plenty of land and oceanfront views. If you're looking for something more modest, there are also condos, motels, or simple hotels to choose from.
Roanoke Island
Roanoke Island is located between North Carolina's mainland and the Outer Banks barrier islands near the town of Nags Head. The island is surrounded by the sound, so there are no oceanfront beaches where you can play in the waves of the Atlantic Ocean. Instead, there are quaint towns, beautiful scenery, and a fascinating history. Many visitors head to the island as a day trip, but there are plenty of vacation rentals available for those who choose to spend more time here. There are also plenty of attractions, restaurants, and things to do on the island.
Manteo
Located on the eastern side of Roanoke Island, Manteo is the place to stay if you're looking for a quaint home with plenty of atmosphere to use as a vacation rental. (Check the fantastic
AirBnB options here
.) The island is rich in history and the downtown area maintains much of its historical charm. There are several historical sights in town including the Elizabeth II, which dates back to the 16th century. The Elizabethan Gardens are also worth a visit with its impressive landscaping and beautiful sculptures.
Kids in particular enjoy the summer outdoor drama performances of The Lost Colony. The show includes songs, dancing, and a fun cast that brings history to life. During the summer months you'll likely find other concerts or festivals going on around town as well.
Wanchese
Located on the southernmost end of Roanoke Island, Wanchese holds on to much of its historic charm. If you're looking for a more authentic experience away from the beach, then this town is a pleasant place to stay.
The town is still a notable fishing village and home to the North Carolina Seafood Industrial Park. This is where you'll find the constant flow of shrimp trawlers and fishing boats coming and going from their weeks out at sea. These boats bring in much of the seafood that you'll enjoy at the restaurants around the Outer Banks.
Wanchese offers a nice base for exploring the rest of Roanoke Island. It's not far from the North Carolina Aquarium, Elizabethan Gardens, Fort Raleigh National Historic Site, and Bodie Island Lighthouse.
The town has a number of affordable
bed and breakfast and vacation rentals
available for visitors.