Nags Head On a Budget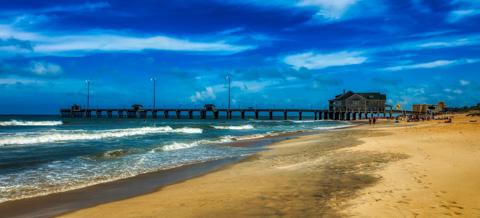 Nags Head is a popular tourist destination in the Outer Banks of North Carolina. The town, with a population of almost 3,000, has many nice beaches and is also where you'll find Jockey's Ridge, which has the tallest active sand dune system in the eastern United States. It's also the most visited park within the North Carolina park system.
Nags Head dates back as a resort area to around 1830. The town was incorporated in 1961 and today it attracts visitors from up and down the eastern United States and throughout the country. The Gulf Stream keeps the water warm well into October so swimming may be possible even late in the season. The waves can be rough and some people even enjoy surfing along the coast. Do watch out for rip tides which are common in the area.
Sights
Most people come to Nags Head for the beaches and Jockey's Ridge. The area has wide sand beaches that are great for swimming. The waves can be significant, particularly if there's a storm in the area. Make sure you're comfortable in the water as rip tides are common. A flag system will tell you how rough the water is on any given day. There are three piers in the area that are popular for fishing: Nags Head Peir, Jennette's Pier, and Outer Banks Pier.
Jockey's Ridge State Park
is the tallest active sand dune system in the eastern US. It covers 426 acres and has three unique ecosystems: The Roanoke Sound, the sand dune system, and the maritime forest. You can visit the park during the day but there are no campgrounds.
Just to the north, in Kill Devil Hills, is the
Wright Brothers Memorial
. Here you can explore the area where the famous brothers made the first ever powered flight in their airplane, as well as tour the museum.
It's also possible to visit Nags Head Woods Ecological Preserve. This area covers 1,092 acres and is to the north of Jockey's Ridge and east of Roanoke Sound.
Neighborhoods
Nags Head covers a total area of about 606 square miles. There is a road and multi use path that runs along the length of town by the beach. The road is referred to as "the beach road" and the parallel path is a good place to walk or ride a bike. You can walk south from Jockey's Ridge for about a mile and a half and you'll reach the Nags Head Cottage Row District. This area has about 60 homes that were built between 1890 and 1930 as summer homes. Most remain unchanged today.
Activities
Most people spend the majority of their time at the beach, swimming, soaking up the sun, or taking walks. There are several public access points to the beach and there is free parking throughout town.
It's also possible to take hang gliding lessons at Jockey's Ridge State Park. The area is also popular for kite flying.
As with most beach towns, miniature golf is popular in the area. There are also several walking paths that you can enjoy if you want to stretch your legs. The path that runs parallel to "the beach road" goes for about twelve miles.
Food and Dining
Nags Head has a decent number of local eateries and restaurants. Predictably, seafood is common, and usually fresh and delicious. Several restaurants have early bird specials if you arrive early (often before 5 pm). Clam chowder and oysters are local favorites. Also make sure you try the homemade ice cream at How Sweet It Is. It's located next to Kitty Hawk Kites in the Jockey's Ridge Crossing Complex. If you want to eat some fantastic food and help the local economy at the same time, check out this
list of the best local Outer Banks restaurants
. You won't be disappointed.
Many restaurants do close down during the low season, so if you're in town during the winter months you may not have all of the choices as in the warmer months to find a place to eat.
Transportation
Nags Head is located between Kill Devil Hills and Route 64. The closest airport to Nags Head is in Norfolk, Virginia. Nags Head is also accessible from Raleigh-Durham International Airport and there is a small airport in Manteo, North Carolina, but no scheduled service.
It is essential that you have a car while you're in Nags Head. There are two roads that run north and south through the town: Virginia Dare Trail (also called "Beach Road") and S. Croatan Highway (or Route 158). The Outer Banks also have several ferries that travel between islands. Most ferries require reservations in advance as they do fill up.
Related
Looking for a
party hostel in Las Vegas
or
San Diego
? Traveling alone to
NYC
or
LA
? Want a budget hostel in
San Francisco
?