Duck On a Budget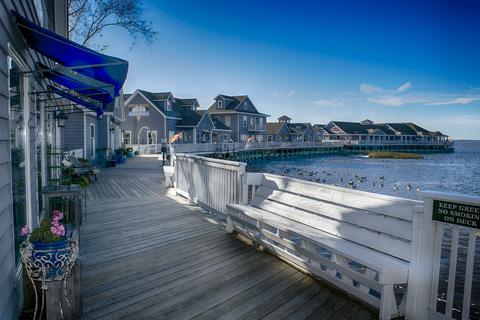 Duck is a resort town in Dare County, North Carolina. The town is quite small, with a year around population of just 369, but during the peak summer months the tourist crowds can climb to over 20,000. Duck is also the northernmost incorporated town in the county, and also the newest town in the Outer Banks, having been incorporated on May 1st, 2002.
Duck's economy is focused almost exclusively on tourism. The town hosts many summer events and concerts and is a center for outdoor recreational activities, fine dining, and world class shopping. There are many art galleries in the area as well.
Sights
Duck is first and foremost, a beach destination. Most visitors spend the majority of their time on the beach. The beaches are wide and the water stays warm well into October. Like much of the Outer Banks, the waves can get rough, particularly if there's a storm in the area. Make sure you're on alert for rip tides as they are common in the area.
Many visitors enjoy heading to the town park, which also has a recreational facility and trails that wander through a maritime forest and willow swamp. The park has an amphitheater, playground, picnic shelter, and access to public kayaking and canoeing. From the park you can access a boardwalk that goes through the commercial village for about three quarters of a mile following along Currituck Sound.
Neighborhoods
Duck is found in the northern part of North Carolina's Outer Banks. It sits between the Atlantic Ocean and the Currituck Sound and has an area of about 3.7 square miles, of which, 35% is water. From the town park there's a boardwalk that goes about three quarters of a mile through the commercial village. The beaches are also wonderful and likely where you will spend most of your time.
Activities
A visit to Duck is all about the outdoors. You can relax on the beach, take boat tours to see dolphins, go kayaking or canoeing, or just wander around the community. The beach is excellent and has been ranked one of the top 15 family friendly beaches in America.
There are also several summer festivals that the town hosts. During these peak months are are over 60 events and programs that you can participate in. These include Yoga on the Green, Movies on the South, a family magic show, live concerts and interactive theater. Most programs are free and open to the public. During October the town hosts its annual Jazz Festival. This is a fun time to be in the area as well.
Food and Dining
Predictably, seafood is a favorite in the Duck area. There are many good seafood restaurants in the area and you can expect good, fresh food. If you happen to be in town during the low season, many restaurants will be closed and it may be a challenge to find a good meal.
There are many good local seafood restaurants in Duck. The Blue Point is a popular favorite. They offer fresh seafood in a welcoming setting. Coastal Cravings is a unique option. Don't let the location next to the gas station deter you. The food is great and the hole-in-the-wall style only adds character to the experience. The Red Sky Cafe is another favorite. They offer unique seafood dishes and local favorites.
If you want to try a local tradition, head to Duck Donuts. The cake donuts are made to order and served hot. You can choose between the standard toppings, and the donuts are a step above the rest. Make sure you come on your first day, so you can return daily throughout your trip.
Transportation
Duck Car Rental Prices
Compare prices across all major rental companies:
Like most towns in the Outer Banks, you really need to have a private vehicle to explore the area in any level of detail. Duck itself is quite small and you can walk most places, but if you hope to get into the surrounding areas a car is required. There is no real public transportation system but there are ferries that travel throughout the Outer Banks. Do use caution when you drive as roads can be narrow and speeding is not uncommon in the area. If you're traveling during the peak season then traffic congestion can become a problem. Car accidents or road construction can also cause unexpected delays so allow yourself plenty of time for your trip.
Related:
Looking for a
party hostel in Las Vegas
or
San Diego
? Traveling alone to
NYC
or
LA
? Want a budget hostel in
San Francisco
?
Train and Bus Prices
The best prices for buses and trains in United States of America
can be found on Omio
(formerly
GoEuro
). They let you search across all train, bus, and plane routes throughout Europe.