Hilton Head Island is a great family beach destination. Not only will you find wide, sandy beaches stretching the entire length of the island, but also plenty of fun activities such as golf, tennis, putt-putt, bike riding, kayaking, fishing, dolphin cruises, shopping, dining out, and more. Wow, that was a long list! But you probably already knew all of that, and now you need to figure out where your family can stay (preferably on an affordable budget). That's what this guide is all about.
Since Hilton Head is a large island, it offers plenty of accommodation options: hotels, resorts, vacation rental condos, and entire houses are available for rent. Prices depend on many factors, with location being the most important. The size and level of luxury of the place you stay can also affect the price, as you would expect. Places on the beach are naturally more expensive, but affordable places can still be found.
Affordable Places to Stay on Hilton Head
This is a lengthy guide, so if you want to find the most affordable places, then we can just get right down to it.
Jump down to the
Folly Field area here
, or jump down to the
Coligny Beach area here
. Both of these neighborhoods are outside of the large "plantation" developments and contain a variety of independently owned condos and rental houses at the best prices. Several smaller resort complexes can be found in the Folly Field beach area that have beachfront condos, swimming pools, and other nice amenities. Specifically, check out the Island Club, Hilton Head Resort, or the HH Beach & Tennis Club for some of the most affordable places with great amenities.
Or, read on for the best places in each of Hilton Head's various neighborhoods and plantations.
An Overview of Hilton Head's Neighborhoods
Various regions of Hilton Head were developed into large neighborhood resort areas which they call "plantations". These areas contain a variety of amenities such as golf courses, tennis clubs, beach access, and of course, a variety of homes and condos. Many of these "plantations" also have hotel-like resorts inside them, too. Some also contain their own shops and restaurants, as compared to those found on the main road through the island.
First we'll give a brief overview of the areas of Hilton Head, and then we'll provide a more detailed description of each area later in the article. This way, you can figure out which section you want to focus on and then skip down to the details.
Hilton Head Island is in the shape of a shoe
. Yes, seriously. If you look at the map, the sole of the shoe is the beach. The bridge from the mainland (Hwy 278) comes in at the "ankle" and the toe points south. In the middle of the shoe, where you'd find the laces, is an inlet that is a mixture of small channels and marshland known as Broad Creek. Many sections of the island are described by locals and visitors alike in terms of the position on the "shoe", and we'll do the same here.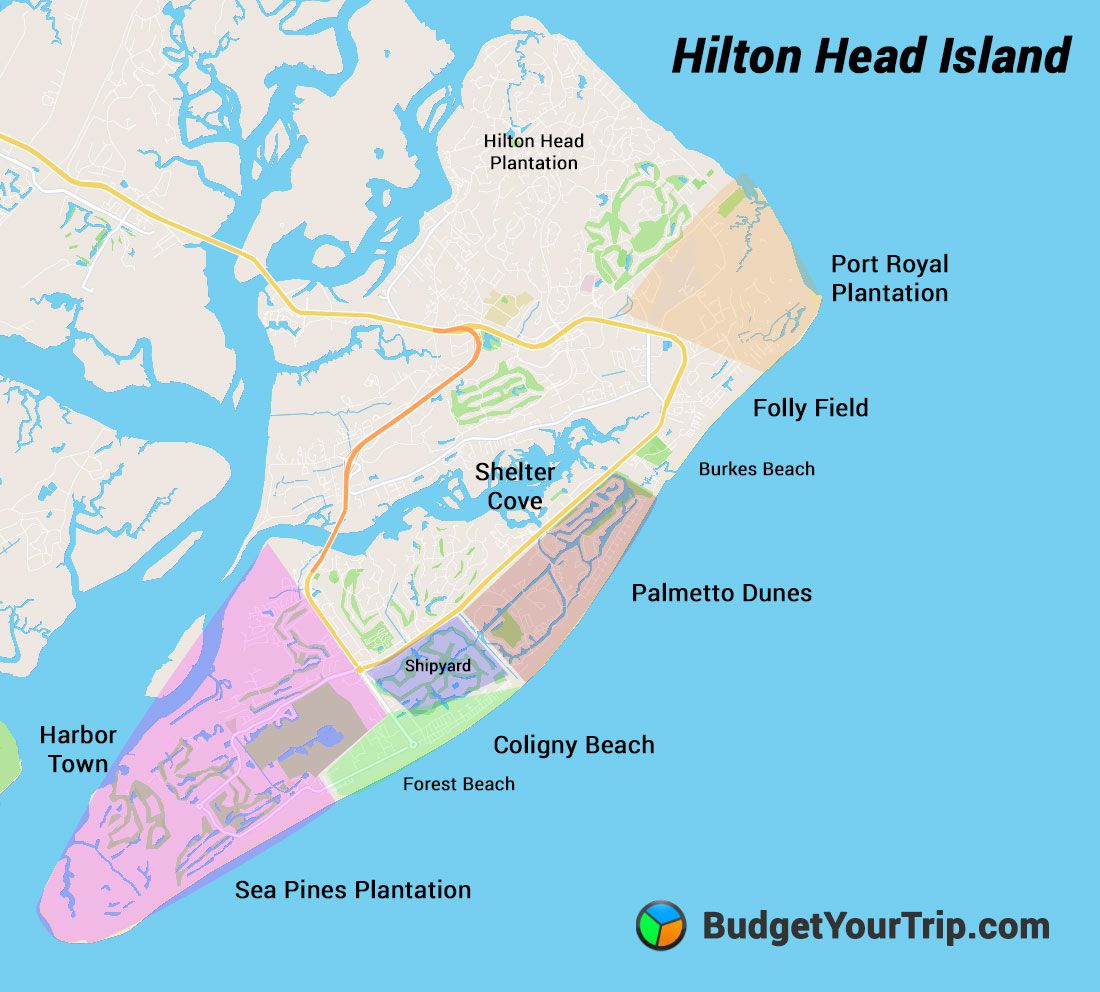 At the north end of the island (the heel) are several of these resort developments: Hilton Head Plantation and
Port Royal Plantation
. Port Royal has a great golf course (open to the public) and a variety of condos and homes that are close to, or right on the beach. Here you'll also find a few larger resort hotels. Hilton Head Plantation is on the inland side and is a good place to stay if you're interested in marsh views and golf.
Moving south, the next area along the beach is the
Folly Field and Burkes Beach
area. This is a good, central place to stay with several smaller resorts and a variety of houses along the beach. This is a great spot because
this area is affordable
, central, and has easy access to the beach if you don't stay oceanfront.
The next areas south along the beach are
Palmetto Dunes
and
Shipyard
, two more resort and golf plantations with houses, condos, tennis clubs, etc. Across the highway is Shelter Cove, a large shopping area with a marina, plenty of shops and restaurants, and the Disney resort.
In the middle of the island along the shore is a section of the island known as
Coligny Circle and Coligny Beach
, along with Forest Beach. This is one of the older areas of the island, and it contains plenty of shops, restaurants, public beach access, and fun activities. The surrounding area neighborhood is not part of a specific development, but rather contains many private homes (some of which can be rented), plus some condos and small hotels.
This area is also fairly affordable
.
Sea Pines Plantation
. It takes up about one third of the island all the way down to the toe. Like the others, it's full of houses, golf courses, condos on the beach, etc. Unlike the others, you have to pay a daily fee to enter if you don't stay here. In Sea Pines, on the inland side, you'll find
Harbor Town
. This is perhaps the most famous area of Hilton Head with its picturesque lighthouse overlooking the marina and the iconic 18th hole of the Heritage Classic course. Some great restaurants and shops can be found here, along with charter boats taking visitors out to find dolphins or have encounters with mermaids and pirates (for the kids). Further south, at the "toe" is another shopping area (South Beach), home to the Salty Dog Cafe. If you're looking for something to do, it can be worth paying the daily fee to enter Sea Pines if you want to explore Harbor Town and other areas if you don't end up staying here.
Several other areas are located on the inland and marsh side of the island. If you want a cheaper place to stay and don't mind driving to a beach, this could be a good option.
Shelter Cove
is located right in the middle of the island along the main road. With plenty of restaurants, shops, and live music, this is a nice area that overlooks the marina. Or, take a look at Indigo Run or Spanish Wells. They each have more golf courses, tennis courts, bike trails, kayaking, etc.
Now that you have an overview, let's dive into the specific areas of Hilton Head Island to find the best (and most affordable) places to stay in each of the plantations or other neighborhoods.
Port Royal & North Side
Consisting mostly of houses, Port Royal takes up the "heel" of the island. While some of this area faces the inlet and doesn't have much of a beach, the beachfront area of Port Royal has a few larger resorts such as the Marriott and Westin. Around the Fish Haul Beach Park on the north side are a number of houses and condos for rent at a decent price, but the best places are along the main beach.
Marriott Barony Resort
Marriott's Barony Resort
is perfect. This resort is made up of time share condos and is not a typical hotel. Many of these condos can be rented at a variety of prices on
AirBnB
or
VRBO
depending on availability. They have several pools, both indoors and outdoors with waterslides. You will also find a gym and kids play areas. In the condos you'll have a washer & dryer, full kitchens, 2 bedrooms and 2 bathrooms, and more. And of course, you're right on the beach.
Here's a 2 bedroom condo
overlooking the pool.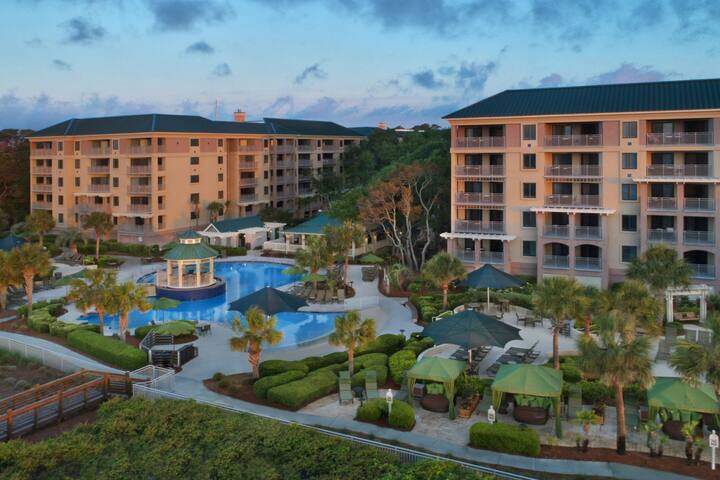 Village House
Port Royal Island Villa
Fish Haul Condo
Folly Field & Burkes Beach
Folly Field Road runs from the main highway down to the beach and then north towards Port Royal. Here you'll find several small resorts at affordable prices along with a variety of beachfront homes and smaller condo complexes.
The Island Club
AirBnB here
or
VRBO here
. The prices usually vary depending on the specific units, as some have been recently renovated and some have beach front views. The larger buildings located on the beach contain 2 and 3 bedroom condos, while the lagoon units are mostly 1 or 2 bedroom condos. The units themselves have full kitchens, modern bathrooms, and washer/dryers. The resort has a swimming pool area with a kids' pool and hot tubs. There's also a tennis club with clay and hard courts and an in-house tennis pro. Grills, bike rentals, a gym, a kids playground, a basketball court, and other amenities make this a fantastic place to stay.
Beachfront 2BR
Here's a great 2 bedroom
with ocean views, an updated kitchen, and a relaxing balcony.
Lagoon 2BR
And
here's a more affordable 2 bedroom
overlooking the lagoon. It's only a few minutes on foot from the beach.
And you can see plenty more Island Club vacation rentals
here on VRBO
.
HH Beach & Tennis Resort
Hilton Head Beach & Tennis Resort
. This large complex has several buildings on the beach, plus swimming pools, tennis courts, a gym, restaurants, kids playground, and more. Most of the units are in the beachfront buildings, and they are 1 bedroom condos with a full kitchen. The higher floors have ocean views. This is a nice and
affordable
place to stay if you're not looking to spend a fortune but still want a great week at the beach. If you have a larger family, you might want to consider 2 units close together.
You can see all of what's available online here at VRBO
.
Or check out these condos in the resort listed on AirBnB:
Here's a good one
on the 3rd floor with nice views and nice decor, and
here's another
that's also nearby.
And this one has been upgraded
but is still around the same price as many of the others.
Sea Cloisters
A number of smaller condo complexes can be found in the Folly Field and Burkes Beach area, too. Most have tennis courts and pools, and are only a few minutes from the beach on foot.
Sea Cloisters is a large building with modern conveniences that sits right on the beach. You can't go wrong with the views here, and it has a nice pool, too.
Here's a fantastic 2 bedroom.
Houses
A number of private homes can be found in this section of the island, and many are offered as vacation rentals. Prices vary by location and size. If you have a larger family, this might be the best way to go as you would generally get more space than in a condo.
Oceanview Beach House
This 5 bedroom house
can sleep up to 14 people. The pool and fully furnished kitchen are luxurious and there's plenty of room for everyone. Natural light flows in through the windows into the living room and the bedrooms. The kitchen is new and fully-equipped, and the bathrooms are luxurious.
Classic Beach House
This
more affordable
"Classic Beach House" near the shore has 3 bedrooms, an updated kitchen, and is nicely furnished.
20 Horvath's Peninsula
Luxury House
Sand Dollar by the Sea
very affordable
apartment in a house right near the beach with a cool outdoor shower and public beach access.
Richard's Beach House
This cute and
affordable
house has everything you need. The photos speak for themselves, as does that porch! The kitchen is modern and upgraded with high-end fixtures. The master suite has a huge king sized bed with an amazing master bathroom. You can keep the kids occupied in their own room with bunk beds. A ping-pong table is downstairs. You'll also find kayaks to use, along with a hot tub. Laundry machines, wi-fi, and other amenities are included. This is a true gem!
Marriott's Surf Watch
Another Marriott resort sits in the Burkes Beach area, and as expected it's quite luxurious. Like the Barony resort mentioned earlier, this is not a hotel, but rather a timeshare resort, so you can't just book it directly like a hotel. Instead, you can
rent units online from owners or third party websites
, and the prices vary by availability. Like other resorts, it has fantastic condos with full kitchens, several nice pools, a restaurant, kids areas, and more.
You can see multiple units available as vacation rentals
here
.
Hilton Head Resort
at a good price
. With tennis courts and an outdoor pool surrounded by comfortable condos, it has quick and easy access to the beach and a central location on the island. An indoor pool with hot tubs, a sauna, and exercise area is also in one of the buildings. Many of the units are fairly affordable, and contain a full kitchen, washer/dryer, and multiple bedrooms. It also has a tiki bar!
See all available units on VRBO here
or this one on
AirBnB here
.
Here's a good condo
in the complex with 2 bedrooms overlooking the lagoon and marsh instead of the inside area of the building.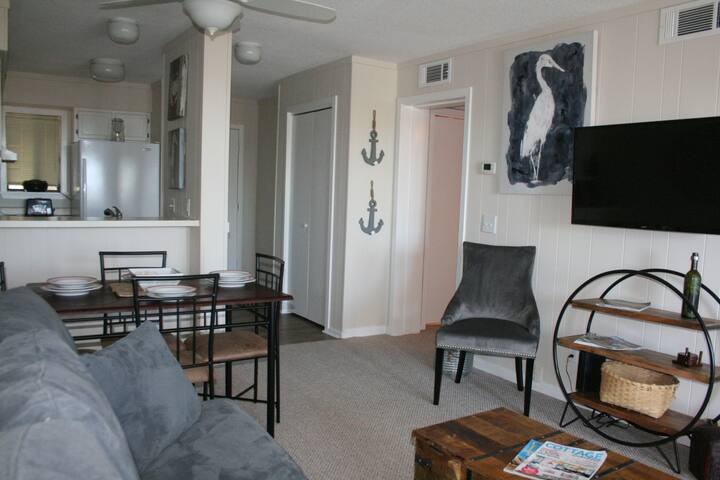 Palmetto Dunes & Shipyard
A mix of houses and condo buildings are spread out among the golf courses that run through Palmetto Dunes and Shipyard Plantations. Along the beach are also some larger houses, but mainly a series of condo buildings tucked into the trees. This is a great area if you're looking for a central location on the beach with a quiet and relaxing atmosphere.
As you get closer to the beach, prices tend to rise, but not always as the level of luxury also affects the prices in this part of the island.
Condos
One and Two bedroom condos are available both on the beach and back in the golf courses. You can see plenty of options
here on VRBO
, or read on for recommendations.
Moorings Condo
Golf Villa
Houses
Mooring Buoy House
This gorgeous and reasonably priced house
is very close to the beach. With 3 bedrooms, you'll have a good bit of space for everyone.
Brigantine 8BR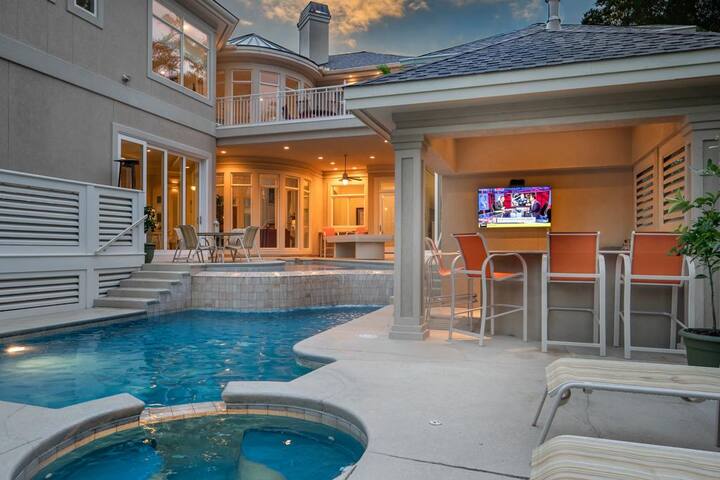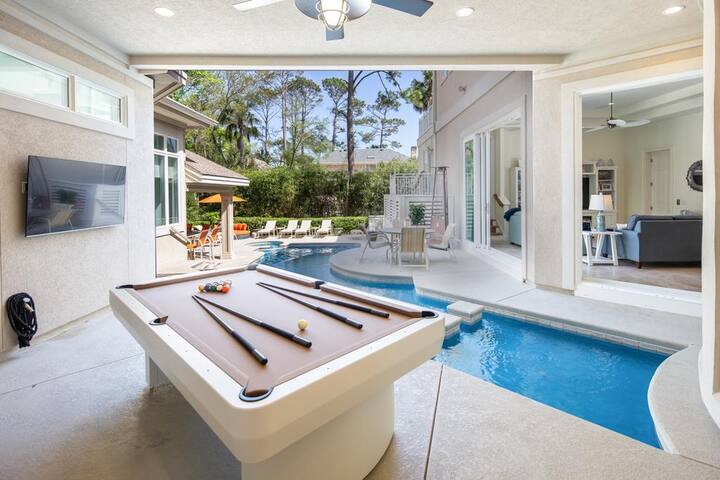 Coligny Beach & Forest Beach
This is one of my favorite areas on Hilton Head to visit and hang out. In the small shopping center area at the end of Pope Ave. you'll find a number of restaurants, bars, and fun shops. The end of the road opens up onto the public beach area, and this is a pretty active spot during the day for people headed to the beach.
The surrounding neighborhood is filled with houses and small condo buildings. You can actually save a lot of money by staying a block or two back from the beach. Here are some of the best and most affordable places.
Coligny Beach 2BR
This 2 bedroom condo has access to a pool and tennis courts, and is a short walk to the beach.
Shipyard 2BR
Coligny Townhouse
Forest Beach Pool House
Cordillo Beach House
Cassina Lane - 7BR, Pool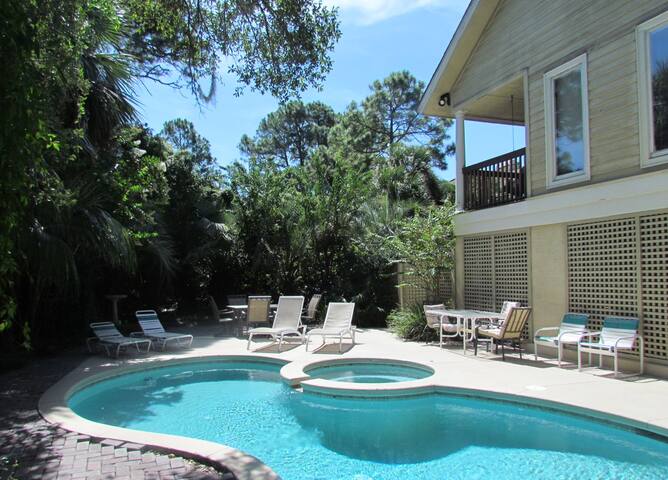 Sea Pines
As we stated earlier, Sea Pines Plantation takes up the entire southern end of the island all the way to the "toe". With condos and houses located right on the beach as well as in the inland areas, there are plenty of options here at a variety of prices. Many of the houses and condos located inland are along the scenic golf courses and lagoons, or even overlooking the marsh on the back side of the island.
Prices in Sea Pines
tend to be higher
than the other areas of the island, but they are also often more luxurious.
Cozy Villa - South Beach
pool and tennis courts
of the complex.
Sea Pines 3BR Condo
nearby pool
, and the kitchen is large enough for all of your meals if you don't want to venture out to the nearby restaurants.
Luxury Pool House
pool
, ample deck space, an amazing kitchen, and luxurious touches that will have you relaxing before you even put your bags down. And it's also right by the beach.
Harbor Town
The Harbor Town area is fairly small, as most of the condo buildings, shops, and restaurants encircle the small marina with the lighthouse on one side and the golf course on the other. This is a great place to stay if you don't mind being a bit away from the beach. You can always drive or bike to the beach if you want, and you'll be within walking distance to all of the amenities around the marina.
Harbor Town Condo
Marina Condo
Le Beau Marais
This "pedestal house" near Harbor Town has views of the marsh and surrounding Live Oaks. It was actually
featured on HGTV
. The 2 bedroom house has plenty of natural light, a great kitchen, and fun decor.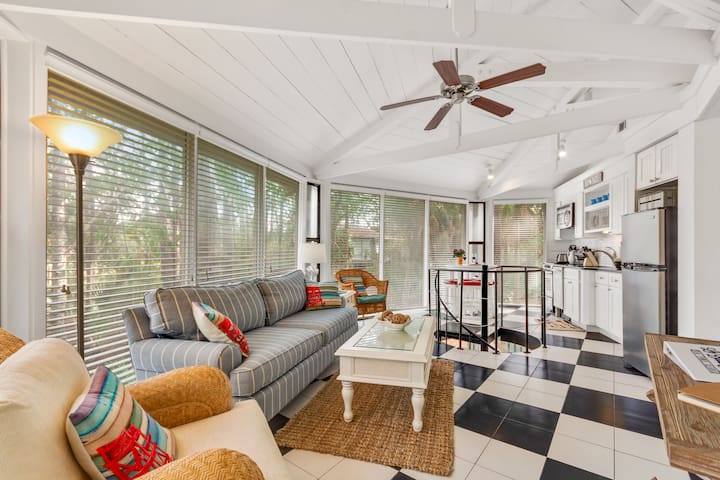 Inland & Marsh Side
Plenty of great places to stay can be found around the marsh and inland areas of Hilton Head. Many are in condo complexes that have pools, golf, and tennis courts, too. If you want to save money, or get a better value, this is often a good idea, especially if you visit in the off-season when the beach is not as important.
Shelter Cove
is a great area full of shops and restaurants right in the middle of the island. Public beaches are a 5 minute drive away, and plenty of shops and restaurants are within walking distance.
Marina Penthouse
Marsh View Condo
Shelter Cove 2BR
Private Island!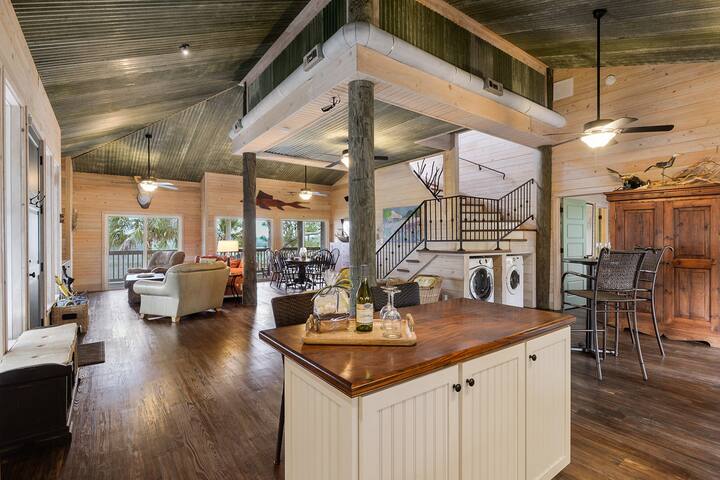 2BR House
Happy Travels!
That's it for now. Hopefully you've found the ideal neighborhood to stay in, and perhaps even a great place to stay. Have fun at the beach, and don't forget to eat some delicious seafood!