Hilton Head Island On a Budget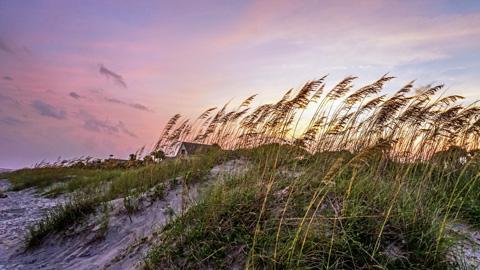 Hilton Head, also called Hilton Head Island, is primarily a resort and beach town off the coast of South Carolina. Located on a barrier island, the place is best known for its beaches and golf courses overlooking the Atlantic Ocean.
Sights
In regards to sights, Hilton Head Island is full of little resort hubs, scenic beach fronts, and sprawling golf courses. Harbor Town is one of the richest, in whose marina the upper class houses their multi-million dollar yachts. This is where some of the more extravagant resorts lay as well as some of the finer dining, specialty shopping, and galleries. Shelter Cove is the island's largest deep water marina, and also serves as another hub for waterfront dining, shopping, and entertainment. Located at the center of the island, Shelter Cove is surrounded by resorts and makes for a good launch point for activities like deep-sea and inshore fishing charters, sport crabbing, sail and power boat rentals, sightseeing and nature excursions, and dinner cruises.
Away from the town centers and resorts, the Pinckney Island National Wildlife Refuge offers another kind of experience closer to nature. Squeezed right between the mainland and Hilton Head Island, the refuge covers 4,053 acres that are home to wildlife like waterfowl, shorebirds, white-tailed deer, herons, egrets, alligators, salamanders, armadillos, bald eagles, and wood stork.
Neighborhoods
Harbour Town is the heart of many of Hilton Head Island's activities, where many vacationers come to dine and yacht and indulge in seafood cuisine. This area is also host to a fine collection of boutiques and craft shops, always bustling with the shopping crowd. The storefronts feature anything from custom gifts and jewelry to art galleries featuring the works of local artists. The marina is the hub from which sailing, yacht, and boat tours depart-whether you are on the lookout for dolphins, dipping in on a kayak voyage, deep sea fishing, or sitting down to a romantic dinner and cruise. You can also climb Harbour Town's lighthouse for an aerial view of the yachts and sails bobbing in to dock, as well as the nearby golf course. As far as lodgings go, the town is skirted by some of the islands finer resorts, which feature world class tennis and golf facilities.
Hilton Head is divided into "Plantations" which are actually just resort and housing developments. While some are gated communities, many are open (or partially open) to the public, allowing access to the golf clubs, beaches, and restaurants, and shopping areas.
Multiple shopping areas are located in the center of the island along Highway 278. The more prominent areas include restaurants, grocery stores, and other amenities needed by visitors and locals alike. Check out Shelter Cove or Coligny Circle for some of the larger and more active shopping areas with boutiques and restaurants.
Activities
Hilton Head Island is host to a wide array of outdoor activities. Beyond dining and shopping, spending time on the beach is a popular way to spend one's days on the island. Covering nearly 9 miles, the public shoreline is vast and beautiful. Some of the other recommended spots are South Beach and the Disney Resort Beach Club area. Along the lines of oceans and beaches, water sports are also popular and excursions can be planned from any of the marinas. Kayaking, nature boat tours, dolphin watching, and dinner cruises are all common activities with visitors.
As far as sporting goes, it is said that there are almost too many golf courses on the island to count. Harbour Town Golf Links is one of the most expensive, but also the best-host to the Heritage golf tournament every April. Hilton Head National in Bluffton is one of the best public golf courses, and is affordable for most. Other popular courses include the George Fazio Golf Course, the Arthur Hills Golf Course, and the Robert Trent Jones Course. The courses are Port Royal Plantation are open to the public.
Tennis is another popular sport on the island. Tennis clubs (which host tennis pros) are found in most of the resorts, large and small.
Biking is a common way to get around the island, and also a fun activity with more than 25 crossing bike paths running throughout Hilton Head. Bike rentals are available at most of the major shopping areas and resorts.
Food and Dining
South Carolina is known for its home style comfort foot and barbeque cuisine; however, the closer you get to the coastline, the more you will find the South Carolina take on seafood. Highly influenced by French and creole culture, the eats of the coast includes favorites like Gullah rice, gumbo, fried okra, and buckets of peel and eat shrimp, served cocktail or otherwise with good southern spices. Sweet tea is a staple throughout the south, while peach cobbler remains the dessert of choice. Hilton Head itself is home to more than 250 restaurants plus bakeries, farmers markets, and gourmet shops. Some of the more casual eats include things fried seafood and southern classics at places like the waterfront Skull Creek Boathouse or counter-side at the Sea Shack, while finer fare can be found abundantly in Harbour Town. There are also some bars and restaurants that feature live entertainment like The Jazz Corner located in the Village at Wexford.
Transportation
By air, Hilton Head Island Airport is the only one on the island itself. It is served by a few airlines with US Airways Express operating weekend flights to Washington-National on a seasonal basis and daily flights to Charlotte year round.
Savannah/Hilton Head International Airport is the nearest larger airport located about an hour away from the island in Savannah, Georgia. The airport is served by seven airlines and is directly connected to I-95, which is the best way to reach the island by car.
By car, take I-95 to US Route 278-the only road between the island and the mainland. US 278 also intersects with South Carolina Route 170, which provides access Beaufort to the north and Savannah to the south.
Related:
Looking for a
party hostel in Las Vegas
or
San Diego
? Traveling alone to
NYC
or
LA
? Want a budget hostel in
San Francisco
?