The US Virgin Islands On a Budget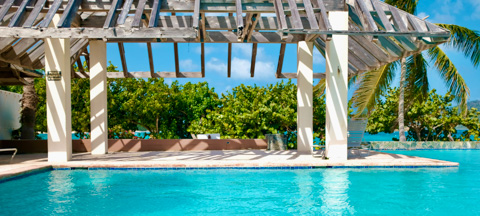 The US Virgin Islands (USVI) are an unincorporated organized territory of the USA. They are located east of Puerto Rico and generally have a comfortable climate. They do have a rainy season between May and November, which also corresponds with hurricane season. The islands have rolling hills and rugged mountains throughout, so there is very little flat land. This makes from some dramatic and beautiful landscape. They're generally a fun and safe way to experience the Caribbean and are highly recommended for American and international travelers. It's a popular travel destination for many Americans during the winter months when the mild climate is a wonderful escape from the cold winter weather up north.
There are three main islands that make up the USVI. Saint Croix is the largest of the islands and is to the south of the rest of the region. Saint John is a beautiful vacation option with a more relaxed atmosphere. There are a handful of resorts, a small town, and Virgin Islands National Park on the island as well. The national park covers sixty percent of the island, so the area is peaceful, isolated, and generally quiet. Saint Thomas is where you will find the busy capital city of the region.
Most travelers arrive in the U.S. Virgin islands by either plane or cruise ship. There are airports on both Saint Croix and Saint Thomas. Once on the islands you can travel throughout by passenger ferry. Ferries also connect the USVI to the British Virgin Islands and Puerto Rico during peak seasons.
Most people choose to explore the islands by rental car. Although this can be a somewhat expensive option, it really is the best way to get around and see everything that is available on the islands. There is limited public transportation at best so if you're hoping to make the best use of your vacation time and want to experience the island outside of your resort, a rental car is recommended.
At A Glance
If you head to Saint Croix, you'll find the largest island in the area. It has many picturesque towns, rolling hills, and impressive rainforest. Some of the top sights on the island include Buck Island Reef National Monument, St. George Village Botanical Garden, and Christiansted Historic Site.


Saint John is both the smallest, and arguably the most beautiful island of the U.S. Virgin Islands. Over half of its area is made up of the Virgin Islands National Park. You'll also find beautiful beaches, and impressive sights on the island, one of which is the U.S. Virgin Islands Coral Reef National Monument.


Saint Thomas is the most populated island in the area. It is also home to Charlotte Amalie, which is the capital city. Some of the best sights include the Charlotte Amalie Harbor, Paradise Point, which looks out over the harbor, St. Thomas Synagogue, and Coral World.


If you're interested in local art, you'll find plenty here. The most popular area to see and buy art is Christiansted, where you'll find plenty of nice galleries. You'll have a good selection and variety of art that is worth checking out, and if you're in the market for a nice piece you can likely get a good price.


Many of the bars and pubs have happy hours. If you look around you'll find several places that offer dollar drinks during happy hour. The islands are also duty free, so you can pick up any number of souvenirs without the burden of taxes.
Related:
Looking for a
party hostel in Costa Rica
or
Cancun
? Looking for a
budget hostel in Mexico
or
Costa Rica
?
Top Tourist Attractions
Christiansted National Historic Site:
This area is made up of five different preserved structures. Each structure is designed to represent the Danish economy and culture between the years of 1733 and 1917. It's a fascinating place to visit if you're interested in history and culture in the Caribbean.
Salt River Bay National Historic Park and Ecological Preserve:
This is where you will find the largest mango forests in the Virgin Islands. It also has many beautiful coral reefs and a submarine canyon.
Virgin Islands National Park:
This is the largest national park in the USVI and it covers sixty percent of Saint John. It has over seven thousand acres and is both a historical and natural representation of the island.
Popular Foods
You can find many excellent restaurants in the U.S. Virgin Islands. Many of the best, fine dining restaurants are geared toward tourists and are often affiliated with hotels. There are some casual, more local options available as well. Seafood is the food of choice for many people, but you can also enjoy many different fruits and vegetables. Local cuisine is often made with either fish, goat, or pork. Many of the dishes are based on stews or soups and are heavily flavored with vegetables and herbs. You can generally find fresh, seasonal fruit at roadside stands. This can make for a nice and cheap lunch or breakfast. There are several culinary festivals throughout the year as well if you're interested in the cuisine of the area.
Fungi:
This dumpling like dish is a popular food option throughout the area. It is generally made from salted cornmeal which has been mixed with a combination of water, shortening, and often okra. It's considered a side dish and is often served along side of fish or meat dishes during a meal.
Callaloo:
Callaloo is a hearty soup or stew that is made with the leaves of the dasheen plant. Occasionally they use a different green leafy plant like taro leaves or spinach. The soup is seasoned with okra, salted meats, black pepper, fish, onions and various spices. It has been compared to the gumbo stews available in Louisiana.
Rice and Beans:
This is a traditional and common meal that is served throughout the area. It's usually seasoned with herbs and spices to give it more flavor. If you are ever in a local's home or a local restaurant, you're sure to have some experience with this dish. It's sometimes referred to as rice and peas, but generally beans are the accompaniment.