Saint Croix On a Budget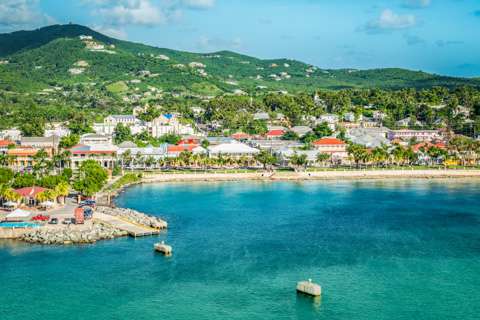 Sometimes all you want out of a vacation is the warmth of the sun, the sound of the waves and the taste of a cold drink. No more. No less. That's exactly what you can expect in St. Croix.
The largest of the U.S. Virgin Islands, St. Croix is a place of our leisure and relaxation. It's a bit of an expensive lifestyle for its 50,000 residents and daily visitors, but when you're living on island time, money is never a worry. There are no worries on island time.
This once volcanic island is covered in incredible beaches, stunning mountains, palm tress in the wind and historic colonial towns. While they may be a bit old and rundown, the Danish architecture still stands as a unique part of this island's legacy. Don't expect much window-shopping, though. That was not a feature incorporated in this style of architecture. If you want to know if a store is open, just step on in, but remember, shop hours are also running on island time.
Sights
If you're the type of traveler who needs full days of adventure, St. Croix may not be the spot for you. Should you decide to leave the beach for a bit, however, there are some fun sights to be seen on this island.
The Christiansted National Historic Site is full of structures including Fort Christiansvaern. Built with Danish bricks in 1749, the fort once protected citizens from pirates, disastrous weather and slave revolts. Wander around this history and take a peek at the gorgeous view of the ocean.
Venture just a couple hundred yards from King's Wharf and you'll found the tiny paradise of Protestant Cay. This area is home to a lavish resort, beautiful beach and a bar-restaurant open to the public. If you've been dying to get active, this is the spot to do it. The St. Croix Water Sports Center rents out snorkel gear, kayaks, sailboats and more.
If you love to wander a good trail, there's one in St. Croix you can literally float through. Buck Island National Reef Monument is nearly 19,000 acres of fish-filled coral reefs spanning the island. The underwater trail is marked throughout the sea gardens for some of the most breathtaking snorkeling on the island.
And if you really just can't sit still, there is a rainforest in the northwest part of the island. Take a long trail through this lush vegetation and take a dip in the tidal pools of Annally Bay.
Neighborhoods
The island of St. Croix has just two main towns – Christiansted and Frederiksted. Christiansted is the larger of the two, with a population of 3,000. While Frederiksted is vastly less populated with just 800.
Activities
While the island is best at accommodating sunbathers, there are a variety of water activities for every tourist to enjoy. From snorkeling to scuba diving to sailing, the open waves are waiting for you.
One of the most popular water sports in St. Croix, however, is fishing. The waters of this island are ideal for any expert fisherman. Expect to land big catches like tuna, wahoo or blue marlin. Take all of your catches to an expert to be sure they're edible. A certain type of bacteria runs through these waters making some fish inedible.
Food and Dining
St. Croix does a great job of maintaining culinary traditions while embracing the influences of tourists and surrounding areas like the U.S. and Puerto Rico.
Don't miss an opportunity to pick up some fresh fruit from a local roadside stand – especially the mango. Other dishes to try are local fish, stew goat and pork in the form of pig "soup."
Transportation
Getting around all 82 square miles of St. Croix is pretty simple considering all the options you have while there. Taxis are the most convenient ways for tourists to get around. Keep in mind, taxis on the island don't have meters. They charge by the zone and baggage will be an extra fee. Many cab drivers are likely toffee tours of the island for a fee based on the amount of people in the group.
If you go the car rental route, beware that the road signs aren't very clear and some streets are even double marked. The main road across the island is USVI Route 66. Grab an estate map at the airport – many GPS devices don't recognize the old Danish estates.
Related:
Looking for a
party hostel in Costa Rica
or
Cancun
? Looking for a
budget hostel in Mexico
or
Costa Rica
?