Cheap Alternative Cruise Shore Excursions in Nassau (On Your Own)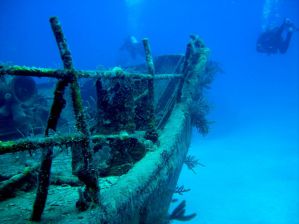 With Nassau's warm weather and great beaches, it's obvious why people visit this town. But when you throw in the historical and cultural importance of the town, as well as all of the shopping and restaurants found here, then you've got a world-class destination.
If you're arriving on a cruise ship, so many options are available to you right out of the gate. Shopping, dining, historical sites, nearby beaches, and so forth. And you could also take the opportunity to see the amazing scuba diving or snorkeling options here, too. There's something for everyone, so check out everything and do your research before making your reservation.
The most beautiful beach near Nassau is on Paradise Island, home to multiple resorts including the famed Atlantis, home to water parks, restaurants, a casino, an amazing aquarium, and more. Cabbage Beach is the adjacent public beach which is within walking distance to Atlantis and other resorts, where you can grab lunch, use the restroom, or purchase tickets for more amenities from the resorts. From the port, it's only a 10 or 15-minute drive depending on traffic, and this coach-sized bus transfer is much cheaper than taking a private taxi. They also give you a guided tour along the way of everything you are seeing from the bus window. The buses run frequently back and forth from the port to the beach, so you can make a reservation and pick the time that's right for you.

offered by Viator
From the port you will be taken in a comfortable, air-conditioned van on a tour of Nassau's best spots before visiting a beach where you can snorkel in the clear blue waters with tropical fish. You will visit the Queen's staircase (where you may climb to the top if you like or be driven for those that are not able), shop in the straw market, taste yummy treats at the Graycliff Chocolate Factory, see historic mansions, visit the famous Baha Mar Casino and Hotel, a pirate cave, and ore. Then you'll disembark the van at Nirvanna Love beach for an included lunch and snorkeling at the huge reef known as The Garden. Or relax at the beach on the beach chairs. Restrooms and showers are available here as well.
This is a great tour for all ages. Also, they guarantee that you'll be returned to your ship on time, or they pay for your transfer to catch up to the ship at the next port.

offered by Viator
Enjoy the clear waters of the Bahamas on this snorkeling trip. From the port you'll be picked up in a van and taken to a dock to board a boat. Here, your professional boat captain will take you out to the best snorkeling spots around the islands to swim around the coral reef, view tropical fish, and more. If conditions are good, you will even be able to snorkel with reef sharks! Or you can stay on the boat and view the sharks from a safe distance. All snorkel equipment is included except for wetsuits, which may or may not be needed depending on the weather.

offered by Viator
This 2-and-a-haf-hour tour with a local guide takes you to some fun culinary spots in the downtown area of Nassau. You'll taste rum cocktails, local conch fritters, chocolate, and special guava desserts at a variety of local establishments. At the distillery, visitors can watch how the rum is made before tasting. Rum candies are also on the menu! Conch, a small crab-like creature that lives in a large sea shell, is a delicacy in the area, where it is usually fried and has a mild taste, similar to fish, oysters, or crab. Along the way your guide will provide you with a thorough historical overview of Nassau and the Bahamas, pointing out significant buildings where pirates, traders, and smugglers made their riches. (Customers must be 18 or older to sample alcoholic beverages in the Bahamas.)

offered by Viator
This 2-tank dive excursion is perfect for those that are already certified. The pick you up from the port to take you to Nassau's dive center, where a boat will take you out to the premier scuba locations near Nassau. Morning and afternoon time slots are available, depending on your cruise ship arrival and departure schedule.
Visit a shipwreck (featured in a James Bond movie), a sunken plane, and huge coral reefs full of tropical fish in the clear waters surrounding the Bahamas. Shallow reefs and wall-diving are available, too.
Equipment must be rented at a reasonable extra cost unless you bring your own. Diving certifications must be presented upon arrival.

offered by Viator
Like the Scuba Diving tour previously mentioned, this is a 2-tank dive excursion for those that are already scuba certified. But on this tour, you will be taken to the home of a large colony of reef sharks where you can free swim and scuba dive with the sharks! Also, during the second dive, the sharks are baited and you can watch them feed while a professional feeder controls the release of the food.

offered by Viator
This short introductory diving course will have you actually scuba diving with an instructor in the open water by the end of the day. You'll be able to see the tropical fish in the shallow reef while breathing underwater! Don't worry, the certified scuba instructors will be there the whole way through, teaching you everything you need to know and watching out for your safety and enjoyment. You'll start by learning some basics in a classroom setting before learning more basics in shallow water that you can stand up in (either a pool or the beach). Then you'll head out in a boat to the reef where you'll literally scuba dive! This could be your first step towards discovering the underwater world.

offered by Viator
This 2.5-hour bus tour of Nassau takes you to a variety of interesting historical sites. The tour guides are extremely knowledgeable and helpful. All entrance fees are included at the various stops along the way, which include the Governor's Mansion, Fort Charlotte, the National Art Gallery, and more.

offered by Viator
Share This Article