Tours and Hiking Trips to Mt. Vesuvius and Pompeii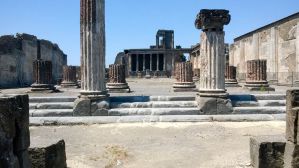 Mount Vesuvius is famous for its devastating eruption of 79 AD, which destroyed the Roman cities of Pompeii and Herculaneum. It is a sight of rare beauty, and it was the first volcano in the world to be studied systematically. Today, Vesuvius is still monitored and controlled. Even though Vesuvius is a dormant volcano, you are likely to see plumes of smoke rising from the crater. No need to worry though, it hasn't erupted since 1950!
Get a 3-hour tour of Mount Vesuvius in a private car from Pompeii. After meeting outside the train station in Pompeii, you will go to the beautiful Pompeii Villa dei Misteri to meet your driver and car. Enjoy a 40-minute scenic ride to the beautiful Mount Vesuvius. Learn about the famed volcano from your knowledgeable guide and discover the stunning views of the beautiful Gulf of Naples and its collection of islands. You will also get some free time in the breathtaking setting to wander around the crater. At the end of the tour, enjoy a chauffeured ride back to Pompeii.
Approximate Price:
$
195.04
Discover three highlights of the Naples region: Pompeii, Mount Vesuvius, and a local winery. Pompeii was buried under a vast layer of burning stone and ash when Vesuvius erupted in AD79. Today, visitors can walk around the preserved Roman town, enter intact houses, temples, amphitheatres and even a brothel. You will truly feel what it was like to live in Roman times thanks to this layer of ash. The second stop is a vineyard located near the base of Mount Vesuvius, where you will taste some delicious local wines and visit the vineyard. Boscotrecase is a town of intense agricultural activity, directed to the production of fine wines. Finally, visit Mount Vesuvius itself, still an active volcano. Pick-up and drop off at an arranged meeting point, in a deluxe air-conditioned vehicle with an english-speaking driver is included in this tour. Entrance fees are to be payed in Pompeii (13 euro) and Mount Vesuvius (11 euro) and an optional lunch at the winery is available for 25 euro. This tour is with a driver only, there is no guide for the attractions.
Approximate Price:
$
188.35
After pick up from your hotel in Naples, you will be transferred in an air-conditioned bus to Pompeii's ruins. You will then visit the city on a 2 hours tour with your knowledgeable guide. Pompeii is one of the most popular destinations in the world. Discover the Forum, Thermal Baths, Vetti's House, and the Lupanare and what everyday life looked like for the Roman city, which is now a UNESCO World Heritage Site. Eat a delicious pizza lunch at one of Pompeii's cafes before being driven near the summit of Mount Vesuvius, from which it is just a short walk to the lip of the crater. After climbing to the top, enjoy the beautiful views over the Bay of Naples and walk around the crater. You will be back in Naples at about 17:00, where you will be dropped off at your hotel. The tour includes a coach transfer and individual pick-up, entrance to Pompeii and Vesuvius and a pizza lunch with drinks.
Approximate Price:
$
100.31
Share This Article