Bregenz On a Budget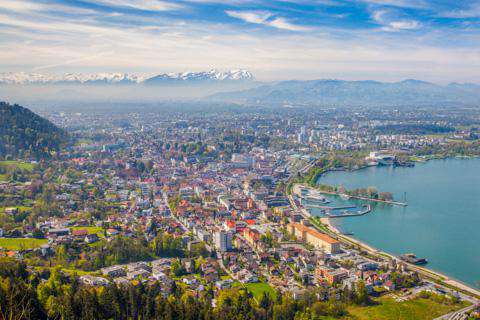 Bregenz is the capital city of Vorarlberg and has almost 30,000 residents. It sits on the northern edge of the Alps on the edge of Lake Constance, which is one of the largest lakes in Europe. The city is popular as a travel destination during the summer months when it hosts several festivals. The most famous and popular one is the summer music festival, Bregenzer Festspiele.
Sights
There are a handful of interesting sights around town. Kunsthaus Bregenz is located in a building that was designed by Peter Zumthor. It houses different contemporary art exhibits that often change and rotate. Martinsturm, or Martin's Tower, is the most famous landmark in the city. It also has the largest "onion cupola" in Europe and is open between Easter and mid October daily. Otherwise, it is closed on Mondays.
Seebuhne and Festival House is an interesting place to see. Guided tours are available during the festival season. It's also possible to access the open air seating area for free when there are no performances going on. This will let you see the floating stage, which was featured in the James Bond movie, Quantom of Solace, in 2008.
If you want to head a little bit outside of town, you can go to Wettingen-Mehrerau Abbey. It's just a short walk or bike ride along the lake's edge and is worth a visit. It's approximately two kilometers from the main train station.
There are free guided tours available of Vorarlberg Regional Library. This library also hosts several cultural events throughout the year.
Neighborhoods
Bregenz can be divided into the Upper Town and the Lower Town. The Upper Town is the oldest area and dates back to the 13th century. Some of the town walls are still standing. Here you will also find the old town hall, the Martinsturm and several interesting churches.
The Lower Town has a town hall that was built in 1686, a theater, several churches and the tourist centre.
Activities
There are some wonderful activities you can enjoy around town and it is really recommended that you visit during the summer months when the weather is at its warmest and there are many fun festivals and events going on. During the warmest months you can swim in the lake, which is a pleasant activity and a fun way to cool off. The Bregenz Festival runs from the middle of July to the middle of August and is a popular festival that attracts over 200,000 people. Reservations and advanced planning is advised if you plan to be in the area during this time. Also be aware that some prices might jump up higher than normal. Also make sure you head to the top of Pfander mountain, from which you can enjoy a wonderful 360 degree view. You can either walk to the top of the mountain or take the cable car.
Also be sure and spend an evening walking with the locals around the Lake Promenade. There are many outdoor restaurants and cafes and it is a wonderful place for people watching. It is also the best place to enjoy the sunset.
Food and Dining
There are some good restaurants around Bregenz that offer a relaxed and fun atmosphere. There are enough options that you can usually find something for almost any budget or taste preference. There are also some good pubs, bars and clubs that are popular with tourists and locals alike. Head to the Lake Promenade if you want a restaurant with a view and a great atmosphere. Here you will find plenty of restaurants and cafes that are good and interesting.
Transportation
A fun way to explore the city is on bike, particularly during the warmer summer months. The city itself is small so it is easy to navigate on your own. You can pick up a rental bicycle near the main railway station. There are also buses that travel around town that are convenient if the weather is not ideal for being outdoors.
If you plan to venture outside of town, you can take a railway along the lake shore and reach both Switzerland and Germany. Another fun place to visit is the nearby area of Bregenzerwald. This is a mountainous area to the southeast of Bregenz. You can catch a bus at the railway station or take a train to Dornbirn and catch a transfer there.
Related:
Are you a student or backpacker headed to
Switzerland
or
Austria
?
Need a hostel in
Zurich
or
Vienna
?