Rosario Islands On a Budget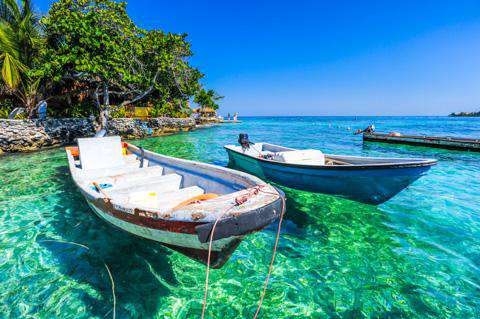 The Rosario Islands, also referred to as Coral Islands of Rosario, is an archipelago located off the coast of Colombia, approximately 100 kilometres (62 miles) from Cartagena. The Rosario Islands are integrated by 28 islands and all of them form one of the 46 Natural National Parks of Colombia, created to protect one of the most important coral reefs in the Colombian Caribbean Coast. Only three of these islands are property of the Colombian state. Before establishing the national park in 1977, wealthy families used this natural paradise to build their summer houses, but then the government allowed them to keep their properties, only if they paid annual rent and taxes to be there, and complied with certain rules to preserve the ecosystem of the islands. People can visit the national park area of the islands, and tours are available. Isla Rosario has an aquarium and open-sea oceanarium that people can visit. Activities on the Rosario Islands include swimming, snorkeling and fishing, among others. The best time to visit Colombia in general, and especially the Rosario Islands is the dry-season months from December to March. These uninterrupted sunny days are just perfect for a Caribbean coastal experience and to enjoy all the activities it has to offer.
Sights
Lizamar, Cocoliso, Isla del pirata, Isla del Encanto and Isla del Sol, are the most popular resorts for day excursions from Cartagena to the Rosario Islands; mainly visited by Colombian tourists. Additionally, you can find more exclusive places like Isla Coralina, Hotel Pedro Majagua, and Gente de Mar; the last one having the larger beach space.
There is no better way to begin your trip to the Rosario Islands than by visiting the open-air Oceanario aquarium. Although not that huge, it still houses a variety of rescued sharks, along with giant sea turtles and other aquatic life and presents short dolphin show. Oceanario is about providing information for anyone curious to learn about the marine culture. After a pleasant aquarium visit, head over to Isla Grande, the only island inhabited by the indigenous native population, providing its visitors an opportunity to explore the local culture. With boutique resorts lined up and and gorgeous waters to swim in, grab your snorkeling gear, which can be rented if you aren't carrying your own and swim around to your heart's content. Bookings for these activities can be done in Cartagena itself. Although formally not considered as part of the Rosario Islands, Playa Blanca situated on Isla Baru is famed for its sheer beauty of golden sands and is consistently voted as one of the best beaches of Colombia. Another island for top-notch diving is Tierra Bomba, which also draws a substantial amount of visitors to its shores that abound with fun activities such as diving and surfing due to its superb reefs and wrecks.
Food and Dining
One can also sample tasty traditional recipes of the region, famed for their distinctive Caribbean flavors. Bandeja Paisa, the national dish of Colombia but also empanadas, lechona, sancocho, fritanga, ajiaco and arepas are all traditional and delicious Colombian dishes. After a refreshing splash in these vibrantly chromatic waters, be sure to treat your palates with some typical and original Colombian food consisting of coconut rice, fried white fish, and yucca, all with the finest beach views.
Transportation
Several agents arrange boat tours to Islas del Rosario. One of the tours includes lunch, a visit to an aquarium and a few hours at Playa Blanca. Not included in the price is harbor tax and park entrance (USD$5) and the entrance fee to the aquarium (USD$7). If you buy your tour at one of the street vendors, don't pay in advance, preferably pay part or all at return in Cartagena. The tourist offices in the center of the old town and a good place to compare the many possible trips to the islands. It will take you about 45 minutes to get to the Rosario Islands. There are diverse resorts and hotels that also offer you the option of spending the day or a few days and take advantage of their premises. The prices vary according to which you choose. Most of them are located at Isla Grande, the bigger island of the park and the only one, between the 27, with native population. Once you are there, it is worth doing at least an hour of snorkeling by the near islands to appreciate the incredible coral formations and the shoals common of the area. You can also get to Rosario Islands if you take a scuba diving mini course or a certificated from Cartagena. You can also rent a private boat or yacht, to go island hopping with your travel friends on your own time.