Should you visit Argentina or Peru?
Argentina and Peru are both relatively inexpensive destinations for most visitors from the U.S. or European nations. Each has a wealth of culture, sights, and experiences awaiting the intrepid traveller.
The top three destinations in Argentina are even more diverse as they include the romantic capital of Buenos Aires, the majestic Iguazú Falls on the border with Brazil and Los Glaciares National Park in Patagonia for the colossal Perito Moreno. In terms of spectacular scenery, Argentina perhaps has the edge here, being home to the Iguazu Falls, one of the world's most spectacular waterfalls and the Perito Moreno, one of the nation's top tourist attractions and a truly humbling sight. Argentina is perhaps a better destination for wildlife lovers, being home to one of the most celebrated spots. The Peninsula Valdes on coastal Patagonia provides habitats for a great variety of amazing creatures; a truly magical sight. Whales, elephant seals, sea lions and let's not forget the Punta Tombo Reserve, where the world's biggest colony of penguins resides.
In Peru, Cuzco, the capital of the Inca Empire is a popular destination for tourists. Its various churches from the colonial time, its many museums from the Inca Museum to the Chocolate Museum and its Plaza de Armas with numerous small gardens and benches make Cuzco a picturesque city. Many visitors only pass through Lima to go to Cuzco but with its historic center and its many museums, the City of Kings has a lot to offer. Lima is also famous for its cuisine and you will be able to enjoy a nice meal in front of the beautiful ocean landscape.
A trip to Peru is never complete without enjoying the beauty of the incredible Machu Picchu. Hidden between several mountains, Machu Picchu has a lot to offer in terms of architecture and stonemasons skills. If you're feeling adventurous you can take the Inca Trail but if you want to relax and enjoy the beautiful scenery you can also take the train from Cuzco.
When is the best time to visit Argentina and Peru?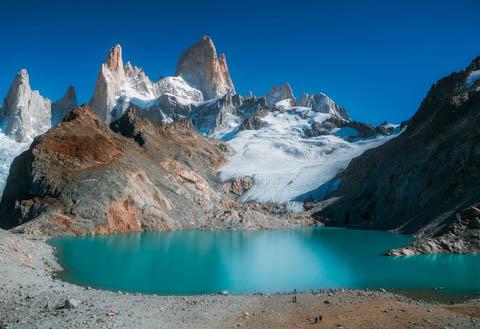 If you are planning to visit Patagonia and see the natural wonders, then prioritize mid-season. Either go around September to November or from March to May. Both are low seasons, but the spring landscape, September to November, is the nicest of the two. If you do not handle the cold very well, avoid going to Patagonia before mid-October and after April. On the other hand if you love the snow, winter landscapes, skiing and travelling during low season with few tourists and lower prices, you should definitely visit Patagonia during end of autumn or beginning of spring. While you will get all the advantages of travelling during low season, you will also be able to enjoy a sunny weather, still quite cold but manageable. While a few activities (hikes, excursions) will begin to close (end of autumn) or still be closed (towards spring), you will definitely be able to do most of the essential activities and to fully enjoy some of them as you might find that you have a hiking path all to yourself! The differences in prices between low and high season are not tremendous but you will probably be able to save some money on deals with accommodation and a few other fees.
Peru can also be visited all year round. The country experiences two main seasons. During the dry season between May and October, you will mostly get sunny days, bright blue skies in the Andes and chilly nights. This time of year lends itself to enjoying all the attractions Peru has to offer, from admiring Machu Picchu in the sunshine, to enjoying a boat trip on Lake Titicaca under vivid blue skies and trekking against backdrops of snow-capped mountains. While it is a wonderful time to be in Peru, it is also the high season meaning that early booking is crucial and sites or activities will be crowded. In December, the dry season comes to an end, but conditions are still pleasant. Between November and March visitors will notice more rain, with January and February being the wettest months to visit and the Inca Trail closing for the month of February. Travelling at this time does offer the advantage of fewer visitors, greener scenery and some lower rates for flights and hotels. Although the Amazon also experiences more rain between November and March, this should not deter you from visiting. The flora and fauna will still be abundant and there are always breaks in the showers.
Why is Argentina more expensive than Peru?
The last decade in Argentina has seen prices and currency exchange rates fluctuate greatly. Because of this, travel prices have generally risen as the overall economy is growing but economic uncertainty remains. It is best to plan ahead, do research into all options for accommodation, tours, and meals, and have a good understanding of the prices that lay ahead for your trip. But keep in mind that when travelling in Argentina, it's easy to be laid back about buying transportation tickets on the day of travel and it often makes no difference at all to do so, as prices are held steady usually by the overall price of fuel.
Peru can be very affordable with a lot of great value accommodation and food in the amazing places that every backpacker wants to visit such as Cusco, Lima and Lake Titicaca. Your biggest expense is likely to be your visit to the Machu Picchu or the Machu Picchu Inca Trail trek. Many of the costs in Peru will be far higher if you book online while abroad and bear in mind that the overall cost of travelling in Peru can be high due to the cost of the main attractions, which some travellers visit in very quick succession. A short loop around Lima, Cusco, Machu Picchu and Lake Titicaca is likely to cost you more than the same amount of time spent in another country's major city. However, it makes for an incredible experience with a lot of fascinating culture in a short period of time. Remember that in Peru, you can always eat for cheap. Lunchtime menus and cheap and tasty street food are a budget traveler's best friend. Most hotels and hostels also offer free breakfast.
What are the most expensive and cheapest cities and regions in Argentina and Peru?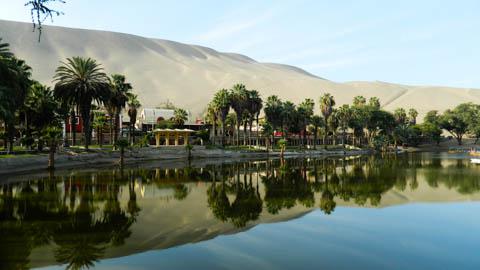 Buenos Aires, in Argentina, is one of the world's most recognizable tourist destinations. It's the birthplace of the tango, has stunningly preserved colonial architecture, a buzzing nightlife scene, and one of the world's trendiest neighborhoods. Buenos Aires but also other northern large cities such as Cordoba, Rosario and Mendoza are known to be rather expensive cities in Latin America. If you decide to visit the wine region, you can buy your own groceries and do your own bike tours in Mendoza to save a considerable amount of money but consider Mendoza as one of your splurge cities.
Southern Patagonia tends to be cheaper than the North. However, travelling through this large piece of land requires a certain budget and certain cities are surprisingly expensive. In the small towns of Patagonia, costs tend to be cheap due to competition. However, sometimes transportation can get pricey and the more frequently visited a destination by tourists, the higher the prices can get. The time of year and festivals can also dramatically affect cost.
In Peruvian cities such as Lima, Arequipa, Trujillo, and Iquitos, a variety of options are available for food and accommodation, too. If you want more luxurious services and hotels, they will cost more, but plenty of cheaper businesses can also be found. Northern Peru is less touristy than the South and therefore has lower prices.
How you can save money when visiting Argentina and Peru?
Don't fly domestically, as a two-hour flight can cost a lot. Unless you are in a rush, consider taking long distance buses.
A great amount of money can be saved on food in Peru. Touristy restaurants, especially in hotspots such as Lima, Cusco and Arequipa, are more expensive than the typical restaurants frequented by regular Peruvians. Eat where the locals go and you will be surprised at how well you can eat in Peru on a budget. Eat your free breakfast if your hotel or hostel offers it with the price of your room. Sometimes it is just bread and jam, but better hostels will also have fruit, cereal, fresh fruit juices and coffee.
Finding out which ATMs charge the lowest withdrawal fees abroad is also a good idea before leaving. You can ask your bank for information you may find that your bank is part of the Global ATM Alliance, in which case you might be able to avoid some withdrawal fees.
An important rule when travelling to Peru is to watch out for scams. Learn about the types of scams in Peru and how to avoid them. A popular scam is the exchange of notes that are either false, broken or teared because a note needs to be in its perfect state to be accepted in Peru.
You should also set prices in advance whenever possible. If you don't agree on a price before accepting a service, you might be presented with an unexpectedly large bill. Peruvian taxis are a prime example. With no meters, it's up to you to negotiate a price before each cab ride and if you think the fare is too high, find another taxi.
Another great way to save money in Peru is to not be afraid to haggle over prices, especially in traditional markets where prices generally start high. You can sometimes even try to negotiating prices for hotel and hostel rooms if you are staying for at least four to five days.
Also try to learn Spanish, as it will make your ability to negotiate prices, haggle and avoid scams less limited. This being said, if you want to buy souvenirs, buy them at the source or in local markets rather than in touristy shops or airports.
Peru isn't a big tipping nation, and there are only a few occasions when a tip is expected, such as in a mid-range to upscale restaurants. Peruvian taxi drivers don't expect tips for example.
As for transport, flights aren't too expensive in Peru but they can add up. If time allows, take buses for long distances and preferably mid-range and top-end Peruvian bus companies for safety reasons. Not only will you see more of Peru, you'll also arrive at your destination with extra cash to spend on tours and entertainment. However, don't always assume that a tour is necessary. Many historic sites and natural attractions in Peru are easy to reach by public transport, normally a much cheaper option than private tours. Choose your tours wisely, as in many cases you can hop on a cheap minibus and find a local guide when you arrive at your destination. If you're going to travel by bus, consider traveling overnight. The top-end buses are comfortable enough to get a reasonably good night's sleep, saving you the expense of a hotel and wasted daylight hours on the road. Some roads in Peru are much safer during the day, so avoid overnighters if safety is an issue.