Should you visit Peru or Ecuador?
Peru and Ecuador share a lot of similarities, as they are neighbors. Both have plenty of mountains, rain forest and cloud forest, biodiversity, and culture. Historical and cultural sights are also common, but varied. Often, a trip to one of these countries can be combined together into a trip to both, and also with some of the other nearby countries as well.
In Peru, Cuzco, the ancient capital of the Inca Empire, is a popular destination for tourists. Its various churches from the colonial time, its many museums from the Inca Museum to the Chocolate Museum and its Plaza de Armas with numerous small gardens and benches make Cuzco a picturesque city. Many visitors only pass through Lima to go to Cuzco, but with Lima's historic center and its many museums, the City of Kings has a lot to offer. Lima is also famous for its cuisine as you will be able to enjoy a nice meal in front of the beautiful ocean landscape.
A trip to Peru is never complete without enjoying the beauty of the incredible Machu Picchu. Hidden between several mountains, Machu Picchu has a lot to offer in terms of architecture and stonemasons skills. If you're feeling adventurous you can take the Inca Trail but if you want to relax and enjoy the beautiful scenery you can also take the train from Cuzco.
Ecuador is one of the smallest countries in South America but do not be fooled; there is plenty to see, do, and experience! Ecuador is one of the most biodiverse regions in the world. It boasts 50 ecosystems, from the Galapagos to tropical rainforests to forested valleys to the Andean mountains and with several hotspots that have been named UNESCO World Heritage Sites. Ecuador is a great destination because it offers so much in a territory that is about the same size as the state of Colorado. Ecuador is easy to explore, and a small setting will allow travelers to see numerous destinations without riding in a vehicle all day. Traveling from the Pacific Ocean to one of the highest mountains on earth, and then visiting the jungle can even be done in one day! Ecuador is all about adventure. Hiking, biking, kayaking, horseback riding, diving, swimming, rafting, trekking through the jungle, mountains or volcanoes and rewarding your hard work with a good dip in a hot spring or an hour or two on a tropical beach. And the great news is that there is no need to spend your time figuring out exchange rates because Ecuador has been using the U.S. Dollar as currency since 2000, when it retired the Sucre. With 530 miles of coastline, it's no surprise that Ecuador has some of the most beautiful beaches in South America. Coastal towns to visit include the popular Salinas and Puerto Lopez, Salango for snorkeling and scuba diving, and Atacames for the fantastic nightlife. Not to mention the Galapagos Islands. If you are seeking for some true adventure, travel to the Andes and the Cotopaxi National Park, where one of the highest active volcanoes in the world has erupted more than 50 times since 1738. Ecuador blends Spanish culture with African and European influences, and this vibrancy is reflected in the people and its cities. As Ecuador's capital, Quito is where you are heading for culture, stunning views, great nightlife especially karaoke bars, and local meals. And speaking of food, the country's cuisine is as diverse as its landscape. Hearty mountain fare and seafood make up Ecuador's national dishes, which include a citrusy ceviche, toasted corn snacks, a cheesy potato soup, pan-fried pork and chicken, goat stew and guinea pig. In city centers, visitors will find museums, theaters, thriving markets, festivals, and very welcoming people.
When is the best time to visit Peru and Ecuador?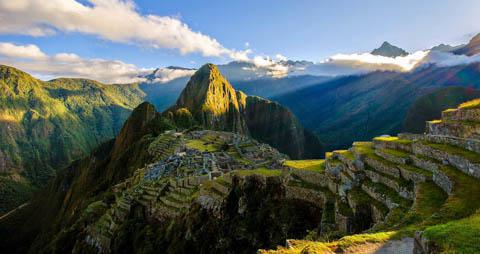 Peru can also be visited all year round. The country experiences two main seasons. During the dry season between May and October, you will mostly get sunny days, bright blue skies in the Andes and chilly nights. This time of year lends itself to enjoying all the attractions Peru has to offer, from admiring Machu Picchu in the sunshine, to enjoying a boat trip on Lake Titicaca under vivid blue skies and trekking against backdrops of snow-capped mountains. While it is a wonderful time to be in Peru, it is also the high season meaning that early booking is crucial and sites or activities will be crowded. In December, the dry season comes to an end, but conditions are still pleasant. Between November and March visitors will notice more rain, with January and February being the wettest months to visit and the Inca Trail closing for the month of February. Travelling at this time does offer the advantage of fewer visitors, greener scenery and some lower rates for flights and hotels. Although the Amazon also experiences more rain between November and March, this should not deter you from visiting. The flora and fauna will still be abundant and there are always breaks in the showers.
Many visitors describe Ecuador as the "Hidden Jewel of South America". This is because of the unmatched diversity in landscape, ecosystem and culture present in the country, but also because Ecuador enjoys mild spring-like weather conditions year-round with a gorgeous temperature of 65 degrees (F). Locals and travelers often describe Ecuador as the "Eternal Spring", which makes it an ideal place to visit any time of the year. Weather variations are usually the result of regional differences and micro-climates rather than clearly defined seasons. In between January and May is the coolest and wettest time period in Ecuador. Many people still choose to travel to Ecuador at this time because rainfall mostly presents itself in afternoon showers and the waters around the Galapagos Islands are at their warmest. The driest and warmest months in Ecuadorian mainland occur from June to September. Visitors can often enjoy clear blue Andean skies and warm sunshine. Fewer showers also make for more prolonged periods to enjoy bird-watching in the cloud-forests. This is also the peak time to visit neighboring Peru, so early planning is advisable. In the highlands, the 'four seasons in a day' phenomenon can happen at any time, so you should not limit your travel planning to this drier season. The months of October, November and December are a popular time to visit Ecuador, as the South American national holidays approach and the waters around the Galapagos become calmer again, so early booking is again advisable.
Why is Peru more expensive than Ecuador?
Peru can be very affordable with a lot of great value accommodation and food in the amazing places that every backpacker wants to visit such as Cusco, Lima and Lake Titicaca. Your biggest expense is likely to be your visit to the Machu Picchu or the Machu Picchu Inca Trail trek. Many of the costs in Peru will be far higher if you book online while abroad and bear in mind that the overall cost of travelling in Peru can be high due to the cost of the main attractions, which some travellers visit in very quick succession. A short loop around Lima, Cusco, Machu Picchu and Lake Titicaca is likely to cost you more than the same amount of time spent in another country's major city. However, it makes for an incredible experience with a lot of fascinating culture in a short period of time. Remember that in Peru, you can always eat for cheap. Lunchtime menus and cheap and tasty street food are a budget traveler's best friend. Most hotels and hostels also offer free breakfast.
Ecuador has a fairly low cost of living. It is astonishingly diverse and interesting but it's also a relatively small and compact country, which reduces the need to spend on long-distance transportation the way you will in neighboring countries. Activities are pretty cheap. For example, a round trip on the stunning Devil's Nose train will cost USD$30, hiking trips to volcanoes and mountains usually start at around USD$40 and in terms of accommodation there are ample cheap private rooms to be found in Ecuador, and often the price difference between a dorm bed and a basic private is minimal. The one thing that can really tip the scale is visiting the Galapagos Islands. However few tourists travel to Ecuador without visiting the Galapagos Islands, which on its own requires a budget of at least USD$1000 per person though probably a bit more.
What are the most expensive and cheapest cities and regions in Peru and Ecuador?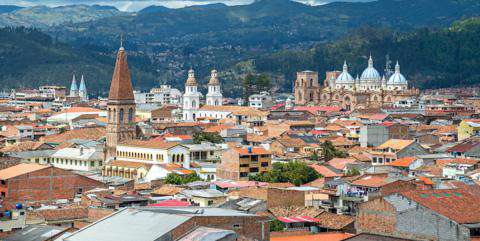 In Peruvian cities such as Lima, Arequipa, Trujillo, and Iquitos, a variety of options are available for food and accommodation, too. If you want more luxurious services and hotels, they will cost more, but plenty of cheaper businesses can also be found. Northern Peru is less touristy than the South and therefore has lower prices.
Quito is a cosmopolitan city, where colonial architecture blends with modern life. It provides visitors with incomparable scenery surrounded by the breath taking Andes Mountains. On its colonial center, Quito offers narrow cobblestones streets, a maze maze of churches, and history and tradition in every corner. Cuenca is Ecuador's third-largest city. It hustles and bustles, but with a certain provincial charm. This prosperous and beautiful highland city has retained much of its colonial splendor, and, like Quito's, its city center has been declared a UNESCO World Heritage Site. Oddly enough, Quito and Cuenca costs more than the capital these days because the average income is higher and a lot of wealthy Ecuadorians have moved back from abroad and settled there for a more mellow life. Get beyond these two cities and Guayaquil, and you will be sure that living expenses are even less. Riobamba, Vilcabamba, Cotacachi, or other towns in the Andes are definitely cheaper.
How you can save money when visiting Peru and Ecuador?
A great amount of money can be saved on food in Peru. Touristy restaurants, especially in hotspots such as Lima, Cusco and Arequipa, are more expensive than the typical restaurants frequented by regular Peruvians. Eat where the locals go and you will be surprised at how well you can eat in Peru on a budget. Eat your free breakfast if your hotel or hostel offers it with the price of your room. Sometimes it is just bread and jam, but better hostels will also have fruit, cereal, fresh fruit juices and coffee.
Finding out which ATMs charge the lowest withdrawal fees abroad is also a good idea before leaving. You can ask your bank for information you may find that your bank is part of the Global ATM Alliance, in which case you might be able to avoid some withdrawal fees.
An important rule when travelling to Peru is to watch out for scams. Learn about the types of scams in Peru and how to avoid them. A popular scam is the exchange of notes that are either false, broken or teared because a note needs to be in its perfect state to be accepted in Peru.
You should also set prices in advance whenever possible. If you don't agree on a price before accepting a service, you might be presented with an unexpectedly large bill. Peruvian taxis are a prime example. With no meters, it's up to you to negotiate a price before each cab ride and if you think the fare is too high, find another taxi.
Another great way to save money in Peru is to not be afraid to haggle over prices, especially in traditional markets where prices generally start high. You can sometimes even try to negotiating prices for hotel and hostel rooms if you are staying for at least four to five days.
Also try to learn Spanish, as it will make your ability to negotiate prices, haggle and avoid scams less limited. This being said, if you want to buy souvenirs, buy them at the source or in local markets rather than in touristy shops or airports.
Peru isn't a big tipping nation, and there are only a few occasions when a tip is expected, such as in a mid-range to upscale restaurants. Peruvian taxi drivers don't expect tips for example.
As for transport, flights aren't too expensive in Peru but they can add up. If time allows, take buses for long distances and preferably mid-range and top-end Peruvian bus companies for safety reasons. Not only will you see more of Peru, you'll also arrive at your destination with extra cash to spend on tours and entertainment. However, don't always assume that a tour is necessary. Many historic sites and natural attractions in Peru are easy to reach by public transport, normally a much cheaper option than private tours. Choose your tours wisely, as in many cases you can hop on a cheap minibus and find a local guide when you arrive at your destination. If you're going to travel by bus, consider traveling overnight. The top-end buses are comfortable enough to get a reasonably good night's sleep, saving you the expense of a hotel and wasted daylight hours on the road. Some roads in Peru are much safer during the day, so avoid overnighters if safety is an issue.
To save money in Ecuador, look into staying in Hospedajes, a very affordable accommodation option. These family-run guesthouses are all over the country and have rooms for just a few dollars per night. Eat and food shops at the markets. You can find meals and kilos of fruits for just a few dollars, making this the best way to eat cheaply in the country. Many restaurants have almuerzos, cheap lunches from a set menu, which are usually just a couple of dollars and even include a drink! Try to carry as much small change as you can as you will have trouble changing bigger notes than USD$20, especially in small towns. A good money saving tip is to book last minute tours. By booking your Galapagos Island cruise in Quito last minute, you can save up to 40% off the expensive cost of the trip. If you're flexible in when you go and can wait around for a spot to open, the cheapest option is also to just fly there and see what is around. If you want to make your trip even cheaper, find free accommodation and a chance to make a local friend on Couchsurfing.