Buenos Aires, Argentina On a Budget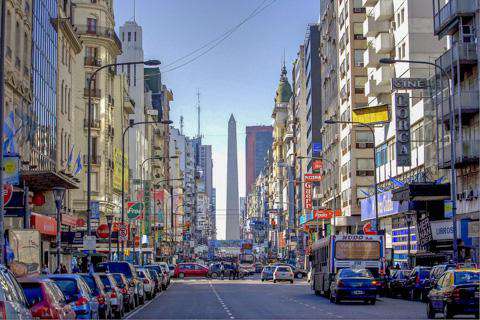 Buenos Aires, federal capital of Argentina, also known as "The City of Tango", is best known for its energetic and unpredictable character. Like a restless child, Buenos Aires is a dynamic and modern city full of surprises. While its French-style palaces, rooftop restaurants, wide avenues and green plazas resemble European-style architecture, Buenos Aires preserves its musical, literary and culinary traditions. You can't miss dining in front of a Tango show, walking around the colourful streets of La Boca and visiting the renowned Recoleta Cemetery, designed by Argentina's most important architects and home to hundreds of illustrious corpses.
Buenos Aires's climate is humid subtropical. The summers are humid and the winters are mild. January is the warmest month and the temperature averages about 77 degrees Fahrenheit with the highs climbing into the mid to high 80s. Spring is between September and November and fall is between March and May. These times are mild but unpredictable with frequent thunderstorms in the spring months. Winters are mild and temperate. There may be a frost in the suburban areas and heavy fog is common. July is the coolest month with temperatures averaging around 50 degrees Fahrenheit.
One of the most famous sites of Buenos Aires is the Feria de San Telmo, where you will spend hours strolling down the endless cobblestoned street lined with tango venues and small cafes, looking at antiques, souvenir shops and all sorts of artisanal artifacts from jewelry to clothing and mate cups. Do not expect to come back from the legendary San Telmo market without having tried all different sorts of dulce de leche and fallen for your favorite one! In Buenos Aires, everything is done with passion. Whether it is a discussion about the next football match, a bet made at the polo stadium, or the amount of meat brought to an asado (traditional barbecue), Argentineans enjoy excess and spontaneity!
The city hosts free-for-all art events, warehouse parties, pop-up exhibitions, free zumba classes in the park, and has more than 40 museums. There is nothing more exquisite than picnicking in one of Buenos Aires parks and discovering the city's Japanese Garden, the Botanical Garden Carlos Thays and the Ecological Reserve.
There is plenty to see and do right in the heart of the city but if you decide to stay a little longer in Buenos Aires, you will enjoy a day trip to Tigre. Only an hour away in train from the capital, Tigre is a town build around the Paraná Delta, on which you can feel the exoticism of Latin America on a small boat excursion. You may even decide to take the ferry to leave for a weekend to the beach in Uruguay.
Sights
As a large, cosmopolitan city, there are many sights and attractions around town. Casa Rosada is the country's government house. The Plaza de Mayo in the front is also worth a visit. Other notable landmarks include the Obelisco, Confiteria Ideal, Palacio Barolo, Casa de la Cultura, Libreria La Calesita, and La Botica del Angel.
Buenos Aires has many colorful and eclectic neighborhoods, so it is best to divide your visit into the different districts that you wish to visit. Be sure and allow yourself enough time to just wander around the area and get a feel for each neighborhood's character and personality.
Activities
In addition to the endless supply of sights that you'll find throughout Buenos Aires, there are some great activities that are worth checking out as well. If you can, definitely try to go to a football (soccer) game. The two home teams, Boca Juniors and River Plate, are world famous. Tango lessons are also a popular experience while you're traveling in Buenos Aires. There are also some great places to watch tango experts perform, with one of the best being Confiteria Ideal. The city also hosts many great wine events and festivals throughout the year. Spas are also abundant and many are worth a relaxing visit while you're in the area.
Food and Dining
Argentina is known for its beef. Asado, or steak barbecue, is best tried at a parrila. These are restaurants that specialize in roasted meats and the quality is usually quite high. Prices range from incredibly high to simple and cost friendly.
Buenos Aires is a large, cosmopolitan city with a wide variety of food options. You can find Italian food almost anywhere but sushi, Asian fusion, and vegetarian restaurants are also quite common.
Italian and Spanish food is tied closely to the area's culture. Pizza and empanadas are common meals and should not be missed while you're in the area.
Transportation
Although Buenos Aires is quite large, it does have a great public transportation system that is efficient and fast. The system includes a metro, buses, and a commuter train. The metro system is small but well connected to tourist destinations. Buses are farther reaching, but slightly less efficient than the metro. Do keep in mind that the system gets quite crowded during rush hour. The commuter train connects the city center with the nearby subrubs and provinces. The system is convenient for locals but does not help tourists much.
Walking is an easy option in Buenos Aires as well. The city is laid out in a grid pattern so it is easy to orient yourself. Taxis are an option as well, but they are often slower than the metro as traffic can be quite congested. They are relatively cheap though.
Public transportation is easy and safe in Buenos Aires. However, because the city is very big, make sure you give yourself some time to get from one place to another. If you are in a rush, the fastest option is a taxi.
Metro
: You can buy metro tickets in the station or buy a SUBE card for USD$1.40 that you can top up in the station's ticket office or any shop or kiosk with a SUBE sign. The price of one trip is USD$0.40. The metro is opened from 5h to 22h30 from Monday to Saturday and from 8h to 22h30 on Sunday. There are 6 subway line, A, B, C, D, E and H. You can find more information on http://www.metrovias.com.ar.
Bus
: You can only pay your bus trip with a SUBE card, which you can buy for USD$1.40 and top up in a subway station ticket office or any shop or kiosk with a SUBE sign. When you enter a bus, tell the driver your destination and swipe your card on a machine that will tell you the price of your trip (between USD$0.35 and USD$0.40 depending on the distance). Buses function everyday 24h/24. Bus stops can be hard to find at first, as some are barely indicated. To help you use public transportation in Buenos Aires, you can download the app Como Llego on your phone or use it directly at http://comollego.ba.gob.ar. It will tell you precisely where the bus station is located in the street.
Taxi
: You will recognise the taxis by their yellow and black color. Taxis in Buenos Aires are rather inexpensive but alway keep an eye on the meter to avoid a bad surprise. You can also ask the driver before getting into the taxi an approximation of the price to get to your destination.
Related
Looking for a
party hostel in Rio
,
Sao Paulo
,
Lima
, or
Buenos Aires
? Traveling alone through
Argentina
?
Neighborhoods of Buenos Aires
Buenos Aires is enormous, but the important neighborhoods that tourists will visit are all the ones that border the sea, Belgrano, Palermo, Recoleta, the Centro (which include San Nicolas and Montserrat), Puerto Madero, San Telmo and La Boca. The city also has a very useful set of metro lines which can be helpful (line D, the green one, is the most useful and will be visited often because it goes through nearly all the neighborhoods).
El Centro
This area the dynamic center of Buenos Aires, where one breathes the history of the city. Bounded to the South by the Avenida de Mayo, to the North by the Plaza San Martin, to the West by the Congresso and to the East by the Casa del Gobierno, El Centro is a small area but has many monuments and museums to offer. The rich architecture combining the Belle Epoque, Art Deco, Art Nouveau, Neo-Medieval, Neo-Baroque and modern glass buildings will leave you fascinated by the dynamic city of Buenos Aires. In reality, The Centro bestrides two administrative areas, San Nicolas and Montserrat, which have a wide concentration of offices, service companies, stores and banks, and a large circulation of pedestrians on working days. The Argentinean City is however empty during weekends.
What to do
Plaza de Mayo
is at the heart of the city. This area is very old, and is a very important historical hub of Buenos Aires which dates back to the 1500's. Here, many important historical events have taken place for the city and the country as a whole. With multiple historical buildings dating back to the 1700's, this square is a good place to walk around and feel the historical vibes. The Cabildo building is the former building of the once Colonial government. Nearby is the Metropolitan Cathedral. This beautiful building was constructed in 1812 and resembles a Greek temple. The Casa Rosada is the current government building. You will also find a statue of General Belgrano on his horse holding the Argentine flag, an important figure in the history of Argentina. General Belgrano fought and won many battles and led the Argentine Declaration of Independence. Many regular events take place on the square, such as the Madres de los Desaparecidos gathering every Thursday at 15h30, who walk with pictures of their children who have disappeared during the Dictatorship of the 1970's.
Manzana de las Luces
: The Manzana de las Luces, or "Block of the Lights", housed the activities of the early Jesuit missionaries in the nascent Buenos Aires, and as a complex comprises the church of San Ignacio built in 1734 showing a perfect example of colonial art, a cloister residence, a large arcaded patio, and colonial-era administrative building. Although once housing Argentina's first national library, college, and even the country's legislature, Manzana de las Luces notoriety derives in part from its function as a central point in Buenos Aires' mysterious subterranean tunnel system. To visit Manzana de las Luces, you have to book a guided visit, costing USD$2.85 and free for children under 6 years old. The visit starts at 15h on Monday to Friday and at 15h, 16h30 and 18h on weekends. It lasts 50 minutes and is in Spanish except if you book your visit in advance, you will be able to have an english-speaking guide.
Avila Library and Farmacia La Estrella
: Both buildings are worth passing by if you are strolling around El Centro. The oldest library of Buenos Aires and once the Librería del Colegio, was built in 1785 and still offers a wide range of books. The pharmacy La Estrella is also still in use and is well known for its impressive wooden architecture.
Museo Historico Nacional del Cabildo y de la Revolucion de Mayo
: Facing the Casa Rosada, is a white monument named Cabildo. The former seat of the Colonial government was at the heart of the May Revolution, when on the 25 of may 1810 a new government was put into place. While the monument was built in 1748, it has gone through a few changes, including the destruction of its wings. It now holds the Museo Historico Nacional del Cabildo y de la Revolucion de Mayo, opened from 11h to 15h30 on Tuesday to Friday and from 11h to 12h30 and 15h30 to 16h45 on weekends. You can access the museum freely on Tuesday and the entry costs USD$0.85 every other day of the week and on weekends. Free guided visits are available in spanish at 10h30 and 17h30 (16h30 on weekends) and in english only during summer at 11h30.
Where to eat
La Americana (Callao, 83, opened every day from 7h to 2h, less than USD$10 per person)
: La Americana is the perfect place to grab lunch. This Argentine version of a fast-food sells empanadas, pizza slices that just came out of the oven and freshly baked pies to eat on the go or standing up inside the restaurant.
Vita Eco Deli Market (H. Yrigoyen, 583, opened Monday to Friday from 8h to 20h, from 10h to 20h on Saturday and from 12h to 19h on Sunday, less than USD$10 per person)
: Choose directly from the counter among various sandwiches, salads, delicious vegetarian options or today's special such as lasagna. Right next to the Plaza de Mayo, the Vita Eco Deli Market is a great restaurant for a quick stop or to relax around a tasty meal and a refreshing drink.
Natura (Rivadavia, 1321, opened Monday to Friday from 11h to 15h, less than USD$10 per person)
: The vegetarian restaurant is located near the Plaza del Congreso. On the menu, grilled fish, vegetables, salads and pies to take away or eat in.
Sattva (Montevideo, 446, opened Monday to Friday from 12h to 16h as well as from 20h30 to 1h Tuesday to Sunday, around USD$15 per person)
: A great option for those who need a break from the same-old Argentinian dishes. Influenced by Indian and Mexican cuisine, the vegetarian restaurant serves salads, sandwiches and vegetarian dishes with tofu and seitan.
El Patio (Reconquista, 269, opened Monday to Friday from 12h to 16h, around USD$15 per person)
: Hidden behind antique shops and restaurants found in an old covent, El Patio is a peaceful oasis of calm in the middle of the city, serving traditional food including tortilla de papas, salads, milanesa, meat.
Chan Chan (H. Yrigoyen, 1390, opened every day from 12h to 16 and from 20h to 00h, around USD$15 per person)
: Chan Chan is a fabulous Peruvian restaurant. Ceviche, pisco sour and other delicious Andean dishes are served by a friendly and welcoming staff.
Los Inmortales (Lavalle, 746, opened every day from 12h to 1h, around USD$15 per person)
: Los Inmortales, named by the Cuban poet, Ruben Dario, in the memory of these argentinian artists that have become legends, Carlos Gardel, Fangio, Piazzolla, is covered in photos of these immortals. The restaurant serves simple, yet tasteful food including oven pizzas, pastas and meats.
El Imparcial (H. Yrigoyen, 1201, opened every day from 12h to 16 and from 20h to 00h, around USD$25 per person)
: Created in 1860, this is one of the oldest restaurants in Buenos Aires, where President Carlos Pellegrini and Hipolito Yrigoyen came to eat. El Imparcial serves traditional spanish food including puchero and paella prepared following the XIX century recipe. A special menu is available at lunch for USD$12.
Tomo I (Pelegrini, 521, opened every day from 12h to 16 and from 20h to 00h, around USD$33 per person)
: The family-run establishment is considered to be one of the best restaurants in Buenos Aires. Founded by the Concaro sisters, the Tomo I is now in the hands of Frederico Fialayre, the son of one of the sisters. Traditional food with a touch of originality is served. Do not miss out on their desserts and a glass of their delicious wines.
San Telmo
Blessed with cobblestone streets, a crumbling, faded grandeur, an amazing weekly street market and many good places to eat and drink, San Telmo is a Buenos Aires barrio that simply cannot be missed. Bounded to the North and South by the Microcentro and La Boca, and to the East and West by Puerto Madero and Avenida 9 de Julio, this is the oldest barrio of Buenos Aires, dating back to the 17th century. First home to dockworkers and brick-makers, San Telmo was a poor neighborhood, which later became an industrial area. San Telmo is now a hotspot for tango, attracting many artists and taking on a bohemian vibe.
What to do
El Mercado de San Telmo, Feria de San Telmo and Plaza Dorrego
: The Mercado de San Telmo was built in 1897 by Juan Antonio Buschiazzo, the same Italian-born Argentine architect who designed Cementerio de la Recoleta. The covered market is full of locals shops selling fresh produce, meat and antiques. Every Sunday, the street Defensa is closed to traffic to welcome both locals and tourists into the Feria de San Telmo, where crafts, jewelry, food, antiques, mate cups and many other odds and ends are sold. It's a tight and crowded scene, so be prepared to bump into people and watch your bag carefully. The Plaza Dorrego is considered to be the heart of the Feria de San Telmo. The 18th century square is still surrounded by a few colonial buildings and cafe-restaurants that will definitely take you back in time.
El Zanjon
: An old house built in 1830 by rich Spanish traders, which was completely restaurated after the discovery of the tunnels found under the house. Archaeological searches on the tunnels were able to tell us about the impressive pipe systems that was put in place and other significant information on the past of the city. The entrance costs USD$11.40 and USD$9.70 on weekends. Guided visits of one hour in english are available from Monday to Friday every hour between 12h and 15h (the 13h visit is in Spanish). On Sunday, visits last 40 minutes and begin every 20 minutes from 11h to 18h.
Museo Historico Nacional
: The beautiful red colonial building where Pedro de Mendoza created the city of Buenos Aires in 1536 has now become the Museo Historico Nacional. The museum principally looks at the colonial period and independence movements. Opened Wednesday to Sunday from 11h to 18h and closed in January. The entrance fee is USD$1.40.
Museo de Arte Contemporáneo de Buenos Aires (MACBA)
: While the building in which the MACBA was established has a very low ceiling and lacks of windows, the private museum founded in 2012 and promoted by collector Aldo Rubino to acquire, conserves, documents and exhibits a broad and impressive collection of national and international contemporary art.The museum aims to promote dynamism in Argentine art and generate spaces for dialogue among artists, curators, students, researchers and the public. Opened every day except on Tuesday, from 12h to 19h and 19h30 on weekends. The entrance costs USD$3.40 and USD$2.30 on Wednesday.
Basilica de Nuestra Señora de Bethlem
: A few steps from Plaza Dorrego stands the Church of Nuestra Señora de Bethlem, which was built by the Jesuits in 1734. After the expulsion of the order in 1767, the Church became under the jurisdiction of the Belen order, which also built a hospital nearby. It was classified national heritage in 1942. The church is opened from 8h to 12h and from 17h to 21h every day.
Iglesia Ortodoxa Rusa
: Every second weekend of the month, a guided visit of the church is available otherwise the Iglesia Ortodoxa Rusa is only opened during service. Built in 1904 following the model of Muscovite churches of the XVII century, the Iglesia Ortodoxa Rusa has a stunning Byzantine interieur made of beautiful paneling and superb icons. Women are only allowed to enter the church if their arms and legs are covered.
Museo de Arte Moderno de Buenos Aires (MAMBA)
: El Moderno exhibits throughout the entire year, works of Argentine and international art, both from its permanent collection and other contemporary artists. The museum opens every day except on Monday, from 11h to 19h and 20h on weekends. The entrance costs USD$1.50 and is free on Tuesday.
Where to eat
La Parilla de Freddy (Carlos Calvo, 471, opened everyday, less than USD$10 per person)
: The single-story house sells delicious choripan (a local hot-dog) and parrillas (grilled meat) for only a few pesos.
Hierbabuena (Caseros, 454, opened everyday except on Monday, less than USD$10 per person)
: The restaurant serves light, fresh and healthy vegetarian dishes and you can create your own sandwich. The little outdoors terrace is also perfect for a refreshing juice or an afternoon snack.
El Desnivel (Defensa, 855, opened every except on Monday, until 1h, around USD$15 per person)
: A popular restaurant in the neighborhood, famous for its meat and generous portions. The house wine is tasty and the atmosphere is friendly and lively.
El Refuerzo (Chacabuco, 872, opened every day except on Monday, from 10h to 2h, around USD$15 per person)
: The small bodega found in a former grocer's shop has kept its authenticity with its green and red walls filled with old photos and its old-fashioned counter. The restaurant gets quickly filled but if you have time, it is worth the wait.
Naturaleza Sabia (Balcarce, 958, opened Tuesday to Saturday from 12h to 15h30 and from 20h to 00h, around USD$15 per person)
: Another vegetarian restaurant offering a great alternative to the famous Argentinian meat. The menu varies depending on the products available on the market.
L'Atelier de Celine (Carlos Calbo, 242, opened every evening except on Monday, around USD$25 per person)
: Set in a house built in 1807, L'Atelier de Celine has a charming terrace where you will feel at home. Enjoy the food of a French chef who has fallen in love with Buenos Aires.
Cafe San Juan (San Juan, 452, opened every day except on Monday, from 12h30 to 16h and from 20h to 2h, around USD$25 per person)
: Tapas, cazuelas, empanadas gallegas and other specialities of the country are served in this restaurant that has been the favourite of the locals for a long period of time.
Taberna Baska (Chile, 980, opened every day except on Sunday evening and Monday, around USD$25 per person)
: If fish is your favorite, this is the place to eat in Buenos Aires. Whether it is in a soup, in a paella, with a sauce or a la plancha, the fish will not disappoint you at Taberna Baska.
Recoleta
Recoleta is a downtown residential neighborhood of great historical and architectural interest in Buenos Aires. The elegant and refined area is found between the Obelisco and the Palermo neighborhood, between Retiro and the coastline. Well-known for its French architecture, imposing buildings, aristocratic cemetery, museums and art exhibits, Recoleta is recognised as one of the most European neighborhood of all Buenos Aires. Recoleta was first developed at the end of the XIX century, when the porteña aristocracy began to run from the epidemic yellow fever of San Telmo. Recoleta is not far from any of the capital's most attractive spots and lies at the heart of the tourist zone. It offers a variety of top restaurants, pubs and discos from which the visitor can taste and enjoy the trendy porteña nightlife.
What to do
Cementerio de la Recoleta - Plaza Francia
: This is the biggest attractions in Recoleta, an unusual place with a variety of crypts and mausoleums of dazzling architectural richness. Here rests the aristocracy of Argentina, its presidents, celebrities and politicians. The most visited tomb, however, is that of Eva Duarte de Peron, champion of the poor and the working class, who now rests in the country's most exclusive cemetery.
Palais de Glace
: From 1911 and 1921 the building served as the first skating rink in Buenos Aires. It was then transformed into a beautiful dance hall where tango was performed. While it became an art gallery in 1932, it was converted into a television office between 1954 and 1960 during the Ongania dictature before becoming again a palacio nacional de las Artes, with temporary art exhibitions. The museum is opened every day except on Monday, from 12h to 20h and from 10h to 20h on weekends. The entrance is free.
Iglesia Nuestra Senora del Pilar
: The church is part of the old Convent of the Recoletos, the order of barefoot Franciscan monks who gave the neighborhood its name, which opened in 1732. In 1906, the church was used as a hospital and a sanctuary for rebellious indigenous. The inside of the colonial church completely follows the Latin American baroque art, such as the stunning Baroque altar brought from Perú and decorated with silver from the Argentine province of Jujuy.
Museo Nacional Bellas Artes
: The Museo Nacional Bellas Artes houses one of the best art collections in Latin America, and the biggest collection of Argentine art. It's permanent collection includes work by El Greco, Goya, Rodin, Rembrandt, Rubens, Renoir, Degas, Cezanne, Chagall and Picasso. The museum also has a photography room, a display of pre-Columbian art, two sculpture terraces and a library. The Museo Nacional Bellas Artes opens from 12h30 to 20h30 during the week and from 9h30 to 20h30 on weekends. It is closed Monday and the entrance is free. There are guided visits every day at 17h and 18h.
Floralis Generica
: The Sculpture of the Rose is a new mobile structure made of steel and aluminum and over 20 meters high, opening and closing according to the sunlight.
Located in Plaza de las Naciones Unidas, Floralis Generica was a gift to the city by the Argentine architect Eduardo Catalano.
Centro Cultural Recoleta
: Opened every day except on Monday, from 13h30 to 20h30 and from 11h30 to 20h30 on weekends, the Centro Cultural Recoleta is a place of intense artistic activity worth having a look at. Temporary exhibitions, theatre plays, art workshops and many more events are hold in the cultural center of Recoleta.
Where to eat
La Cocina (Pueyrredon, 1506, opened every day except on Sunday from 11h to 16h and 18h to 00h, less than USD$10 per person)
: La Cocina is the perfect place to grab a quick lunch in Recoleta. This Argentine version of a fast-food sells divin empanadas that just came out of the oven to eat on the go or standing up inside the restaurant. Our favourite, the carne picante!
El Cuartito (Talcahuano, 937, opened every day except on Monday from 12h30 to 2h, around USD$15 per person)
: Considered as one of the best pizzerias in Buenos Aires since 1934, El Cuartito serves generous portions to satisfy your appetite.
La Querencia (Junin, 1314, opened every day except on Monday from 12h to 16h and from 19h to 00h, around USD$15 per person)
: La Querencia serves local cuisine of the Northwest of Argentina, the region of Salta and Jujuy, for a decent price. Locro, humita, empanadas and delightful desserts are all made with fresh products. The setting is lovely and service is attentive and kind.
Los Pinos (Azcuenaga, 1500, opened every day except on Tuesday, until 23h, around USD$15 per person)
: Los Pinos was built in a former pharmacy and has kept the apothecary's cabinet. The restaurant specializes in parrillas.
Restaurante Teodoro (Arenales, 1424, opened Monday to Friday from 8h to 00h and on weekends from 12h to 16 and 20h to 00h, around USD$15 per person)
: Decorated with black and white photos, antiques, mirrors and old advertisement posters, Restaurante Teodoro is a cheerful place to eat well prepared argentinian classics. The restaurant serves tasty and simple food for a reasonable price.
Brut Nature (Pena, 2066, opened Monday to Friday from 12h to 15h and from 20h to 00h and only during evenings on weekends, around USD$33 per person)
: This hotspot for carnivores gets the job done with their delicious beef served for a decent price. The lunch menu is an excellent deal!
Oviedo (Beruti, 2602, opened Monday to Saturday from 12h to 2h and from 12h to 17h on Sunday, around USD$33 per person)
: Oviedo is a chic restaurant that won't disappoint your tastebuds. On the menu, Spanish food, a good selection of meat and fish, tantalizing desserts and a few local dishes. The restaurant also offers various excellent wines. Opt for a table in the main room, decorated like a classic bistrot with white tablecloths and small touches of gentle colors, or for the more intimate and quiet room upstairs.
Palermo (Soho and Hollywood)
This extensive and attractive neighborhood is famous for its international class food shops, its very "in" restaurants, its bookstores, its lively nightlife and for the bohemian breeze blowing through its streets and cafes. From Milongas, great restaurants and bars, to live music and markets, there is something for everyone here on any given day or night. Located between Belgrano and Recoleta, Palermo is the biggest barrio in Buenos Aires and. It has been chopped up into smaller sub-barrios including Palermo Soho, Palermo Hollywood, Las Cañitas, Bosques and Villa Freud.Even though Palermo Soho is the oldest part of Palermo, it is constantly renovated so that the little casonas become art galleries, boutique clothing stores, and restaurants. Palermo Hollywood, its neighbor, found on the other side of calle Jorge Luis Borges, is also a beautiful part of the city to walk or cycle around. Less known barrios such as Las Cañitas, where Báez street meets Arevalo and Villa Freud, where you will find a high concentration of psychiatrists, psychologists and psychoanalysts, are nice areas to have a meal and a drink
What to do
Parque de Palermo
: The Bosques de Palermo and in particular the Parque Tres de Febrero is a beautiful place for a stroll, jog, pash, picnic, or even a romantic boat ride on one of the artificial lakes. The immense park was designed by French landscaper Charles Thays, following the style of the Bois de Boulogne and its park, squares, fountains, gardens, lakes and statues. The Botanical Gardens, the Zoological Garden (now an ecopark, USD$12 entrance fee), the Japanese gardens (entrance fee USD$5.40), and the Galileo Galilei Planetarium, where is kept an actual piece of lunar rock, are spread throughout this urban park. Do not hesitate to walk across the wooden White Bridge into the Rosedal, a stunning rose gardens and through the Poet's Garden.
Museo Evita
: Opened from Tuesday to Sunday, 11h to 19h, the Museum Evita is found in a superb spanish-style building dating back from the XX century. The museum retraces the life of Eva Peron in a fascinating way, her childhood, her actress career, her relationship with Juan Peron, her fight for the unfortunate and women and her tragic end. The little cafe-restaurant opened every day except on Sunday is worth stopping at after your visit of the museum. The entrance fee costs USD$4.85.
Museo de Arte Latinoamericano de Buenos Aires (MALBA)
: The MALBA is the first art museum that is completely dedicated to Latin American art. The bright modern building holds a few pieces of work from Diego Rivera, Frida Kahlo, Antonio Berni, Martha Boto and other colombian, brazilian, uruguayan and argentine artists. The museum is closed on Tuesday and opens from 12h to 20h during the rest of the week. A ticket to the MALBA costs USD$4.85. If you can visit the museum on a Wednesday, the entry is free for students and seniors and half price for everyone and the museum closes at 21h.
Where to eat
Mark's (El Salvador, 4711, opened Monday to Saturday from 8h30 to 21h30 and Sunday from 10h30 to 21h, less than USD$10 per person)
: A joyful and bright restaurant serving good breakfasts, excellent sandwiches and yummy cakes such as cookies, brownies and muffins.
Burger Joint (Jorge Luis Borges, 1766, opened from 12h to 00h every day and until 1h on Friday and Saturday evenings, around USD$10 per person)
: Head to the counter of this popular, graffiti-covered spot where NYC-trained chef Pierre Chacra offers four kinds of burger to choose from and ask for your favourite. Try the Mexican (jalapeños, guacamole and hot sauce) or Jamaican (pineapple, cheddar and bacon) with a side of hand-cut fries.
Buenos Aires Verdes (Gorriti, 5657, opened every day except on Sunday from 9h to 00h30, around USD$15 per person)
: This long-running organic, vegetarian and vegan restaurant serves raw food, salads, soups and main but also delicious limonades and healthy juices and smoothies. Buenos Aires Verdes also sells a few products including hummus, nuts and seeds and raw chocolate desserts.
Las Cabras (Fitz Roy, 1795, opened every day from 12h to 1h and until 2h from Friday to Sunday, around USD$15 per person)
: Las Cabras is a firm favourite in Palermo Hollywood. Usually packed inside and outside at dinner time, the restaurant serves tasty argentinian classics as well as vegetarian options for a cheap price. The house speciality is the gran bife, a dish to share for two including a large piece of steak, a provoleta cheese, fries topped with a fried egg, vegetable rice, a pumpkin puree and vegetables including onion and red peppers.
La Lechuza (Uriarte, 1980, opened every day except Sunday evening and Monday from 12h to 16h and 20h30 until 1h, around USD$15 per person)
: This classic restaurant has a loyal local clientele, perhaps due to the cheap lunch menu available for less than USD$10. The walls are decorated with eccentric artworks and lechuza (owl) paintings. Meats and pastas are served in generous portions and if you can, save a small place for their delicious chocolate mousse and tiramisu.
El Preferido (Jorge Luis Borges, 2108, opened every day except on Sunday from 9h to 23h, around USD$15 per person)
: Head to this former 1885 grocer's shop and discover a traditional, atmospheric, family-run restaurant. The charm of this restaurant comes from the hanging hams, jars of olives and high tables with blocky wood stools. On the menu, tapas, meat dishes, homemade pastas and seafood soups, or try one of their specialties – the tortillas, milanesas and Cuban rice with veal and polenta.
Don Julio (Guatemala, 4691, opened every day from 12h to 16h and from 19h to 1h, around USD$25 per person)
: This classic Palermo Soho steakhouse is extremely popular amongst locals and travelers for its grass-fed beef cut to perfection and cooked over an iron grill by an asado master. You must go there with an empty stomach. For starters, we recommend the goat cheese provoleta and the mollejas - extra crispy veal sweetbreads with salt and lemon juice, or the lighter arugula and butternut squash salad. As for the main, there is no hesitation. You must try the house specialty, entraña (hanger steak) and bife de chorizo (sirloin strip steak), served with the famous chimichurri and salsa criolla.
Osaka (Soler, 5608, opened every day from 12h30 to 16h and from 20h to 00h, around USD$30 per person)
: One of the local's favorite restaurants in Palermo and Buenos Aires, meaning that reservations are recommended, as Osaka is usually packed even early by BA standards. The Peruvian-Japanese fusion restaurant serves incredibly fresh sashimi and ceviche and the preparation, plating and sauces are all unique. Osaka is an open two-story restaurant with a more bustling downstairs where you will find the sushi bar, the kitchen and several small tables while upstairs is more relaxed with large booths that easily seat 6 people. The service is excellent, waiters are attentive and able to make good suggestions based on your food preferences.
Belgrano
Belgrano was originally a town built in 1857 after the General Manuel Belgrano's death in 1820 when a law was passed to give his name to the next new town. In 1880, the town had grown into a fully-developed city and even served as the nation's capital for a few weeks. In 1887, the federal district of Buenos Aires grew to incorporate Belgrano into one of its neighborhood, now one of the largest barrios in the city, spanning an area of 6.8km. Although not instantly recognizable for its tourist attractions, the upper to middle class neighborhood's residential feel and the presence of grand 19th century homes lining wide and leafy avenues make it a pleasant area for walking and admiring the residential homes. As you aimlessly stroll and discovering what lies around the next corner, try explore the popular meeting point of locals, the Barrancas de Belgrano, a green park designed by French-Argentine landscaper Carlos Thays. At the heart of the park is a pergola and if you are lucky you might catch the public milongas (tango dances) that take place during the weekend. Another reason to visit the neighborhood is for a stop in Chinatown, where you will find the best Asian food of the city.
What to do
Museo de Arte Espanol El Larreta
: Enjoy a charming visit in the old andalusian house of aristocrate, writer, Argentine ambassadeur in Paris and great art collector Enrique Larreta. The house is beautiful, the hispano-mauresque garden is stunning, the patio is sophisticated and the art collection is fabulous. The Museo de Arte Espanol El Larreta is opened Montay to Friday from 13h to 19h and from 10h to 20h on weekends. The entrance is free on Thursday and costs USD$0.85 during the rest of the week.
Iglesia de la Inmaculada Concepcion
: The Iglesia de Inmaculada Concepcion de Belgrano, also known as La Redonda, a stunning church where you'll often get a glimpse of Argentine weddings is located on the Plaza Manuel Belgrano, a pleasant square that hosts a weekend artisan fair where local vendors display a range of handicrafts and jewelry, marking the center of Belgrano.
Where to eat
Aldonza Bar (Sucre 1920, opened Tuesday and Wednesday from 18h to 1h30, Thursday from 18h to 2h, Friday and Saturday from 18h and 20h to 4h, around USD$12 per person)
: Aldonza Bar has everything to love about a bar! The unpretentious Bohemian bar offers a wide selection of drinks at a decent price. Upstairs you will find a cultural center in which you can art exhibits and live shows are presented.
Jolie Bistro (Conde 2036, opened every day from 8h to 00h, around USD$15 per person)
: A modern, cozy and artsy cafe-bistro where art and French cuisine are merge together. Choose between comfortable outdoor tables or inside seats hand-painted by local designer and enjoy a delicious daytime menu in Belgrano's lovely Plaza Castelli area. On the menu, the usual sandwiches, a various selection of salads, and a tempting list of daily specials including risotto with shitake mushrooms and hand-made raviolis with creamed pink sauce as well as tantalizing desserts such as passion fruit or creamy chocolate mousse and white chocolate cake with nutella. Every month the restaurant selects a piece of contemporary art to display in the dining room; the chefs then create a new dish inspired by the artwork. Service is prompt and cordial and the creatively presented dishes come steaming out of the kitchen in record time.
La Parolaccia (Libertador 5823, opened everyday from 12h to 00h, around USD$25 per person)
: Enjoy sweet-potato gnocchi, gorgonzola ravioli or cappelletti in a four cheeses at this Italian eatery specialized in homemade pastas.
El Pobre Luis (Arribeños 2393, opened every day except Sunday from 20h to 00h30, around USD$ per person)
: El Pobre Luis is a famous neighborhood establishment founded on the outskirts of Belgrano's Chinatown by Uruguayan Luis Acuña who arrived in Buenos Aires in 1986. Entertaining and animated, the100% local steakhouse is runned by Luis's children and specializes in achuras (offal). The informal restaurant, serves some of the best grilled sweetbreads in the city as well as Uruguayan specialities such as beef, pork or chicken pamplonas, kidney and liver a la tela. Decorated with football jerseys hanging from the ceiling, El Pobre Luis is a charming and fun restaurant!
Hong Kong Style (Montañeses 2149, opened from 20h to 23h30 Monday, Tuesday and Thursday and from 12h to 15h30 and 20h to 23h30 Friday and on weekends, around USD$25 per person)
: The go-to spot for authentic Chinese food in Buenos Aires is very demanded. Indeed, between the clients coming in one after another and the deliveries, service can be long so make sure to go there with a patient stomach. On the menu, tasty dim sum, sweet and sour pork, whole steamed fish and fiery kung pao chicken.
Puerto Madero
In 1887, Edouard Madero was in charge of creating the principal harbour of the city. Situated riverside along the Río de la Plata in a former commercial docks, modern Puerto Madero is the city's youngest and most expensive neighbourhood. Along the canals, former industrial warehouses have been converted into elegant bars, eateries and offices in a very successful urban waterfront restoration project. The major gastronomic and business hub centerpiece is the iconic Puente de la Mujer. Despite its many skyscrapers, the area makes a calming contrast to the bustle of the city centre, and its riverside walkways and green parks make it perfect for strolling, cycling or lingering over coffee and pastries in a riverfront cafe. After enjoying a delicious lunch on the harbour, you can leave on a 1h30 boat excursion (Monday to Saturday, at 13h) on board of the Humberto M on the Rio de la Plata between Puerto Madero and the Aeroparque.
What to do
Reserva Ecologica Costanera Sur
: Spend an afternoon in this haven of wildlife in the centre of the city. The entrance to the 350 hectares, biggest and most biodiverse green space in the city of Buenos Aires is free. Despite its proximity to the hustle of Puerto Madero, it is a remarkably tranquil oasis of calm, and a perfect spot for walking, running, cycling and family picnics. Along several winding paths, which lead to the Rio de la Plata river, and around three lagoons, you can observe different species of birds, mammals, reptiles and amphibians, as well as more than 500 species of native vegetation including meadows of pampas grass and forests of alder trees.You can walk around the park in about an hour, or hire a bike, which are available at the main entrance of the reserve at Av. Tristán A Rodríguez 1550 in Puerto Madero. The reserve is opened every day except on Monday, from 8h to 18h and 19h during summer.
Museo Nacional de la Inmigracion
: Opens every day except on Monday from 12h to 20h, free entrance. Located in the city's former immigrant hotel, a state-funded institution that, from 1911 to 1953, provided free boarding, orientation, help in finding work and training to immigrants arriving in Buenos Aires. The museum highlights the social, economic and cultural importance of the various waves of immigration that arrived in Buenos Aires, from those that arrived from Europe, Asia and Africa at the end of the 19th and start of the 20th century, to more recent migration from other countries in Latin America. It focuses on every stage of the immigration process - the journey, arrival in Buenos Aires, integration into society, and the legacy left by the immigrants. The museum also hosts temporary art exhibitions, and the same building houses the Center of Contemporary Art, which has held exhibitions by various international artists.
Fragata Presidente Sarmiento
: Opened everyday from 10h to 19h. The entrance costs USD$50. Visit a historic frigate launched in 1897, which was considered one of the most advanced of its day. The ship was named in honour of President Domingo Faustino Sarmiento, founder of the Argentine Naval Academy. Between 1889 and 1938, it carried out 37 international trips and later served as a practice ship in Argentine waters until 1960 until it was declared a National Historic Monument two years later. The ship was used to represent Argentina during many official events such as the coronation of Edward VII of Great Britain in 1902 and the opening of the Panama Canal in 1914.
Coleccion de Arte Amalia Lacroze de Fortabat
: Opened everyday except on Monday, from 12h to 20h, the gallery hosts temporary exhibitions and features international artists including Rodin, Warhol, Turner, Dalí and Blanes, as well as Argentine artists such as Badii, Berni, Quinquela Martín, Noe, Perez Celis, Fader, Soldi and Xul Solar in its important private art collection of more than 150 works. One of the stand-out architectural features of the building, overlooking the northernmost dock in the Puerto Madero neighbourhood, is a system of mobile aluminium awnings over the roof, which can be moved to create the perfect lighting conditions according to the position of the sun. The entrance fee costs USD$5.20.
Where to eat
Siga La Vaca (Alicia Moreau de Justo, 1714, opened every day from 12h to 1h and until 2h Friday and Saturday, around USD$25 per person)
: Siga La Vaca is always filled with people, which gives it a chaotic as well as fascinating atmosphere. The all-you-can-eat buffet has a large choice of side dishes and offers a huge amount of meat.
Madero Buenos Aires (Alicia Moreau de Justo, 580, opened every day from 12h to 16h and from 20h to 1h, around USD$25 per person)
: A perfect spot, along the harbour of Puerto Madero to taste the famous Argentinian parrilla. The restaurant also serves grilled fish or you can choose from a great variety of salads.
Cabanas Las Lilas (Alicia Moreau de Justo, 516, opened every day from 12h to 00h, around USD$33 per person)
: A charming and joyful restaurant where you will eat an excellent argentinian meat in copious portions. Their wine list is also fabulous.
La Boca
is a popular area to visit despite being a rough and low-income neighborhood. This section is known for having colorful buildings along the Caminito. Also, famous football (soccer) star Diego Maradona played at the Boca Juniors Football Club here. La Boca is a safe tourist area for visitors by day, but it is not recommended to walk the streets of La Boca at night. It is located next to the old port, an obvious point for boats to come ashore, thus it was an area where the poorer immigrants settled - around 6 million foreign immigrants entered Argentina between 1880 and 1930.
What to do
Caminito
: Translated as "little walkway", this road is has become known for its colorful buildings painted brightly to help rejuvenate the area. Many small outdoor shops will often sell items to the visitors here. Unfortunately, the high concentration of tourists present on this now famous street has taken away some of its authenticity.
Museo Benito Quinquela Martin
: La Boca also has some excellent arts and cultural centres, such as the Museo Benito Quinquela Martin. The museum is located above the municipal school of La Boca, built in 1938 by a local artist Quinquela Martin, the man responsible for the bright colours of La Boca neighbourhood. His intention was to create an educational and cultural centre in the neighbourhood. Today, the museum's collection is representative of the history of Argentine art and features several key figurative artists working from the late 19th century to the present day. In the Museo Benito Quinquela Martin, you will find the largest collection of Quinquela Martín's oil paintings and etchings, all completed between 1922 and 1967 and some of the artist's personal possessions.There is also a fabulous collection of ship figureheads and a display of Argentine figurative sculptures on the museum's terrace. The museum opens every day except Monday from 10h to 18h during the week and from 11h to 18h on weekends and has an entrance fee of USD$2.30.
Fundacion PROA
: A bright space where contemporary and modern art exhibitions take place. Temporary exhibitions are sometimes in partnership with the Whitechapel Art Museum in London or the Fondation Cartier in Paris.The Fundacion PROA is opened Tuesday to Sunday from 11h to 19h. A ticket to the museum costs USD$2.90 and is free on Tuesday from students. You can enjoy the museum's cafe and its terrace's stunning view on the neighborhood without a ticket to the museum.
Usina del Arte
: A handsomely restored former power plant, which is now a major music and arts venue. Its auditoria have some of the best acoustics in the world. The center of interdisciplinary and cutting-edge culture for music, dance and other artistic expressions is opened Tuesday to Thursday from 14h to 19h, Friday from 12h to 21h and on weekends from 10h to 21h. The entrance is free.
Estadio Alberto J.Armando de Boca Juniors (La Bombonera)
: In a country where football is a religion and Diego Maradona a god, the Club Atletico Boca Juniors and their stadium, La Bombonera is of indisputable importance in Buenos Aires. In order to feel this passion, discover La Bombonera and its vasts frescos along the exterieur of the stadium, which was first opened on 25th of May 1940. Diego Maradona once proclaimed that is was "the temple of international football". If you can afford to go see a match, or if you simply go into La Boca during a night when the team is playing, you will not be disappointed!
Puente Nicolas Avellaneda
: Two bridges made of iron were built only a few meters away from one another during the XIX century. You can see a panorama of the Riachuelo from the pedestrian walkway of the Puente Nicolas Avellaneda built in 1939. Beside the bridge is the former Nicolás Avellaneda Bridge, which was built in 1908 and declared a Historical Monument in 1999. It is not in use today as only its iron structure has been kept.
Where to eat
El Obrero (Caffarena, 64, opened every day except Sunday from 12h to 16h and 20h to 00h, around USD$12 per person)
: Enjoy Spanish specialities at El Obrero, a former workers' restaurant founded by two Spanish from Barcelona. Puchero, beef mariposa, rice with calamari and other traditional dishes are served in a cozy and charming room filled with photos and paintings of soccer and boxing. Reservation is recommended if you want a table in the evening.
Don Carlos (Brandsen, 699, opened every day except on Monday and Sunday from 12h to 15h and 20h to 23h, around USD$20 per person)
: Enjoy every mouthful of your food hot as the chef brings you bit by bit your order on small plates. Classic Argentine food is served
Il Matterello (Martin Rodriguez, 517, opened every day except on Sunday evening, from 12h to 16 and from 20h30 to 00h, around USD$20 per person)
: 9 types of pastas and 13 different sauces are offered at Il Matterello, where you will rediscover Italian food with a touch of Argentina!
La Perla (Pedro de Mendoza, 1899, opened every day from 8h to 19h, around USD$20 per person)
: An attentive service, a great wine list, food for every taste (pasta, sandwich, empanadas) and a charming setting. La Perla is situated on the main square of the tourist area of La Boca and remains one of the only cafe-restaurant that has kept its authenticity with its colorful facade, wooden counter and old bricked walls covered with movie paintings and photos.
Tigre
Just a short train ride from the centre of Buenos Aires, no more than an hour's train journey from Retiro station, Tigre with its thousands of islands, streams and canals is the perfect place to disconnect and get in touch with nature. Buenos Aires is an intense, exciting capital with a life and energy that can be felt in the air and in the city's streets, but it is surrounded by very different landscapes. Tigre is a riverside getaway with stilt houses, old mansions, aristocratic rowing clubs and craft shops, and the point of entry to the incredible Paraná delta with its labyrinthine network of islands and canals.
What to do
Museo Naval de la Nacion
: This monographic museum, with respect to the sea, navigation, geography and the Argentine naval history, has 3000 square meters of rooms and houses 4000 pieces, including models of ships and aircraft, paintings, sculptures, flags, shields, onboard furniture, uniforms, documents, cartography, nautical instruments, weapons, ethnic crafts, pieces of archeology maritime, naval machines and aircraft. The museum opens Tuesday to Friday from 8h30 to 17h30 and from 10h30 to 18h30 on weekends. The entry costs USD$1.
Museo del Mate
: The museum features more than 2000 pieces of bombillas (drinking straw with a strainer at one end used for drinking mate) and other objects linked to the culture and production of yerba mate. Discover the history of mate at the Museo del Mate, opened Wednesday to Sunday from 11h to 18 and 19h during summer. The entry costs USD$1.50
Museo de la Reconquista
: The museum is an old colonial-style house, which offers six exhibition rooms. The Museo de la Reconquista contemplates the formation of the islands of the Delta, its fauna, its flora, the megafauna that inhabited the territory and its original inhabitants, putting in context a selection of the pieces of the Museum's collection. While the museum is dedicated to the natural history and the native population of Tigre, it also explains the history of the Reconquest from the arrival of Santiago de Liniers, who chose the town of Las Conchas (now Tigre) to begin his march towards the liberation of Buenos Aires. Santiago de Liniers was the man who was in charge of the expedition to reconquer Buenos Aires from the English in 1806 and 1807. Opened Wednesday to Sunday from 10h to 18 and 19h during summer, the museum's entrance is free.
Museo Sarmiento
: The house that President Sarmiento built during the second half of the nineteenth century is still equipped with its original furniture and opened to visits Wednesday to Sunday from 10h to 18 and 19h during summer. The entrance is free. In the annex pavilion is the Municipal Library "Paula Albarracín de Sarmiento" and a historical photographic exhibition of the evolution of the islands to which President Sarmiento gave so much support. You will also find in the estate old trees planted by himself.
Parque de la Costa
: The amusement park of Tigre (roller coaster, ferris wheel,...), mainly visited by families from Buenos Aires, is opened on weekends and public holidays from 11h to 18h30. The entrance costs USD$14.30.
Puerto de Frutos
: The former farmers' market of the town has become a flea market, selling antiques, decorations, jewelry and many more tourist souvenirs. The market is opened every day from 10h to 18h and 19h on weekends.
Isla Martin Garcia
: Only 50km away from Buenos Aires, where the Parana delta transforms itself into the Rio de la Plata, boat excursions to the Isla Martin Garcia, facing the uruguayan side, are available. You can choose to sleep in the island's hotel or to camp there for a night. After taking a bus to Tigre, the excursions leaves at 6h in the morning from Tigre to reach the island at 15h30. While Isla Martin Garcia was first a quarantine camp for European immigrants, then a prison for Indian deportees and finally a luxury prison for famous people, the small island of 4km2is now a peaceful natural park with colorful houses, fields covered in flowers and a quiet atmosphere.
Where to eat
Boulevard Saenz Pena (Blvd Sáenz Peña 1400, opened from 10h30 to 19h Wednesday to Saturday, from 8h30 to 1h Friday and Saturday and from 10h30 to 17h on Sunday, around USD$12 per person)
: The spacious and modern cafe serves salads, sandwiches, coffee and cakes and has a few cozy tables on an outdoor patio, covered with ivy and surrounded by plants. Boulevard Saenz Pena is decorated with contemporary design touches and also has a shop here, selling art, books and homewares.
Almacen de Tigre (Blvd Sáenz Peña 1336, opened from 9h30 to 19h on Sunday to Thursday and until midnight Friday and Saturday, around USD$15 per person)
: Almacen de Tigre has a friendly and attentive service. On the menu, a tempting range of healthy soups, salads, sandwiches but also bigger mains for those hearty eaters, such as lasagne and milanesas, as well as homemade cakes.
Maria del Lujan (Paseo Victorica, 611, opened everyday from 8h to 1h, around USD$15 per person)
: Enjoy a tasty meal in the shady patio of Maria del Lujan, found on Paseo Victorica, Tigre's lovely riverside avenue. The restaurant serves the usual Argentine dishes including grilled meats, homemade pastas and a few seafood dishes.
La Riviera (rio Sarmiento, 356, opened every day except on Tuesday from 12h to 16h and from 20h to 00h, around USD$20 per person)
: You will find everything you need at La Riviera. Tables along the Rio and a good local cuisine.
El Hornero (Arroyo Abra Vieja, 360, opened every day from 9h30 to 19h and until 1h Friday to Sunday, around USD$20 per person)
: If you still haven't had enough of the famous argentinian meat, check out this bar-restaurant very much appreciated by the locals. A trendy and modern restaurant where it is worth grabbing a bottle of wine or a few beers on the wooden terrace overlooking the rio.
Gato Blanco (rio Capitan, 80, opened every day from 11h to 17h, around USD$20 per person)
: An elegant restaurant and tea house with a spectacular view on the edge of the Rio Capitan, serving simple Argentinian food. The romantic restaurant welcomes many couples during the week and families on weekends. A playground is available for children from 10h to 17h.