Should you visit Brazil or Bolivia?
If you decide to travel to Rio de Janeiro, you will discover a very exciting atmosphere. You can relax on the beaches of Ipanema and Copacabana, experience the Brazilian party scene, enjoy the view of the city from the Christ Redeemer on Corcovado Hill or learn more about Rio's historical past. And depending of the season, you can even take part in the Rio Carnival or the Oktoberfest. Rio de Janeiro is a large city, which can be a little overwhelming for visitors who are travelling for a getaway from a chaotic city or environment.
The Iguazu Waterfalls and Its 275 individual waterfalls spread over 3 km are a completely unique natural wonder. Just next to the waterfalls, you can also see visit the bird park and discover some beautiful birds such as the Hyacinth Macaw and toucans.
The reasons to visit Bolivia are also abundant. While it's true that much of Bolivia isn't set up for tourism, those willing to go on this less traveled adventure are rewarded with eye-opening experiences, breathtaking activities, and stunning photo opportunities, not to mention fabulous stories to tell back home. On thing Uruguay and Bolivia have in common is that friendliness in both countries is reciprocal. Despite the widespread poverty in Bolivia, there is a amazing energy from locals eager to share the beauty of their country. In Uruguay and Bolivia, gracious hospitality and warm smiles are given to tourists who show respect, consideration and a genuine interest toward the local way of life. Contrary to what you may have heard, Bolivian food does not only consist in rice and beans but include meat, corn, eggs, potatoes and the "superfood" quinoa, one of the most commonly used ingredients in Bolivian cooking. Traditional dishes come from a mixture of Spanish cuisine and indigenous ingredients and include a lot of spice.
On the contrary to Uruguay, Bolivia is a country of extremes. From freezing cold snowy mountain peaks to sweltering hot amazon lowlands, the country has a great array of climates and cultures, attractions and adventures. With its high altitude cities and glistening lakeside villages, Bolivia's landscapes are incredibly diverse. From spectacular dusty red mountains and beautiful lakes to the dense Amazon jungle or the stunning Salar de Uyuni, Bolivia's transcendent scenery is breathtaking at every turn. This makes Bolivia one of the most bio-diverse countries on the planet and has about thousands of species of birds, animals, fish, reptiles and amphibians, which travelers can encounter during their trip if they pay attention. Bolivia is also a budget traveler's paradise that offers the best value for money in South America. You can eat well, sleep comfortably, purchase souvenirs and experience many of the activities and tours on offer without having to worry about money. Steeped in history and with indigenous culture everywhere, Bolivia will not disappoint you. The country's ability to combine a modern lifestyle with traditional values is truly wonderful. Ancient Andean customs are still practiced by many indigenous Bolivians who wear traditional dress and use natural remedies to treat illnesses. Catching a glimpse of the 36 indigenous cultures present in Bolivia, each with their own customs and most with their own languages, really makes an impression.. Finally, from the spiritual and traditional, to the more wild and westernized, Bolivia's festivals are unique, colorful and fun. If you can, travel to Bolivia during the Oruro Carnaval, a fantastic experience for any fun loving traveler.
When is the best time to visit Brazil and Bolivia?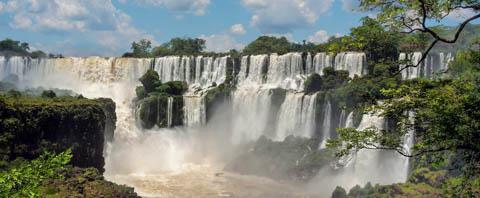 Brazil is made up of several climatic extremes, none of which are severe enough to prevent travel to any part of the country at any given time. Across the country, the warmest months are November to March, also a perfect time for enjoying New Year and Carnival celebrations. The northeastern coast experiences some rain in June and July, but usually only in the form of afternoon showers. The Pantanal's driest months between April and October are a good time to visit Brazil, but like in the Amazon, its wetter months offer distinct wildlife spotting opportunities and experiences. While Brazil is an all year round destination, the time you decide to visit can be relevant depending on the activities you have planned. Mid-summer, between January and March has warmer days that are accompanied by the start of the rains in the Amazon and the Pantanal. February is a particularly popular time for Brazilians to travel, as the Carnival often falls in this month. April and May are a great time to travel as the high temperatures of the last few months are starting to decrease and the Pantanal enters in its dry season towards the end of April. In June and July, evenings are cooler, but the air is fresh and the sea is still warm, which makes it a perfect time to explore the Green Coast between Rio and Sao Paulo. As June arrives, so does Bahia's rainy season, but it is usually fine to plan your day around the few afternoon showers. The best time to visit Rio is perhaps in August, September or October, when spring is arriving, there are few clouds in the sky and the temperatures are on the rise. During the summer months you can expect high temperatures across the country. Rio de Janeiro tends to be hot and dry in November and December, but it can be particularly busy as visitors flock to the city to celebrate Christmas and New Year. Most of the northeast tends to experience similar hot and dry weather, which also makes the water levels in the Amazon very low in December.
Consisting of temperate valleys, semi-arid highlands, humid jungles and balmy villages, Bolivia's weather differs greatly depending on the altitude and topography of the region. Because most of the country is situated at a high elevation, temperatures vary from hot and humid during the day to freezing cold at night. Although Bolivia is a country of climatic extremes, it is a destination that can be visited all year-round. Bolivia's temperatures are determined by the altitude as well as the season, with highland areas such as La Paz, Lake Titicaca, Potosi and Uyuni generally cool year round, extremely cold at night and with strong sunshine in the dry season, making high factor sunscreen essential. The ideal time to visit Bolivia depends on the sights you want to see, the tours you would like to experience, and the mode of transport you intend to travel. The eastern lowlands, including Santa Cruz and the Amazon, enjoy warm temperatures year round. The best time to visit the highland areas is from April to October, with June to September being the peak time for visitors, meaning that you should plan well in advance to get the best choice of accommodation. While it is the cooler winter period, it should be dry with plenty of sunshine. Bolivia's dry season is the most popular time of the year to travel, as road travel is easier and the bright sunny conditions mean you can photograph the salt flats and Lake Titicaca against dazzling blue skies. For those wanting to experience the "largest mirror on earth", visiting Salar de Uyuni between March and April will increase your chances of seeing the natural phenomena. Visiting Bolivia in November to March is still perfectly enjoyable for the more adventurous who don't mind occasional delays as roads can be disrupted due to heavy rains. The lower visitor numbers are also a bonus of visiting Bolivia at this time. As the rain season begins, temperatures become a little milder in the highlands and more humid in the lowlands.
Why is Brazil more expensive than Bolivia?
In recent years, the Brazilian economy has boomed. As a result, increased wealth and inflation have augmented the prices. However it is difficult for some to keep up with the prices and the country's economic expansion is not necessarily benefiting the lower classes. While some services are less expensive in other areas of the country, food and transportation are quite costly around many areas in Brazil and especially in big cities including Rio de Janeiro and Sao Paulo. Therefore research, plan and budget accordingly as you don't want to find yourself short of money while visiting.
Bolivia is the ultimate cheap destination of South America. Although the country's recent economic progress has seen some prices and the standard of living rise, there are still bargains to be found in food and accommodation. Bolivia tends to offer the lowest prices for accommodation and the cheapest options for food and drink as well. There are certain tourist activities that you will need to take into account. For example, a popular activity is to ride a mountain bike down the so-called 'Death Road' near La Paz, which costs around USD$100 depending on the company and the quality of the bikes. A 3 day tour of the Salt Flats of Uyuni roughly costs $120, which is a steal for the incredible experience you will
What are the most expensive and cheapest cities and regions in Brazil and Bolivia?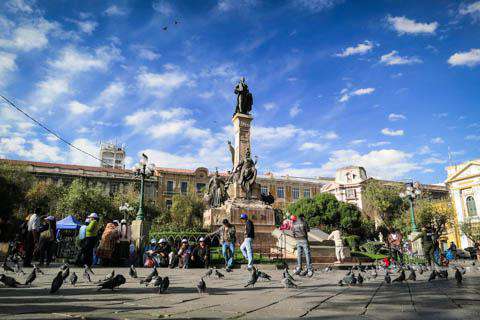 In Brazil, the Northeast and Southeast are the most expensive regions of the country. Northeast is the Brazilian region with the largest coastline of the country, which makes the region very appealing to tourists around the world. They are a very important source of income for the Northeast, thousands of foreign and Brazilian tourists visit the Northeast annually in search of beautiful beaches, views and sun. The Southeast is the vital center of the country, where the largest cities, the highest population density, and the best ports are concentrated. It's the most important industrial, commercial and financial region of Brazil.
Bolivia has long been a favorite among backpackers and adventure travellers due to the simple fact that it is very affordable to travel. If you are seeking comfort, although it might not be up to "Western" standards, it is available but if you are looking to save your pennies, this may be the best place in South America. There is not much difference in prices when travelling around Bolivia. Large cities such as Sucre, Copacabana and La Paz are perhaps a little more expensive than smaller towns due to competition and increasing tourism but accommodation and food remains so cheap that it is barely noticeable. Sucre is possibly the most beautiful city in Bolivia, full of proud inhabitants, cultural expressions and colonial architecture. Copacabana is mainly a base city from where you go explore Isla del Sol at Titicaca lake. You can also find cheap places to stay. If you are in a group, you can usually get a good discount if you all stay at the same hostel. La Paz is certainly one of the most unique cities in the world, a spectacular mix of chaos and beauty. La Paz is the highest capital in the world, and it is the true face of Bolivia.
How you can save money when visiting Brazil and Bolivia?
You should also agree on taxi prices for your journey with the taxi driver before setting off but taking the bus is much better most of the time. You can use couchsurfing for accommodation, which connects you with locals who will give you not only a free place to stay, but also a local tour guide who can introduce you to all the great places to see. If you prefer to stay in a hotel get a double room. In Brazil, you will pay a premium for a single room, almost twice the cost of a double. Pair up with a friend to halve the cost of your accommodation if you're not keen on staying in a dorm. Finally, if you can, travel off season if you want to keep prices low.
In Bolivia, the surest way to waste money is to use credit cards. First of all, you will pay an extra 3% to use them anywhere you go. Secondly, many places don't accept them.
In supermarkets and stores that have price tickets on their items you cannot bargain the price down. But in most open markets it's a mistake not to. Vendors automatically increase the price as soon as they see you are foreign and expect your first reaction to be a request for a price break. Hold your line, stand firm, and be prepared to walk away if you don't like the price. After that, you'll be surprised at how prices will come down just a few seconds later.
Ask the locals what is great to see. Stay on the tourist path 100% of the time and you will waste a lot of money as well as miss out on some really nice places to visit. Most museums and art galleries in Bolivia don't charge an entry fee. Check out the hundreds of great local parks and plazas that provide amazing photo opportunities.
Be careful of fake taxis and other scams, especially in big cities like La Paz. Be particularly attentive to shared taxi, which are cheaper, but extremely dangerous as the driver can pick up other passengers without your permission.
Research what documentation is needed to enter the country. Americans need a tourist visa to enter Bolivia along with a yellow fever card and several other documents. Tourists from other countries have different requirements but all are required something to enter. Having all the correct documents before you arrive will be a true blessing to your wallet. Getting them here can cost you more, waste your time, and potential end up getting you sent home if you don't have the documentation you need.