Israel On a Budget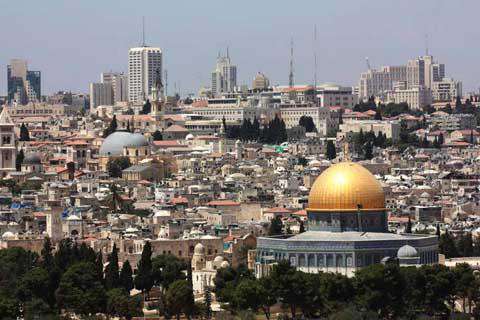 Often at the center of controversy, Israel is the crossroads of Judaism, Christianity, and Islam. This cultural diversity and spiritual richness make a visit to Israel unlike any other trip you'll take. Step back in time in old town Jerusalem, party in cosmopolitan Tel Aviv, or visit the beautiful city of Haifa. The area's old meets new atmosphere is only one example of how this is a country of contrasts.
While Israel is a country filled with sights of both historic and religious significance, it is also a country with beautiful natural beauty, important geographic significance, and wonderful national parks. You can easily travel around Israel on its excellent bus system and there is little need to rent a car or take a tour. The one exception is the Golan Heights area in the north, where public transportation is rare or nonexistent. A rental car will give you access to the beautiful national parks in this area as well as the many sights and communities. Some people choose to hitch hike through this area. It's very possible to do this, but you may have long waits before finding a ride. This is easily the most affordable option, but for those short on time it can also be frustratingly inconvenient. If you end up in the area during a holiday it will be even more challenging to find a ride as you will be competing with many other travelers.
Because of its many significant sights that are sprinkled throughout the country, it is easy to turn a trip to Israel into a highlights tour. Avoid this if possible because there really is so much more to this country. Chat with a family in Haifa and you will learn so much about this area's history, politics, and religious beliefs. Go to Shabbat and you'll have a unique cultural experience that you can't have anywhere else in the world. Don't just check sights off the list, but visit Israel for what it really is, a country about its people.
Food in Israel is typical Middle Eastern fare. Felafel and hummus are readily available as is the specialty dessert halva, which shouldn't be skipped. In general, Israel is a surprisingly expensive country, particularly when compared to its nearby neighbors. Food is quite expensive so cooking whenever possible is your best option. Hotels are also very expensive. It's really hard to find budget accommodation but there are hostels throughout the country. They are surprisingly expensive for their quality level however. Definitely avoiding traveling in Israel during a holiday when prices jump up dramatically.
At A Glance
Public buses are the best way to travel around the country. Security is tight at all bus stations so don't be surprised if you have to pass your bags through a metal detector. It's best to pack light because the lines can be long and the scanners small. If possible, avoid traveling with bulky bags.


If possible, avoid visiting Israel over a holiday. Many things close down on holidays and in touristy areas the crowds can be overwhelming. Buses also sell out early over holidays so if you can't avoid, make sure you buy your tickets well in advance. Also make sure you have reservations for a hotel room as places can fill up.


Despite the incredibly hot weather, most tourists head to Israel during the summer months. If possible, pick another time because the landscape will be more lush and the weather will be more comfortable during the fall or spring months. It is interesting to see the crowds of students who flock to the area in the summer though. It really becomes part of the experience.


If you've traveled to Syria or Iran and have a stamp in your passport, prepare for a slight delay at the border crossing into Israel. The delay shouldn't be more than an hour or two, but you may miss the ongoing bus because of it. You will be asked several questions about your purpose for travel and your family, and then you will likely be allowed entry into the country.


If you're in the country during the summer months and you're traveling on a budget, splurge for a room with air conditioning. It can be incredibly hot in the rooms so air conditioning will dramatically improve the quality of your visit.
Related:
Looking for a
hostel in Delhi
or
Goa
? Heading to
Kathmandu
or want a
party in Tel Aviv
?
Top Tourist Attractions
The Dead Sea:
The Dead Sea is a unique experience where the high salt concentration of the water allows you to float with abnormal buoyancy. Don't spend too much time in the water or the salt will begin to irritate your skin.
Old Town Jerusalem:
With the highest concentration of religious sights, this area truly represents a crossroads in religion. You should definitely allow yourself at least several days to explore this culturally rich area.
Tel Aviv:
The most cosmopolitan and modern city in Israel, this is where you want to head if you're looking for a good party or some great beaches.
Popular Foods
Food in Israel is much like what you would find elsewhere in the Middle East. In the cities you'll also find a wide variety of international selections. Tel Aviv probably has the greatest diversity of restaurants with Jerusalem in a close second. Most of the produce is very fresh, and the options are usually healthy and delicious.
Falafel:
One of the most popular foods in Israel, you can always find falafel at street stalls. It's made from fried chickpea balls that are usually served in a sandwich and accompanied by a pickle. It's one of the best budget food options in the country.
Hummus:
Hummus is a creamy chickpea dip that is served as a sauce on sandwich or as a dip for chips. It's a great option for a snack and can be bought at street stalls or in markets. Many people serve it with a little bit of olive oil and some pita bread. The freshly made hummus is always the best.
Shawarma:
This is a sliced lamb or turkey dish that is typically served on a pita. You can find it at street stands or in restaurants. It's usually strongly seasoned and grilled to perfection. It can be served alongside of hummus, a salad, or pickles.