Tel Aviv On a Budget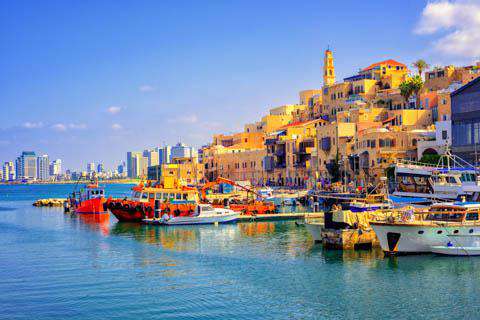 Tel Aviv is the second largest city in Israel and is situated on the Mediterranean coast 60 kilometers north of Jerusalem. It's a rapidly growing city and is one of the most modern and cosmopolitan cities in Israel. The official name is Tel Aviv-Yafo because the city has grown to include the ancient port city of Yafo. If you're looking for an embassy, you are likely to find it in Tel Aviv, despite Jerusalem being the official capital of Israel.
Tel Aviv has a Mediterranean climate and the summers are hot while the winters are mild and wet. January is usually the coldest month with an average high of about 64 degrees Fahrenheit and an average low of 48 degrees Fahrenheit. August is the hottest month with average highs in the high 80s Fahrenheit and lows in the low 70s Fahrenheit.
Sights
Areas throughout Tel Aviv that are worth checking out include
Old Jaffa
, which is one of the oldest ports in the world. You'll also find a popular flea market nearby. Rabin Square is the largest public square in Israel and Dizengoff Centre is the most famous shopping area in Tel Aviv. Also be sure and take a stroll down the shore promenade where you can people watch and enjoy the warm Mediterranean coastline. Joshua Gardens is Tel Aviv's main central park and is also worth a visit.
There are also a handful of museums in Tel Aviv that are worth a visit. These include Tel Aviv Museum of Art and the Museum of the Jewish Diaspora.
Neighborhoods
Tel Aviv is a city of neighborhoods, and you could easily pass several days exploring some of the more interesting neighborhoods. There are more than 50 neighborhoods in total with some of the more interesting ones being Neve Tzedek, Florentin, and Ramat-Ha'Chayal.
The city center is at the heart of the city. This is where most of the tourist attractions are. This area is defined by Allenby Street to the south and Yarkon River to the north.
The northern part of the city is the wealthiest area. There are many parks, Tel Aviv University, and Eretz Israel Museum in this area.
The southern areas are younger and home to many foreign workers and illegal immigrants. Some of the neighborhoods have become quite trendy.
Jaffa (Yafo) is one of the world's oldest ports and has a lot of religious and historical significance.
Activities
There is no shortage of activities that you can enjoy while you're in Tel Aviv. Many people visit the beach, which is best enjoyed during the summer months. It's a festive atmosphere, particularly on Friday afternoons when music, barbecues, and party crowds are easy to find.
If you're interested in enjoying performing arts, then your options include Israel's Philharmonic Orchestra, the New Israel Opera, Tmuna Theater, Suzanna Dellal Center, Habima National Theater, and Hacameri Municipal Theater.
Football (soccer) is the most popular sport in Israel and there are three major football clubs in Tel Aviv. These are Maccabi Tel Aviv, Hapoel Tel Aviv, and Bnei Yuhuda.
Popular festivals in the city include the White Night Festival, Tel Aviv Fashion Market, Night Flea, Docaviv, The Tel Aviv International LGBT Film Festival, the Tel Aviv International student Film Festival, and Ta'am Ha'ir.
Food and Dining
The restaurant scene is Tel Aviv is excellent. You can really find any food option you might desire. There are many international options throughout the city including Chinese, sushi, French, or Italian. Food can be quite expensive in Israel (because much of it is imported), and if you're on a budget you'll find falafel or hummus options at many of the street stands around town. For more information, check out this amazing
Tel Aviv food guide
which contains information about the best restaurants and dining options in the city.
Transportation
Because Tel Aviv is a travel hub for many visitors, it is quite common to rent a car here to travel around all of Israel. The roads are great for driving here, and the country isn't too large so having a car is a good option. But first, check out
10 things you need to know before renting a car in Israel
for some great tips and advice.
The best way to travel between neighborhoods in Tel Aviv is
by bus
. The bus system, like elsewhere in Israel, is quite efficient and easy to understand. Another option is by taxi. Taxis are readily available almost anywhere. You can expect to pay anywhere from 20 to 30 NIS for a local ride in Tel Aviv, and do confirm that your driver is using their meter.
Bicycling is also gaining popularity in the city. The flat terrain and comfortable weather make it a good place to explore by bike. There are an increasing number of bike paths around as well. You can rent bikes at several of the bike shops around town.
Related
Looking for a
hostel in Delhi
or
Goa
? Heading to
Kathmandu
or want a
party in Tel Aviv
?