The Best Corniglia Airbnb's: 7 Affordable Places to Stay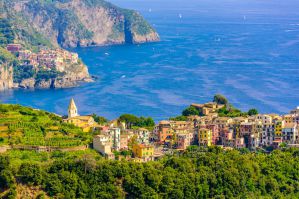 Corniglia sits higher up on a hill than the other towns in the Cinque Terre, so may of the buildings have fantastic views looking out over the sea. As the middle of the five towns, from here you can hike in either direction to reach the others, as you are centrally located. Corniglia is one of the more affordable towns in the park, too, which makes it popular for budget travelers. It also feels a little more quiet. Rest easy, though, as there are still plenty of shops and restaurants in the town for you to explore. So, here's our list of some of the best affordable rental apartments and houses in Corniglia in the Cinque Terre.
The Best Affordable AirBnB's & Apartments in Corniglia
Contents: Amazing Views | Sea View - Pele 2 | Large 2 Bedroom | Central Square with a View | Large 2BR with Terrace | Cute Central Flat | Cute Central Studio
The amazing view of this one bedroom apartment makes it worth the stay. And that's not to say that the apartment is lacking in any other way, either. The interior is comfortable, full of natural light, clean, and modern but with a rustic vibe. The main bedroom has a large bed, and two more people can sleep on the sofa-bed in the living room. This would be a great place for a couple or a small family.
The small kitchen is perfect for cooking a small meal or having leftovers from the nearby restaurants. A stove, oven, sink, and fridge are all there, as well as plates and pots. Why not have your meals out on the balcony where you'll find a table and the best views in Italy?
Both the living room and bedroom have TV's. The bathroom is modern and includes a washing machine.
As mentioned earlier, the views from this apartment are spectacular. It's located within a short walk of everything in town, not far from the center. It's also not far from a great swimming cove down the hill.
This refurbished apartment has modern touches and a fantastic view overlooking the town and the sea. You'll want to spend all day sitting out here sipping your coffee and drinking the local wine. Don't worry, though, the apartment is located in town so it's easy to roll out into the streets to find some delicious food at the nearby restaurants.
This spacious 2-room apartment has one bedroom and a large living room with a table and kitchenette. A third person could even sleep on the sofa-bed in the living room. This apartment would be perfect for a couple or a family with only one child. The kitchen has a stove, sink, fridge, and microwave.
Wi-Fi, essentials, air conditioning, and free parking are also included.
Compared to other nearby rentals, this apartment is huge. With 2 bedrooms and a large living room and kitchen area, as well as a balcony, this apartment is large enough for a family or group of 6 people. The two bedrooms are up the spiral staircase. The balcony overlooks the town below so you can watch the activity and see the historic town in action.
The kitchen is fantastic, too. With everything you need to make a meal for multiple people, it's fully stocked. A stove, oven, dishwasher, sink, and refrigerator are included, as well as dishes and pots and pans.
The living room has a fireplace and a TV. The upstairs bedrooms also have TV's. One bedroom has a large bed, while the other has two twins. More people can sleep in the living room on the sofa-bed. The bathrooms are renovated, modern, and very clean.
For the price, this place is a great deal. In one of the other towns, it would probably cost twice as much! Wi-Fi, air conditioning, a washing machine, and other essentials are included, too.
For more information on accommodation in Cinque Terre, check out Hostels in Cinque Terre, Italy for Budget Travellers, Female Travellers, and Groups, The Best Vernazza AirBnBs, Affordable Apartments in Riomaggiore, Monterosso AirBnB's and Places to Stay, and Places to Stay in Manarola.
This single bedroom is great for a couple, as it's located right off of the main town square. It has an attached bathroom which is clean and modern. The room has great views overlooking the surrounding town and the sea. This is a perfect little spot for anyone that wants to have the conveniences of comfort and location at an affordable price.
Here you'll find plenty of space at the edge of town, and only a short walk to everything you need. This 2 bedroom apartment can sleep up to 6 people, and has a large terrace with stunning views looking south down the coast. With modern renovations, the kitchen and bathrooms are clean and fantastic. The kitchen has everything you would need to prepare meals (stove, oven, fridge, etc) along with a lot more space to cook than you would find in other rentals.
One of the bedrooms has bunk beds, so this would be the perfect spot for a family. You're not far from everything in town, as well as not far from the shore for a dip in the sea, too.
Also included are Wi-Fi, air conditioning, TV, and other essentials.
The historic entrance of this apartment will be just the beginning of your adventure exploring Corniglia. Climb the steps to find this great studio apartment with a full-sized bed, another single bed, and a fully stocked kitchen. The kitchen has a stove and oven, so you can save some money by making your own meals. The bathroom is also modern and clean. And with free Wi-Fi, a washing machine, and other essentials included, you'll be very comfortable.
This is the perfect spot for a couple looking for a romantic getaway, or a family with one child looking to explore the area on a budget.
This small but nicely appointed studio apartment is perfect for a couple looking for a romantic getaway on an affordable budget. Not only is it located in the center of town, close to everything, but it also has a nice little kitchenette. With a stove and an oven, you can prepare your own meals with fresh foods purchased at the nearby markets (or just eat out). The small balcony overlooks the lively street below and the surrounding colorful buildings. The bathroom is also modern and clean. Wi-Fi and a washer are also included.
Some photos are courtesy of airbnb.com.
Share This Article