The five towns of the Cinque Terre each have similar beauty and scenery, but each town is also unique in its personality. Choosing a place to stay can be a hard decision because there are so many amazing options.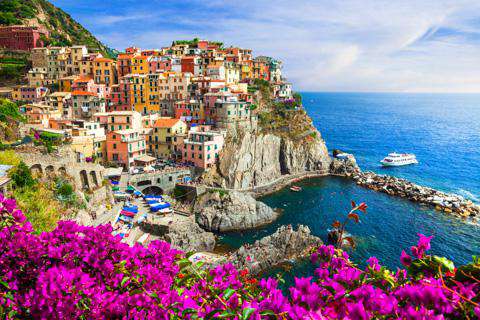 Generally, the number of hotels in the towns of Cinque Terre is limited, so the best option is to rent a room or an apartment from one of the many local owners in the villages. These old and colorful buildings are full of quaint apartments that are the perfect place to stay for any size group visiting the area. So if you're a single traveler, a couple, or a family or group, it's actually not too difficult to find a place to stay here.
From north to south, the five towns are Monterosso, Vernazza, Corniglia, Manarola, and Riomaggiore. We have more detailed recommendations for each town in separate articles (linked below), or read on for an overview and the overall best affordable places to stay in each of the five towns.
Monterosso al Mare
Monterosso is more spread out than the other towns, but it's still fairly small and walkable. It's the only town with a sizable beach area, although it's a bit pebbly and narrow. This town is where more of the higher-end places to stay can be found, such as a few boutique hotels, nicer apartments, and thus slightly higher costs.
Casa Magenta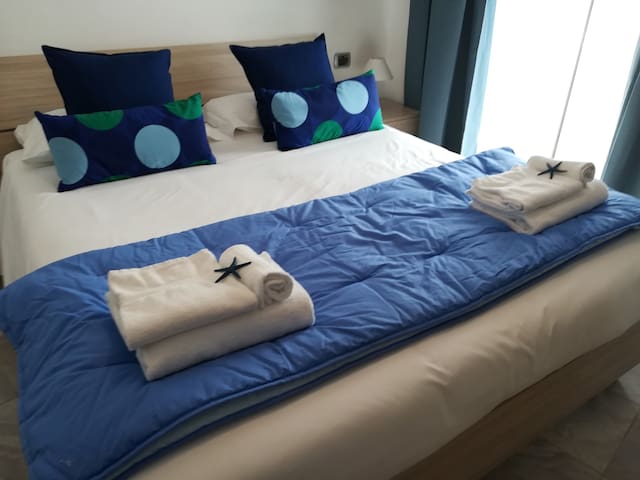 Casa Magenta
is the perfect place for a romantic weekend for a couple. After you climb the old stairs you'll find a renovated 1 bedroom apartment with a kitchen and a terrace with great views. Centrally located, you'll be close to everything in town, including the beach, restaurants, and shops.
Awesome 5 Terre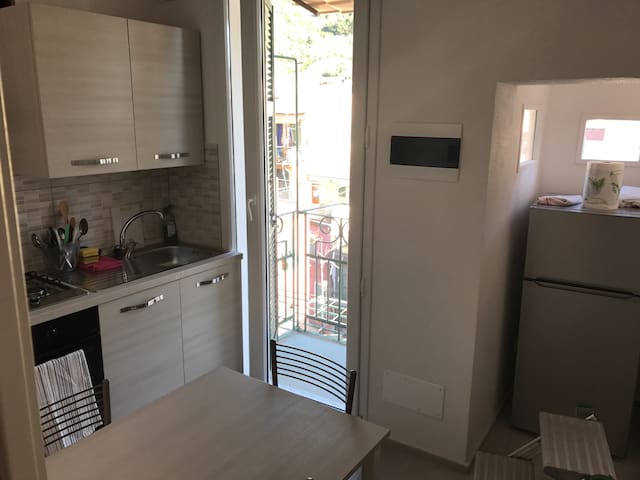 This awesome 2-bedroom apartment
has plenty of space, a renovated kitchen and bathrooms, a great view from the balcony, and sits in a convenient location. As it's close to the beach and everything in town, you'll be perfectly comfortable here. This is a great place for a family, a couple, or a small group of friends.
If you want more ideas, we have assembled a separate article which covers more options:
Places to Stay in Monterosso al Mare
.
Vernazza
Many visitors to Cinque Terre (myself included) consider Vernazza to be the most scenic of the five towns. The central town square is bordered by colorful buildings on 3 sides, with the forth side opening up into a small protected harbor full of colorful fishing boats. Weave your way up the many intricate alleyways to the ancient castle tower overlooking the town, or walk up the hill into the vineyards for a view of the town and the sea that will blow your mind. It's like living inside of a real painting.
Just like in the other towns, the buildings are full of apartments which the locals rent out on AirBnB and other websites. Hotels are not very common, so getting a vacation rental is generally the best way to find a place to stay in Vernazza. Prices vary by the size and quality of the apartment. Below are a few of the best. Or, for more options, check out our more detailed article on
places to stay in Vernazza
.
La Bloo Studio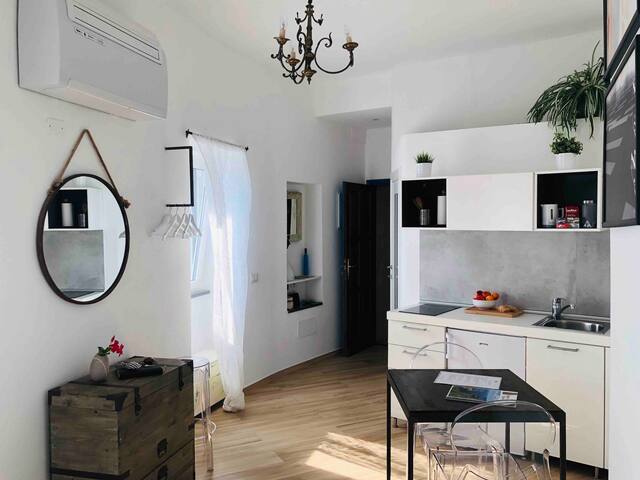 La Bloo Studio
is an apartment with a private entrance, a small kitchen, and terrific views. Located close to the shore with easy access to everything in town, this is the perfect spot for a couple looking for a romantic trip. It's also quite reasonably priced for what you get.
The Manuella
The Manuella 2 Bedroom Apartment
has plenty of space for a family or small group traveling together. With a kitchen, fantastic views from the balcony, and modern amenities, anyone would be comfortable here. The location is perfect, as it's right in the middle of town. It's possible to rent this apartment just as a bedroom if you have less people and you're looking for a lower price, too.
Corniglia
The middle town of Cinque Terre, Corniglia, sits higher up on the hills than the other four towns. From here you'll get commanding views over the sea and rugged coastline. This is one of the more affordable towns in Cinque Terre to stay in, as prices for apartment rentals tend to be a little cheaper. However, the level of quality is still on par with the other towns. And you'll find plenty of shops and restaurants here, too.
Beautiful Sweeping Views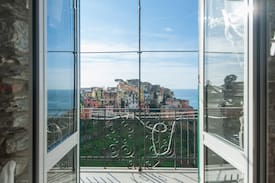 The amazing views from this apartment
make it worth the stay. The apartment itself is nice even without the views, too. With a kitchen and room for up to 4 people, this is a great spot for a family or a couple looking for a getaway.
La Terrazza sul Mare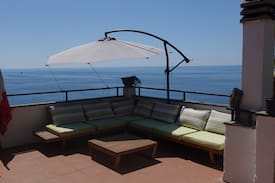 This 2-bedroom apartment with a terrace
can sleep up to 6 people. It's a multi-floor apartment with a small balcony from the living room area and a huge terrace on the rooftop overlooking the sea and surrounding hills. The kitchen and bathrooms have also been renovated recently, so you'll be quite comfortable. Check out the photos!
For more ideas and options, check out our more detailed guide to
the best places to stay in Corniglia
.
Manarola
Manarola is a very scenic town, especially when viewed from the surrounding hills or from one of the many balconies in the buildings within the town. As it's nestled inside a small valley leading to the sea, the town sprawls up and down the hills which then lead up to vineyards and olive groves. The small harbor at the sea seems to be carved out of the old colorful stone buildings mounted to the surrounding cliffs.
Just like in the other towns, Manarola is full of smaller apartments instead of hotels, so your best choices to find a place to stay are with the local owners who offer vacation rentals to travelers. Here are a few of the best rentals on AirBnB, or for more options see our longer guide to
the best places to stay in Manarola
.
The Ivory House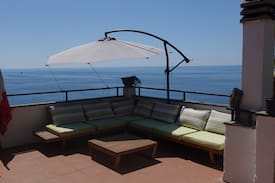 The Ivory House
is a 2-bedroom apartment with room for up to 5 people. The kitchen has everything you need, and the spacious living room area is very comfortable. The highlight is the large balcony overlooking the town and the sea, so you'll want to just spend your entire day out here. But you shouldn't, because the surrounding shops, restaurants, and vineyards await!
La Camera Blu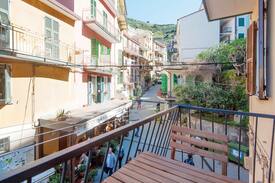 La Camera Blu
is a modern suite that is comparable to a hotel room. With a large bed for two people, a private and modern bathroom, and a nice balcony overlooking the surrounding buildings and street, this is the perfect central location for any couple looking for a great place to stay with an affordable price.
Open Mind & Open Heart
Two other great options are the
Open Mind
and
Open Heart
apartments. (Both are offered by the same owner.) They have a fun and eclectic decor along with stunning views from the high balconies overlooking the harbor, sea, and surrounding town. They offer plenty of space, nice kitchens, and a convenient location, too.
Riomaggiore
Riomaggiore is the southernmost town of Cinque Terre. The main street branches off into many hidden alleyways with old stone arches that feel like secret entrances to apartments with amazing views. The old harbor is filled with colorful fishing boats. Nearby you'll find seafood restaurants and boutique shops.
The most common
places to stay in Riomaggiore
are apartments that can be found in the historic buildings of the town that climb up the hills around the harbor. The higher priced options are near the sea with great views, but more affordable options are found a bit further back, but still within easy reach of everything in town.
Marina's House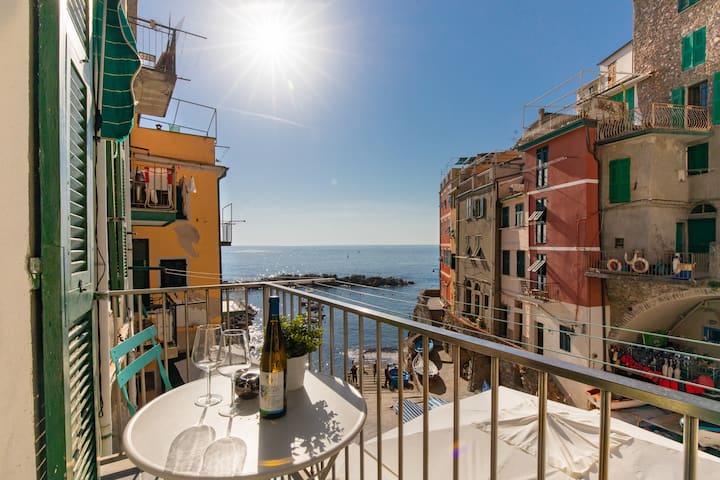 Marina's House is one of the best
. This 2-bedroom apartment has fantastic views of the sea and the town from it's balcony. The kitchen and bathroom are great, too. As the second bedroom is more for a child, this would be a great apartment for a family on vacation. While it's a bit more expensive than some of the surrounding apartments, you get what you pay for as it has more space, air conditioning, a TV, and other nice amenities that are worth the extra cost.
Giovanna dei Rocca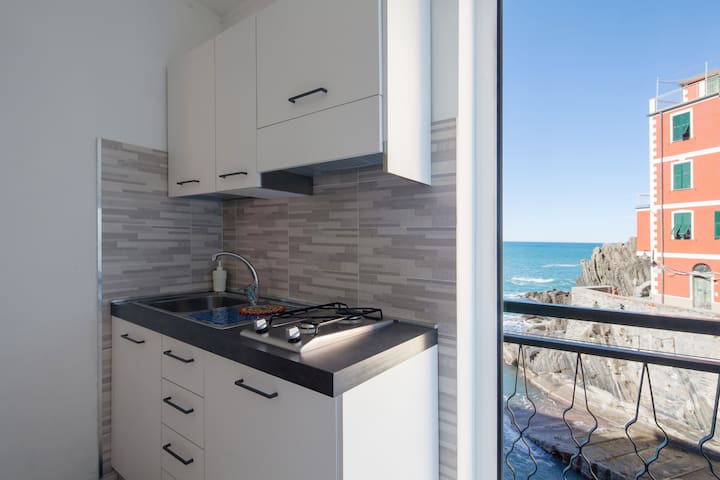 Giovanna dei Rocca
is an affordable room for up to 3 people. It has a modern kitchenette allowing you to prepare your own meals, and a fantastic little balcony to enjoy the surrounding town and the sea. This is the perfect room for a couple looking for a romantic getaway, or even a family with one child.
Further Reading
If you're looking for more details on Cinque Terre, check out our
Ultimate Guide to Cinque Terre
which covers everything including
things to do
,
transportation
, an
overview of the five towns
,
hiking
, swimming, kayaking, restaurants, and more. We also have a page about the
average travel costs for Cinque Terre
, too.
For more information on accommodation in Cinque Terre, check out
Hostels in Cinque Terre, Italy for Budget Travellers, Female Travellers, and Groups
,
The Best Vernazza VRBOs
,
Affordable Apartments in Riomaggiore
,
Monterosso AirBnB's and Places to Stay
, and
Places to Stay in Corniglia
.